SPECIAL FEATURE – Formulation Development & Manufacturing – CDMOs Offer Speed, Advanced Technologies, & the Ability to Handle More Potent APIs
The business model for a contract development and manufacturing organization (CDMO) continues to evolve, becoming a one-stop-shop of value-added services with an increased focus on pre-clinical development services through commercial manufacturing.1 It is these services that help differentiate one CDMO from the other.
Some CDMOs are expanding services into biologics and biosimilars manufacturing as well as high-potency active pharmaceutical ingredients (HPAPIs). Last year, CordenPharma completed its expanded development capabilities for mid-scale (up to 20 kg) contained capacity of highly potent and oncology oral dosage forms in its German manufacturing facility. The new and expanded capability provides customers a complete offering in the contained manufacturing of oral dosage from grams to 150 Kg. And Catalent, through its wholly-owned subsidiary, Redwood Bioscience, formed a research collaboration with Roche to develop molecules coupling different therapeutic modalities using Catalent's proprietary SMARTag technology, an antibody drug conjugate (ADC) platform.
Pharma is also looking to CDMOs to increase R&D efficiency by relying on specialized assistance from CDMOs that have a deep understanding of the therapy area, route of administration, and of applicable delivery technologies, says Julien Meissonnier, Catalent's Vice President of Science & Technology. "Pharma customers are becoming increasingly interested in applying advanced technologies to help resolve challenges, such as spray drying, hot-melt extrusion, and advanced lipid-based formulations. In the biologics field, technologies such as protein-conjugation are experiencing a new wave of innovation to improve the accuracy and reliability of drug conjugation."
Of course, no matter how successful the development, commercial manufacturing and speed to market are crucial. Mr. Meissonnier says that 75% of R&D pipelines are driven by venture capital or small capital investment companies, which look for accelerated development programs. In addition, to reduce fixed expenses, big pharma requires CDMO partners that are highly skilled formulators, with a deep and broad understanding of how a product can be efficiently manufactured for launch and throughout its life.
In this exclusive Drug Development & Delivery report, some of the industry's leading CDMOs highlight their capabilities in the areas of speed, quality, technology, and handling of complex APIs.
Aesica: Taking a Flexible Approach Across Development & Manufacturing
Aesica is an end-to-end CDMO, offering services from formulation development through to final packaging of APIs and finished dosage forms. In 2016, Aesica expanded its development offering by opening a new development center, which is designed to be flexible to meet varying demands and customer needs.
"We decided to open the development center as a stand–alone facility, but on the same site as one of our commercial facilities. This enables project teams to readily share knowledge and enhance technology transfer," explains Aude Cazenave, Technical Director, Aesica. "From the Queenborough facility, we can now provide API production, formulation development, clinical manufacture (Phase I-III) through to commercial scale manufacturing and final packaging. While we see big advantages in bringing development and manufacturing together, this is not common practice for CDMOs in the industry."
The new facility handles highly potent drugs for any active up to SafeBridge® Category 3, together with controlled drugs, with licenses for Schedules 2 to 4. A dedicated high potency area is flexible with the potential to handle different actives at the same time. Several stability chambers, which are ICH controlled, allow for continued stability studies.
Mrs. Cazenave describes a recent customer who had a requirement to go from generic development through to commercialization as fast as possible. "We offered to complete the work at the Queenborough site. This resulted in the product being developed with short lead times and smooth technology transfer into the commercial plant. We were able to provide the customer with an end-to-end supply chain service with reduced timeframes and increased cost-effectiveness."
Additionally, Aesica has invested in continuous tablet manufacturing capabilities to enable flexible development options, and greater process understanding, with far smaller quantities of material compared with conventional batch methods and a relatively small footprint, says Mrs. Cazenave.
Aesica has also invested in serialization capabilities and is now fully serialization-ready. "We have a flexible, modular approach that can be adapted to different customers' needs and countries' legislations, and serialization is implemented across all of our packaging sites," she says.
And Aesica's sister company, Bespak, specializes in medical devices from design and development to commercial scale manufacture. "We have come together to give customers a unique and enhanced end-to-end service, supporting both drugs and devices including auto-injectors and inhalers."
Alcami: Integrating API & Formulation Development
Alcami offers fully integrated services that can take a client from API synthesis and characterization through formulation development and manufacturing for oral and parenteral drug products. The company can work with highly potent, hazardous compounds as well as controlled drugs. "Alcami has received an increase in the number of requests for development and manufacture of highly potent or hazardous compounds. These present some unique challenges in safety, formulation, and manufacturing of very low dose products," said Elsie Melsopp, PhD, Principal Scientist-Formulation Development, Alcami. "Alcami is experienced with formulation of poorly soluble compounds, and we are looking to expand our capabilities in this area in the future."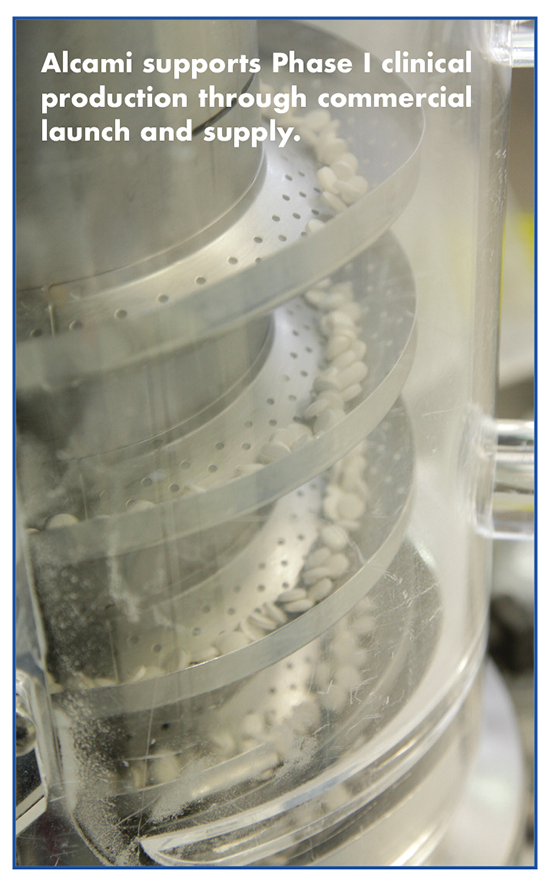 "We have seen more interest in the development of poorly soluble compounds, BCS Class II and IV," says Matthew Schineller, Principal Scientist-Formulation Development, Alcami. "Some sources estimate that nearly 40% of new drug candidate compounds are poorly water soluble. Companies are also applying new technologies to the development of compounds that were abandoned due to poor oral bioavailability,"
Alcami has several offerings that set it apart from its competitors, explains Walter Holberg, Scientific Advisor-Operations Lab Support, Alcami. For instance, its ProForm SelectTM program is a service that integrates the API development and formulation development processes in parallel. "Our scientists help customers develop a scalable synthesis route and molecular characterization, including solid-state chemistry," he says. "We perform an in-depth assessment of the target product profile for the drug molecule and potential drug product, and a GAP analysis of client needs to support regulatory filing. This results in faster time to the clinic, improved process stability, and mitigated risk, enabling us to streamline the drug development and manufacturing process."
As an example, one client was experiencing a six-month manufacturing delay that threatened to derail an impending clinical trial due to inconsistent dissolution and lot-to-lot variability in the API. As part of the ProForm Select process, Alcami identified the source of the API issues as variable crystal habits in a single polymorph. "A selective and robust crystallization process was developed that eliminated the variability in the API and therefore the drug product," says Mr. Holberg.
Almac: Expanding GMP & Service Footprints
To address capacity constraints, Almac has expanded its operational footprint significantly, including the expansion of chemical and microbiological testing laboratories, with the addition of a further facility that offers a threefold increase in its development GMP footprint. Within this facility, multiple Xcelodose® units will enable Almac to fill both API and simple blends into capsules for Phase 1 and 2 trials. Additionally, the facility comes purpose-built with multiple Highly Potent Processing Suites. Almac also added mini-tablet/granule/powder in stickpack and mini-tablet in capsule capabilities to its technology list to deliver novel pediatric dosage forms.
"We purposely couple our commercial and development manufacturing assets to facilitate a commercial solution to late-phase/registration development, providing our clients with an integrated solution through development and into commercialization," says David Downey, Vice President Commercial Operations, Almac.
As Almac improved its GMP footprint so too is the company assessing further specialist services for clients' drug substance, drug product, and clinical packaging needs from one site. "Reduced risk, compressed timelines, and reduced vendor management are key considerations for our clients when offered this 'one-stop' solution, particularly for our biotech clients seeking the simplest, fastest route to clinic and market," says Mr. Downey.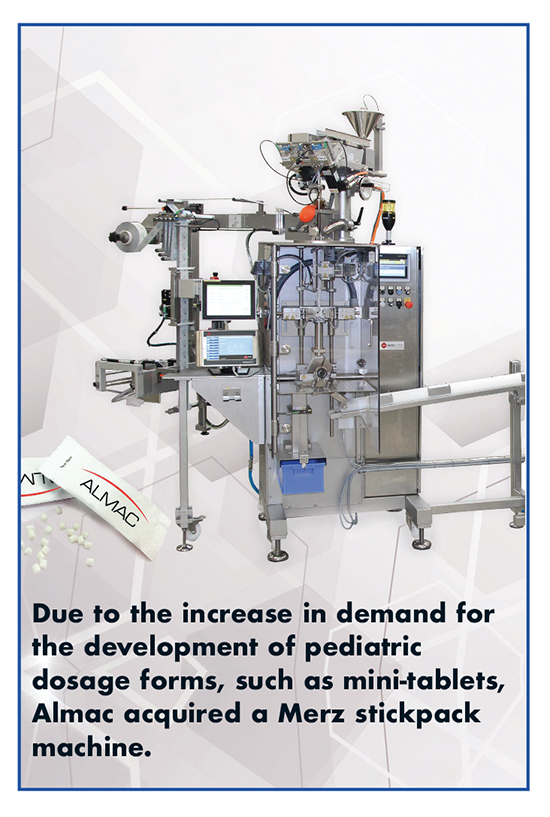 As an example of how one provider can offer a multi-disciplinary solution, Tom Moody, Vice President Technology Development and Commercialization, Almac, explains how Almac completed several projects involving carbon-14 labelling of ADCs for a US and European client. The strategy for isotopic labelling of the ADC is to prepare a product with the label in either the linker, in the payload, or in both units.
Prof. Moody explains that the cytotoxic drug was attached to the linker via the conjugate addition of a thiol-SH on the drug with a maleimide moiety on the linker. This resulted in a [14C]-labelled linker-drug complex bonded together by a non-cleavable thioether linkage. This then underwent purification using ultrafiltration/diafiltration (UF/DF) to remove unbound [14C]-linker from the reaction mixture.
The [14C]-Drug linker conjugate was attached to the mAb via amide bond formation between a random surface epsilon-amino group of lysine and an activated ester moiety on the [14C]-linker-drug complex. The [14C]-labelled ADC was then purified by HIC chromatography, concentrated using UF/DF, filtered through a 0.22-micron filter, and formulated in a pharmaceutical buffer. Stringent biological handling techniques were maintained throughout the manufacture to minimize endotoxin and bioburden levels. The manufacture resulted in a formulated [14C]-labelled ADC with a specific activity of 110mCi/mmol.
AMRI: Involved Throughout a Product's LifeCycle
During the past few years, AMRI has expanded its portfolio of services and products through acquisitions and organic growth initiatives to address the increasing trend toward pharmaceutical outsourcing. AMRI now provides end-to-end sterile drug dosage form development and manufacturing with four facilities that handle pre-formulation and formulation in Glasgow, UK; process engineering in Burlington, MA; full-scale commercial manufacturing in Albuquerque, NM; and ophthalmic, cytotoxic, and complete commercial manufacture in Leon, Spain.
Although still viewed as a core competency by some of the largest pharmaceutical firms, formulation development will increasingly be outsourced as CDMO involvement continues through a product's life cycle. AMRI's Glasgow, Scotland, facility has experienced that shift, seeing direct interest in its core expertise of development and formulation, in addition to lyophilization process development, explains David Stevens, Vice President, Sales and Marketing, Drug Product, AMRI. "In some cases, projects involve addressing challenges created by a silo approach at the interface between formulation development, process development, and full-scale final product manufacture."
AMRI also specializes in handling products that have high barrier-to-entry challenges, such as sterile products, controlled substances, steroids, high potency compounds, monobactams, and hormones.

Ascendia Pharmaceuticals: Broad Range of Formulation Development Services
One trend that has become apparent over the past couple years is the growing diversity in types of projects that are requested. "In the past, it was common for the majority of projects to be orally administered, small-molecule products, often controlled release in some fashion," says Jingjun "Jim" Huang Huang, CEO, Ascendia Pharmaceuticals. "Lately, we have worked on projects that have included long-acting injectable depots, ophthalmic dosage forms (both drops, and vitreal injections), and injectable nano-emulsions for immediate release."
Ascendia Pharmaceuticals is a specialty contract development and manufacturing (CDMO) company that provides outsourced services to partners for developing new formulations, especially for poorly-water soluble molecules. Ascendia also provides small-scale cGMP manufacture for clinical trial materials, including injectable dosage forms.
To illustrate the type of specialized and broad formulation development services the company offers, Ascendia has expertise in developing nano-emulsions (using homogenizers and/or microfluidizers), solid-lipid nano-particles (both IR and longacting), hot-melt extrusions, solvent-based spray-dried products, lyophilized dosage forms, and autoclaved injectables. "We often combine processes to develop a unique product that addresses the physical attributes of the drug substance, the delivery route, the pharmacodynamic aspects of the drug product, and whether the final dosage form requires terminal sterilization or aseptic processing," says Dr. Huang.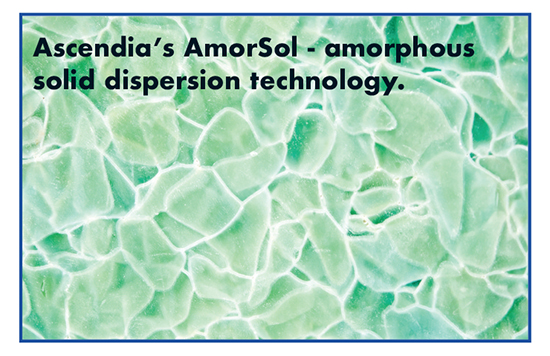 Ascendia does not focus on a single drug delivery platform, but instead provides contract formulation development for nearly all routes of administration. In addition, Ascendia has an analytical sciences group to handle that aspect of drug development, and recently added small-scale cGMP manufacturing so that an optimized formulation can be quickly taken into an animal toxicology study or a first-in-man study.
The majority of Ascendia's work is in repurposing an old drug in a new delivery format or indication and enhancing solubility dosage forms for NCEs, which need to be cost efficient. "Many of these projects are intended for proof-of-concept and the work needs to be done rapidly and within a set budget," explains Dr. Huang. "Our clients can go from pre-formulation to in vivo proof-of-concept relatively quickly and with a known expense, which can be beneficial for making efficient decisions on the viability of an early-stage drug program."
As an example, using its AmorSol technology, Ascendia developed a spray-dried amorphous solid dispersion of a client's compound that was known to be poorly water soluble, and its intrinsic solubility was not high enough to be adequately dosed for human clinical studies. The spray-dried formulation was utilized to develop an immediate-release tablet for a Phase 1 clinical study. Dr. Huang explains that the tablet formulation was prepared by dry granulation of the amorphous dispersion using milling and roller compaction. "The project went from initiation of formulation development to preparation of clinical materials in just five months," he says. "The amorphous dispersion formulation of the compound resulted in improved physical and chemical stability, and the resultant tablet formulation had higher bioavailability compared to the original tablet formulation."
Catalent: Addressing the Need for Speed
"The industry is moving away from the "blockbusters" and is instead focusing on narrow indications or diseases, currently without therapeutics, as it boosts the chances of getting regulatory approval and can help the drug get to market as fast as possible," says Julien Meissonnier, Catalent's Vice President of Science & Technology. "The effect of this trend creates the need for revised formulation development and manufacturing and scale-up strategies."
Mr. Meissonnier says that more complex molecules are appearing in development pipelines and that these require more sophisticated delivery technologies. Thus, complexity must be addressed earlier, ideally starting at candidate selection, in preformulation and before preclinical formulation. All these efforts are made to provide faster outcomes for customers at the early (preclinical and Phase 1 and later stages of development).
In the case of Trio Medicines Ltd (Trio), a London-based pharmaceutical company, its lead compound, TML-2, is the acetyl prodrug of TML-1, a novel, well tolerated G-protein coupled receptor antagonist, which shows clinical promise but has limited bioavailability, owing to low solubility, explains Brian N. Woodrow, PhD, Director, Sterile and Biologics Analytical Development, Catalent.
Catalent's Science & Technology advisors employed the OptiForm® Solution Suite, an integrated platform with a structured three-step approach, to assess, enhance, and recommend delivery options for the compound. During the assessment phase, Catalent conducted a series of tests to determine the molecule's physicochemical properties and its chemical compatibility with different excipients, the molecule's solubility and its developability classification system (DCS), solid-state characterization, and stability. At the enhance phase, Catalent evaluated three enabling technologies in parallel, based on the data from the "assess" phase. These included lipid-based formulation, amorphous solid dispersion, and particle size engineering. In 12 weeks, Catalent provided prototypes employing all three technologies for use in an animal PK study, and delivered a full report with recommendations and all data, which included two weeks' stability testing data.
Trio tested all the prototypes in the animal study, and the data showed the bioavailability of all prototypes for TML-2 was greatly increased, says Dr. Woodrow. Among these prototypes, micronization (particle size engineering) showed the most substantial bioavailability enhancement (4 times).
At the early stages of the development process, which spans from drug candidate selection to Phase 1 clinical studies, Catalent offers a continuum of solutions, including druggability, preformulation, toxicity enabling formulation, formulation screening, and fast clinical supplies to Phase 1. When incorporated, these solutions accompany a molecule to proof-of-concept in-man studies. "This continuum leverages differentiated enabling technologies, often targeted at addressing complex bioavailability challenges that go way beyond simple exposure issues, and ensure successful dose escalation in single ascending dose studies," says Mr. Meissonnier.
At later stages of product development, Catalent leverages a toolkit of differentiated technologies to ensure appropriate matching to complex release profiles. This toolkit of technologies addresses complex extended-release profiles, as well as the growing demand in targeted release delivery.
Savings in development time are important. But with regulators making ever-more stringent demands for broader, increasingly global clinical trials, working with a company that can offer strategies and methods to accelerate a product's journey through the trial process to marketing authorization and commercial manufacture, is critical, says Mr. Meissonnier. "This holistic view of development to commercialization can maximize the time a product enjoys patent protection, and reduce how long it takes for it to recoup its development costs."
CordenPharma: Focusing on Small-Molecule Oncolytics
Cancer remains the second leading cause of death and represents the largest category of new medicines. A range of new mechanisms is expected to drive innovation and growth for the CDMOs that have the right expertise and capabilities in this area, says Jason Bertola, Director, Global Highly Potent & Oncology Platform, CordenPharma International. "Greater understanding of cancer progression has led to the development of increasingly targeted approaches, which mean not only increased safety and efficacy for the patients but also increased manufacturing requirements and need for containment and engineering controls," he says. "For example, antibody drug conjugates (ADCs) offer better safety profiles for patients, but manufacturers must be able to produce and handle cytotoxic drugs that are significantly more potent than their chemotherapeutic predecessors."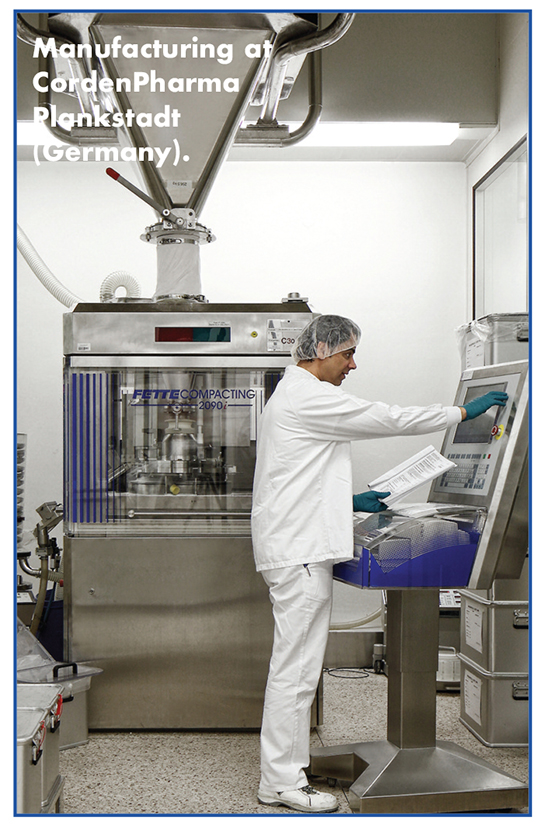 Despite significant focus on biologics, small molecules still represent more than half of the total market. For instance, tyrosine kinase inhibitors and poly ADP-ribose polymerase inhibitors are among the small-molecule targeted therapies. These products are also driving the need for oral solid dose highly potent manufacturing. Some estimates predict oral oncolytics to be 25%-30%2 of the market, double the figures from 10 years ago.
CordenPharma's service offering targets the oral formulation development and manufacturing of oncolytics. "Recent investments have expanded our capabilities to develop and supply clinical trial materials and small-scale manufacturing. Engineering controls are in place to allow the safe handling of compounds in development and manufacturing," he says.
HERMES PHARMA: Ensuring Quality Right From the Start
Quality has always been a key priority for the pharmaceutical industry, however, over the last year CDMOs like HERMES PHARMA have observed an increased emphasis on tackling quality upfront in the pharmaceutical manufacturing process. "Using approaches such as Quality by Design (QbD), quality is more often being considered during formulation development rather than waiting until the product is designed and then deciding how quality will be assured," says Dr. Martin Koeberle, Head of Analytical Development & Stability Testing at HERMES. "This approach makes sense – after all, quality can't be tested into a product, it needs to be there by design."
HERMES PHARMA specializes in the development and manufacture of user-friendly oral dosage forms such as effervescent tablets, orally disintegrating granules (ODG), lozenges, chewable tablets, and hot and cold instant drinks. "By developing such dosage forms, healthcare companies can increase revenue, prolong product lifecycles, and differentiate themselves from the competition," he says. "More importantly, improved patient experience can increase compliance and boost the effectiveness of treatment."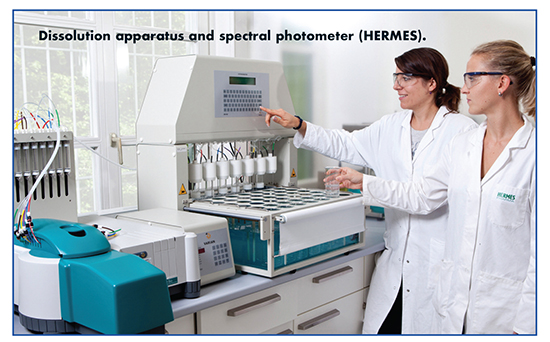 To improve patient compliance, HERMES offers expertise in flavorings and taste-masking technologies. Dr. Koeberle explains that HERMES was recently asked to apply these technologies to a pharma client looking to develop a sour and metallic tasting API into a pleasant tasting expectorant in the dosage form of an ODG. This dosage form consists of small granules that are applied directly into the mouth, are easy to swallow, and don't require water.
"We achieved a pleasant tasting ODG using hot melt coating (HMC), a solvent-free coating technology that offers short processing times and low costs," he says. "Applying QbD principles, it was possible to define a design space for this HMC process such that different API qualities can be used while constant product quality and performance are ensured. The bioequivalence study in which the ODG was compared to film-coated tablets was successful. This approach, which is now approved by the authorities, permits flexibility in manufacture (through the option to use different API qualities) thereby reducing costs. Not only were we able to rise to the challenge of developing a pleasant ODG, we made it more cost-effective to do so."
In an effort to control quality, there is also an increased customer preference for outsourcing both formulation development and clinical trial sponsorship to the same CDMO. This approach offers a number of efficiency gains, particularly that the customer (and the CDMO) has one fewer business partner to deal with, so coordination and project management is reduced. This also means better communication and clearer responsibilities.
"With customers keen to work with a single CDMO, a key development for HERMES PHARMA has been to establish a quality system for Good Clinical Practices (GCP) so that we can now act as a sponsor of clinical trials, as well as provide formulation development expertise," says Dr. Koeberle. "This has involved setting up the necessary documents and contractual agreements between HERMES PHARMA and subcontractors, in addition to auditing the relevant subcontractors."
Lonza: A Holistic Approach to Product Development
Lonza's Drug Product Services (DPS) group is focused is on the target product profile – the intended product design to enable competitive, quality, efficacy, and safety for patient treatment. "We support our customers by answering critical product design questions, providing patient treatment options, and developing and commercializing parenteral products," says Dr. Hanns-Christian Mahler, Head of Drug Product Services for Lonza.
An integrated drug product design is integral to a successful product, he adds. "DPS combines expertise in formulation development, process design, primary packaging, patient usability, and administration. Our Drug Product Services include rapid early-stage development, robust late-stage development, and comprehensive product lifecycle development services." Additionally, Lonza's Forensic, Particle and Container Closure Integrity (CCI) labs provide expertise and support for specialized hot topics. One new technology used in the CCI lab is a custom-designed, highest-sensitivity, helium-based leak test that evaluates products at a variety of temperatures. "We are the only company that currently offers this method for frozen products down to -80°C," says Dr. Mahler.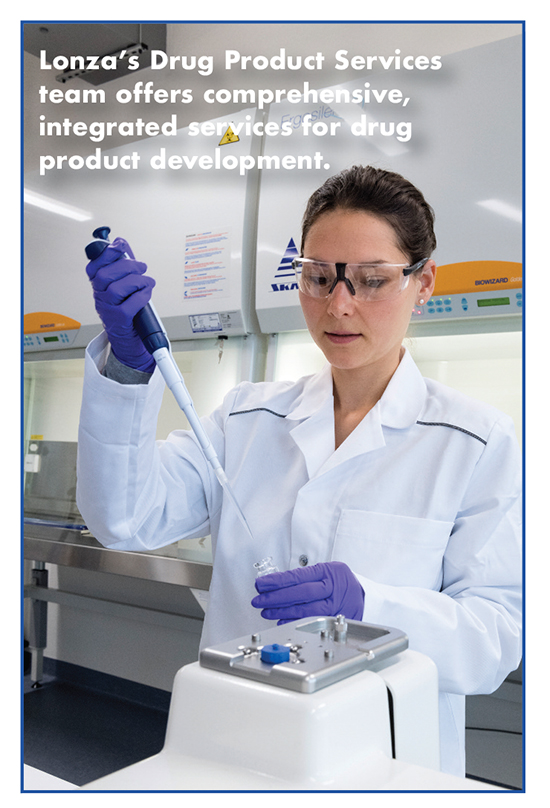 Lonza DPS also assesses root causes of fogging or haze from lyophilisates, and defines mitigating strategies related to formulation, primary packaging, and process design.
"Formulation development and drug product manufacturing of biologics are finally being recognized as more than a commodity," he says. "In product development, direction is equally as important as speed. An intimate knowledge of how biotechnology, pharmaceutical sciences, regulatory requirements, health authority requirements, and medical sciences relate to each other is required to deliver a holistic approach to formulation development and manufacturing."
Dr. Mahler notes that it is also critical to explore the potential impact of excipients and their behavior and stability in a formulation on product compliance to regulatory requirements, and the volume that can be injected subcutaneously or intraocularly.
Particle Sciences, a Lubrizol Company: Offering an End-to-End Solution
Pharma clients seem to be demanding a CDMO model that provides an end-to-end solution. Since becoming part of Lubrizol LifeSciences, Particle Sciences (PSI) offers exactly this – starting from polymers, through formulation development and into commercial manufacturing on a global scale. "This model minimizes cost and risk of tech transfers in addition to shortening development timelines," says Mark Mitchnick, CEO of Particle Sciences/CMO-Lubrizol LifeSciences.
PSI has a repertoire of formulation technologies focusing on BCS II and IV molecules as well as biopharmaceutical products, including peptides, nucleotides, vaccine antigens, and adjuvants. "We believe there are a limited number of viable drug delivery and formulation approaches: particle size reduction, amorphous forms, permeation enhancers, lipidic and polymeric systems, and non-covalently binding products to nanoparticles/excipients," says Robert W. Lee, PhD, Vice President Pharmaceutical Development Services, PSI. "We also believe that one size does not fit all as each approach can easily yield a different biological response."
Key to Lubrizol's clients' successes is the ability to work with a range of small and large molecules, including highly potent or DEA-controlled substances. "It is of utmost importance to quickly progress the molecules from the bench-top into the clinic with our cGMP production of both sterile and non-sterile products," says Joey Glassco, Global Market Manager Drug-Eluting Devices & Pharmaceutical Services, Lubrizol LifeSciences-Particle Sciences. "In many cases, these programs are nascent and require 'industrialization' to scale up for GMP production."
PSI claims to be the first fee-for-service organization to commercially manufacture nanoparticles and nanoparticulate suspension formulations under aseptic conditions. In fact, the company has designed a soon-to-be-commercial-ready facility (Q3 2017) based on the ability to manufacture nanoparticulate and other complex formulations such as PLGA microparticle depots and drug-eluting devices.
PSI has acquired LyoCell® technology, a patented drug delivery technology based on the use of reverse cubic and hexagonal phase lyotropic liquid crystalline nanoparticles. This technology is used for solubilizing drugs and improving their absorption and duration of action. Originally developed to deliver anesthetics via an intravenous route of administration, its utility has been expanded to include a variety of APIs, non-API containing formulations, and other routes of administration, including oral, topical, ophthalmic, and mucosal. "By understanding the thermodynamics and phase diagrams of lipidic systems that govern emulsions, liposomes, micellar solutions, and Cubosomes®, LyoCells allows the formulator to take advantage of the potential that is inherent in lipid/co-solubilizer/water systems," says Dr. Lee.
The formulation of biologics is another growth area for PSI, which has developed proprietary approaches, including SATx® (Surface Arrayed Therapeutics). "SATx is our approach to targeted pharmaceuticals that can be used for therapeutics as well as the formulation of potent prophylactic vaccines for mucosal and parenteral administration," explains Robert Becker, Vice President Biopharmaceutical Sales and Business Development, PSI. "Targeted drug products are a key objective of pharmaceutical development."
Siegfried: Packaging Plays a Critical Role in Production
Based on the trends in demographical change, growth of chronic diseases, and the increasing price pressures in healthcare provision, there are visible developments in the primary and secondary packaging of finished drug products, their production processes, and production equipment, says Dr. Olaf Schrake Head Key Account Management Drug Product Sterile EU/ROW, Siegfried.
"Primary and secondary packaging is coming ever closer to patients, as many drugs are increasingly being administered at home," he says. "This is one reason why the number of new products filled in cartridges and prefilled syringes has been increasing significantly within the last years."
Medication errors can be reduced by the right choice of primary packaging material and smart secondary packaging material, he continues. While ampoules are manufactured in high numbers, certain safety aspects make other containers, such as vials, more attractive.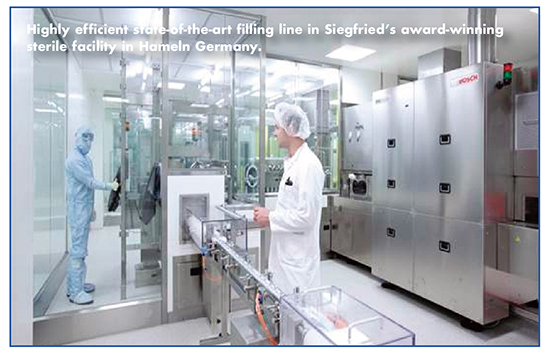 "In our plants for sterile liquids, we offer a variety of presentations for the finished products," says Dr. Schrake. "The customer can choose an ampoule, but for markets not supporting ampoules, and for more innovative products, we offer production with state-of-the-art, highly efficient vial lines that cater to both small and large batch sizes. Additionally, we have dedicated fill/finish capacity for both cartridges and prefilled syringes."
In 2016, Siegfried implemented a new GMP vial line that fills small-scale batches economically and enhances capacity. Low-volume dispensing technology and disposable product paths for high-value products speed up validation and development for many of the processes used for filling of biologics. The Hameln site is an accredited sterile facility offering 9 filling suites and with a large multi-purpose inspection and packaging hall.
Dr. Schrake also notes the trend to large molecules as having a strong impact on production equipment and processes. He says: "As we see the growth in biologics for orphan and niche diseases, more formulations are turning to lyophilization to further stabilize and extend shelf-life of the product. Siegfried has invested in increased water for injection (WFi) capacity and offers dossiers for a number of formats. The end result allows parallel development and manufacture, decreasing time-to-market, and focuses on project management and joint project planning."
As an example of how Siegfried works with clients, one customer with an innovative product searched for a CDMO to market the product in the US. The product was partly developed and already produced by another CMO that had issues complying with FDA requirements. "Key to the switch was a focused hands-on, project partnership, whereby both companies committed to a fast-track program," says Dr. Schrake. "The tech transfer was completed within record time; equally, the filling lines were adapted to the customer's specific needs and validation batches were successfully produced, also in record-time."
References
1. High-Potency APIs and Biologic Manufacturing Present Strong Growth Opportunities for Contract Manufacturing Organizations, Frost & Sullivan, Sept. 28, 2016, https://ww2.frost.com/news/press-releases/high-potency-apis-and-biologicmanufacturing-present-strong-growthopportunities-contract-manufacturing-organizations/.
2. Mosely WG, Nystrom JS. Dispensing oral medications: why now and how, Community Oncology. 2009; 6:358-61.