SPECIAL FEATURE – Excipients: Their Future Could Lie in Generics
By: Contributor Cindy H. Dubin
The global prices for pharmaceutical excipients jumped 40% from 2019 to 20211, and the market is on pace to reach upwards of $12 billion by 2029. Industry insiders attribute the soar to supply chain disruptions, surges in energy prices around the world, a rise in freight cost, weather catastrophies, and the Russia/Ukraine conflict.1,2
"The pharmaceutical industry can balance cost and supply in drug manufacturing by adopting a combination of strategies to minimize the impact of excipient supply chain issues," says Nick DiFranco at Lubrizol Life Science – Health. "To balance cost and supply, pharmaceutical companies need to identify reliable, long-standing suppliers who can overcome long-term supply chain chal­lenges. These are typically companies with multiple decades of excipient supply experience and global production capabilities. Working with domestic suppliers is also a way to mitigate supply challenges. Ultimately, finding a reliable supplier upfront will save time and resources navigating supply chain headaches and material shortages."
Going forward, an uninterrupted supply chain of excipients is essential for meeting the anticipated demands of generic medicines.1 Increasing demand for generic drugs is leading to an increase in excipient demand.2 According to the Food and Drug Administration (FDA), about 9 out of 10 prescriptions in the US are for generic drugs. And governments of developing countries are focusing on reducing healthcare costs by boosting the production of generic drugs. Thus, a rise in the sale of generic drugs across the world propels the demand for pharmaceutical excipients used in manufacturing generic drugs.3
Other key trends impacting the global demand for pharmaceutical excipients include a growing need for functional and co-processed excipients; and formulated coatings in oral solid doses. The advanc­ing drug dosage technologies, combined with the need to be cost-effective, are in­creasing demand for sustained-release drugs that will in turn drive the demand for certain cellulosic excipients; growth in en­teric-release medicines will favor the de­mand for polymethacrylate excipients; versatile excipients that have higher com­patibility with various APIs; disintegrants to address the demand for fast disintegrating tablets, and nanotechnology to improve excipients capabilities.1,3
This year's exclusive Drug Develop­ment & Delivery report highlights the work being done in all of these areas and ex­emplifies the importance of excipients to the future of drug development.
Actylis: GMP-Grade PMSF Has Improved Impurity Profile
Phenylmethylsulfonyl fluoride, better known as PMSF, is a critical raw material used in large molecule manufacturing as an irreversible, small molecule serine pro­tease inhibitor that acts non-specifically on proteases including trypsin, chymotrypsin, thrombin, and papain, as well as on many other enzymes that hydrolyze non-protein substrates (e.g., acetylcholinesterase, acyl-CoA hydrolases, and various lipases). It is used to prevent unwanted proteolosis and functions by sulfonylating the serine residue in the active site, deactivating the enzyme and preventing it from digesting its protein targets.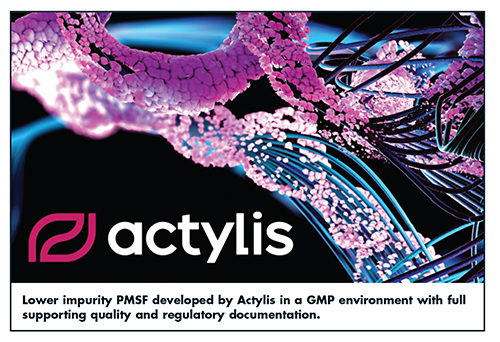 "Preventing proteolysis is a key con­sideration for biopharmaceutical manu­facturing, especially where cell lysis is required to extract and isolate the product of interest," says Dr Peter McGarry, Chief Scientific Officer, Actylis. "While protease activity is tightly regulated in living cells, this control is lost during the lysis process, which can lead to the product being com­promised if appropriate control measures are not put in place. For this reason, pro­tease inhibitors such as PMSF are vital tools for biopharmaceutical manufactur­ing, where they must demonstrate sufficient purity and strength for their intended purpose."
Actylis manufactures high purity, GMP-grade PMSF at one of its dedicated GMP production facilities in Canada. Their proprietary multi-stage purification process includes a step to completely re­move particulate foreign matter, which is followed by selective isolation, and is per­formed under an inert atmosphere to en­sure the final (packaged) product is pristine and ready for immediate use.
Actylis was recently challenged by a client that needed to use PMSF as a critical raw material in its biopharma manufactur­ing process but needed a GMP-manufac­tured material with a specific impurity profile. Working in close consultation with the customer, Actylis developed the lower impurity PMSF in a GMP environment with full supporting quality and regulatory documentation.
Supply chain transparency was also a critical factor since PMSF has historically only been available as a technical/reagent grade product. With controls tightening on the raw materials being used for drug pro­duction, being able to document the provenance and quality of the product was essential, explains Paul Staunton, Director of Global Marketing Communications, Actylis. Actylis has complete control over, and provides full transparency in, its sup­ply chain, carefully qualifying vendors to ensure timely delivery of the product, says Paul Staunton, Director of Global Market­ing Communications, Actylis. Moreover, by adhering to GMP supply chain best prac­tices and capturing all product documen­tation in their Quality Management System, Actylis guarantees that the GMP-grade PMSF meets the required standards of quality, purity, and safety for numerous biopharmaceutical manufacturing appli­cations.
Croda Pharma: Proprietary Purification Process Extends Formulation Shelf Life
Formulating generic drugs of equiva­lent stability, safety, bioequivalence, and dosage form as originator drugs can be a great challenge. James Humphrey, Re­search and Technology Specialist at Croda Pharma, explains how excipients are used to better formulate generic drugs and how Croda's proprietary purification process can extend formulation shelf life. While the active ingredient of generic drugs remains the same, formulating with the correct ex­cipients to meet these standards can be a challenge, due to poor solubility, physical or chemical instability, and ineffective drug delivery, says Mr. Humprhey.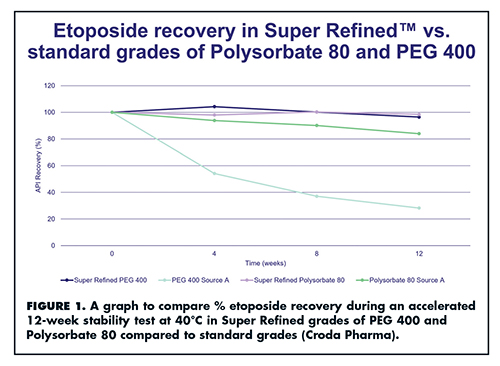 "Excipients can provide additional benefits in the manufacture of generic drugs above and beyond the necessities of stability and bioequivalence, such as re­duced taste impact in pediatric oral medi­cines that can result in better patient compliance or reduced cross linking in soft gel capsules improving dissolution rates," he says.
He adds that the removal of impuri­ties in Croda's Super Refined™ product of­ferings can deliver improved drug and formulation stability, a lower taste impact, and improved patient compliance. When formulating, oxidative stability is important to prevent the formation of peroxides and aldehydes, which are common oxidation products for a number of excipients. The presence of peroxides and aldehydes can leave APIs susceptible to degradation, im­pacting drug performance, stability, and shelf life. "Our Super Refined excipients, created by Croda's proprietary purification process, extend the shelf life of pharma­ceutical formulations through the removal of impurities that contribute to oxidative degradation."
Etoposide is a chemotherapy drug used in the treatment of various cancers, including testicular, prostate, bladder, stomach, and lung cancer. Existing in two dosage forms – a concentrate for intra­venous (IV) infusion and a soft-gel capsule for oral delivery – etoposide is a topoiso­merase inhibitor. IV formulations of etopo­side contain PEG 300 and Polysorbate 80.
"Our formulations team reformulated etoposide with Super Refined PEG 300 and Super Refined Polysorbate 80," says Mr. Humphrey. An accelerated 12-week stability test at 40°C was performed to compare its stability in the Super Refined formulation versus standard excipients. Stability was measured in API recovery (%); results are shown in Figure 1.
"Etoposide was notably more stable in the Super Refined grades, demonstrat­ing almost 100% recovery in Super Refined Polysorbate 80, and over 90% recovery in Super Refined PEG 300 after 12 weeks," he says. "The increase in stability of etopo­side in the Super Refined grade was par­ticularly notable in PEG 300 where the standard grade had only 25% recovery after 12 weeks at 40°C. In summary, the use of Super Refined excipients when for­mulating can have a number of benefits including increased API stability, a shorter time to market, and improved patient compliance."
Cyclolab Ltd.: The Functionality & Benefits of SBECD
Cyclodextrins (CDs) are versatile mol­ecules, composed of alpha-D-glucose units, used in pharma as excipients. CDs are unique among the other excipients be­cause they can form non-covalent inclusion complexes with several molecules, explains Dr. Levente Szöcs, R&D Director at Cyclo­lab Ltd. "The benefit of this complexation mechanism is that the entire supramolecu­lar entity can be well solubilized in water, thus formulated, beause the outer cavity of the complex is hydrophilic."
Additionally, the API molecule can be protected from environmental effects, such as light or moisture. Consequently, cyclodextrins can also improve the chemical stability of the complexed substances. Fi­nally, the smell and taste of several compounds can be masked.

Betadex Sulfobutyl Ether Sodium (SBECD) is a semi-synthetic cyclodextrin derivative, a well-defined and character­ized mixture of isomers. Both USP and EP Pharmacopoeias set strict quality require­ments for this cyclodextrin because it is used mainly in injections. However, it is also approved in other dosage forms as well, like oral formulations. SBECD is a polyanionic compound.
"Because a great portion of APIs are bases, the complexation efficacy can be su­perior compared to that of uncharged CDs, such as native BCD or hydroxypropyl betadex," says Dr. Szöcs. "The intermolec­ular association between the API and SBCED is not only enabled by hydrophobic interaction and H-bonds formed at the cavity of CD, but also electrostatic (ionic) interactions can enhance the strength of the complex formation."
Some examples of weak bases formu­lated with SBECD include: remdesivir, ziprasidone, amiodarone, voriconazole, posaconazole, aripiprazole, and maropi­tant. To achieve the desired formulation, SBECD is mostly used in high molar excess compared to the API. However, in case of an antiepileptic drug – fosphenytoin – SBECD is used in substoichiometric amount. The role of cyclodextrin in this in­travenous formulation is chemical stabiliza­tion, not solubilization.
The most recently approved formula­tion that contains SBECD is Veklury®. The formulated API, remdesivir, is a weak base with a pKa of 3.3 and a logP of 3.2 (prac­tically insoluble in water). Thus, Dr. Szöcs says that SBECD is an ideal candidate to solubilize this molecule. To achieve the de­sired 100mg/vial of the API, 3 grams of SBECD is required (nAPI:nSBECD = 1:8.3).
So, is SBECD just an excipient or does it have some pharmacological effect as well? A recent publication highlights that, in Veklury® formulations, initial membrane-coupled events of SARS-CoV-2 infections are inhibited due to their sulfobutylether-β-cyclodextrin content).4 Dr. Szöcs says this study may be a pioneer to explore the role of SBECD beyond that of excipient.
"Currently there are more than 100 API and cyclodextrin complexes under de­velopment, so the potential in these nano­sized sugar derivatives is huge," he says. "We are aware of most of the develop­ments with CDs and are trying to get the best out of cyclodextrins."
Daicel: Co-processed Excipients Reduce the Burden of Formulation Design
Co-processed excipients are any combination of two or more excipients listed in monographs obtained by physical co-processing without creating a new chemical bond, providing new functions and good physical properties that cannot be achieved through simple mixing. By ap­plying co-processed excipients, Tomohito Okabayashi, Business Development Man­ager, Life Sciences, Daicel Corp., believes that it is possible to innovate drug products without introducing novel chemical sub­stances or additional excipients. That is, they have advantages in terms of develop­ing cost.
"In addition, because the variability of the constituent excipients can be reduced compared to combining single excipients, rigid co-processed excipients undoubtedly offer to improve the quality of drug prod­ucts," he says. "Furthermore, co-processed excipients generally have improved physi­cal properties such as flowability and par­ticle size distribution. Therefore, they can solve manufacturing problems such as mixing and tableting challenges."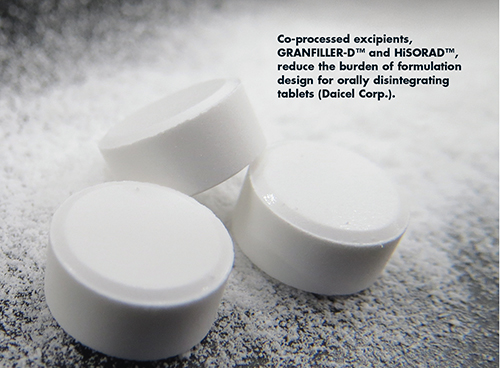 He adds that because co-processed excipients offer improved function and quality, generic drug manufacturers will be able to reduce the burden of adjusting for­mulation design. "In other words, co-processed excipients offer time-savings. As a result, we believe that it is possible to re­duce manufacturing costs and provide high-quality drugs at low prices, ultimately leading to improved medication adher­ence for patients."
Daicel's co-processed excipients, GRANFILLER-D™ and HiSORAD™, are suited for orally disintegrating tablets (ODTs). "These co-processed excipients have unique and excellent wicking and swelling ability," says Mr. Okabayashi. "These excipients can realize better disin­tegratability and stability, even in case of utilizing high-dose API or coated-API pel­lets. Moreover, our excipients have a unique particle non-spherical shape to contribute to improved content uniformity without special processing."
Evonik Health Care: Functional Ready-to-Fill Capsule Addresses Supply Chain Constraints
Drug manufacturers across the world are currently facing unprecedented supply challenges. One reason for this is an in­crease in demand for common remedies, especially generics such as antibiotics.
"After the COVID-19 lockdowns were relaxed in many places in the world, there was a huge upsurge in seasonal illness as populations were suddenly exposed to seasonal bugs after several years of lim­ited circulation," says Felix Hofmann, Di­rector Formulation & Application Services EMEA, Evonik Health Care. "Rising energy costs and inflation, as well as supply chain disruption due to the continuing war in Ukraine, are also big challenges for generic drug manufacturers. Some coun­tries have reacted to this situation by tem­porarily blocking the trade of medicines and stockpiling, which is exacerbating the situation."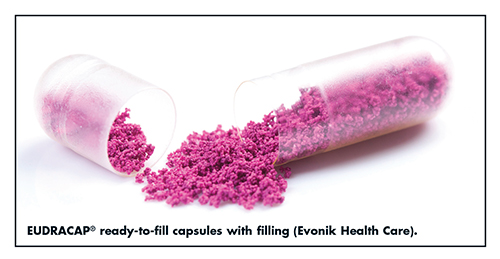 Mr. Hofmann notes that these chal­lenges are putting pressure on excipient manufacturers, who are faced with rising costs for energy and raw materials. In turn, excipient manufacturers are looking for new energy sourcing contracts with suppli­ers to reduce costs and dependency on natural gas. Drug manufacturers can also take the lead to ensure sustainable supply and work on emerging and innovative partnership models.
In response to increasingly complex supply chains and rising production costs, Evonik has developed a functional ready-to-fill capsule. This capsule (EUDRACAP®) facilitates the supply and production of modified release formulations and simpli­fies the development of complex biological drugs. This new solution efficiently im­proves bioavailability for biologicals or mi­crobiome therapies, where the drug needs to be protected from an acidic environment, he says.
"Our gastric-resistant, empty coated capsules draw on decades of extensive en­teric coating experience and have a robust enteric release that can be further tailored to target a specific gastrointestinal site," explains Mr. Hofmann. "They significantly improve the bioavailability of biologics without exposing them to moisture and heat in a regular coating process, thus al­lowing a wide range of formulations."
Gattefossé: Lipid/Cellulosic Polymers Better Control Drug Release
Low hydrophilic/lipophilic balance (HLB) solid lipid excipients form waxy, dif­fusion controlled, and hydrophobic extended-release matrices without altering their physical state or requiring special en­vironmental conditions, such as pH change, to trigger their effects. They also provide numerous biopharmaceutical and manufacturing advantages including:
Modulation of drug release profiles that are directly proportional to the amount used
Effective solutions for highly water-sol­uble APIs having short half-lives
Resistance to pH changes and hy­droalcoholic environments
Non-hygroscopic matrices for im­proved stability upon storage
Avoiding the need to use polymeric coatings
Solvent-free processing for cleaner and greener manufacturing.
Compritol® 888 ATO (glyceryl dibehenate) is a non-ionic solid triglyc­eride, versatile lipid, and extended-release matrix forming agent that offers process­ing flexibility because it can be used in direct compression, wet granulation, dry granulation, hot-melt extrusion, and other industrial processes for manufacturing ex­tended-release formulations.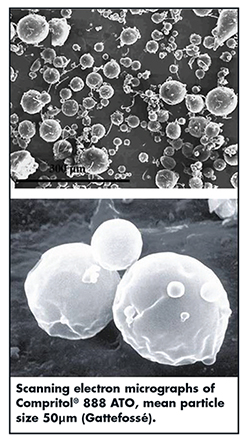 On the other hand, cellulosic poly­mers, when used as extended-release ma­trix forming agents, function by diffusion of the dissolved drug through the swollen gel layer. They also tend to create a burst effect caused by dissolution and leaching of drug particles at the tablet surface prior to formation of the release-controlling gel, presenting challenges to controlling initial drug release of highly water-soluble drugs.
"Thus, a combination of lipid excipi­ents with different cellulosic polymers as extended-release dual/hybrid matrix form­ing agents aid in better controlling the drug release of highly water-soluble active pharmaceutical ingredients," says Alexan­dre Gil, Group Director Pharmaceuticals, Gattefossé. "Compritol 888 ATO offers the advantage of providing robust extended-release tablet matrices that are resistant to alcohol-induced dose dumping, when used alone and in combination with cellu­losic polymers, for aqueous and poorly water-soluble drugs."
Lipid formulations are versatile and can be designed around brick dust-type molecules as well as so-called 'grease balls,' which are highly lipophilic com­pounds. Self-emulsifying drug delivery sys­tems help solubilize poorly soluble drugs and facilitate drug dispersion and dissolu­tion in vivo upon contact with the aqueous environment of the GI tract. Moreover, lipid formulations can – depending on their composition – influence various as­pects of a drug's bioavailability, notably maintaining drug solubility in the GI tract, reducing food effect, increasing intestinal permeation, and promoting lymphatic ab­sorption.
As an example, long-chain glycerol esters like Maisine® and Peceol™ promote lymphatic absorption. Moreover, lipid for­mulations can be carried from early- to late-stage development, which means sig­nificant reductions in development time and cost as well as avoiding risks associ­ated with bridging studies.
Mr. Gil also describes Labrasol® ALF, a self-emulsifying excipient, which is typi­cally used as a solubility enhancer for drug permeability across epithelial tight junc­tions. "Certain oncology drugs currently on the market have been conveyed through all stages of development and launched using Labrasol ALF and other lipid-based excipients," he says.
Lubrizol: Improving Solubility, Safety/Toxicity, & the Patient Experience
Lubrizol has supplied excipients for more than 40 years, including IID Carbopol® polymers and novel Apisolex™ and Apisovex™ polymers for solubility en­hancement. "It is well known that reducing the particle size of APIs is a way to improve its solubility," says Joey Glassco, Senior Global Market Segment Manager, Par­enterals, Lubrizol. "Excipients like Apisolex provide drug developers an alternative way to make nanoparticulate formulations by using micellar technology to drastically improve solubility of a wide variety of hy­drophobic APIs by up to 50,000-fold. The patented technology utilizes straightfor­ward scalable manufacturing techniques to achieve higher drug loading (up to 40:100 API: solubilizer ratio) over other solubilizers and is a non-immunogenic al­ternative to PEG."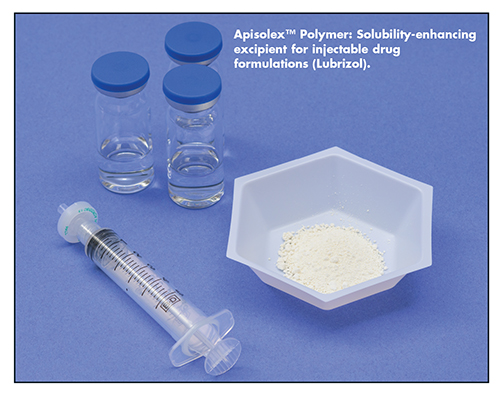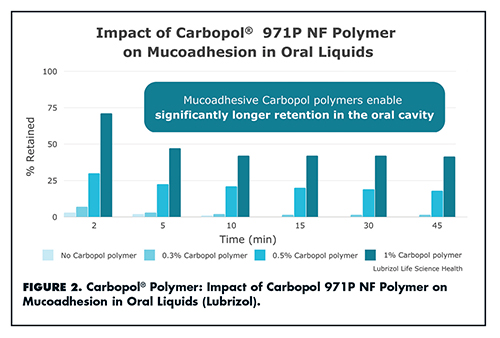 Lubrizol's Apisolex polyamino acid-based polymer was deployed for a com­pany with a marketed oncological drug product seeking a drug delivery technol­ogy to increase the solubility of the API while reducing the toxicity of the final drug product. To justify the reformulation ex­pense and increase overall revenue, the goal was to also extend the use of the API into another therapeutic area.
Because the API was about to lose ex­clusivity, the company was looking for a patented excipient technology to protect the new drug product.
Apisolex technology eliminates the use of the polyethylene glycol-based (PEG) vehicle and provides the organization with a better solution for patients and needed intellectual property. "The use of Apisolex polymer empowers the client with a sim­ple, easy-to-scale manufacturing process," says Ms. Glassco. "The results are a stable lyophilized drug product that reconstitutes in less than 30 seconds in saline. In addi­tion, GMP-grade Apisolex enabled the drug product with higher drug loading than the originator drug product, poten­tially reducing infusion time." The company has completed animal studies with Apisolex excipients and is planning for human trials in 2024.
Selecting excipients for generic drugs requires the same level of rigor as brand-name products, such as reproducible manufacturing, quality certifications, and global regulatory support. Generic drugs may also offer opportunities to overcome known challenges with marketed products. For example, Nick DiFranco, Global Mar­ket Segment Manager, Oral Treatments, Lubrizol, explains that Carbopol polymers have been used in generic metformin tablet formulations to ensure compliance with nitrosamine regulations and make tablets smaller and easier to swallow.
Carbopol polymers also enable mu­coadhesion, a type of bioadhesion in which two materials, at least one of which is mucosal, are held together for extended periods by interfacial forces. Mr. DiFranco says that pharmaceutical formulators are increasingly turning to mucoadhesion to improve drug delivery, as it offers several benefits: enhanced retention of actives for localized or systemic delivery; lubrica­tion/protection for inflamed tissue; and possibilities for new product claims tied to improved performance and patient expe­riences (Figure 2).
"Lubrizol's Carbopol polymers and Noveon® polycarbophil are high quality excipients that offer superior mucoadhe­sive performance compared to other poly­mers," says Mr. DiFranco. "To date, 17-plus commercial products have em­ployed Carbopol and Noveon polymers for their mucoadhesive properties in tablets, liquids, films, sprays, lozenges, and more." Lubrizol's mucoadhesive poly­mers are compatible with existing manu­facturing techniques.
Spectrum Chemical Mfg. Corp.: Two Primary Excipient Providers Can Offset Supply Shortages
Supply chain disruptions and fluctuat­ing costs in drug manufacturing can be unpredictable, but there are several courses of action that can help prevent or at least alleviate the impact of these dis­ruptions. One way is better forecasting by adding more predictive analysis of de­mands and costs covering the entire sup­ply chain, including raw materials, production, and inventories.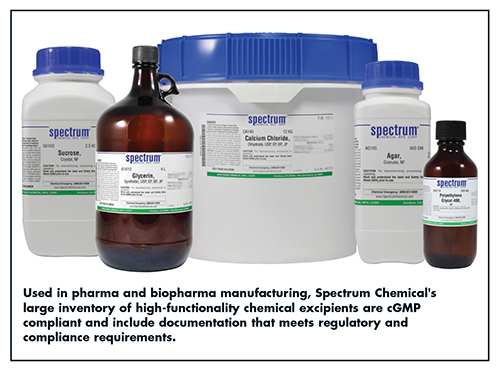 Another is making sure you have relationships with the right suppliers that have the ability to respond to market dynamics. "Pharmaceutical manufacturers really are looking for materials suppliers who have a demonstrated track record of resiliency, transparency and reliability, as well as an established global sup­ply chain network," says Jim Luchsinger, Vice President, Business Development and International Distribution, Spectrum Chemical Mfg. Corp. "In the past, pharmaceutical and biopharma manu­facturers often limited themselves to one 'go-to' supplier, then when supply constraints began to occur, they started seeking out alternative or backup suppliers for critical components. Those al­ternative suppliers were still just viewed as a backup if the primary supplier was not able to come through."
Today, he continues, more progressive manufacturers further minimize risk by designating two primary suppliers. "This ap­proach does a better job of keeping both primary suppliers equally engaged throughout a project. If there is an issue with one supplier, then the other is already well established with the customer to help offset the shortage and respond more quickly," he says. "The dual-primary supplier method also does a lot more to lower risk as well as raw material variability."
Mr. Luchsinger says he is also seeing a preference for a more "regional" approach to the supply chain, which results in better consistency and greater efficiency. Regulatory and scientific doc­umentation also ensures manufacturers have everything they need to meet global compliance requirements; it can be a chal­lenge when suppliers have many different countries of origin.
"Our customers value our ability to provide documentation for regulatory and compliance needs," he says.
Spectrum sells several thousand chemicals that can be used in pharmaceutical and biopharmaceutical manufacturing to en­hance solubility, extend shelf life, and facilitate drug absorption – all manufactured, packaged, and stored under cGMP in FDA-registered and inspected facilities.
References
Here's Why Excipient Prices Have Skyrocketed Around the World, By Shilpi Mehrotra, Sept. 13, 2022, https://klinegroup.com/heres-why-excipient-prices-have-skyrocketed-around-the-world/.
Pharmaceutical Excipients Market is Expected to Grasp the Value of $12,199.90 Million by 2029, Data Bridge Market Research, Oct. 11, 2022, https://www.globenewswire.com/news-release/2022/10/11/2532032/0/en/Pharmaceutical-Excipients-Market-Is-Expected-to-Grasp-the-Value-of-12-199-90-Million-by-2029-Size-Shares-Demand-Revenue-Growth-and-Global-Trends.html.
Pharmaceutical Excipients Global Market Report 2022: ResearchandMarkets.com, Dec. 28, 2022, https://www.businesswire.com/news/home/20221228005175/en/Pharmaceutical-Excipients-Global-Market-Report-2022-Use-of-Nanotechnology-to-Improve-Excipients-Capabilities-to-Reshape-Sector—ResearchAnd­Markets.com.
Veklury® (remdesivir) formulations inhibit initial membrane-coupled events of SARS-CoV-2 infection due to their sulfobutylether-β-cyclodextrin content, By Tamas Kovacs, et. al., British Journal of Pharmacology, Feb. 27, 2023, https://doi.org/10.1111/bph.16063.