SPECIAL FEATURE – Excipients: Matching Ingredients to Molecules Improves Functionality
The pharmaceutical excipients market is projected to reach $9.7 billion by 2025, up from $6.9 billion in 2019.1 Industry experts point to advancements in functional excipients, the emergence of multifunctional excipients and co-processed excipients, as well as an increase in biopharmaceuticals and the rising adoption of orphan drugs as the reasons behind this expected growth. Fillers and diluents have accounted for the largest share of the excipients market, mainly because of their increased use in solid oral drugs and manufacturing advantages. And while not surprising that oral formulations comprise the largest segment of the excipients market, topical formulations are estimated to be the fastest growing sector.
In this exclusive Drug Development & Delivery magazine annual report, excipient manufacturers describe how their excipient offerings are improving drug release, solubility, taste, physical characteristics, viscosity, and more, for a range of molecules.
ABITEC: Functional Lipid Excipients Combine for Enhanced Solubility
CBD is an emerging therapeutic field employing CBD as an agonist at various CBD receptors in the endogenous human cannabinoid system. Difficulties in the per-oral dosing of CBD include low aqueous solubility and a very high rate and extent of first- pass metabolism.
ABITEC's functional lipids have helped numerous manufacturers in the CBD industry overcome these challenges, explains John Tillotson, RPh, PhD, Pharmaceutical Technical Business Director, ABITEC. The company's functional caprylic and caprylic/capric tri-glycerides solubilize large amounts of CBD isolate, up to as much as 40% w/w. Additionally, incorporation of CBD dissolved in MCT with mono- and di-glyceride emulsifiers and surfactants generates a self-emulsifying delivery system carrying CBD. Certain long-chain lipids can be incorporated in these systems to promote lymphatic transport of CBD, allowing a portion of the dose to avoid first-pass metabolism.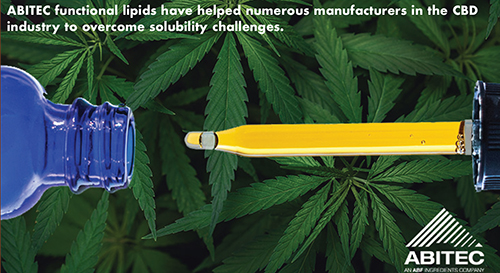 "ABITEC's lipid technologies have been successful at formulating numerous CBD-based products, improving both active delivery and solubility in per-oral dosage forms," he says.
Additionally, ABITEC's functional lipid excipients such as CAPMUL®, ACCONON®, and CAPTEX® are utilized in combination with one another to enhance the solubility and emulsification properties of topical and transdermal products. ABITEC's excipients provide improved transdermal penetration of actives, increased active solubilization, and enhanced emulsification in creams and gels.
The pharmaceutical industry is increasingly employing specialized excipients, or co-processed excipient systems, in order to realize the finished dosage form's critical quality attributes. The synergistic combination of multiple excipients to formulate additional excipient systems with expanded capabilities increases the market offering and leads to an overall market expansion for excipients.
ABITEC manufactures numerous multifunctional excipients, including Sterotex® NF, which serves simultaneously as a direct-compression tablet lubricant and a direct compression tablet binder and CAPMUL GMO-50 EP/NF, which can act in topical formulations as both an oil-in-water emulsifier and as a transdermal penetration enhancer. Additionally, ABITEC's CAPTEX, CAPMUL, and ACCONON ingredients can be synergistically employed in self-emulsifying formulations with multiple routes of administration and differentiated functionalities.
"The role for multi-functional and co-processed excipients systems is expansive and includes a multitude of applications, including increased compaction characteristics, improved flowability of powder, more rapid dissolution and disintegration characteristics, rapid oral disintegration with improved organoleptic characteristics, generating crystalline to amorphous changes, and increasing API solubility and lymphatic transport," says Dr. Tillotson. "Ultimately, combinations of excipients and multi-functional excipients will play an ever-expanding role in the formulation of emerging therapies, which require a broader spectrum of excipient performance attributes."
Ashland Life Science: Excipients That Enable Efficacy, Integrity, & Usability
Multi-functional or co-processed excipients are effective and efficient ways to improve the manufacturing process of a drug product. Benefits of using these excipients include enhanced productivity, reduced operating cost, and improved product quality. For example, Ashland's BenecelTM DC HPMC is a co-processed excipient with superior flow properties and improved compressibility, making it an ideal polymer to use in high-speed tableting operations or continuous manufacturing, explains Deneen Law, Global Marketing Director, Pharmaceutical Specialties, Ashland Life Science.
Ashland offers excipients for oral solid, oral liquid, and parenteral dosage forms. Key products include: Benecel HPMC, KlucelTM HPC, ViatelTM bioresorbable polymers, PlasdoneTM povidone and copovidone, and PolyplasdoneTM crospovidone. "These products help formulators increase the solubility of poorly soluble APIs, control drug release of modified-release products, reduce tablet size while maintaining API load and tablet integrity, reduce disintegration time of tablets, and enhance processability," she says.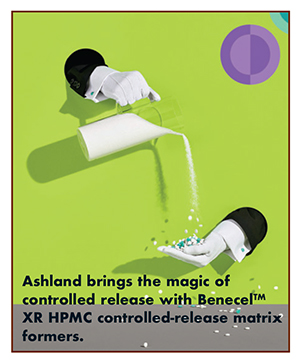 Plasdone S630 Ultra is a new grade of copovidone designed for use in hot-melt extrusion (HME) due to its improved stability, powder flowability, and thermal processability. One customer's formulation contained an API that is oxidation labile, so processing with high temperatures and high shear forces normally associated with HME would accelerate its instability, explains Ms. Law. "Plasdone S630 Ultra copovidone enabled our customer to complete the late-stage development of their formulation, which required using HME."
Another customer was having problems related to low tablet hardness and productivity. Ms. Law says Benecel K100M XR HPMC is an improved HPMC with enhanced compactability properties compared to a standard controlled-release grade of HPMC. "When the client used Benecel K100M XR HPMC, they were able to not only obtain higher tablet hardness, but also increase the speed of the tablet press therefore, improving productivity."
Avantor: Improving Stability & Viscosity of Parenteral Formulations
Increasing growth of novel treatments and biosimilars are driving the need for excipients that are suitable to be used in injectable and parenteral formulations. Parenteral excipients require stringent control of elemental impurities, bacterial endotoxins, and bacterial loads in addition to their specific chemical impurity levels and functional  attributes. In some cases, excipients can increase the drug product stability period while decreasing attributes such as viscosity or injection site pain and inflammation.
One of the major concerns for biologic drugs is stability and decreasing viscosity of the formulations. As a supplier of critical materials to the biopharmaceutical industry, Avantor has provided excipients with controlled levels of reactive and elemental impurities to improve the stability and viscosity of formulations. Benzyl alcohol, propylene glycol, detergents such as polysorbate, and Triton X 100 with lower levels of reactive impurities such as aldehyde, are a few examples. "The decreased potential of these materials to react or interfere with drug products increases formulation viability and stability period, leading to longer useful life of the finished drug product," says Nandu Deorkar, Vice President, Research & Development – Bioprocessing, Avantor.
Avantor has also developed a multifunctional excipient-based formulation platform to reduce viscosity of high concentration monoclonal antibody (mAb) formulations. "In these cases, we can utilize a combination of select novel excipients to reduce viscosity while increasing stability of the formulation," Dr. Deorkar explains.
Avantor offers a variety of functional excipients that can be used in parenteral, oral delivery, and implantable device formulations. Under its J.T.Baker® brand of high-purity cGMP chemicals, Avantor's range includes amino acids, antimicrobials, buffers and salts; detergents for solubilization and stabilization of parenteral or liquid formulations; and multifunctional, co-processed, and specialty excipients offered with reduced levels of elemental impurities or reactive impurities, such as aldehydes and ketones.
BASF Pharma Solutions: Addressing Physicochemical Challenges of Monoclonal Antibodies
Pharmaceutical excipients are growing on two main fronts. First, is growth associated with increased access to medicine. Specifically, the "Pharmerging" regions of the world have a growing middle class and increasingly robust health care systems, which includes the distribution of pharmaceuticals, and by default, excipients. Second, in the more developed regions, work is focused on the next generation of pharmaceuticals, many of which will be complex dosage forms and large molecule biologics, which typically require a higher degree of specificity and are tailored to meet a certain challenge (e.g. protein stability). As the prevalence of large-molecule formulations continue to grow, so does the need for innovative excipients to meet these challenges.
"The development of excipients in the biologics space are interesting and uniquely challenging for both suppliers and formulators," says Dr. Frank Romanski, Head of Global Marketing – Pharma Solutions, BASF Pharma Solutions. "In the upstream cell culture space, dozens, if not hundreds, of ingredients are utilized within the media, and each must be carefully selected and maintained for cell viability. Unfortunately, with the large pool of ingredients, it can be extremely complicated to determine the root cause of lower cell viability. However, within the formulation space, more traditional surfactants, buffers, salts, and other excipients (less overall) are utilized within parenteral dosage forms, but now the drug is no longer a simple and readily predictable small molecule, but rather something far more complex like a monoclonal antibody, where countless interactions, impurities, and other physicochemical challenges need to be carefully studied and addressed to ensure stability and efficacy."
To that end, BASF Pharma Solutions, together with Roche, publicly collaborated to develop Kolliphor® P188 Bio, a fit-for-purpose ingredient utilized as a shear protectant in CHO cells for the production of numerous biologic drugs. Kolliphor P188 Bio functions by forming a pseudo-coating over the CHO cells during growth and prevents them from a premature death associated with process shear (e.g. bubble bursts), a well-known and publicized problem in mammalian cell culture.
"This product mitigates the risk associated with other surfactants, where trace species can contribute to massive declines in cell viability during production," says Dr. Romanski.
BASF Pharma Solutions' excipient portfolio covers a multitude of functionality in five core areas: instant and modified release (solid oral dose), solubilization, softgels, skin delivery, and biologics. In addition to Kolliphor P188 Bio, BASF's recent excipients include Soluplus®, Kollicoat®, Smartseal, and Kolliphor HS 15, the latter currently being studied for use in protein stabilization. Most recently, BASF has also launched a series of digital tools to assist formulators, regulators, and purchasers in the pharma industry through its Zoom-LabTM, RegXcellenceTM, and MyProduct-World software applications.
BENEO: Technical Functionality That Tastes Better
Fillers and diluents account for the largest excipient segment because tablets are still the most common and popular form of taking medicine, says Dr. Michael Black, Head of Sales Pharma, BENEO. It is in this area that BENEO offers galenIQTM, a water-soluble filler binder with a pleasant, sweet taste used to make tablets, chewables, effervescents, lozenges, and powder dispersions such as sachets and stick-packs. galenIQ, which is Isomalt (EP, USP-NF, JP), is a disaccharide alcohol and polyol derived from beet sugar. It is available in eight specific grades, and can also improve the palatability of oral dosage forms. galenIQ proved helpful for a customer that wanted to make a tablet with three separate plant extracts. Each extract was difficult to compress as one was very hard and dense, another one was very soft, and the third one was oily. And all three had an unpleasant bitter taste, explains Dr. Black.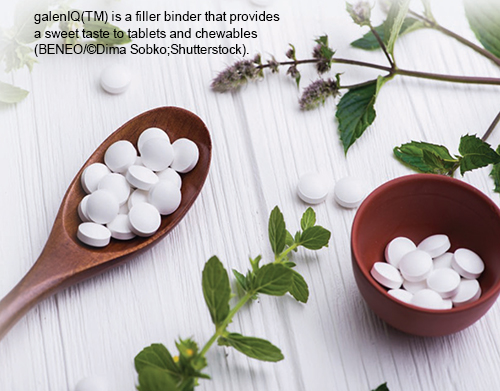 "By mixing and compressing with galenIQ, the customer was able to make a robust tablet with a pleasant neutral taste," he says.
The galenIQ range is multi-functional, comprising different grades of solubility with varying particle size. "Multi-functional excipients and co-processed excipients are of major interest to formulation developers because they can reduce the complexity of formulation design and enable robust formulations that are suitable for efficient manufacturing processes, such as high-speed tableting and continuous manufacturing," explains Dr. Black.
Cambrex: Overcoming Challenges of High-Potency, Low-Dose Drugs
High-potency drug substance development has been a core focus in the industry, but the highly potent nature of the substances makes manufacturing containment and safety critical throughout the manufacturing process. When high-potency drug substances are used in the formulation of low-dose drug products, there are development challenges along the way to becoming a final drug product.
"Manufacturing containment remains a consideration when formulating low-dose drug products," says Rich Shook, Director, Drug Product Technical Services and Business Integration, Cambrex. "The core focus is on segregation, content uniformity, and balancing the physical and chemical characteristics of the drug substance into a drug product. Proper excipient selection and evaluation of the critical physical parameters of those excipients is paramount to the successful development of the final dosage form."
Manufacturing techniques for low-dose drug products are also important. Although wet granulation and roller compaction are effective manufacturing methods, direct blending (for encapsulation and compression) is more effective at decreasing manufacturing complexity and cost, he says. Excipient development plays a large role in enabling direct blend implementation. "Innovations in excipient manufacturing such as spray drying and co-processing of excipients has helped alleviate some of the challenges in low-dose drug development," says Mr. Shook. "Regardless of the excipient(s) being used, an evaluation of Critical Material Attributes (CMAs) is essential to properly match the excipients to the targeted drug substance and is critical to the success of a directly blended formulation."
Multiple synergistic excipients can be combined into one particle (usually by way of spray drying or resin loading), resulting in a co-processed excipient. The co-processed excipients offer increased functionality and performance when compared to the standalone excipients, he says. Co-processed excipients can be modified based on established CMAs and dependent upon the targeted drug substance in the formulation. The particle size and ratio of excipients can be modified, which he says is advantageous when used in a direct blended formulation.
"At Cambrex, we have extensive expertise with drug substances targeted at low doses, using best-in-class development and manufacturing approaches to bring them together with excipients in finished drug products," says Mr. Shook. "We work to overcome challenges faced for direct blended, low-dosage forms to ensure that safe, efficacious end products are brought to the market."
Croda: Tailoring Excipient Selection to a Desired Function
As diseases and conditions become more complex, they warrant solutions that are more complex. With this increase in complexity comes the need to solve challenges of stability, delivery, and bioavailability. Consider proteins, for example. A complex structure with exposed functional groups allows for a number of side reactions to potentially take place, whether that be oxidation, carbonylation, or deamidation. Breakdown of the structure could cause issues with drug and/or formulation stability as well as drug absorption and efficacy. To combat this, excipients are used as stabilizers, emulsifiers, preservatives, or delivery enhancing agents. This ensures that complex drugs perform as they should.
"The key word here is functional," says Arsalan Khan, Technical Marketing Coordinator, Croda. "Excipients are no longer thought of as fillers or just a material to bulk out a formulation. They are specialized ingredients, and selected to help with a specific effect, whether that be targeting delivery of the drug, aesthetics of the final formulation, or shelf life of the final drug product."
Mr. Khan says Biopharma has been one of the biggest drivers here. "Common concerns like drug stabilization, surface adsorption, or agglomeration are real issues, and it is important that an appropriate ingredient is selected to help prevent these issues from occurring."
Co-processed excipients also serve an important purpose in the discussion of functional excipients. When selected properly, co-processed or multi-functional excipients enable one ingredient to serve multiple purposes. "Croda's Super RefinedTM Polysorbate 80 is an example of this, serving as a stabilizer for complex protein structures and preventing surface adsorption of proteins to various surfaces, such as the end container of a final formulation, says Sreejit Menon, PhD, Research and Technology Manager, Croda. "One of the main drivers behind co-processing is enhancing the effect that either excipient can provide solely, such as drug absorption and/or permeation."
Ingredient purity comes into play, as the level of functionality can, in many cases, be a direct function of the impurity levels. Dr. Sreejit says: "Croda's high-purity ingredients, such as Super RefinedTM Polysorbate 80 or Super RefinedTM PEG 400 are used with many APIs in various dosage forms and have shown improved stability versus when formulated using standard grade versions of these excipients. Therefore, it's important to take all considerations of an excipient into account in its selection to ensure it not only does the job it's supposed to, but does it at the highest possible level."
Daicel Corp.: Two Co-Processed Excipients for Orally Disintegrating Tablets
Oral administration remains the most popular route of administration, however, from the viewpoint of medication adherence, conventional formulations for oral administration, such as tablets and capsules, inflict difficulties in swallowing to patients with dysphagia. Orally disintegrating tablets (ODTs) have been developed for such patients and increase adherence. A widely used method for producing ODTs is direct compression (DC).
To provide improved flow properties and compressibility, various DC excipients have been developed including co-processed excipients, which are blends containing mainly fillers, binders, and disintegrants. These blends are processed by a variety of technologies, such as melt granulation, dry granulation, wet granulation, fluid bed granulation, and spray drying.
According to Dr. Yukiko Suganuma, New Business Development, Pharma Solutions, Daicel has developed two co-processed excipients for ODTs: GRANFILLER-D and HiSORAD. "GRANFILLER-D has three advantages," says Dr. Suganuma. "First, it is well balanced between tablet hardness and disintegration time and enables ODTs with rapid disintegration under high tablet hardness. Second, it has a high API dosing capacity. Even with API, tablets prepared with GRANFILLER-D have wicking ability and disintegrate rapidly. Third, GRANFILLER-D shows good content uniformity of content because it mixes well with API. The reason for this is assumed to be that its non-spherical and irregular-shaped particles contribute to the maintenance of homogeneous conditions."
In December 2019, Daicel launched HiSORAD as a new co-processed excipient for ODTs. Similar to GRANFILLER-D, HiSorad is well balanced between tablet hardness and disintegration time, says Dr. Suganuma. "The most distinct attribute of HiSORAD is its excellent compactibility. It is expected to be suitable for poorly compressible APIs."
Evonik Health Care: Functional Excipients to Enable, Enhance, & Differentiate Complex Dosage Forms
The development of more specialized and personalized drug products is driving pharmaceutical demand for functional excipients that can optimize safety and performance while increasing levels of patient acceptability. Functional excipients can be leveraged across a range of oral and parenteral dosage forms to match virtually any target release profile. They are also vital in enhancing the solubility of poorly soluble drugs, enabling the modified release of microbiota, and effectively targeting specific sites such as the colon.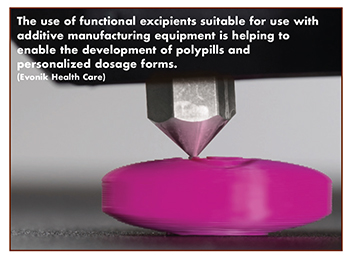 There is also growing demand for oral functional excipients that can be used with additive manufacturing technologies to accelerate clinical trials, create individualized dosing profiles, or combine several APIs into a single polypill utilizing additive manufacturing technologies.
"Pharmaceutical companies have recognized that multi-functional excipients are a highly versatile option to boost innovation outcomes during the development of complex drug products," says Paul Spencer, Head of Pharmaceutical Polymers and Services for Evonik Health Care. "However, it's essential that they partner with industry specialists in this field to help them anticipate and address likely formulation obstacles that would otherwise increase cost and regulatory risk, and delay the path to market."
Evonik's EUDRAGIT® polymers are multi-functional excipients suited to address requirements such as film formation for immediate- or modified-release coatings, binding in granulation processes, drug solubilization in spray-drying and melt extrusion, or matrix formation for sustained release tablets. Functional excipients such as EUDRAGIT and RESOMER® medical device polymers can also help to reduce formulation complexity, time for QC testing, and overall regulatory risk, he says.
"We continue to develop functional excipient solutions that can address unmet market needs," Mr. Spencer says. "For example, our new proprietary Advanced Excipient Manufacturing Process technology has allowed us to combine the respective benefits of two existing monographed polymers to create EUDRAGIT®FL 30 D-55. This new combination polymer for enteric coatings enables the design of highly flexible and easy-to-process enteric coatings that are attractive for use with dosage forms such as multiparticulate tablets."
Lubrizol Life Science Health: Polymers Impart Critical Properties
Multifunctional excipients are increasingly important as formulation requirements have become progressively more demanding. Many APIs in development today are complex and come with bioavailability or solubility issues, making excipients that can address multiple needs crucial. In liquids and semisolids, an excipient that can impart rheology modification, suspending ability, improved stability, and optimal sensory properties is highly coveted.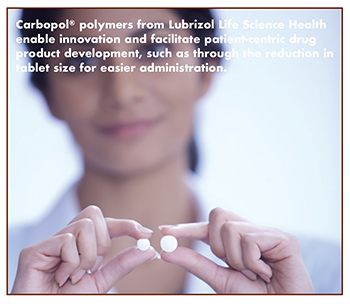 There is also an uptick in the development of orphan therapies, precision medicines, and 505(b)(2)s, all of which have unique formulation considerations and can require specialized inactive ingredients. "For oral dosage forms, inactive ingredients that have both controlled-release and binding properties can reduce tablet size and ensure better patient compliance," says Elena Draganoiu, PhD, Global Technology Manager, Lubrizol Life Science (LLS) Health. Additional functionalities such as bioadhesive properties, taste masking, if appropriate, and being already listed on the FDA's inactive ingredient database (IID) provide even more value.
LLS Health's Carbopol® polymers are one example of an excipient that meets these criteria and is IID-listed for select dosage forms and use levels. The company's excipient portfolio also includes Noveon® polycarbophil, PemulenTM polymers, and PathwayTM thermoplastic polyurethane for the pharmaceutical (prescription and over-the-counter), nutraceutical, and drug-eluting device markets.
"Many of our excipients are listed on the FDA's IID for these routes of administration at specific maximum potencies per unit dose," says Dr. Draganoiu. "Additionally, LLS Health polymers can impart multiple critical properties, including rheology modification, optimal suspension and stability, ideal sensory properties, bioadhesion, tablet size reduction, taste masking, and controlled drug release with tablet size reduction."
Clients come to LLS Health with specific formulation or product challenges, such as bitter-tasting drugs, adhesion requirements to a biological membrane, or viscosity-control needs for no-spill pediatric formulations. LLS Health recently assisted a client with reducing the size of an oral solid formulation for diabetes treatment, as too-large tablets can cause patient compliance issues, especially in geriatric patients, she explains. "Tablet size reduction is one of the multiple functionalities our Carbopol polymers can instill to a formulation, along with extended drug release, taste masking, and processing flexibility, as these excipients are compatible with multiple manufacturing methods, such direct compression, roller compaction, and wet or dry granulation."
Reference 
Pharmaceutical Excipients Market by Product (Organic Chemicals (Carbohyrates, Petrochemicals) inorganic chemicals), Functionality (Fillers, Diluents, Coatings, Disintegrants), Formulation (Tablet, Capsule, Topical, Parenteral) – Global Forecast to 2025, MarketsandMarkets, Oct. 21, 2019, https://www.marketsandmarkets.com/Market-Reports/pharma-excipients-market-956.html.