SPECIAL FEATURE – Excipients: Formulators Want Excipients for Solubility & Beyond
The pharmaceutical excipients market is expected to reach $8.53 billion by 2023, up from $6.4 billion in 2018.1 Organic chemical excipients had the largest share of the pharma excipients market because of their increased efficacy in oral delivery and increased compressibility and flowability properties. Based on functionality, fillers and diluents dominated the market in 2017 because of their ability to improve taste and ease administration. Additionally, binders experienced growth as they be can co-processed to help overcome formulation obstacles and reduce development costs.2 In this annual Drug Development & Delivery report, some of the industry's key players discuss the role excipients are playing in continuous manufacturing, biopharma formulation, and controlled- and immediate-release delivery.
Gattefossé USA: Lipid Excipients Solubilize APIs
Large molecular size, poor aqueous solubility, susceptibility to changes of pH, and enzymatic breakdown are some of the common challenges facing biomolecules today. Such complexities may be addressed by advances in lipid-based formulations or solid dispersions involving polymer-lipid combinations. Otherwise, as poor oral candidates, biomolecules are formulated into injectable forms. Overall, excipients that may improve the dissolution of API and enhance API permeability across the biological membrane are of high interest to drug development scientists.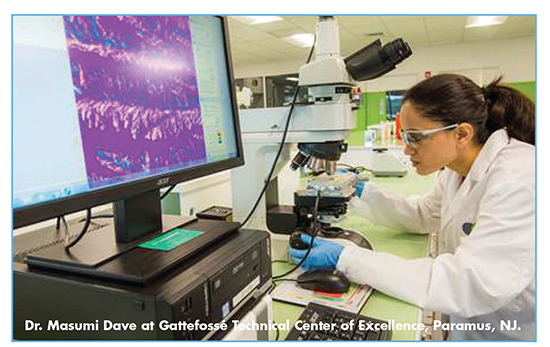 Lipid excipients fall in the multifunctional excipient category because they fulfill two or more functions in the dose and formulation, explains Jasmine Musakhanian, Scientific and Marketing Director – Pharmaceutical Division, Gattefossé USA. "Polyoxylglycerides like Gattefossé's Geluicre® 48/16 and 44/14 are excellent candidates for low-temperature melt granulation and melt extrusion to obtain granules or multiparticulate systems," she says. "More importantly, they have a biopharmaceutical role to play in vivo: Help solubilize the API in the gastric media, trigger fed vs. fasted state environment that is amenable to absorption, and enhance lymphatic transport that is desirable for drugs that are subject to hepatic elimination."
Glyceryl behenate (Compritol®) is a different example among the Gattefossé lipid excipients. Ms. Musakhanian says it helps disperse the drug in a lipid matrix, providing protection against hydrolysis or oxidation for sensitive APIs, and taste masking or sustained-release profile depending on the percentage used.
Evonik Health Care: Solving Solubility is Just the First Step
To achieve bioavailability, many formulators favor the use of amorphous solid dispersions. This will require using polymers as excipients that can form an amorphous embedding, and prevent recrystallization during storage, says Jessica Mueller-Albers, Strategic Marketing Director, Oral Drug Delivery Solutions, Evonik Health Care. Several polymers in the Evonik EUDRAGIT® portfolio, such as EUDRAGIT L 100-55 and EUDRAGIT L 100, have solid dispersion forming and recrystallization inhibition characteristics.
However, Ms. Mueller-Albers says that, increasingly, solubility enhancement alone cannot fully address the therapeutic requirements of specialized drugs. That is why many companies are adding controlled-release features to their formulation after the challenge of solubility enhancement has been solved.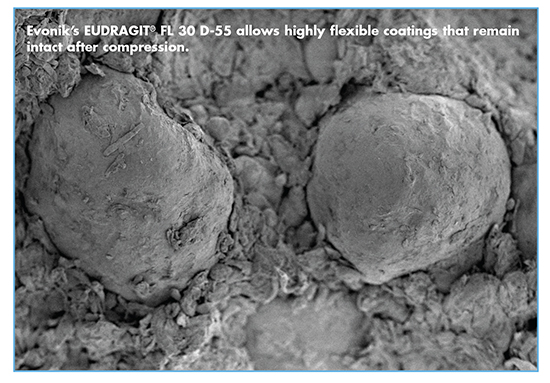 In addition to addressing solubility, pharma recognizes that as therapies become more specialized and personalized, excipients must also become more versatile to help streamline the path to market. Advanced functional excipients can reduce formulation complexity, time for QC test ing, and overall regulatory risk, she says. "That is why Evonik has leveraged its new proprietary AEMPTM technology to combine the respective benefits of two existing, monographed polymers to create EUDRAGIT FL 30 D-55. This new combination polymer for enteric coatings enables the design of highly flexible and easy-to-process enteric coatings for dosage forms such as multiparticulate tablets."
EUDRAGIT enteric coatings are also making a valuable contribution in continuous manufacturing. Ms. Mueller-Albers says that pharmaceutical manufacturers should be aware of potential hurdles in continuous manufacturing set-ups caused by some excipients, and that excipient suppliers should have the necessary technical knowledge and robust data sets to validate the suitability of their polymers to be processed continuously. In one recent example, she cites a recent collaboration between Evonik and GEA Process Engineering Ltd to evaluate the performance and design space requirements of EUDRAGIT L 30 D-55 enteric coatings on the Consigma continuous coating module. "Significant increases in manufacturing efficiencies were demonstrated while producing film coatings with excellent quality," she says. "Based on such application data sets, customers will be assured that efficient continuous coating processes can be developed for their products to help shift from batch processing to continuous processing."
BASF Pharma Solutions: Increasing Yield, Mitigating Risk, & Addressing Future Needs
Pharmaceutical formulators are seeking ways to improve the manufacturing process and product quality using multifunctional excipients, which play an important role in innovating delivery technologies and helping in-line extensions of marketed drugs. Moreover, multifunctional excipients can help pharma manufacturing through improved flowability, enhanced compressibility, improved bioavailability, and particle size distribution.
Most of the excipients in BASF's portfolio are multifunctional, meaning that one excipient is suited to meet multiple formulation applications. For example, Kollidon® VA 64 – a copolymer with vinylpyrrolidone and vinyl acetate – is a dry binder for roller compaction and direct compression applications, a film former for coating, and a drug solubilizer in melt extrusion. As a result, Kollidon VA 64 and/or Kollidon VA 64 Fine offer benefits for crystalline, poorly compressible, soluble or insoluble APIs. Other examples include Kollidon SR, a binder and matrix former for sustained-release tablets; and directly compressible excipients, such as lactose-based Ludipress® and mannitol-based Ludiflash®, both of which have been used as dry binders, pore formers for tailoring dissolution profiles, and ready-to-use formulations for tablets and orally disintegrating tablets.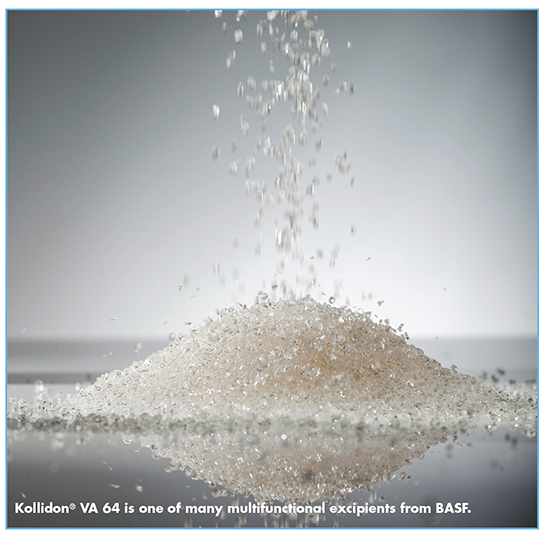 "Excipients are certainly an important consideration when transitioning from batch to continuous manufacturing," says Dr. Krizia Karry, Global Technical Marketing Manager, BASF Pharma Solutions. "They can enable faster process development and a more consistent product performance that ease regulators' concerns about changes to an approved drug product application."
Dr. Karry says that raw material properties, such as bulk density, particle size, compressibility, and permeability play an important role in continuous feeding and ultimately the unit formulae of the product. She says that while equipment manufacturers can build controls to mitigate feeder disturbances caused by changes in material properties leading to densification and bridging in hoppers and screws, a complete understanding of the impact of flow properties in process and product performance is essential for continuous manufacturing.
Similarly, adequate selection of raw materials can minimize process and analytical development efforts. "For example, a ready-to-use excipient like Ludipress that has already pre-mixed amounts of binder, filler, and disintegrant can greatly reduce the number of residence time distribution experiments, and simplify efforts in preparing calibration blends for Process Analytical Technology purposes."
Mitigating biological production risks and improving process yield are also important and are driving demand for high-purity excipients. BASF's Kolliphor® P 188 Bio is used to protect cells from shear stress and subsequently increase API yield. "As the industry interest in novel excipients continues to rise due to increase in BCS Class II and IV molecules, BASF is taking a more pragmatic 360-degree approach to address these challenges," says Dr. Karry. "BASF is building partnerships with drug manufacturers, contract research and manufacturing organizations, and equipment manufacturers to develop new polymers using individual monomers as building blocks for unmet formulation challenges." Examples include the PVA-PAA, Soluplus®, and Kollicoat® Smartseal polymers derived from their respective monomer blocks.
Roquette: Multifunctional Excipient Replaces Surfactants
Growth in the pharma industry is a natural driver for the excipients industry, where there is a continuous push to provide functional excipients capable of solving modern formulation challenges. Multifunctional excipients produce a wealth of innovation within the biopharmaceutical industry.
"A current example of this can be seen in Roquette's novel cyclodextrin technology, Kleptose BioPharma," says Peter Ferguson, Roquette's Global Marketing Manager – BioPharma. "This multifunctional excipient provides biopharma formulators with a technology that is well established within small-molecule applications." Mr. Ferguson explains that the technology is showing great promise in combining different functionalities, such as replacing polysorbates as surfactants while also providing a mechanism for protein stabilization.
"This technology is allowing formulators to respond to market demands, such as managing product lifecycle via a transition from low concentration, powder formulations towards high concentration, liquid dosage forms, administered subcutaneously." New data on multifunctional excipients in biopharma will be released throughout the year from Roquette.
Excipients will also play a crucial role in biosimilar formulations. Mr. Ferguson says while many formulators will look to start their formulation development by using the same excipients contained within the reference product, many will also seek to improve upon the original dosage. This can be seen through the move from intravenous to subcutaneous, from low concentration to high concentration, and from powder to liquid dosage forms. "All of these developments are made possible through excipient technology and will be a key driver within the biosimilar segment."
Colorcon: Faster & Flexible Coatings
Excipients with consistent quality and physical characteristics play an integral role in continuous manufacturing. For example, excipients with minimal variability can enable longer run times in continuous processes because process adjustments (and potentially stoppages) to offset changing excipient characteristics would not be expected, explains Dr. Ali Rajabi-Siahboomi, Vice President & Chief Scientific Officer, Colorcon. "Innovation in continuous manufacturing is a significant driver of interest in drug delivery technologies and novel formulations."
The end goal of using continuous processes is not necessarily about achieving high-volume throughput, but about adopting lean and consistent manufacturing processes that build quality into the manufacture of the product, rather than testing at the end of the process. "One attribute that the continuous coating process offers, compared to batch processing, is faster and more frequent presentation of tablets to the coating spray zone; this results in shorter cycle times to achieve consistent coating coverage," Dr. Rajabi-Siahboomi says. "Creating an efficient continuous coating process not only depends on the equipment used, but also on the formulation of the coating."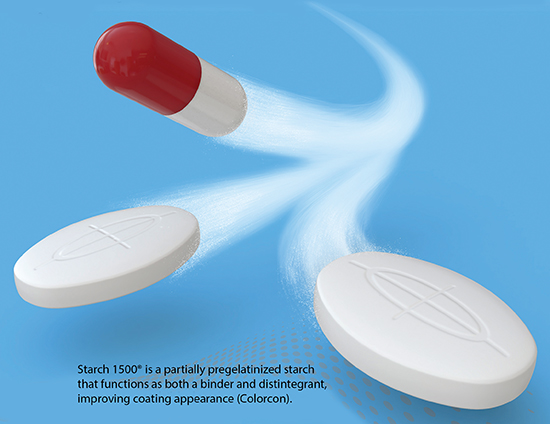 To meet the industry need for faster and more flexible coatings, especially for continuous manufacturing, Colorcon recently introduced Opadry® QX, an immediate-release, quick, and flexible film coating. He says that the coating allows for a higher percentage of solids (up to 35%) and results in a smooth, uniform tablet appearance. "The flexibility of this coating means it can be applied across a range of solids concentrations (20%-35%), product temperatures, and airflows, making it particularly suited for continuous processing, while the improved coating uniformity inherent in continuous coaters allows manufacturers to take full advantage of improved throughput rates."
Pharmaceutical formulators are also seeking ways to improve the manufacturing process and product quality through the use of functional excipients. Selecting the best excipients, however, requires a balance between time and cost efficiencies as well as anticipated product performance. Multifunctional excipients have traditionally been widely used, often in combination with a range of other excipients. Dr. Rajabi-Siahboomi adds that the overuse of superdisintegrants often creates stability challenges, as well as increasing cost.
Pharmaceutical developers are now focusing on excipients that provide more targeted functionality for a specific manufacturing process. Co-processed excipients offer the possibility of simplifying drug product formulations while meeting functional and technical requirements, he says. "Co-processed excipients are often novel combinations of compendial excipients that offer unique properties and provide formulation and manufacturing simplification."
One Colorcon customer (a large generics manufacturer) recently requested technical support to help reduce the defects observed on a coated tablet. Upon close inspection, the Colorcon technical team noticed that the coating showed discontinuities typically associated with the presence of superdisintegrants in the core. "Occasionally, superdisintegrant particles on the tablet surface can absorb many times their mass in water and disrupt film formation," Dr. Rajabi-Siahboomi explains.
In this case, the customer was encouraged to replace the binder and the superdisintegrant in the core formulation with Starch 1500®, a partially pregelatinized starch that functions as both a binder and distintegrant. Starch 1500 is suited for moisture-sensitive formulations, acting as a moisture scavenger while producing a mix of tablet hardness and rapid disintegration.
"Because Starch 1500 can function as a disintegrant without swelling to nearly the same extent as superdisintegrants, the tablet coating appearance greatly improved and the impact of moisture was eliminated," he says. "The result was a significant improvement in the customer's product appearance while simplifying the overall drug product formulation and reducing the number of excipients used in the manufacturing process.
REFERENCES 
Pharmaceutical Excipients Market worth 8.53 Billion USD by 2023, Pharmaceutical Excipients Market, Markets and Markets, https://www.marketsandmarkets.com/Press-Releases/pharma-excipients.asp.
Global Pharmaceutical Excipients Market to 2026: Size, Market Share, Application Analysis, Regional Outlook, Growth Trends, Key Players, Competitive Strategies, Research and Markets, June 15, 2018, https://www.globenewswire.com/newsrelease/ 2018/06/15/1525047/0/en/Global-Pharmaceutical-Excipients-Market-to-2026-Size-Market-Share-Application-Analysis-Regional-Outlook-Growth-Trends-Key-Players-Competitive-Strategies.html.
To view this issue and all back issues online, please visit www.drug-dev.com.