SOLID DOSAGE FORMS – Better Treatments Through Innovative Solid Oral Drug Release Technologies
INTRODUCTION
Oral solid dosage controlled-release technologies have experienced a surge in innovation in recent years. This can be largely attributed to demanding new therapies that need to show improved outcomes and patient medication compliance to ensure better cost effectiveness of overall disease management. New products need to be highly differentiated with optimized therapeutic product profiles to effectively compete in the global marketplace, with the increased focus of payers; both private insurance companies and governments. The following discusses Catalent's recent technology innovations in controlled-release solid oral dose functions and forms as well as more established methods for altering release profiles of molecules. It describes how the product profile benefits of these technologies address the prevailing industry pressures. A real-world case study is provided in which applying alternative formulation technology significantly improved an existing therapy and delivered patient and payer benefits.
CONVENTIONAL APPROACHES TO MODIFY OR CONTROL SOLID ORAL DOSE RELEASE PROFILES
Extended (Long-Acting) Release: Decreased dosing frequency compared to IR formulations. Specific amount of drug released at specific time intervals.
Delayed Release (Enteric Coating): Targeted drug release to specific points in the body, based on pH or other characteristics, to deliver the active drug where it is needed for optimal efficacy and safety.
Combined IR/ER (Pulsed Release): Short- and long-term combined release (IR plus ER) in one dose form, to deliver active drug when it is needed. Figure 1 depicts a variety of tablet forms incorporating controlle-drelease functionality.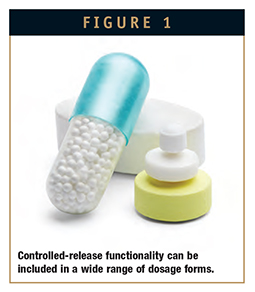 Wurster coating is one of the more recognized approaches for developing effective controlled-release formulations. The technology involves bottom-spray fluid bed coating of particles with appropriate actives, excipient, or polymers to modify the drug release. Compared to alternative approaches, Wurster coating is a preferred technology as it achieves uniform statistical residence time within the coating zone and enables highly consistent coating of powders, granules, pellets, or micro-tablets. The accuracy and reproducibility of the coating process results in superior product performance of the controlled-release dose form.
Catalent is a leading provider of Wurster coating and related processes and has recently invested in major capacity and capability expansions at its Schorndorf, Germany; Somerset, NJ; and Winchester, KY; facilities to meet customer demand for higher quality, complex controlled-release formulations from pilot, development, and commercial scale.
INNOVATIONS IN CONTROLLED-RELEASE TECHNOLOGIES
Increasing demands for greater product performance and differentiation have resulted in new approaches to delivery modification. OSDrC® OptiDose(TM) is an innovative and versatile delivery technology for unique differentiated controlled-release and combination dose forms. It enables design of dividable, multi-layer, single or multi-core tablets with practically endless variety of core numbers, shapes, sizes, and placement within the tablet. The heart of this technology is a variable double punch configuration, which enables this flexible-core capability and provides new alternatives in controlled-release designs for drug formulators, developers, and marketers in a high-quality, one-step manufacturing processes. This new technology expands tableting capabilities in many areas, including fixed dose combination tablets, pulsatile release, and dividable tablet formulations that differentiate beyond existing technologies. Applications utilizing OptiDose technology are currently approved and marketed in Japan for type II diabetes and cardiovascular indications. Figure 2 is an example of just some of the tablet functionality and unique dose forms that OptiDose innovative tablet technology can deliver.
Fixed Dose Combination Tablets: OSDrC OptiDose technology provides flexibility to design single or multiple API in a single tablet, with different release profiles. In addition to demonstrated improvement in mass variability between layers, OSDrC OptiDose also offers tablet design to minimize cross-layer interaction of API and improved product stability.
Unique Pulsatile Release: Multiple core shape, size, and placement allows for optimized chrono-therapy release profiles to deliver superior control of plasma levels and duration of action, reduced dosing, and reduction of breakthrough symptoms.
Compliant Dividable Tablets: A significant advancement in both simple and coated dividable tablets. Integrity of drug-release profiles and benefit of incorporating controlled-release properties within each dividable tablet half is increasingly important. FDA Guidance issued in March 2013 requires ease of handling, ease of dividing tablets, and integrity of drug content and release profiles if a tablet is divided. As OptiDose technology can completely encase the active in each half, it yields consistent active dosing whether the tablet is divided or administrated as a complete dose. The technology also greatly reduces the variability that can occur when breaking a dividable tablet.
BIOAVAILABILITY ENHANCEMENT
During drug development, an increasingly common hurdle to achieving desired therapeutic profile endpoints is when a molecule has poor bioavailability properties. Bioavailability of a molecule can be enhanced by increasing the solubility, permeability, or both. The number of poorly soluble compounds is estimated to be 40% of molecules on the market; however, more than 70% of drugs in development are classified as poorly soluble.1,2
Technologies utilized to enhance solubility, and thus bioavailability, include softgel, spray drying, hot melt extrusion (HME), and particle size engineering. A challenge in optimizing the solubility of a molecule is that it usually requires a multifactorial approach to:
 – Optimize the API
– Optimize the Formulation
– Select & Optimize the Processing Technology
– Develop the Desired Marketed Product Form (Tablet, Capsule, etc…)
In many cases, the impact on resulting solubility is co-dependent across these factors. Catalent has been an industry partner for over 75 years enhancing bioavailability of drugs with its softgel technology. To address the growing need to provide both deep technology expertise and broad integrated services to optimize bioavailability, Catalent has established and built OptiMelt(TM), a unique capability to formulate, develop, and commercialize HME processes and integrate these into differentiated dosage final forms.
OptiMelt, combined with OptiForm(TM) molecule salt form screening, 75 years of heritage with Softgel technology, and leading expertise in downstream final dose forms, such as tablets, capsules, and granules in stickpacks, provides pharmaceutical innovators with a holistic integrated solution to formulate, process, and commercialize poorly soluble drugs.
CONTROLLED-RELEASE TECHNOLOGIES: THE BENEFITS OF IMPROVED THERAPEUTIC PROFILES TO PATIENT & PAYERS
Controlled-release technologies and innovative dose forms can be applied to new molecules and life cycle management opportunities across the pharmaceutical and consumer health industries to address a multitude of patient, physician, and/or payer needs. Figure 3 summarizes how application of controlled-release technologies or alternative dose form technologies can widely enhance numerous product profile attributes in a variety of ways.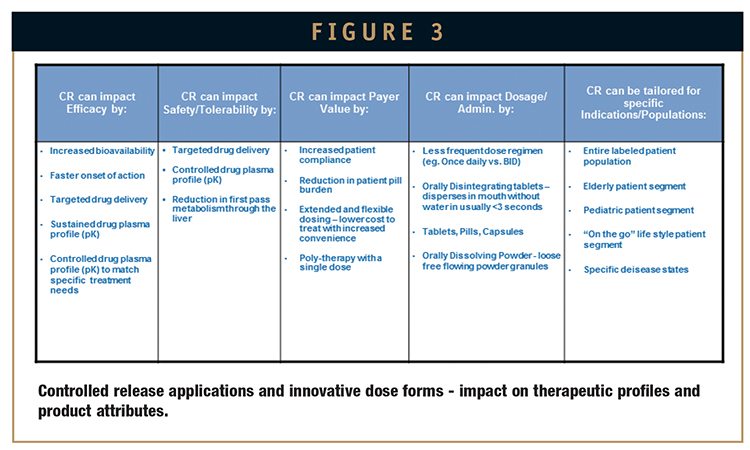 CASE STUDY: DOSE FORM IMPACT ON THERAPEUTIC PROFILES

Orally disintegrating tablet (ODT) formulations are well suited for delivering better treatments to specific patient groups, such as geriatric and pediatric populations, and also specific therapeutic disease states in which patients have difficulty swallowing pills, or if they require the convenience of immediate treatment and don't have access to water to assist in pill or capsule dosing.
Catalent was a pioneer in the ODT space with its best in class Zydis® platform. Zydis ODT tablets disintegrate in the mouth almost instantaneously (usually in less than 3 seconds) without the need for water. Zydis ODT tablets have been formulated and marketed to deliver better treatments across a wide variety of therapeutic indications, examples include pain, CNS, emesis (nausea), allergy, GI GERD, motion sickness, diarrhea, epilepsy, and Parkinson's disease.
Selegiline is an anti-Parkinson's therapy. When initially developed, conventional selegiline tablets were taken more than once daily, had suboptimal efficacy for patients, and presented a safety issue due to metabolite formation resulting from liver metabolism. Subsequently, selegiline was developed in a Zydis ODT fast dissolve formulation. In this dose form, the active is adsorbed buccally (in the oral cavity), which avoids first-pass liver metabolism and thus is a more efficacious and safe dose form. An additional benefit was reduced (one daily) dose frequency. Figure 4 summarizes the therapeutic profile benefits of the Zydis ODT dose form versus traditional tablets/capsules for selegiline.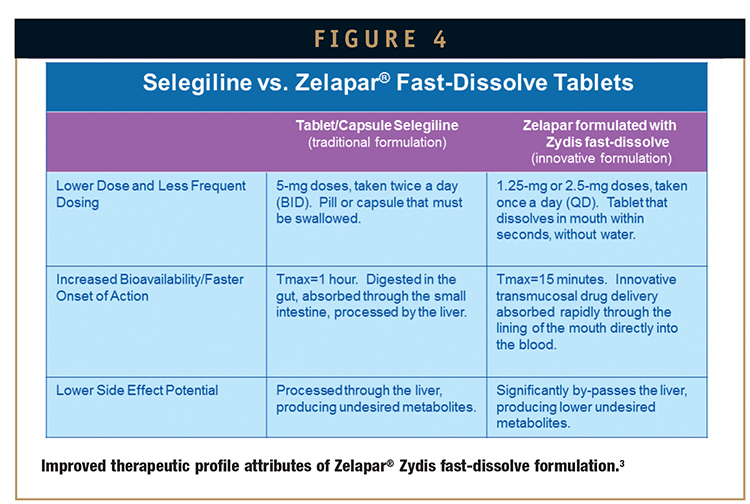 A study of longitudinal patient records at Catalent Pharma Solutions supports the theory that drug delivery technology can also improve patient medication compliance. A 1-year study compared the compliance rates of Zelepar (Zydis ODT fast-dissolve tablets) to standard selegiline tablets. Results showed a 98.5% compliance rate with the ODT formulation compared to 81% with the standard oral treatment in US Medicare patients – a 22% compliance improvement to prescribed treatment, shown in Figure 5.4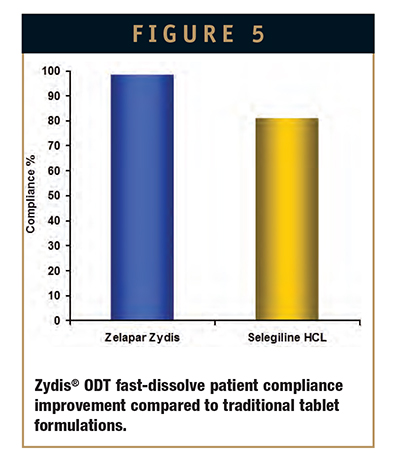 SUMMARY
Controlled-release technology and unique dose form applications transform drugs into better treatments at all stages of development and life cycle management – through improved therapeutic profiles. Increasing constraints to developing new therapies has necessitated innovation from solution providers. Catalent's recent introduction of OSDrC OptiDose technology provides optimized dosing and controlled-release applications, and the expansion of OptiMelt gives new solutions to enhance drug bioavailability. These new technologies complement established solutions, such as coating and granulation and the Zydis Fast Dissolve Platform. Elegant dose forms and innovative controlled-release solutions are now required to ensure commercial success through increased product performance, patient compliance, and convenience, which deliver differentiated value to patients, physicians, and payers.
REFERENCES
1. Patel ND, Patel KV, Panchal LA, Shukla AK, Shelat PK. An emerging technique for poorly soluble drugs: self-emulsifying drug delivery system. Int J Pharmaceut Biolog Arch. 2011;2(2) 621-629.
2. Benet et al. Bulletin Technique Gattefosse. 2006;9:9-16.
3. Clinical Trial results and labeling of Zelepar utilizing Zydis ODT fast-dissolve table formulation. Information available upon request.
4. 12-month longitudinal patient records analysis conducting by SDI Health, a division of IMS Health, conducted in January, 2011. Study included 1,520 US patients prescribed Zelapar, Eldepryl, or generic Selegiline.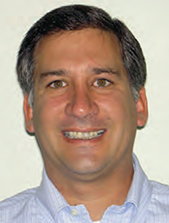 Steve Hamlen has 20 years' experience in the life sciences industry, including Hoffmann-La Roche and Johnson & Johnson. While at Johnson & Johnson, he held various strategic marketing and product management positions, leading global teams in the creation and execution of new molecular entities and life cycle management commercial strategies. This included the development of differentiated product profiles for numerous new products, line extensions, and licensing opportunities across multiple therapeutic areas. During his time at Hoffmann-La Roche, he was an Engineer in the vitamins new product forms group, where he was responsible for developing new vitamin and antioxidant formulations, and technology transfer from laboratory to production. His experience transcends emulsification, milling, granulation, spray drying, fluid bed drying, and tableting. Mr. Hamlen earned his BS in Chemical Engineering and his MBA from Lehigh University. He is currently a Global Group Product Manager in Catalent Pharma Solutions' Advanced Delivery Technologies business, leading teams in the launch of new technologies and identification of new opportunities for OSDrC® OptiDose(TM), OptiMelt(TM) hot melt extrusion, and controlled release technologies.
Dr. Nick Johnson joined Catalent Pharma Solutions in March 2012 as Strategic Marketing Director for the Advanced Delivery Technologies business unit. His core focus is on driving the business' global marketing strategy to achieve growth and geographic expansion while introducing new technologies. Prior to joining Catalent, Dr. Johnson was Head of Strategic Marketing for SAFC Small Molecule Contract Manufacturing Services, where he was responsible for the development of strategic business plans and commercial initiatives and the positioning and integration of eight manufacturing sites. Dr. Johnson began his career in 1994 as Senior Research Scientist for Chiroscience plc and ChiroTech and after 5 years, moved on to the role of Project Manager for the company's portfolio of catalyst technologies and generic APIs. Following the company's acquisition by Dow in 2001, Dr Johnson spent 7 years as Business Development and Marketing Manager with Dowpharma, where his role included market analysis and development of product strategies for pharmaceutical customers; in-licensing of enabling chemical and biochemical technology from industry and academia; technology out-licensing to major pharmaceutical companies; and commercial contract negotiations at senior levels in global pharmaceutical and biotech companies. When Dowpharma's small molecule business was acquired by Dr. Reddy's, he spent 3 years as Commercial Director of the company's Custom Pharmaceutical Business. Dr. Johnson earned his MBA in Business from Imperial College, London, and his BSc in Chemistry and PhD in Organic Chemistry at University of Manchester Institute of Science and Technology.