SINGLE-USE MARKET – Rise of Single-Use Technologies & Systems in Biopharmaceuticals
INTRODUCTION
Eliminating the risk of contamination is the greatest challenge faced by manufacturers of biopharmaceuticals, and currently, this requires high-level monitoring of critical manufacturing processes. Single-use technology (SUT) aids biopharmaceutical manufacturers in overcoming this challenge by reducing or eliminating the need for sterilization between batches, thereby improving operational efficiency.
Single-use technology first penetrated the market in 1978 in the form of disposable capsules and a range of filters. In 2009, biopharmaceutical manufacturing was revolutionized with the introduction of single-use 2D and 3D process containers and filter assemblies for mixing and storage systems.
Throughout the past decade, disposables and SUTs have become increasingly popular. With SUTs, it is possible to make a small amount of drug products that might be suitable for preclinical and clinical testing. Single-use technology is considered one of the leading areas of development among biomanufacturing companies, as more and more bioprocessing companies are venturing into SUT offerings, not least because SUTs can be applied to the production of all types of biopharmaceuticals.
A shift can be seen in the healthcare industry, from common mega-revenue earner drugs to a multitude of drugs that are useful for smaller volumes of customers. This shift has led to the development of facilities that can produce more than one product, offering flexibility, and scalability. Single-use systems (SUS) address these specialized needs by significantly reducing capital costs and reducing the time-to-market for many drugs.
Companies are eager to develop new SUS, which are used in both upstream and downstream processing of biopharmaceutical production. Indeed SUTs can be implemented at different points along the production process, and this acts as a catalyst for end-user customers to increase adoption of SUTs in their biopharmaceutical production.
The SUT market includes all kinds of systems for upstream processing, such as single-use or disposable bioreactors, membrane adsorbers, media bags, bioprocess containers, disposable mixers, and samplers. Single-use technology is also expanding into downstream processing with many products, such as disposable filter cartridges, depth filters, tangential flow filters, tubing, and connectors.
According to BCC Research (www.bccresearch.com), the global SUT market was valued at just $1.7 billion for 2014. This market is forecast to grow to more than $3 billion by 2019, to register a healthy 5-year compound annual growth rate (CAGR) of 11.7%. The biggest increase will come in the disposable mixing systems segment, which are used in all forms of biopharmaceutical production. This market is forecast to jump to $301.3 million by 2019.
APPLICATIONS
During scale-up of cell culture in the manufacturing of biotherapeutics, specialized approaches are employed to address the unique characteristics of these bioproduction processes. Single-use technologies address these specialized needs of the biotherapeutic development and manufacturing processes.
In the biopharmaceutical industry, the term "single-use," refers to disposable products that are intended for one-time use. Generally, these objects are made from a plastic (polyamide, polycarbonate, polyethylene, polyethersulfone, polypropylene, polytetrafluorethylene, polyvinyl chloride, cellulose acetate, or ethylene vinyl acetate) and are disposed of after use.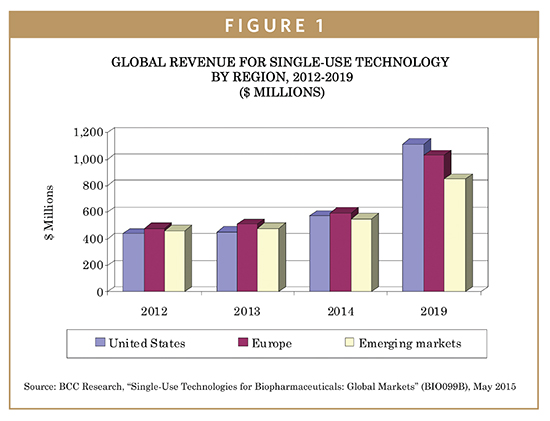 ​Disposables can be rigid (molded systems) or flexible (bags made from multilayer films) and are often supplied pre-sterilized, having been gamma-irradiated at close levels between 25 k and 50 k Gy. This eliminates the need for subsequent sterilization of the equipment, such as the steam sterilization often required with stainless steel equipment. Disposables have numerous advantages, ranging from reducing contaminants to cost reduction.
With SUTs, it is possible to manufacture small amounts of drug product that might be suitable for preclinical and clinical testing. Prior to the availability of SUS, the material needed required substantial facilities. These are used throughout the workflow of bioproduction, from buffer and medial preparation to bioreactor cultures for vaccines to the storage and shipping of intermediates and bulk biologics.
Single-use technologies can be applied from upstream bioprocessing through downstream bioprocessing and to formulation and filling. Disposables are used in the same manner as stainless steel counterparts, except that some special consideration has to be given for specific characteristics.
Many biopharmaceutical companies use a variety of SUT products, such as small-scale bioreactors, connectors, and bags. These products offer significant advantages over stainless steel systems, such as flexibility, cost-effectiveness, and decreased time-to-market; hence, SUTs have been widely accepted.
Throughout the past decade, the number and variety of SUS available in biopharmaceutical development and production processes has increased steadily. In 2009, a 35% growth rate was reached, largely from products used for upstream processing. The innovation for other unit operations started in the 1990s with the development and introduction of single-use bags for the storage and transport of buffer and media by the company HyClone, which is now part of Thermo Fisher.
After the shortage of vaccines for the pandemic H1N1 virus in 2009, interest in SUTs surged as vaccine production companies realized that they needed a quick method of avoiding vaccine shortages in the future. The reduction in time required for any drug to reach the market is the key advantage of using SUTs.
SUTS VERSUS TRADITIONAL REUSABLE TECHNOLOGY
Single-use/disposable technology has emerged throughout the past decade as a cost-effective and flexible basis for biopharmaceutical manufacturing. The biopharmaceutical industry is rapidly adopting SUTs for clinical trials, product launches, and commercial production of biomolecules to provide cost-effective and flexible process capabilities. These technologies have requirements, advantages, and disadvantages that differ from traditional reusable technology.
The disposable products that are still used in bioproduction were introduced more than 30 years ago and include tubing, T-flasks, and pipettes. Single-use technology has become highly complex since then; so much so that they are now also used as alternatives across manufacturing operations.
Disposable devices range from simple equipment, such as transport containers, to entirely closed unit operations. Some SUTs are critical for biopharmaceutical manufacturing (ie, sensors, bioreactors, connectors, distribution assemblies, process fluid mixing and storage systems, material and product storage and cryopreservation systems, and filtration and chromatography systems).
More stringent specifications are required in downstream processing than upstream processing for material robustness and leachables in the implementation of disposable technology. Large-scale purification of scalable tangential flow and depth filtration units now use SUTs.
Novel SUTs for large-scale purification and polishing are now available and widely accepted, including the use of pre-packed, pre-qualified, and pre-sanitized large-scale chromatography columns containing many popular resins. The purification of protein, DNA, viruses, and other high-molecular-weight products, and DNA and endotoxin removal in the polishing steps, are performed with the application of membrane adsorbers. Technologies like simulated moving bed (SMB) chromatography are now becoming popular in the biopharmaceutical industry.
MARKET ANALYSIS
An increase in life-threatening diseases has created a surge in demand for therapeutic drugs. This increased demand has forced biopharmaceutical manufacturers to look for quick and effective ways to manufacture drugs. This in turn has led to the growth of SUTs.
Single-use technologies are widely accepted even by contract manufacturing organizations to increase manufacturing efficiencies. Disposable technologies are widely used in small-scale production and have become important options for some large-scale manufacturing. This will continue to enhance improvements in other areas, such as purification of monoclonal antibodies, recombinant proteins, etc.
Leading players in the SUT market include Sartorius Stedim Biotech, Pall Corp., EMD Millipore, and Thermo Fisher Scientific. According to BCC Research, the worldwide market for all types of single-use products was nearly $1.4 billion in 2013, which increased to $1.7 billion during 2014. The market is projected to be around $3 billion in 2019, growing at a compound annual growth rate (CAGR) of 11.7%.
In terms of overall market share, single-use media bags led with a 13.8% share, followed by bioprocess containers with 12.7% share. Single-use bioreactors had an 11.6% share. Tangential flow filtration systems and the other category of single-use products had 11.2% and 11% shares, respectively.
Tubing and connectors had a 10.2% share of the market, disposable filter cartridges had an 8.3% share, disposable mixing systems had 7.8%, and depth filtration systems had 7.4%. Membrane adsorbers and samplers had 3.9% and 2.2% shares, respectively.
In regional terms, the European SUT market was worth $511.5 million in 2013, and is expected to reach $1 billion in 2019, growing at a CAGR of 11.5%. Companies like Sartorius, Pall, and EMD Millipore have contributed to the growth of the market through their sales of single-use products.
Emerging markets were valued at $459.7 million in 2012 and are projected to be around $851.7 million in 2019, growing at a CAGR of 9.1%. The major flourishing markets include India, China, and South Korea, as they recognize the benefits of SUTs, such as pre-validation of systems, cost-effectiveness, and fast set-up.
Sales for the US market in 2014 were impressive due to higher sales of Thermo Fisher as a result of its acquisition of Life Technologies in February 2014. With the acquisition, Thermo Fisher gained rights over the vast number of single-use products of Life Technologies. The US market was valued at $573.3 million in 2014. The market is expected to grow at a 5-year 14.2% CAGR to reach $1.1 billion in 2019.
RECENT DEVELOPMENTS
In June 2012, EMD Millipore released data demonstrating successful application of the Mobius Cell Ready 3 L single-use bioreactor for large-scale production of human stem cells on collagen-microcarriers. This application facilitates large-scale production at up to one-third the cost per dose of cells grown in flat culture stacks. Routine expansion of human mesenchymal stem cells (hMSCs) has shown consistent production with cell yields up to 700 million cells in 2.8 L after 14 days of growth.
In May 2013, GE Healthcare acquired Xcellerex. This acquisition expanded GE Healthcare's offerings of SUTs and services for the manufacture of biopharmaceuticals, such as recombinant proteins, antibodies, and vaccines. The acquisition offered strong capabilities in product development and marketing for GE, thus increasing growth in the worldwide market.
In May 2014, Advanced Scientifics (ASI) and Chemic Laboratories declared a 3-year joint cooperation agreement that will enable the two companies to collaborate on a number of product development projects in the pharmaceutical and biopharmaceutical markets, particularly in the areas of leachable and extractable analytical data supporting SUS. Under the cooperation model, the two companies will provide details regarding their SUS. This will allow the users to streamline their processes, and predict material compatibility and regulatory guidance about leachables in SUS.
In August 2014, Progenics Pharmaceuticals, an oncology firm, selected contract manufacturer Gallus BioPharmaceuticals to manufacture the anti-prostate specific membrane antigen (PSMA) monoclonal antibody that is used in Progenics' PSMA ADC (antibody drug candidate) product, which is in ongoing Phase II clinical trials. In its manufacturing facility, Progenics uses a variety of single-use products, such as single-use bioreactors, single-use media bags, etc., in upstream and downstream processing.
Also in August 2014, Patheon Inc. acquired contract manufacturer Gallus BioPharmaceuticals. With the acquisition, Patheon plans to expand its presence in the US outsourcing biological market. Gallus has two mammalian cell culture facilities in the US in Princeton, NJ, and St. Louis, MO, and is one of the major users of SUTs. Its Princeton site is focused on process development and early stage production. Its St Louis site is concerned with commercial manufacturing of biopharmaceuticals and contains both stainless steel and single-use equipment.
Resulting from advantages such as cost-effectiveness, reduction in contamination, higher product efficiency, and reduced time-to-market, the SUT market will be further enhanced in the coming 3 to 4 years.
The driving forces for the SUT market includes a reduced product development timeline, reduction in costs of labor, material and utilities, increased process efficiency, increased productivity, and reduced risk of cross-contamination.
This article is based on the following market analysis report published by BCC Research: Single-Use Technologies for Biopharmaceuticals: Global Markets (BIO99B) by Shalini Shahani Dewan.
To view this issue and all back issues online, please visit www.drug-dev.com.
Kevin James Kinsella is a New York City-based healthcare and medical communications professional with more than 15 years of experience in the private and public health sectors.
Shalini S. Dewan holds a Master's degree in Pharmaceutical Chemistry with over 14 years of industry experience and was awarded a Gold Medal by the Prime Minister of India for her work.