REAL ESTATE – How Biopharma M&A Can Uncover Hidden Value in Real Estate
INTRODUCTION
A new era of deal-making is accelerating breakthrough ther­apy development, making now a prime time to look for break­through real estate and facilities concepts as well. As life sciences ventures grow, so do the challenges — and opportunities — for newly combined firms to leverage real estate to engage the talent it takes to deliver life changing medicines, while uncovering the value needed to stay competitive.

Today's industry leaders are extending the cutting edge of innovation by continuing to invest in strategic mergers and ac­quisitions (M&A). Throughout the past 5 years, almost every major industry player has been involved in at least one deal. In 2018 alone, life sciences M&A activity totaled $198 billion, according to EY's 2019 M&A Firepower Report.1 Recent highlights include Bristol Myers Squibb's $74-billion acquisition of Celgene and Takeda's $62-billion acquisition of Shire Pharmaceuticals. All told since 2012, 31 biotech companies have been acquired with val­uations exceeding $1 billion each. And continued deal-making is all but ensured throughout the next 5 years, given pending patent expiries, competitive headwinds, and growing technology needs.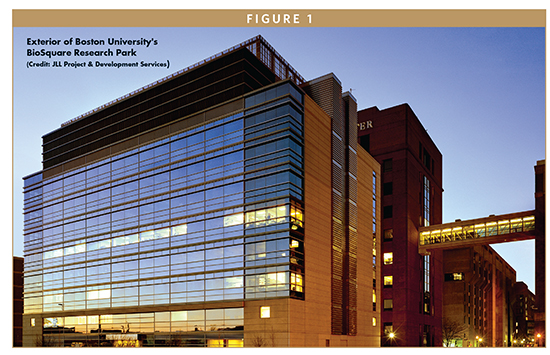 This rampant M&A coincides with a meaningful all-time high investment in therapeutic innovation. According to JLL's eighth annual Life Sciences Outlook, biopharma­ceutical firms spent a record-breaking $179 billion on research and development (R&D) in the US alone.2 In fact, the top 10 pharma companies spent an average of 35% of their total R&D investments on M&A transactions throughout the past 10 years.
The ripple effect of such investment is evident across the drug development land­scape, with the total number of drugs in development having jumped up a whop­ping 46% in the past 5 years. Looking ahead, R&D investment is expected to rise by another $34 billion by 2024, a signal that firms are serious about improving fu­ture pipelines, now.
Bold new deals, together with record-breaking investment, provide invaluable opportunity to broaden product lines. But the full promise of these actions can only be realized when leaders also give due at­tention to the complex real estate strate­gies that accompany M&A.
HOW REAL ESTATE STRATEGY CAN HELP UNLOCK M&A VALUE
Even the most pioneering ideas can only become real when innovative people are inspired to show up for work each day. And these days, prize employees aren't likely to accept anything less than the best when it comes to facility location, technol­ogy, and workplace experience — partic­ularly in times of change like an M&A.
But the boom in funding has ramped up the competition for the right spaces, in the right places. It can be harder and cost­lier than ever to find the production and lab facility you need in a coveted innova­tion center, where talent, capital, and other essential resources flow freely.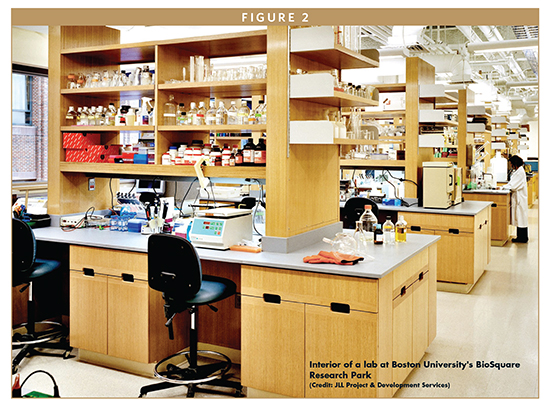 Even the most profitable life sciences firm cannot afford to simply throw money at this problem. Each real estate and facil­ities decision matters in a world where R&D returns have dropped to their lowest levels in 9 years. Returns among 12 large-cap biopharma firms sank to 1.9% in 2018 – down from 10% in 2010. Mean­while, the cost of bringing a new therapy to market has surged to record highs, ris­ing from $1.2 billion in 2010 to nearly $2.2 billion in 2018.
Fortunately, new real estate concepts offer a new source of hidden value that can give your firm an advantage after a merger is complete. First and foremost, consider how the deal can empower your corporate real estate team to improve op­erational efficiencies while giving talent what they want.
Next, let data and industry insights guide decisions over the fate of the ac­quired company's real estate portfolio. By cutting expenses like redundant lab or of­fice space and optimizing distribution sys­tems and supply chains, real estate teams can significantly reduce a combined com­pany's occupancy costs. And, in such de­cisions, operational costs are just the tip of the iceberg. If redundant facilities are in premium locations, for example, can one be used for other purposes? What do em­ployee retention rates look like? Is it best to keep teams spread across multiple lo­cations, or to unite them in a single, state-of-the-art campus? Advanced analytics can help teams make the right call in pri­oritizing locations to keep, drop, or right-size.
Outsourcing facility management is another promising way to unlock agility and efficiency in a newly integrated port­folio. A seasoned facility management team, with deep experience in sensitive production and R&D environments can help apply leading practices in mainte­nance, security, and compliance — while adding all-new value in energy and sus­tainability performance. These technical wins can also support the employee expe­rience, adding pride in workplace and driving individual comfort and choice.
Location and facility sophistication are also important to attracting and retaining the talent firms need for future growth. High-demand researchers, data scientists, and engineers flock to pricy cities like Boston, San Francisco, and Seattle. Secur­ing a spot in the center of the action can support talent and innovation. Yet, for many companies, finding enough high-quality space is cost-prohibitive–and, in many cases, the space is simply not avail­able. Fortunately, a new crop of co-work­ing R&D labs and incubator spaces are helping make room for smaller outfits, too.
IN A FAST-GROWING INDUSTRY, GROW WISELY
Despite broader uncertainty in the po­litical and economic arena, the outlook is bright for life sciences. Demand for life-saving therapies is not going anywhere, and every day, new investment supports new breakthrough development. Forward-looking firms can ensure their real estate strategies do, too.
By seizing M&A as an opportunity to consolidate facilities wisely, today's leaders can spark innovation, and offset its high cost, all at the same time.
REFERENCES
EY, 2019 M&A Firepower Report, https://www.ey.com/Publication/vwLUAssets/ey-2019-ey-m-and-a-fire­power-report/$FILE/ey-2019-ey-m-and-a-firepower-report.pdf. Accessed January 23, 2020.
JLL, Life Sciences Outlook, https://www.us.jll.com/en/trends-and-insights/research/2019-life-sci­ences-outlook-innovation-is-alive-and-well. Accessed January 23, 2020.
To view this issue and all back issues online, please visit www.drug-dev.com.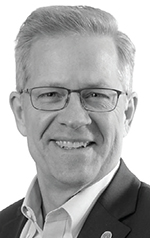 Roger Humphrey is the Executive Managing Director, Industries, and Leader of JLL's Life Sciences Group, guiding a team of more than 3,000 professionals dedicated to developing customized solutions for the entire real estate and facilities management lifecycle. His team is accountable for providing facilities management, transaction management, lease administration, design/construction/ project management, and portfolio management to leading life sciences firms. He came to JLL from Merck & Co., Inc. where he built and staffed the Global Real Estate Services department, which provided portfolio strategy, occupancy planning, workplace innovation, and transaction management for a 100-million-square-foot portfolio that spanned 750 sites in 80 countries. He earned his MBA from Babson College and a BSBA with a concentration in Finance from Northeastern University.