PROTEIN THERAPEUTICS MARKET – Technology Advances Spur Market Growth of Protein Therapies
INTRODUCTION
With the advent of genetic engineering and recombinant DNA technology, it is now possible to produce a wide variety of human proteins. BCC Research found that these novel technologies have lifted the market for therapeutic proteins to new heights. Recombinant DNA technology has created an ease in the manufacturing of protein therapeutics and is replacing traditional natural methods of extraction. The rising demand for high-quality recombinant therapeutics is motivating the research and development of mammalian cell–based manufacturing systems for improved production yields.
Indeed, protein therapeutics have become an important segment of the healthcare industry, and their numbers have increased in recent years. With their many advantages over small-molecule drugs, protein therapies form a promising market; they are less likely to interfere with normal biological processes, and they are often well tolerated. Because of their high specificity and low immunogenicity, protein therapeutics are widely used to treat various diseases such as cancer, diabetes, and multiple sclerosis.
In terms of revenue, monoclonal antibodies are the largest market segment. The increased incidence of many chronic diseases has driven use of monoclonal antibodies. However, this segment faces competition from the entry of follow-on biologics. Vaccines are another growth segment in the biopharmaceutical industry. The improving economic conditions, increasing public awareness of vaccination, and global efforts of governments to eradicate viral and bacterial infections are key drivers. Improved manufacturing technologies have also fueled the vaccines market.
Improvements in technologies such as mass spectrometry, advances in molecular genetics, and progress in production technologies are all key drivers of the protein therapeutics market. In addition, rapid advances in medical technologies, improved diagnosis of diseases, and the expansion of healthcare in emerging markets should have a positive impact on the market. Patent expiries and increasing competition are also major influences.
The global market for protein drugs reached $174.7 billion in 2015. At a 5-year compound annual growth rate (CAGR) of 7.3%, it is predicted to attain $248.7 billion by 2020. By region, the United States is the largest market, valued at nearly $92 billion in 2015. The United States is also the fastest-growing, and with a projected 5-year CAGR of 10.9%, the revenue for this region is forecast to be $154.1 billion by 2020. Europe, which reached $42.2 billion in 2015, is expected to total $48.1 billion by 2020, reflecting a 5-year CAGR of 2.6%.
The market for protein drugs is analyzed broadly according to the following types: peptide hormones, monoclonal antibodies, cytokines, therapeutic enzymes, blood factors, vaccines, and peptide antibiotics.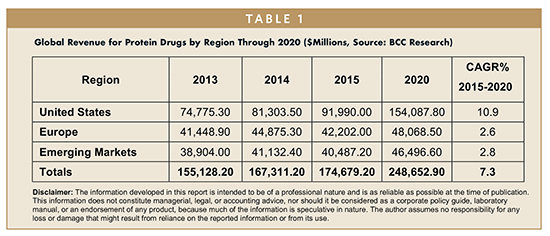 Peptide Hormones
Peptide hormones include human growth hormones, insulin, erythropoietin, and gonadotropins. Hormonal disorders are on the rise due to the increase in obesity and decreased physical activity. The introduction of delivery systems and devices for the convenience of consumers has also boosted the peptide hormones market. The insulin market is expected to grow in the coming years due to the increasing diabetic population. And gonadotropins are used for treatment of infertility disorders, which are expected to rise commensurately as the childbearing age increases.
The peptide hormone market is principally divided into growth hormones and erythropoietin. Human growth hormones have gained importance as therapeutic agents; however, generic versions of some products are already available. Widespread renal anemia has increased the demand for erythropoietin, making it a major contributor to the peptide hormone market. Darbepoetin, a second-generation erythropoietin, allows patients to administer doses less frequently; therefore, the market share of darbepoetin is rising.
The global market for peptide hormones reached $30.4 billion by the end of 2015, bolstered by new drug approvals. A dip in the erythropoietin segment was in part due to increased competition; the introduction of less-expensive biosimilars is expected to push the market in a downward direction. The human growth hormone market remained almost stagnant in 2015; due to the availability of generic drugs, it is not expected to grow much.
Vaccines
In terms of generating revenues, vaccines are one of the brighter spots for manufacturers. The increasing acceptance of adult vaccines, public awareness of flu prevention, and introduction of new vaccines are key growth factors. Various government programs and increased public awareness of bacterial diseases such as meningitis, diphtheria, and typhoid have augmented vaccination rates in various countries. The vaccines market is driven by population growth and the need for therapeutic vaccines for cirrhosis, liver disease, and primary liver cancer.
The vaccines market is characterized by moderate growth prospects, higher capital investments, and increased inputs in research and development activities. With novel manufacturing technologies (for example, the use of embryonated eggs for influenza vaccines), the time and cost required to manufacture vaccines are reduced. The World Health Organization has predicted that widening access to vaccines could prevent 24.6 million to 25.8 million deaths by the end of the decade.
The overall vaccines market is forecast to grow well due to innovations and discoveries for newer vaccines against diseases such as malaria. Viral vaccines represent the largest segment, driven by the wide spread of diseases such as influenza and hepatitis. The viral vaccine market has benefitted from governmental awareness programs for diseases such as polio and measles. There has been significant growth in the bacterial vaccine market, worth $12.8 billion in 2015. This segment is expected to continuously grow at a CAGR of 10.9% to 2020.
Therapeutic Enzymes
Therapeutic enzymes are used to treat enzyme deficiencies, which can lead to various types of metabolic and enzymatic disorders. Some enzymatic disorders require enzyme replacement therapy, in which the specific enzyme that is inactive or absent in affected individuals is replaced with a functional enzyme molecule that is isolated or produced in a lab. Enzyme therapy is used for cystic fibrosis, pancreatic insufficiency, and certain cancers.
The global therapeutic enzyme market is divided into lysosomal enzymes, pancreatic enzymes, and others (mainly thrombolytic enzymes). Increasing sales of branded products are primarily driving growth of the overall enzymes market. The global market for therapeutic enzymes, dominated by the lysosomal segment, reached $6.6 billion in 2015 and is expected grow at a CAGR of 10.4% to 2020.
Monoclonal Antibodies
The commercial achievements attributed to monoclonal antibodies in the last few years are incomparable to any other therapeutic class. Driving forces for the monoclonal antibodies market include the increasing incidence of cancer; the specific advantages of monoclonal antibodies as therapeutic agents; higher demand to address unmet therapeutic needs in immunology and oncology; and lower competition as the result of accessing novel target space. A broad-spectrum mode of action is another remarkable advantage of monoclonal antibodies, making them useful in various diseases. Because of their high specificity, monoclonal antibodies have become very important as targeted therapies.
The market scenario for monoclonal antibodies is changing due to launches of biosimilars. The patents of most monoclonal antibodies are set to expire before 2020. The first biosimilar molecule, which is an infliximab biosimilar, will be joined by eight others by 2020. The series of launches, however, may not immediately shake the branded antibody market. The complex structure of monoclonal antibodies, a long and complicated manufacturing process, and stringent regulatory requirements will restrict entry of a large number of biosimilars to the market. The market for human monoclonal antibodies is anticipated to increase at a CAGR of 16.6% to 2020.
Cytokines
The cytokines market is broadly characterized as colony stimulating factors, interleukins, and interferons. The deciding factors for this market have been the launch of hepatitis B and C cytokine therapies, as well as immunity boosting cytokine therapies. The latter are used during and after organ transplantations, and to fight infections during chemotherapy. The global cytokines market is growing moderately. The increasing number of patients with hepatitis and the price increases of therapeutic interferons are the driving forces. The availability of biosimilars in European and other countries is a restricting factor for the cytokines market.
Interferons led the cytokines market with $7.1 billion in 2015, followed by granulocyte colony stimulating factors. The interleukin segment will experience the most growth through 2020, driven by an aging population across all regions and subsequent increase in incidence of age-related macular degeneration.
Blood Factors
Blood factors are a major contributor to the protein therapeutic industry. More use of blood factors is required as the incidence of bleeding disorders increases. The aging population is another growth factor because older people are prone to developing diseases with higher demand for blood derivatives.
The blood factors market is principally divided into coagulation factors (the predominant segment) and immunoglobulins. Recombinant versions of various coagulation factors are the major drivers for growth of this segment. The global immunoglobulin market is also growing well, due to continuous demand for immunoglobulin treatments as well as the approval of existing intravenous immunoglobulin products for new indications.
The blood factors market is dominated by sales of coagulation factors, which reached $10.5 billion in 2015 and will likely increase during the next few years. Products derived through recombinant technology are less contaminated than those derived through the process of natural extraction, and thus are more acceptable to manufacturers and consumers. Factors driving the immunoglobulin market include sales of existing products, increased diagnoses, and a rise in prophylactic treatment of immune diseases.
Peptide Antibiotics
Peptide antibiotics (including cyclosporine, vancomycin, bacitracin, and others) are relatively small molecules. They act quickly and lethally against a broad spectrum of pathogens and escape many of the drug-resistance mechanisms. Recent advances in organ preservation and procurement techniques have contributed to an increasing number of organ transplants and the development of new peptide antibiotics.
In 2015, cyclosporine was the strongest segment of the peptide antibiotic market, worth nearly $1.9 billion. The emergence of antibiotic-resistant bacteria has caused a decline in the use of vancomycin, which is facing the availability of alternative or new treatment options for invasive methicillin-resistant Staphylococcus aureus infections. The peptide antibiotics market has also been negatively affected by the onset of generics. However, this market is expected to rebound as the result of new approvals in recent years, and to increase through 2020.
FACTORS AFFECTING THE PROTEIN THERAPEUTIC MARKET
It is expected that the increase in the aging population and attendant age-related diseases will inevitably lead to growth in the protein therapeutic market. Chronic conditions such as diabetes, cancer, autoimmune disorders, and cardiovascular diseases are becoming more prevalent. According to the World Health Organization, chronic diseases will become the seventh-leading cause of death worldwide by 2030. By virtue of their higher efficacy and fewer adverse effects, protein therapeutics are helpful in treating such diseases. Thus, the increase in persons suffering from these diseases has led to growth in the protein therapeutic market.
Advancements in manufacturing technologies are another major factor in the protein therapeutic industry. Traditionally, proteins were extracted from human or other biologic resources. For example, vaccines were made using egg cultures. However, with the advent of recombinant DNA technology, manufacturers can now produce large quantities of vaccines using genetically modified organisms. Blood products were initially extracted from human plasma; however, they are now manufactured using DNA technology, either in bacterial expression systems or in mammalian cell culture systems. Growth in the protein therapeutic market is likely to mirror these advances in manufacturing technologies.
The high cost of protein therapeutics is a major challenge. High product prices result in the unavailability of certain therapies that are required by patients for quick and effective recovery. At the same time, prices are controlled by law in many countries. Government agencies regulate prices through their control of national healthcare organizations, which can bear a large part of the cost for supplying medicines to consumers. European governments are adopting aggressive pricing strategies to exert downward pressure on drug costs. Healthcare reforms in countries such as France, Spain, and Germany have controlled pricing and authorized generics. In the United States, there are no government price controls over private sector purchases, but federal law requires manufacturers to pay rebates on certain medicines to be eligible for reimbursement under several state and federal healthcare programs.
The healthcare and medical industries are highly regulated. Regional/country-specific laws and regulations are important determinants of whether a product can be successfully developed and approved. The benefit-to-risk evaluation continues to be a chief consideration in the approval of new medicines, and regulatory authorities are increasingly focusing on the safety of medications during the post-approval phase. Every country governs its own laws of regulation, making it harder for manufacturers to meet the requirements for each. Therefore, regulatory pressures create a challenge in the market for protein therapeutics.
Finally, the availability of biosimilars in European and other countries is a restricting factor for the protein therapeutics market. Many top-selling drugs are approaching patent expiry, paving the way for biosimilars. In March 2015, the US FDA approved the first biosimilar in the United States, Zarxio, for filgrastim. Thus, the North American market scenario is expected to change with the onset of biosimilars.
This article is based on the following market analysis report published by BCC Research: Global Markets and Manufacturing Technologies for Protein Drugs (BIO021E) by Shalini Shahani Dewan. For more information, visit www.bccresearch.com.
To view this issue and all back issues online, please visit www.drug-dev.com.
Shalini S. Dewan earned her MS in Pharmaceutical Chemistry and has more than 14 years of industry experience. She was awarded a Gold Medal by the Prime Minister of India for her work and has worked with top companies in India and in the US. Some of her other reports for BCC Research include: Global Markets and Technologies for Advanced Drug Delivery Systems, Orthopedic Drugs, Implants and Devices and Global Markets for Reagents for Chromatography.
Laurie L. Sullivan, ELS, is a Boston-based writer and editor with 20 years of experience in medical communications. She is certified by the Board of Editors in the Life Sciences. She contributes regularly to the BCC Research blog focusing on Life Sciences.