PLATFORM DEVICE – Alina: Shining the "Light" on the Benefits of a Platform Approach to Treating Chronic Conditions
INTRODUCTION
Chronic diseases not only have a huge impact of the quality of life of pa­tients and their extended families, but they also place a significant, and yet avoidable, burden on overstretched hospital infra­structures as well as the wider healthcare eco-system, including payers and phar­maceutical companies.
One such example of a chronic con­dition becoming increasingly burdensome is obesity. According to the most recent publication of the World Obesity Atlas, be­tween 14%-17% of the world population aged over 5 years are living with obesity (BMI ≥ 30 kg/m²). This means about 1 bil­lion people are already affected by the condition. If the current trend persists, the incidence is expected to increase to 20% by 2030.1 In the US alone, the medical care costs for this disease amount to $173 million, according to the Center for Dis­ease Control and Prevention.2 Despite these startling statistics, however, fewer than 3% of people with obesity are phar­macologically treated for it.

Closely linked to obesity is diabetes, in which it is believed 415 million people are living with diabetes globally, which is estimated to be 1 in 11 of the world's adult population. 46% of people with diabetes are undiagnosed and do not meet treat­ment goals for glucose lowering, which is key to managing their condition. This fig­ure is expected to increase to 642 million people living with diabetes worldwide by 2040.3 As a result, the estimated global di­rect health expenditure on diabetes in 2019 was $760 billion, a figure expected to grow to a projected $825 billion by 2030 and $845 billion by 2045.4 Although there are differing estimates on the scale of spend, there is one consistent message – this is a significant challenge. Indeed, the spend on diabetes treatments makes it the third largest therapy area in terms of expenditure on drugs.5
MARKET TRENDS IN THE PREVALENCE OF DIABETES
There are three major market trends pharma organizations and their partners are currently wrestling with. First, as we have already acknowledged, obesity is a real challenge. Indeed, according to the World Health Organization, worldwide obesity has nearly tripled since 1975.6
Second, there is significant price pres­sure for insulin in the US even though the incumbent US Government has recently introduced the Inflation Reduction Act, to place a cap on insulin pricing for seniors on Medicare.
The third trend is the increased mar­ket access in developing countries, with data suggesting that by 2030, more than 80% of people with diabetes will live in what is currently called a "developing country."7 Asia accounts for 60% of the world's diabetic population. As it has un­dergone rapid economic development, ur­banization, and transitions in nutritional status in recent years, so too has it wit­nessed an explosive increase in diabetes prevalence within a relatively short time.

RECOGNIZING THE NEEDS OF PHARMA PARTNERS
Pharma innovation continues to play a key role in addressing the human and fi­nancial burden of managing chronic con­ditions, such as cardiovascular disease, gastrointestinal disorders, pain manage­ment, neurological disorders, and arthritis. We all understand the primary concern of pharma partners – to mitigate as much as possible, the risks associated with drug de­velopment, including safety, efficacy, cost, and time to market. The investment in time and money in development is such that every day counts, and so delays or worse, program failure, represents a significant risk. As indeed does delays in market launch or unforeseen costs, which may result in the end product not being as price competitive as anticipated.
ANSWERING THE CALL TO MITIGATE THE CHALLENGES OF CHRONIC DISEASES
According to the WHO, healthcare providers need to do more to engage pa­tients in managing their own conditions and to use treatments properly. Several observers have also suggested that in­creasing the effectiveness of interventions to increase adherence may have a far greater impact on health than further im­provement in biomedical treatment.8
The growing emphasis on self-admin­istration of medication, for example, pro­vides the means to ease the pressure on health services, improve compliance, and make everyday life more convenient for patients. And with the Covid-19 pandemic accelerating this trend as routine patient visits to healthcare facilities plummeted, pharma companies have intensified their focus on drug delivery devices patients can use in their own homes.

INTRODUCING A PROVEN PLATFORM TO ADDRESS THESE CHALLENGES
Key to the success of any drug delivery device are factors such as proven technol­ogy, low development costs, fast time-to-market, and a strong intellectual property (IP) position for the pharma company. Against this background, platform drug delivery devices have become more im­portant than ever, providing an "off-the-shelf" choice that minimizes project risk and avoids the requirement for an up-front investment of millions of dollars to fund the development of new bespoke de­vices. Instead, the availability of cus­tomization options to suit a variety of different drugs and primary packaging with minimal change in components keeps costs down and offers faster time-to-mar­ket, enabling patients to benefit from new therapies sooner rather than later.
Stevanato Group's Alina® pen injector is an example of a platform device for variable and multi-dose treatments for chronic conditions. With three different configurations, the platform meets an emerging and important market demand to exploit one single platform for different treatments.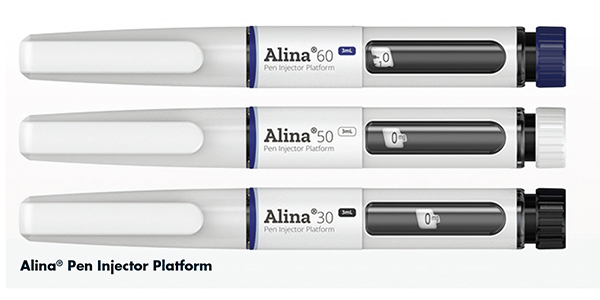 The benefits of a single platform de­vice for pharma partners cannot be under­estimated as they are wide ranging in terms of mitigating risk, time, and cost. We will explore each of the benefits in more detail, knowing the Alina platform enables combination products to be launched with a more cost-effective and streamlined ap­proach.
THE BENEFITS OF A PLATFORM APPROACH ARE WIDE RANGING FOR PHARMA PARTNERS
As an established combination prod­uct platform with proven technology, the mitigation of risk is a key feature. Quite simply, all the significant hurdles and roadblocks have already been navigated by the in-house device development teams. A positive consequence of reduced risk is of course an accelerated time to market as the product used in clinical trials will be exactly the same specification as the marketed product. There is a wide held view that adherence within clinical trials is not anywhere near optimum, and as a result, the level of dosing can come under scrutiny, a challenge entirely eradicated with products such as the Alina pen injector.
Increases in risk and time inevitably lead to greater costs, another element that is then mitigated by using an established platform that features a ready-to use, stan­dardized, rapid to implement technology-transfer package to ensure quality of delivery and the simplification of processes.

While there is a great deal of stan­dardization in the platform, that is not to say there is no flexibility. The Alina pen in­jector can be used for different applica­tions as it can deliver a range of different maximum doses – enabling pharma part­ners to maximize the benefit of a singular platform for several different treatments – another tangible way in which risk, time, and cost can be managed effectively.
The Alina platform also features a range of branding and customization op­tions, which means that, as an example, individual colors can be selected for each market segment. As we have already ac­knowledged, there are real and timely op­portunities for pharma; however, sometimes the points of differentiation may be limited, for example, in the gener­ics market, and therefore branding can be a key contributor to a successful market launch.
Design for manufacturing and ease of final assembly have also been considered to optimize the production process. The device is manufactured at Stevanato Group's FDA-inspected facility in Ger­many, where access to tooling and sub-as­sembly equipment is available to clients aiming to maximize the return on invest­ment in their device programs and reduce time to market. Dedicated production tool­ing and lines are available on request for customization or to support overall risk mitigation strategies.
Alina is fully compatible with Ste­vanato Group's range of glass cartridges – such as bulk and ready-to-use EZ-fill® cartridges – as well as the company's final assembly equipment. Moreover, Alina is compatible with a variety of fill-and-finish systems.
One big concern for pharma is whether a device can go from bench to large-scale manufacturing at a cost and time the market can bear. The Alina plat­form is supported by all the documenta­tion and rigor required to deliver a standard of quality that reassures the reg­ulatory authorities. And because the plat­form is established, scalability through the development lifecycle from trials to matu­rity is readily managed for all kinds of cus­tomers, from start-up biotech's to global pharma partners. And of course, as the manufacturing infrastructure is built, cus­tomers do not necessarily need to invest in potentially expensive device design, tool sets, and assembly and sub-assembly equipment or testing.
Alina can be provided as a flexible device platform because, as a full solution provider, Stevanato Group has a deep un­derstanding of how pharmaceutical prod­ucts, containers, closures, and drug delivery devices interact with each other and work together to form a cohesive sys­tem. This holistic approach means pharma companies looking for customized drug delivery and containment solutions can benefit from tailored solutions that com­bine products and technologies into a co­herent, integrated offering.
Indeed, Alina was developed to ad­dress the need to reduce the complexity of the supply chain, and this philosophy of ef­ficiency is applied to all processes relevant to the development of a combination product, from initial concept through to its launch on the market.
From a patient perspective, the device has a user-friendly design to improve pa­tient experience. It is intuitive for patients, with minimal user steps, and is designed to give confidence and reassurance. To help patients select the right dose, Alina has only one number visible in the dosing window at any given time, and the dose can be corrected with a simple dial back. Patients receive visual, audible, and tactile feedback for dose setting, correction, and injection, and the injection force is opti­mized for patient comfort.
SUMMARY
Diabetes and obesity can be re­garded in some quarters as a global pub­lic health crisis that threatens the economies of all nations, particularly de­veloping countries. Fuelled by rapid ur­banization, nutrition transition, and increasingly sedentary lifestyles, the dia­betes epidemic has grown in parallel with the worldwide rise in obesity. Asia's large population and rapid economic develop­ment have made it an epicenter of the epi­demic.
Post pandemic, there has been a growing emphasis on self-administration of medication. Not only does this relieve the pressure on health services, it also makes life considerably easier for patients and im­proves regimen compliance. In order to maximize the present opportunities, pharma companies are increasingly looking to adopt a platform approach to development in which proven technology, low development costs, fast time-to-market, and strong IP are all delivered.
The Alina platform is one such solution that combines enhanced patient-focused features while mitigating the time, risk, and cost traditionally associated with product development. At every stage of the development lifecycle, from small batch clinical trials to industrialization and large-volume manufacture, the Alina platform and Stevanato Group's expertise and experience enables pharma partners to realize the potential of the market and enable millions of patients to access high-quality therapies.
 REFERENCES
https://www.worldobesity.org/resources/resource-library/world-obesity-atlas-2022.
https://www.cdc.gov/obesity/about-obesity/why-it-matters.html.
https://www.diabetes.co.uk/diabetes-prevalence.html#:~:text=World_diabetes_prevalence,with_diabetes_worldwide_by_2040.
https://pubmed.ncbi.nlm.nih.gov/32061820/.
https://www.iqvia.com/insights/the-iqvia-institute/reports/the-global-use-of-medicines-2023
https://www.who.int/news-room/fact-sheets/detail/obesity-and-overweight.
https://www.ncbi.nlm.nih.gov/pmc/articles/PMC1121495/
https://www.ncbi.nlm.nih.gov/pmc/articles/PMC1121495/.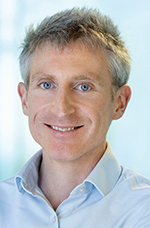 Dr. Adam Stops is Head of Product Management for Drug Delivery Systems at Stevanato Group, managing auto-injectors, prefilled variable and fixed-dose pen injectors, large-volume wearable injectors, and inhalers. He earned his PhD in Mechanical Engineering and his MBA in Business Management. He has broad experience in the design, development, and product management of devices and parenteral products, and has worked with innovative multinational companies, leading teams of experts in device research, design, and industrialization throughout his career.