PACKAGING SOLUTIONS – Dura Coat Combiseals – An Optimal Solution for Cartridge Applications
INTRODUCTION
In 2018, the average life expectancy of women worldwide was 74 years, and that of men 70 years.1The trend is continuing upward: by 2100, global life expectancy may reach 82.6 years.2 In addition to improved living conditions, this rise in the average age of the world's population is made possible by better medical care with access to high-quality medicines and medical products. In order to keep the population as healthy as possible, it is not only necessary to ensure access to indispensable medicines, but also to continuously develop them further. Innovation, research, and improved use of medicines are key steps in ensuring that patients receive the safest and most effective medical care.

The global healthcare industry is facing major challenges to meet the stringent requirements and additional medical care needs associated with demographic change. Healthcare market players are striving to meet these expectations by investing in the continuous research and improvement of their products. With state-of-the-art medicines, it is essential that drug manufacturers can rely on appropriate sealing solutions that provide the best possible protection for their products. Seals are one of the most important components for pharmaceutical drug packaging and have to meet high-quality requirements as they are in permanent contact with the drug product. In particular, elastomer and aluminum components used to seal the parenteral drug must be compatible with the drug it is housing, in addition to providing a flawless seal. It must be ensured that no contamination or chemical reactions occur between the drug and the elastomer component under any circumstances. Manufacturers of modern pharmaceutical and biotech drugs are thus confronted with major challenges.
CHALLENGES OF THE CARTRIDGE APPLICATIONS MARKET
Nowadays, pharmaceutical and biotech therapies for cartridge applications, such as dental care and insulin management, are becoming more prevalent – resulting in a constantly growing demand for high-end parenteral packaging solutions for these therapies. Because the market for cartridge applications has strict requirements, companies need a reliable partner to meet the challenges associated with meeting these requirements, specifically for parenteral packaging. As a leading supplier of sealing and packaging solutions of the highest quality and cleanliness, Datwyler offers its customers this assurance. The company's cartridge portfolio includes two core components: plungers and combiseals.
Datwyler's plungers can perform a wide variety of functions and have all of the physical, chemical, and functional properties essential to protect the integrity and efficacy of the drug. To ensure system integrity for the cartridges, in addition to high-quality plungers, advanced combiseal solutions are needed. It is important that combiseal components are multifunctional and offer multiple protections. Datwyler's components meet these requirements: even after multiple piercings, the combiseals maintain the integrity of the seal, while ensuring the lowest possible extractables and leachables profile for the application. A dual-compound elastomeric liner inside the aluminum cap provides optimal usability and a high resilience.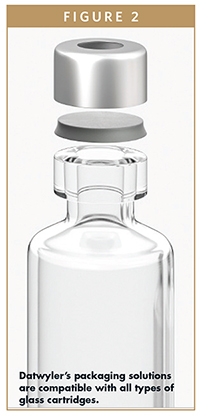 IMPROVED LAMINATION FOR THE NEXT GENERATION OF ALUMINUM SEALS
To guarantee the durability of the combiseals, they have to be extremely robust. Datwyler continues its efforts to improve its products and processes, and tackles this challenge with an advanced and industry-leading lamination for aluminum combiseals: Dura Coat. Datwyler's newly developed material combines a high-quality alloy with a protective laminate to create the ideal end product for cartridge applications.
The innovative technology uses state-of-the-art materials, which enables a clear reduction in particles during processing and handling. Furthermore, Dura Coat combiseals experience less abrasion than standard aluminum seals. Testing showed that the technology guarantees flawless processability in production and usage. Utilizing this proprietary technology helps to improve product robustness while also reducing the risk of drug product contamination.

A Dura Coat laminated combiseal consists of an epoxy lacquer and polypropylene laminate that is applied to standard aluminum seals that meet the most stringent customer and authority requirements. The Dura Coat process begins with a high-quality, epoxy-based lacquer being applied to the aluminum. This step is followed by a protective polypropylene film being laminated on top of the lacquered layer.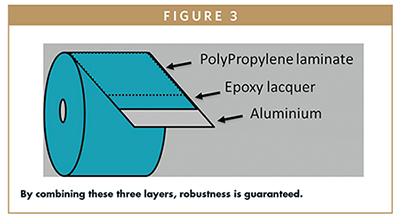 When standard lacquered aluminum without protective laminate is manufactured, particles are naturally generated during various manufacturing processes, such as deep drawing, assembly, washing, and crimping. The Dura Coat technology reduces this particle generation up to 10x more than standard lacquered alloy. Cutting of standard aluminum after deep drawing – which is sometimes done to reduce earing – results in additional contamination of the combiseals with aluminum particles. As an additional quality measure, Datwyler is applying strict earing specifications to its aluminum suppliers in order to avoid cutting it after deep drawing.
COMPLETE PROTECTION REDUCES RISK OF CONTAMINATION
Unlike Dura Coat, standard epoxy-based lacquers are not very robust regarding flaking during production, transport, and filling. In addition, the transparent lacquer used on silver caps sheds particulates, but the flakes are barely visible and hard to detect during visual inspection. These flakes can eventually end up on the combiseal liner and, ultimately, contaminate the drug product. The Dura Coat protective laminate eliminates this issue. When the Dura Coat laminate is applied to a standard aluminum seal, the result is a durable and robust packaging solution.
The abrasion-resistant laminate also provides a protective barrier to external forces, reducing the risk of abrasion during manufacturing and handling. As a result, Dura Coat combiseals have less abrasion than standard aluminum seals. Abrasion can create visual defects, such as scratches, and can also produce flakes in the drug product which, particularly for high-end products and certain markets, are not acceptable. Datwyler offers a significantly low AQL (Acceptable Quality Limit) for this type of visual defect associated with combiseals laminated with Dura Coat.
In addition, Datwyler's Dura Coat combiseals are produced using best-in-class production technologies matching the quality expectations of the pharma market. All components are manufactured in a controlled environment operating under a zero-defect philosophy. Dura Coat not only meets the most stringent requirements for customers and authorities, but also provides the customers with the cleanest product available in the market.
DURA COAT: THE HIGHESTQUALITY SOLUTION
A full suite of tests has been completed to ensure the effectiveness and functionality of the Dura Coat laminated aluminum. For example, a Taber test, which measures how resistant an object is to wear over time, was performed in accordance with ASTM D1044-08. The results of this testing show a significantly different wear resistance of the aluminum surface between non-coated (only epoxy-lacquered) and Dura Coat-treated aluminum. While the Taber equipment wears completely through the lacquer layer on the non-coated samples during 500 cycles, the color layer of the laminated material remains intact. This visual impression is also confirmed by the measured weight loss
Depending on the customer's specific requirements and in order to provide unlimited functionality and flawless processability, a combiseal can undergo various steps before use. In order to make sure that the material withstands the different preconditioning processes, such as washing, sterilization, and drying before filling, a number of worst-case scenario tests have been conducted. This proof of quality ensures the material is as durable as the Dura Coat technology promises and that the customer receives a high-grade end product.
TAILOR-MADE FOR THE CUSTOMERS' NEEDS

When the plunger and combiseal components are integrated into the full delivery device, system functionality is imperative to ensure the treatment is delivered properly. With rigorous testing, Datwyler confirms that its plungers and combiseals are an effective packaging solution for cartridges.
As different applications require tailored and specific solutions, Datwyler faces this challenge with components that offer a variety of possible combinations of type (mono-layer or bi-layer) and compound:
-FM257: A Type I bromobutyl formulation that can be used for a broad application range of buffered solutions. It is used as the contact side of the combiseal.
-FM457: A modern Type I bromobutyl formulation based on a unique polymer, which offers a very high chemical purity. It is used as the contact side of the combiseal.
-H1-7-207: A synthetic polyisoprene that is used for the non-contact side of the combiseal in order to improve sealing properties during multi-piercing.
Different liner compositions are available depending on the number of piercings anticipated. Mono-layer liners are used for single piercing applications, such as for dental care treatments. Bi-layer liners are used for multi-piercing applications, such as for biologics or insulin.
Depending on the intended use, Datwyler offers its customers suitable products and supports them in choosing the right components. The guidance in Figure 4 is offered to ensure the final functional properties of the cartridge.
These combinations have been tested according to ISO11040-3 (seals for dental local anesthetic cartridges) and ISO13926-3 (seals for pen-injectors for medical use) to ensure that sealing, as well as re-sealability and fragmentation, are guaranteed for the number of piercings for which it is recommended. Additionally, all combiseal components are available in silver, gold, red, green, and blue aluminum, based on customer preference.
TECHNOLOGY FOR THE FUTURE OF CARTRIDGE APPLICATIONS
The Dura Coat technology used for cartridge applications offers a very robust combiseal made of high-quality materials. Customers who choose Datwyler's solution benefit from a low particulate level and low visual defects due to a clear reduction of particles during processing and handling and less abrasion than standard aluminum seals. In addition, Dura Coat results in flawless processability and a seamless container closure. Dura Coat combiseals are the ideal solution for cartridge applications within the pharmaceutical and biotech markets. As access to safe and quality-assured medicines has a decisive influence on general healthcare and, therefore, on the expected average age of the worldwide population, progressive and reliable solutions are needed. A continuously improved drug therapy to increase efficacy fits perfectly with Datwyler's mission of "improving patients' lives." Datwyler combines years of experience and innovation to better serve its customers and help them create a safer medical environment.
With its innovative Dura Coat lamination technology, Datwyler is answering the demand for efficient, safe, and advanced delivery systems and drug packaging – and is taking healthcare a step further.
REFERENCES 
https://www.statista.com/statistics/270861/life-expectancy-by-continent/
https://www.statista.com/statistics/673420/projected-global-life-expectancy/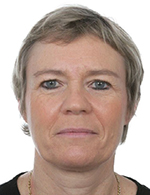 Carina Van Eester earned her Master's degree in Chemical Engineering and has been working in the pharma industry for 15 years as a packaging engineer. She has been working at Datwyler for 11 years. After many years of experience in Technical Key Account Management and Validation, she is now the Global Platform Leader for Prefilled Syringes and Cartridges, taking strategic initiatives related to Datwyler's components for these applications.