PACKAGING – Child-Resistant Features for Container Closure Systems
INTRODUCTION
Unintentional poisoning from drugs and other household chemical substances pose a hazard to children, in particular to those younger than 5 years of age. Curiosity and the desire to put everything into their mouths are placing young children at considerably higher risk for poison exposure compared to adults. Children will eat or drink anything regardless how it tastes. They like things that smell good, and are attracted by colorful packaging or content of products found at home.1,2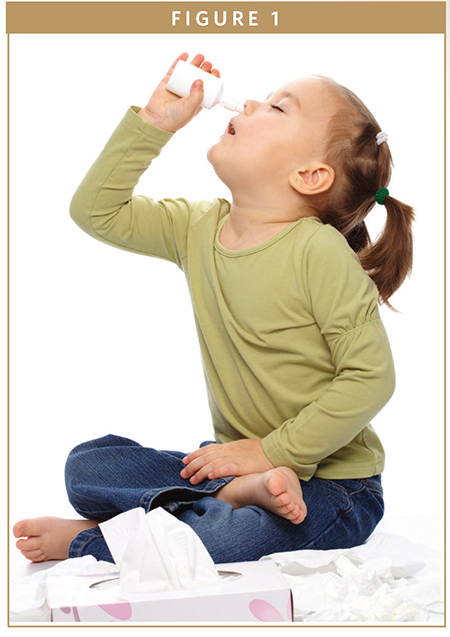 To address this issue in the US, Congress passed in 1970 the Poison Prevention Packaging Act (PPPA). Under the PPPA, the US Consumer Product Safety Commission (CPSC) has issued regulations that require child-resistant (CR) packaging for about 30 categories of hazardous household products and medicines. Child fatality numbers have declined substantially since the PPPA became law; from 216 cases in 1972 down to an average of about 33 per year from 2008 to 2013.3 In addition, countries in Europe as well as Australia have successfully implemented similar regulations to protect children from poisoning. Others are on their way to introducing such requirements.
In 2012, the US CPSC responded to cases of accidental ingestion of medications by children resulting in serious health risks by issuing a rule requiring child-resistant packaging for any over-the-counter or prescription product containing the equivalent of 0.08 milligrams or more of an imidazoline [16 CFR Part 1700.14 (33)]. This class of drugs is widely used as an active ingredient for eye drops used to relieve eye redness and burning, as well as a decongestant for cough and cold medications. For the year 2012, the commission estimated that approximately 45 million units of ophthalmic decongestants containing imidazolines and 39 million units of nasal products were sold in the US. For ophthalmic products, some standard child-resistant, senior-friendly (CR/SF) packaging was readily available, in contrast to nasal administration devices, where no such devices were present. For nasal products, metering spray pumps are state-of-the-art technology. Although the metering function of the pump will restrict the access to the complete bottle content, this feature is not considered to be inherently child resistant. Consequently, the CPSC stated that nasal spray pumps, even when crimped onto the bottle, are not considered CR and that either the pump action or the over cap needs to be child resistant.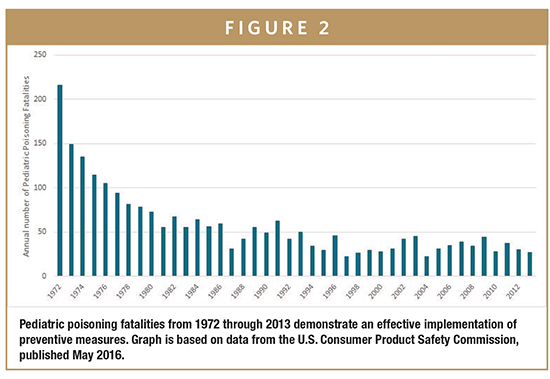 In a review of causes of intoxication in children, 86% of emergency room visits for medicine poisoning were found to result from the child having access to an adult medicine. In 38% of cases, the medication was used by a grandparent, in 31% by the mother, and in 12% by a sibling.4 These findings led to the conclusion that the right balance between CR and SF is critical for drug packaging. Thus, it is important to provide a safe and reliable CR feature without affecting the use by patients, including elderly people (SF). An adult or senior user needs to easily understand the CR feature. Opening, usage, and closure should be possible given age-related limitations (eg, reduced dexterity). The CR mechanism needs to work on a sealed package that has not been tampered with, with the protective cap correctly re-attached after each use.
In addition, the requirements for nasal spray products as set by the FDA need to be respected. The CR feature should neither have an impact on spray performance or delivered dose, nor lead to stability problems due to incompatibility. Avoiding unnecessary costs in the pharmaceutical manufacturer supply chain is also important. Packaging components with a CR feature need to be easily managed on established filling and packaging lines.
CR/SF PACKAGING FOR NASAL SPRAYS CONTAINING IMIDAZOLINES
As previously mentioned, the CPSC published in January 2012 a Notice of Proposed Rulemaking (NPR) to initiate a process for making products child resistant for formulations containing more than 0.08 mg imidazolines per package. This new rule requested that production stop of conventional, non-CR imidazolines-containing products by no later than December 2014. A subsequent decision by the CPSC extended this deadline to June 10, 2015. When the NPR became public, Aptar Pharma's experts recognized the relevance of this initiative and its impact on the market for nasal decongestants. Triggered by the aggressive timelines, activities were immediately started to provide a reliable solution for those pharmaceutical companies in need. Aptar Pharma approached its customers affected and started developing its first CR/SF nasal spray pump. When the final rule was published in December 2012, Aptar Pharma had already finalized a number of design studies on potential packaging solutions. To get such a product accepted by regulators and consumers, the requirements for CR as well as for SF must be balanced. All suggested concepts were built on the market-leading pump family, Aptar Pharma's Classic Line, representing the industry standard for nasal decongestant packaging in the US. Comprehensive consumer testing with all CR pump concepts generated valuable input from end-users. Prepared this way, Aptar Pharma was in the position to present a final design, and pilot molded samples only 8 months after the PPPA change was communicated.
For CR/SF certification, the complete assembled container closure system (CCS) consisting of the dedicated container (Aptar Pharma does not manufacture bottles) and the closure with the delivery device (ie, nasal spray pump developed and manufactured by Aptar Pharma) must be tested. Therefore, Aptar Pharma selected a range of market-relevant containers for its test series (ie, 15 to 30 ml). Fully assembled delivery systems successfully passed testing with children and seniors that were run by an external certified lab according to applicable guidance. Aptar Pharma's final systems successfully passed a CR test according US 16 CFR § 1700.20 and ISO 8317, with 50 infants aged 42 to 51 months, and an SF test with 100 seniors aged 50 to 70 years.
These results triggered a full industrial scale-up of molding capacity and the assembly units necessary to satisfy the forecasted demands. By end of 2014, Aptar Pharma and its partnering customers were united in a groundbreaking success story. All decongestant products using the new Aptar Pharma "Classic Line" nasal spray packaging successfully passed the mandated CR/SF studies. By 2015, Aptar Pharma had already delivered a significant number of CR/SF nasal spray pumps units into the North American decongestant market. Numbers have been steadily increasing since then. Taking the next step, in May 2017, Aptar Pharma transferred manufacturing of the CR/SF nasal spray pump to the US, fulfilling its commitment to bring manufacturing capacity closer to its target markets. On the market for more than 2 years, Aptar Pharma's technical solution is backed by positive feedback from pharma companies that report convenient use by their respective brands.
Aptar Pharma's validated industrial capacity supported the switch for the existing market. By introducing an innovative CR/SF solution and proactively managing the change process, Aptar Pharma was able to turn the new guidelines into consumer-friendly and safe packaging.
SQUEEZE & TURN – A SOLUTION FOR SUCCESS
The principle behind the Aptar Pharma CR closure technology chosen is widely established in the consumer goods packaging industry. Thus, it is well known to users. Due to its intuitive functionality, it grants convenient access by adults. In contrast, the CR mechanism has been shown to reliably prevent against unintended access by children.
While customization is always an option at Aptar Pharma, a standard version is available, leveraging the market-leading pump family, Classic Line. Aptar Pharma is able to provide CR/SF testing certification from recognized institutions for this product line in combination with a wide range of HDPE bottles.
DERMATOLOGY TREATMENTS – NEED FOR NEW PACKAGING
As previously described, the requirements for CR packaging and exemptions are listed in the 16 CFR 1700.14 and therefore CR/SF tube closures for dermal drugs are widely available. New packaging solutions focus on supporting patient compliance. Treatment efficacy in chronic conditions like rosacea is critically dependent on the patient adhering to prescribed dosing schedules. As treatment can be required for a very long time, anything that supports patient's correct use of medication is key to successful disease management. Primary packaging can help increase convenient use of medications. Tubes, bottles, and jars are widely used, but recent evaluation supports the view that patients prefer pump dispensers to non-dosed systems.5 By providing a consistent amount of product with each stroke, pump dispensers can improve treatment adherence, and reduce the risk of incorrect dosing.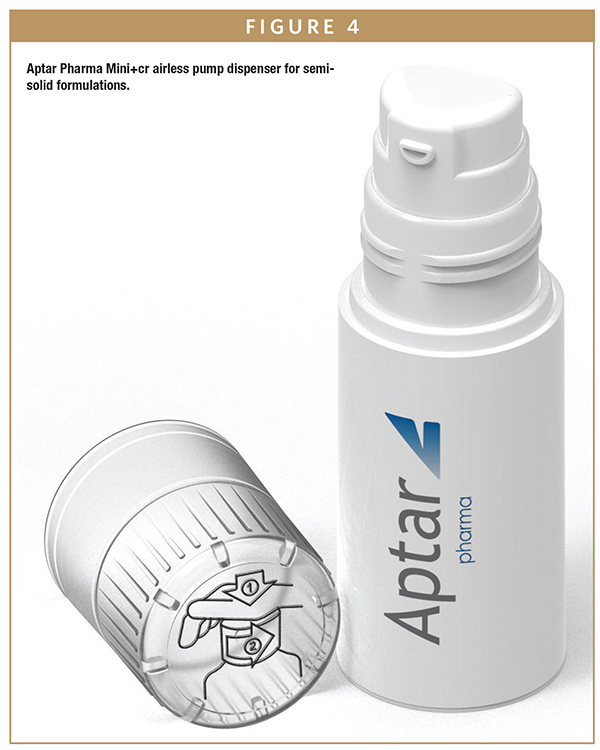 In the last years, Airless Dispensing Systems have become more common in the pharmaceutical industry. Airless technology eliminates the need for air flowing back into the system to replace the dispensed product. For viscous bulks, which make up the majority in topical skin treatment, quick priming, reliable dosing, and effortless emptying of the package is ensured. Moreover, Airless Dispensing Systems are able to deliver their content at any dispensing direction. Wherever the target area on the body, all-angle dispensing will greatly support convenient use by patients. Finally, an appealing appearance, familiar from cosmetic and skin care products, reduces a potentially stigmatizing aspect of medication intake.
Just recently, the first rosacea treatment for facial redness was launched using the selective alpha1-adrenergic receptor agonist brimonidine as the active ingredient.6 According to the guidance previously described, this drug needs to be packed CR. Consequently, the tube packaging at launch was equipped with a CR/SF closure. Following demand for more convenient and safe dispensing, experts at MEGA Airless, now a part of Aptar Pharma, entered into the development of a CR/SF pump dispenser for semi-solid formulations. It made perfect sense to combine airless dispensing solutions that were successfully positioned in the market, with commonly known principles of CR protection. The resulting Mini+cr dispenser is the world's first CF/SR airless dispenser for semi-solid drug formulations.
The Mini+cr combines all benefits of airless technology. The pump dispenser enables convenient and clean dispensing with every stroke. All-angle use and emptying without extra effort are differentiating features of airless dispensing systems. Through the unique mix&match system, multiple combinations of dispensing heads and containers are possible without affecting the CR/SF feature. The Mini+cr pump is available in doses of 0.5, 0.8, and 1.0 ml per stroke. Bottom-fill technology allows flexible filling deviating from the maximum container volume of 30 ml or 50 ml. Airless dispensing technology ensures convenient, clean, and reliable access to the drug product. The CR/SF push-and-turn closure technology combines an intuitive opening mechanism for adult and senior users, with market-proven access restriction for infants. For certification, the Mini+cr passed a CR/SF test according US 16 CFR§ 1700.20 and ISO 8317, including the required number of infants and seniors. With Galderma6 adding a pump system to its portfolio of rosacea treatments, the Mini+cr was successfully launched onto a regulated pharmaceutical market.
This solution is ready to be used with established (eg, testosterone-containing meds) as well as new products (eg, ivermectine) which may pose a risk for children.
SUMMARY
Drug development is a complex process with numerous potential stumbling blocks ahead. The primary focus is always on a medication's efficacy and safety. Innovative packaging solutions or dispensing systems, which enhance patient compliance, can certainly contribute to treatment success. In a growing older population with impaired visual faculty or dexterity, packaging solutions that can easily be handled by seniors are worth being considered. To add to the complexity, many guidelines are in place, setting performance requirements for packaging material and delivery devices (eg, dosing consistency for spray pumps). Authorities will require solid data to confirm compliancewith these rules. To further add to the list, one should not forget about governmental regulations that require special packaging for drugs with certain active ingredients, which have been discussed in the current article. Packaging suppliers familiar with applicable regulations and close enough to the target market can pave the way for complex developments by providing tailored solutions. Aptar Pharma has demonstrated its expertise by successfully introducing its first CR/SF nasal spray pump and the first dermal dispenser on the US market. Aptar Pharma will continue to be a strong and competent partner for drug developments in which the container closure system is more than a simple blister, tube, or bottle.
REFERENCES
1. Factsheet: Childhood Poisoning, European Child Safety Alliance, October 2009, retrieved from www.childsafetyeurope.org.
2. Poisoning Safety Fact Sheet (2015), Safe Kids Worldwide, retrieved from www.safekids.org.
3. Pediatric Poisoning Fatalities from 1972 through 2013, May 2016, U.S. Consumer Product Safety Commission.
4. An In-Depth Look at Keeping Young Children Safe Around Medicine, March 2013, retrieved from www.safekids.org.
5. Rueda MJ. Acne subject preference for pump over tube for dispensing fixed-dose combination adapalene 0.1% – benzoyl peroxide 2.5% gel. Dermatol Ther. 2014;4:61-70.
6. Galderma Receives FDA Approval of Mirvaso®. Press release August 26, 2013, retrieved from www.galderma.com/Media/Pressreleases.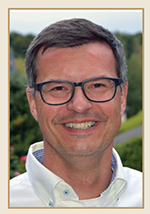 Dr. Stefan Hellbardt is Vice President Business Development at Aptar Pharma. As a trained biologist, he earned his PhD at the German Cancer Research Center, Heidelberg. Holding various positions in the pharmaceutical industry, he gained more than 15 years of experience in clinical development. He joined Aptar Pharma in 2011 to lead the global business development of the newly created application field Dermal Drug Delivery. In his role, he is instrumental in delivering the expertise and service of Aptar to customers producing pharmaceutical products for topical dermal and transdermal application.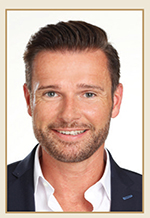 Günter Nadler is Director Business Development at Aptar Pharma. He graduated in Business Administration and in Mechanical Engineering and started his career at Aptar 17 years ago in R&D. Before joining the Business Development Team in 2010, he worked in different technical and commercial positions at Aptar Pharma and gained a wide range of knowledge within the pharmaceutical drug delivery industry. Lastly, he was Head of the Product Management Team for several years.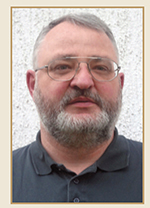 Dr. Degenhard Marx, following the study of veterinary medicine and the successful completion of his thesis at the University of Leipzig, joined the Arzneimittelwerke Dresden/Asta Medica co-operate research in 1992. In 2001, he took over a senior research position at Altana Pharma/Nycomed in Constance, Germany. During this time in the pharmaceutical industry, he collected ample experiences in the drug development of anti-inflammatory and cardiovascular drugs. In 2008, he became business development manager at Ing. E. Pfeiffer, Pharma Division, which became Aptar Pharma in 2010. Now he is Director Scientific Affairs at Aptar Pharma.