MARKET BRIEF – Alzheimer's Disease Market Report (2016-2026)
INTRODUCTION
The race to develop the first disease-modifying drug for Alzheimer's disease (AD) is fierce. Despite the fact the number of people with AD is projected to rise sharply in the coming years, no new drug has been approved in more than a decade. Even the most recently FDA-approved AD product, Namzaric, is a combination of the two commonly prescribed AD drugs donepezil and memantine, and the added value of the product in the clinical setting is questionable as many physicians prescribe the cheap generic versions of the two drugs in combination already. With a failure rate of 99%, the AD market has been described as a graveyard for drugs. However, amid several failures, the AD pipeline is large and consists of many novel mechanisms, which makes it an exciting market undergoing rapid changes despite its high risk. There is strong sales potential in the market given the global aging population, growing public awareness, and advancing diagnostic capabilities, which drive pharmaceutical manufacturers to take the risk to pursue their quest to find new drugs for AD.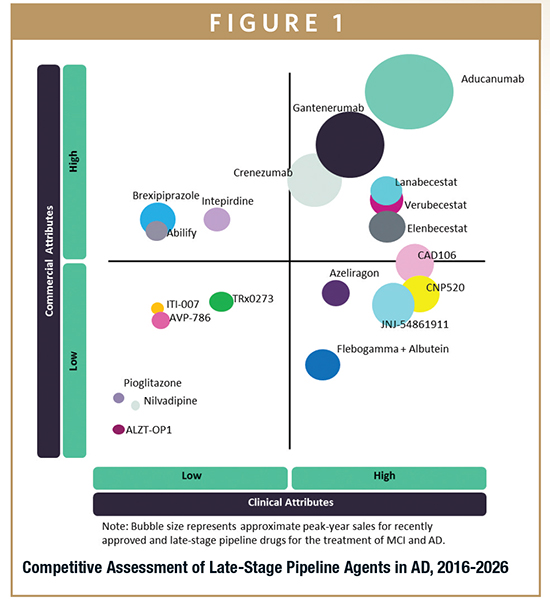 ALZHEIMER'S DISEASE MARKET FORECAST
GlobalData estimates sales of AD therapeutics in 2016 to have been approximately $3 billion across the seven major markets (7MM), which are the US, the five major European markets (5EU: France, Germany, Italy, Spain, and UK), and Japan. By 2026, GlobalData anticipates the AD market will have grown at a strong Compound Annual Growth Rate (CAGR) of 17.5%, reaching sales of $14.8 billion across the 7MM. This is mainly attributed to the growing prevalence of both AD and mild cognitive impairment (MCI) and the rapid uptake of biologics and other novel disease-modifying therapies (DMTs).

Throughout this forecast period, the most prominent contributor to sales will be the monoclonal antibody-based immunotherapies and the BACE inhibitor class, which are expected to reach $7 billion and $1.9 billion, respectively, in global AD sales by 2026. These drug classes are designed to target the disease at very early stages of development and are thereby expected have therapeutic as well as preventative benefits in patients with MCI or AD, as well as in healthy individuals at increased risk of de-veloping AD. The launch of aducanumab, the first-in-class amyloid-beta (Aβ)-targeting immunotherapy, will be a key driver of AD market growth, as its sales are projected to peak at $3 billion by 2026. Moreover, subsequent immunotherapy and BACE inhibitor launches, as well as an increase in the global prevalence of AD, will continue to strengthen the sales growth.
The combined AD and MCI populations in the 7MM are expected to reach approximately 48 million people by 2026, which represents an annual growth rate of 2.3% from 2016. In the 2016 base year, 34.5% of market share ($1.1 billion) was attributed to mild AD, which generated the highest sales out of all AD severity groups. By the end of the forecast period, Global Data anticipates MCI will contribute the largest share, with sales attributed to this group reaching almost $6.8 billion (46%) by 2026 due to the introduction of DMTs.
HOW WILL THE AD TREATMENT LANDSCAPE CHANGE?
The treatment of dementia and symptoms associated with AD has stayed relatively stagnant for some time. The treatment of AD is only offered through the management of symptoms, and no drug is available to slow down, halt, or reverse the process of neurodegeneration, which causes the symptoms associated with AD. The most commonly prescribed treatment across all severity groups is Aricept (donepezil), while for severe AD alone, Namenda (memantine) is the treatment of choice. Although these two drugs are the standard of care across the 7MM, sales for these products are slowly declining, with their patents expired in most of the 7MM and physicians and patients observing little symptomatic benefit.
Since the launch of Namzaric (donepezil + memantine) in the US in 2016, its sales have steadily increased and are expected to continue growing, with peak sales forecast to be $574.1 million in 2025, when its patent is expected to expire. Although Namzaric's sales are expected to drop from that point, with generic versions rapidly becoming available, overall sales during the forecast period are expected to grow at a CAGR of 26.3%, the highest growth rate of all the branded AD drugs. It is currently unclear whether Namzaric is going to be launched outside of the US.

Throughout the 2016-2026 forecast period, a number of pipeline products are expected to enter the market. The most promising of these is aducanumab, an Aβ-targeting immunotherapy being developed by Biogen. It is expected to reach the market by 2020, after which it is forecast to reach global sales of $3 billion, becoming the highest-selling drug for AD. Verubecestat and lanabecestat are BACE inhibitors, a novel drug class that has been shown to interrupt the Aβ production pathway, and are predicted to launch at similar times in 2020. Verubecestat and lanabecestat are forecast to yield $492.1 million and $552.9 million in global sales by 2026, respectively. Although sales of BACE inhibitors are forecast to be significantly lower than those of immunotherapies due to the large expected price difference, BACE inhibitors are expected to be prescribed widely due to their simple oral administration and more affordable cost.

In addition to immunotherapies and BACE inhibitors, a range of drug classes are also aimed at modifying the disease; these include PPAR-gamma agonists, RAGE inhibitors, calcium channel blockers, and tau aggregation inhibitors. With rapidly improving AD clinical trial designs and biomarkers incorporated into the trials, drugs targeting additional novel targets are likely to emerge.
WHAT OPPORTUNITIES REMAIN?
Despite significant advancement in AD research, physicians interviewed by GlobalData identified a number of key clinical and environmental unmet needs in the field. They include drugs with disease-modifying mechanisms of action, improved control of symptoms, and lack of biomarkers for early diagnosis.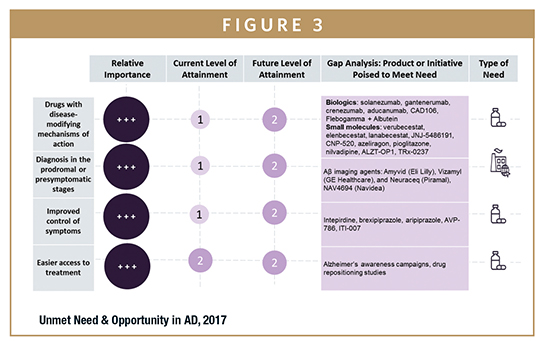 The lack of DMTs remains a significant unmet need. The current competitive landscape in AD offers medications that are aimed at treating the symptoms of the disease, which are modestly effective and primarily off patent, leaving ample room for new entrants into the AD market. Despite the past failures, knowledge in the field has rapidly improved, and many of the physicians interviewed agreed that the first DMT for AD will most likely be approved within the next 5 to 10 years. The need to prevent the onset of AD has prompted several different research collaborations, such as the Dominantly Inherited Alzheimer's Network Trials Unit (DIAN-TU). Significant opportunities remain for small- and medium-size companies as well as institutional research teams to collaborate to gain insights for their drug development. Moreover, there are opportunities for companies to enter licensing deals, as many are looking to expand their product portfolios while smaller companies look to gain access to the facilities and resources that larger manufacturers offer.
The symptomatic relief offered by the current treatment options is limited, and off-label products, such as sedatives and antipsychotic medications, can be dangerous in elderly patients. Given the multitude of symptoms associated with AD, and because caregivers often experience great difficulties caring for patients when they are agitated or demonstrating behavioral issues, symptomatic treatments are a vital part of AD treatment regimens. Because symptoms such as agitation are still poorly treated, opportunities remain for drugs that can target these poorly targeted symptoms. Opportunities for symptomatic drugs are likely to remain because there are many FDA-approved drugs that can potentially be repurposed for AD, and symptomatic drugs will continue to be prescribed as additional treatments even when DMTs become available.
As the focus of AD pharmacotherapy shifts to the early stages of the disease, biomarker development has become an increasingly important area of unmet need, both environmentally and clinically. AD presents a diagnostic challenge in that patients remain asymptomatic while the underlying pathologic changes begin to take place. Amyloid positron emission tomography (PET) imaging is, at present, the furthest developed biomarker for AD, and this satisfies the unmet need to some extent. However, the need for simple, inexpensive, and non-invasive tests remains, and current imaging tools need to be refined so that their sensitivity and specificity can be improved. Great opportunities remain for the development of diagnostic methods through cerebrospinal fluid (CSF) analysis, blood-based tests, and medical devices, which will make early diagnosis accessible both for patient enrollment in trials and for clinical treatment.
WHAT DO PHYSICIANS THINK?
Physicians interviewed by GlobalData were cautiously optimistic about future drug development in the AD therapy area. There was a common optimism toward the main mechanisms of action currently being explored, namely Aβ-targeting therapies, including immunotherapies and BACE inhibitors. However, most KOLs also showed concerns due to the current lack of evidence:
-"I still think this story holds a lot of promise. I wouldn't want to say I'm optimistic, that would be crazy given the field has seen so many setbacks. However, amyloid-targeting therapies are still showing encouraging results." – OUS Key Opinion Leader
-"In my opinion, aducanumab is the most promising in development. I've seen very encouraging early phase data to support the view that aducanumab is highly effective at clearing fibrillar A in the brain and maybe that in doing so, has some cognitive benefits." – OUS Key Opinion Leader
-"I think it's a good chance to try some preventative treatment with asymptomatic people, but I think that the design of the trial will be very difficult because we don't know if asymptomatic treatment will develop Alzheimer's disease and for how many years do we have to do this kind of treatment?" – OUS Key Opinion Leader
-"[BACE inhibitors] are only going to really work at the very earliest part of the disease, so in the symptomatic phase they may not work, just like solanezumab." – OUS Key Opinion Leader
Although DMTs are considered to be the "holy grail" of AD treatments, physicians also expressed the importance of symptomatic treatments. Future treatments will most likely be a mix of drugs, and future trials will involve head-to-head comparisons of drugs in different classes in very early stage AD populations.
-"The future of Alzheimer's treatment is 'chemo.' It's going to be a cocktail of drugs; not a single one." – US Key Opinion Leader
-"[Drugs in different drug classes] will be used in combination, definitely… Alzheimer's is much more complex than anyone had expected… Four to five mechanistic compounds could be used together in later stages." – OUS Key Opinion Leader
WHAT IS THE FUTURE DIRECTION OF AD DRUG DEVELOPMENT?
The series of trial failures of high-profile AD drugs has cast doubts over the future of AD drug development. However, many factors continue to drive drug development in AD. For instance, an increasing number of predictive biomarkers will promote early diagnosis and the use of pharmacological treatment overall, increasing the demand for new treatments and secondary prevention. Recent changes in the FDA approval process for AD drugs means that the FDA approval no longer requires the demonstration of functional improvement, and only requires improvements in cognitive symptoms in AD patients. Although post-approval studies are likely to be required, the change has lowered a high hurdle to reaching the market, encouraging research efforts in the field.
There are a number of barriers that make drug development in this therapy area a significant challenge. For instance, the recent failures have reiterated the importance of enrolling early stage AD patients, and current evidence points to the fact that the majority of the drugs in development, particularly those targeting Aβ, are not going be effective in symptomatic patients with MCI or AD. With the absence of robust biomarkers that accurately identify patients that will develop AD, enrollment of large numbers of preclinical AD patients in clinical trials is extremely difficult. Moreover, high therapy costs are increasingly becoming scrutinized globally, posing a challenge for manufacturers developing expensive and innovative drugs, such as immunotherapies. However, with the lack of treatment options and many countries seeing rising healthcare costs from aging populations and age-related conditions, such as dementia, payers are likely to make exceptions for AD treatments, if it is given that their efficacy and safety have been demonstrated.
Many interviewed physicians expect prescribing patterns in the AD population to change significantly in the near future. As new drug classes enter the market and DMTs become available, multiple products currently in the late-phase pipeline are expected to be prescribed in combination. Therefore, future clinical trials are likely to focus on understanding the combinatory effect of drugs rather than finding a single cure for AD, as it was initially anticipated by the AD community. In addition, clinical trials will increasingly enroll preclinical individuals as patient identification becomes more robust with improvements in imaging and genetic tests becoming widely accessible, making it easier for patients to enroll themselves into trials. Given the need for AD trials to accurately track and monitor patients over a long duration, future trials are likely to incorporate multiple imaging and CSF/blood-based biomarkers rather than the solely using psychiatric assessment tools as endpoints. Regardless of when the first DMT will become available for AD, AD drug development will continue to evolve as the focus shifts to the early AD population and the use of combination treatment.
To view this issue and all back issues online, please visit www.drug-dev.com.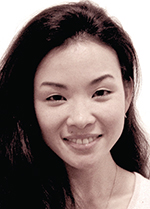 Akiko Fukui is a Neurology and Ophthalmology Healthcare Analyst at GlobalData in London. Prior to joining GlobalData, she was an Associate at PAREXEL Consulting, where she worked on consulting projects advising companies on market access, pricing, and reimbursement decisions. Her consulting experience focused on Japanese clients as well as European and US clients, and span across a wide range of indications, including Retinal Vein Occlusion, Chronic Lymphocytic Leukemia, and Type 2 Diabetes. She earned her MSc in Epidemiology from Imperial College London, where she specialized in biostatistics, applying her skills in R, STATA, and SAS in the Public Health research studies initiated by the university. She also earned her BSc (Hons) in Biomedical Sciences from The University of Edinburgh.