LYOPHILIZATION PACKAGING – Packaging Freeze-Dried Substances – There Are Options
INTRODUCTION
Many biotechnologically manufactured substances are not sufficiently stable in aqueous solutions. Because of this, liquid formulations are quite difficult or in some cases, merely impossible to preserve for longer periods of time. One solution, however, is freeze-drying, by which water is extracted from the substance in solution under vacuum and low temperatures. But before being administered to the patient, the drugs must be reconstituted. This freeze-drying, or lyophilizing, offers drug manufacturers a range of options for packaging, such as sterile WFI syringes and dual chamber systems.
Freeze-dried substances are driving growth on the market for injectables. Almost one-third of all FDA approvals in the past few years for parenteralia were for lyophilized drugs. Based on current market research, the number of approvals in this segment could rise to 50% in the near future. One reason for this increase in demand is the emergence of new complex molecular substances that are often produced through biotechnological processes. By their very nature, however, they are extremely sensitive to environmental influences and often cannot be stabilized in aqueous formulations for long periods of time. For drug manufacturers, an alternative is to protect the product through lyophilization. This approach allows for a longer shelf-life without impacting the effectiveness of the drug. Freeze-drying also offers additional advantages, such as exact dosing and substance use even with the smallest filling volumes.
With lyophilization, the formulation must be carefully established to enable efficiency. Special excipients and auxiliary substances are needed to attain the quality desired. These substances include buffer salts, bulking agents, stabilizers, and tensides, all of which can help to increase the stability of the complex molecular structure and the resistance to the stress of the freezing process. The composition of the solution to be freeze-dried, based on its thermal properties, dictates the freeze-drying process in terms of temperature and pressure. The lower these temperatures are, the longer the freeze-drying cycle will have to be to allow drying without collapse or melt-back, which would compromise the product quality.
The physical packaging can also influence the process. For example, the heat conductivity of the material and the distance between the substance and the cooling plate can determine how much heat is transferred and thus, affect the lyophilization process. Preparing for commercial processes therefore requires exact calibration of formulation and packaging in order to optimize costs. As for the product's desirability and uptake once it reaches the market, this is best determined by how well the substance can be reconstituted prior to administration. Therefore, when choosing a delivery system, packaging know-how and experience with lyophilization are essential.
MAKING THE RIGHT CHOICE
Companies that manufacture lyophilized substances have a range of packaging solutions on the market from which to choose. And, each system has its own processing requirements, offering its own set of possibilities for efficiency. These options include:
• vials
• dual-chamber syringes
• dual-chamber cartridges
Vials
Vials are well established in the industry and offer a good packaging system for lyophilization. The vial can contain anywhere from 0.1 ml to 200 ml, and is useful for single or multiple doses. The packaging assembly itself is also relatively simple, consisting only of a glass body and a stopper (secured by a crimp cap), which limits the risk of incompatibilities. Because of the large inner diameter, they also have a fairly large product surface in relation to their filling volume, facilitating heat transfer and rapid sublimation during drying. To ensure the desired dosage, however, a certain amount of overfill is needed, which increases the loss of API.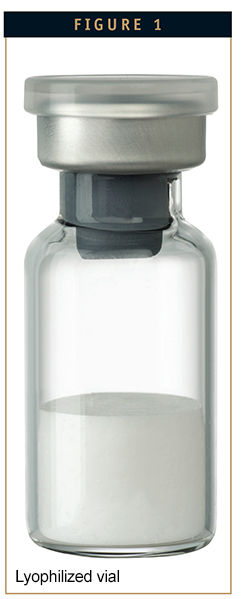 Dual-Chamber Syringes
Dual-chamber syringes are one of the more innovative packaging forms for lyophilized substances and are particularly good for single doses and filling volumes ranging from 0.1 ml to 5 ml. This "all-in-one" option places the lyophilized substance and the solvent in the same system. Their assembly, however, is a lot more complex than vials, consisting of a glass body separated into two chambers by a central stopper. Additionally, an end-stopper, plunger, and a closure are also needed. The syringe body and components must also be siliconized in order to obtain suitable break loose and glide forces. Due to the smaller diameter, the geometry of the frozen matrix during drying offers more resistance, which can result in longer drying times. Another factor contributing to the longer cycle is the fact that the substance is lyophilized on the middle stopper, which is a few centimeters away from the cooling plate. The overfill amount is far less because the substance is actually inside the injection system. This leads to less loss of API.
Dual-chamber cartridges are yet another development of dual-chamber syringes, providing fill volumes of 0.1 ml to max 1 ml for single and multiple doses. They have both the advantages and disadvantages of dual-chamber syringes as it pertains to structure. The closure is different, however, and consists of an injection membrane for needles. The dual-chamber cartridge is ideal for use in pen systems and simple drug delivery. There are special cartridge closures available that can be sealed in the lyophilizer, thus creating a nitrogen atmosphere over the product, which helps maintain the low residual moisture. Final assembly of the system also requires careful calibration with the pen system. The specifications and tolerances for the outside measurements and break loose and glide forces have to be taken into consideration.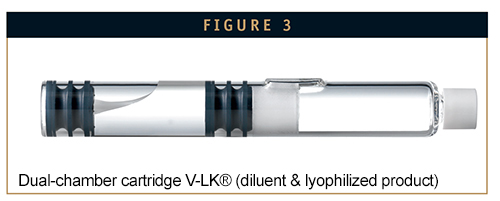 ANSWERING DIFFERENT NEEDS
In addition to the specifications and the requirements of the processes, the market environment and the needs of the users must also be examined. Ultimately, the systems influence the way medications can be administered and the skills the users may actually possess. Therefore, manufacturers must be aware of two fundamental issues:
1. What is the product's competitive environment?
2. Who are its users?
It is intuitive that drug manufacturers always check the market to determine if similar products exist on the market already. Furthermore, the delivery form and application system to be used must also be defined. Yet another important question is where will the drug be administered and by whom? Are these users professional caregivers in a clinical surrounding, or non-professionals like the patients or their family members? Answering these questions will provide valuable information for choosing which system to use.
VIALS: THE INDUSTRY STANDARD
The industry standard for lyophilized products is the vial. The majority of pharmaceutical and biotech companies with a lyophilized product initially develop in vials. The main reasons for this are the development process and the regulatory requirements are generally well known. Development in a vial is a less-complex process and this can reduce the overall risks in clinical phases. Because of these factors, time-to-market can be reduced in turn increasing the length of patent protection.
However, only experienced users should use vials with lyophilized substances due to
the fact that reconstitution requires several steps. The first includes a syringe being used to draw up the solvent and inject it into the vial. The dissolved substance can then be drawn into a second syringe and administered. And, because the dose must be exact, experience with injection systems is vital. This complexity, however, will limit the
market for this product primarily to healthcare professionals.
INCREASING SCOPE
To help with the administration process of the drug, particularly among the patients and their family members, drug companies have come up with systems that assist them in addressing this target group. For example, vials can be upgraded by adding an adapter with a luer lock connection. Thanks to this connecting system, cannulas are not needed when reconstituting the substance, thus they are only needed for the injection process. This considerably reduces needle stick injuries, and particularly among unpracticed users.
Another option for simplifying the handling of vials with lyophilized drugs is prefilled syringes with sterile water for injection (sWFI). These syringes can be filled with the precise amount of solvent needed to obtain the right dose. The process can be made even easier by connecting the sWFI syringe with the vial containing the lyophilized substance using a luer lock system. Combined, sWFI and adapters are an effective way to react to the needs of unpracticed users, and represent yet another effective option to meet the challenge of up-and-coming competitive products on the market.
SOLVING SWFI CHALLENGES
Lyophilized drugs in vials complemented with sWFI syringes can be differentiated from other freeze-dried drugs in a vial through greater user-friendliness. A sWFI syringe avoids unnecessary components and application steps. And, they minimize the effort and the risk of making dosing mistakes. But development and manufacturing of these solutions is quite challenging. Contract development and manufacturing organizations (CDMOs) can provide special sWFI programs that simplify the process and offer solutions, such as freeing up the company from doing any manufacturing. Contract fillers often offer standard solutions that are flexible and often, economical.
The systems are usually accompanied with stability data and approval documents. For example, validation and stability data are provided that comply with USP, Ph Eur, PH J, and ICH guidelines. This service is particularly useful to manufacturers because they do not have to generate their own stability data, reducing both development times and time-to-market. Service providers can also take care of the annual renewal of the stability data. Standard services also apply to filling volumes, ranging anywhere from 0.5 ml and 3 ml. This is because all preliminary work has been clarified in bracketing concepts that cover the smallest to the largest volumes. The solution includes process capability of the needed formats, validation of the terminal sterilization and filling processes, as well as documentation of the stability data.
These varying forms of solutions give drug manufacturers greater flexibility, for example, allowing them to adjust dosing during the development process. With a standard program, contract fillers also have the option of offering high-quality packaging for the sWFI at optimized costs. Service providers can also help keep costs in check by offering stability data for up to 5 years. And because sWFI syringes can be filled in large batches, costs can be optimized. Thus, standardized sWFI programs give drug manufacturers an efficient way to provide lyophilized drugs in a vial with an additional user-friendly aid system.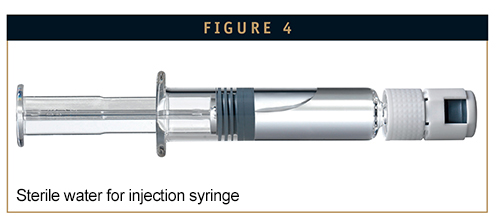 DEALING WITH THE COMPETITION
There is another market trend currently taking shape that is compelling pharmaceutical and biotech companies to deal with growing competition. In fact, a number of market research institutes have already established forecasts in this regard, including IMS Health who suggests in their study, The Global Use of Medicines: Outlook Through 2016, that throughout the next 3 years, approximately one-third of all new molecular entities will be in the "follower therapies" category. Meanwhile, the share of generics will gradually increase to 35% of the total market. Clearly, companies will have to prepare for these developments as early in the process as possible if they are to remain competitive.
Again, service providers are in a position to provide support, especially if they have experience in product lifecycle management and packaging. Dual-chamber systems, either syringes or cartridges, provide an opportunity in a more competitive market environment, allowing a product to differentiate itself from those that are lyophilized and packaged in vials. Dual-chamber systems can also meet the challenge of competition from drugs available in liquid formulations. As a syringe or a cartridge, they allow reconstitution inside the packaging because the substance itself is in one of the chambers while the solvent remains in the other. The two are only combined just prior to administration, which allows for immediate injection of the exact dose all within a few easy steps. The simple handling of these all-in-one solutions also lowers the dangers of needle stick injuries. Non-professionals can safely use the injections themselves without stress. Dual-chamber syringes can also be equipped with special safety needles for even higher safety. For drugs with multiple dosing, dual-chamber cartridges can be inserted into pen systems, which allows for simplified administration. These are especially suited to medications for children and older patients, affording drug manufacturers access to different market segments.
LONG-TERM SUCCESS BY STEPS
The various packaging options for freeze-dried substances have another advantage, ie, they offer possibilities for lifecycle product management that goes beyond an expense search for a stable, liquid formulation, and can be adapted to the drug's particular competitive situation. In a market without competition, an innovative drug can start out in a vial. If a competitive product then appears on the horizon, attention can shift to the user perspective. Solutions like the aforementioned adapters and sWFI syringes allow for added value. One economical solution in particular is the standardized sWFI program. If the market demands other stand-alone features, the drug can then be moved to a dual-chamber system. Dual-chamber cartridges combined with pens offer a high level of user-friendliness and can support market success in the long-term.
We can see that a specialized CDMO can provide efficient solutions to the many challenges surrounding lyophilized substances. But it should be ascertained that they have packaging, manufacturing, and lyophilization expertise. Such a partnership will give pharmaceutical and biotech companies a product that differentiates itself from the competition on the market via simple and safe handling. These products will also be prepared for changes in the market because the companies will be able to design the right strategies early on. In spite of stringent technical demands, drug manufacturers will find that lyophilization can offer many opportunities to meet the challenges of the changing market.
Thomas Otto has been a Managing Director of Vetter Pharma-Fertigung GmbH & Co. KG since December 2002. He joined the company as a Project Engineer in 1990 after graduating from the Technical College in Stuttgart with an Engineering degree in Packaging Technology and Print Processing. From 1995 to 1999, he managed the Department of Packaging Materials Development. From 2000 to 2002, he directed the Department of Research & Development as Vice President.