INNOVATION AWARDS – Drug Delivery Award Winners Move Innovation Needle; Formulation Takes Center Stage
This past February, three companies were honored by their industry peers with prestigious awards for breakthrough drug delivery innovation at the Institute for International Research's 17th annual Drug Delivery Partnerships (DDP) conference.
The awards recognize companies that have demonstrated exemplary, forwardthinking leadership in the field and/or which have developed technologies that will likely propel the industry in promising new directions. Nominations are open to an come from the industry. Voting was conducted at the 2013 DDP conference. Before reviewing DDP's 4th annua Drug Delivery Innovation Award winners' respective achievements, I would be remiss if I did not reference the news reported the same month that researchers at Methodist Hospital Research Institute have discovered a way to sneak nanoparticles targeting specific cell types – cancerous ones – past the immune system by coating them in white blood cell membranes.
Their accomplishment got me thinking about how innovation is currently perceived and gauged in drug delivery. Where have we set the bar? Clearly, we may expect to see more biologic solutions, micro-targeting to improve outcomes and minimize adverse events, and therapeutic approaches tailored to the disease stage, the demographic and, ultimately, the individual. All made possible by delivery technology. And as you'll see, the winner of this year's Drug Delivery On The Rise Company Award for Innovation, NanoSmart Pharmaceuticals, is doing remarkable work in precisely these areas.
There is also no doubt that delivery instruments and modalities are advancing at a stellar pace. Indeed, an industry expert recently remarked to me that drug delivery is becoming very "Star Treky" – microneedles, nano-implantables, ultrasound leveraged for transdermal delivery… Science fiction is becoming drug delivery fact!
All of this is incredibly exciting, of course. But talk of innovation is frequently steeped in hyperbole, and more often than not, the most elegant, innovative solutions may be found in formulation, which may not always receive the attention it deserves amidst all of the breathless headlines about sexy devices and such.
So I was personally gratified when attendees at this year's Drug Delivery Partnerships conference awarded two top honors to companies whose strides were based on formulary feats. The first, Pearl Therapeutics – winner of DDP's Technology Innovation category – specializes in an area that is near and dear to me personally: Treatment of respiratory afflictions like COPD, a category of lung disease. Surprisingly few people are familiar with the acronym, despite the fact that it claims so many lives. My dad suffered from it before lung cancer ultimately took him.
Pearl's achievement is outlined in detail below, but the crux of the honor is based on Pearl's ingenious co-suspension formulation platform. The implications for people who suffer from chronic respiratory conditions are not insignificant.
Our other formulary hero, Unigene, has essentially turned what traditionally required an injection into an oral delivery. Consider the healthcare cost savings and probable compliance improvements their work will achieve. More importantly, when we think globally, the potential advantages of migrating from an injection that must be administered by a professional to a pill in emerging markets, in particular, are astounding.
In summary, all three of the 2013 Drug Delivery Innovation Award winners' accomplishments exemplify not only the increasingly critical role delivery systems are playing in health science progress, but also the tremendous level of sophistication being brought to bear in the field of drug delivery today. Without further ado, here they are!
TECHNOLOGY INNOVATION
Winner: Pearl Therapeutics
This award celebrates game-changing technological innovation in drug delivery within the last year. Pearl Therapeutics' cosuspension formulation technology is the foundation of a broad portfolio of product candidates for globally prevalent respiratory diseases, such as COPD, asthma, and rhinosinusitis.
These candidates are all based on the simple and widely prescribed metered-dose inhaler (MDI) dosage form. MDIs hav been used for the delivery of pulmonary medicines for more than five decades. But major therapies – particularly dual and triple combinations of well-known inhaled medicines – have proven difficult to develop in MDI format due to formulation challenges, such as inconsistent dosing, instability over time, and partial or variable delivery to the airways.
Pearl's co-suspension formulation platform overcomes these challenges via proprietary airway-compatible lipid-based porous particles, which keep drug crystals suspended in the propellant without the need for additional excipients (Figure 1). These co-suspensions are highly uniform and minimize drug crystal-crystal interaction throughout manufacturing, storage, and drug delivery. They are also stable over time and deliver consistent doses under a variety of storage or handling conditions.
As a result, Pearl can develop products over a broad dose range with major pharmacological classes of inhaled therapeutic agents, without the need to invest in complex devices. It is this novelty, versatility, and universal applicability of Pearl's formulation technology that sets Pearl apart, earning them this year's Technology Innovation award.
Pearl's technology innovation has demonstrated several benefits to the clinical development of inhaled medicines. The ease of co-suspension has allowed Pearl to manufacture and test nanogram-dose MDIs enabling what is believed to be the first complete characterization of the doseresponse curve of a potent bronchodilator, glycopyrrolate (GP) Pearl has conducted similar dose ranging with its lead product candidate, PT003, a dual combination of GP with another highly potent bronchodilator, formoterol fumarate. The dual cosuspension in PT003 has also generated unprecedented dose-ranging data, yielding both optimal and non-effective doses in Phase II studies, increasing Pearl's confidence in the long-term clinica assessment to be conducted during Phase III. The co-suspension platform has allowed such predictable dose and formulation iteration that Pearl was able to complete 10 Phase I and II studies, and progress their combination bronchodilator, PT003, and its monotherapy components toward Phase III readiness in a remarkable five years from initiation of studies.
In another industry first, the dual cosuspension format was extended in vitro to a triple co-suspension, in which seven different formulations (three monotherapies three dual subcomponent therapies, and the triple) yielded results that demonstrated formulation-independent delivery of each drug – a task virtually impossible to accomplish with the variety of inhalers currently available.
"The co-suspension platform has enabled Pearl to conduct clinical development at an unprecedented speed and with a sense of predictability that has eluded respiratory product development for decades," said Sarvajna Dwivedi, Pearl's Co-founder and Executive Vice President. "We believe the innovations Pearl scientists have made in respiratory drug delivery have set a new benchmark in the field of pulmonary product development, and will help bring many needed therapies to millions of patients suffering from chronic breathing problems." For more information, visit www.pearltherapeutics.com.
ON THE RISE COMPANY
Winner: NanoSmart Pharmaceuticals
This award celebrates industry newcomers, start-ups, and fresh entrants that demonstrate potential to introduce disruptive science in drug delivery. NanoSmart's patented platform drug delivery system (Figure 2) utilizes humanderived antinuclear antibodies that target areas of necrosis present in many different types of solid tumors and other diseases. Combining this tumor-targeting antibody with a lipid nanoparticle results in a drug delivery system that allows NanoSmart to rapidly and economically develop significantly enhanced versions of drugs that are already on the market. NanoSmart is optimizing its preliminary targeted nanoparticle formulations and is currently engaged in preclinical testing of its lead candidate drug products.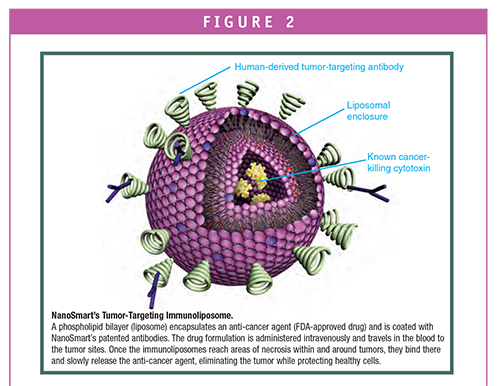 The tumor-targeting antibody can be incorporated into many different drug delivery formulations, including liposomes and lipid nanoparticles, creating the potential for a very broad therapeutic drug pipeline. The liposome or lipid nanoparticles protect normal healthy cells from the drugs' harmful side effects, enabling more of the drug to act on the tumor over longer periods of time, while NanoSmart's targeting antibody acts by anchoring the drugs directly at the tumor site.
Reformulating already-proven drugs into NanoSmart's drug delivery platform holds the promise of safer, more effective drugs that can target many different types of tumors. NanoSmart currently focuses on pediatric cancer indications. The company expects market entry of its first products will pave the way toward efficiently expanding its pipeline to other cancers and disease indications, while significantly increasing the value of its core intellectual property. For more information, visit www.nanosmartpharma.com.
INDUSTRY ACHIEVEMENT
Winner: Unigene Laboratories
The Drug Delivery Innovation Awards' equivalent of the MPA's Oscar for Best Picture, this category recognizes the company that has shown best all-around achievement in the drug delivery space throughout the course of the year. It's worth noting that Unigene took last year's DDP Industry Achievement Award for its advancements in the oral delivery of peptides. And the company has had yet another transformational year.
To start, Unigene has solidified an additional seven sponsored oral formulation programs and one licensing agreement for their oral peptide delivery technology, Peptelligence. Adding to the list, Unigene's partner, Cara Therapeutics, announced that it has achieved 16% oral bioavailability in the Phase I trial of its lead peptide compound, CR-845, a kappa opioid receptor agonist.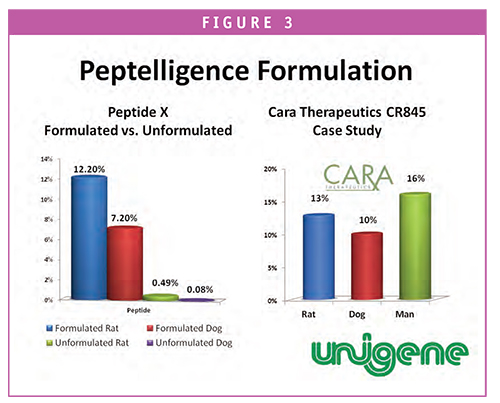 Tarix Pharmaceuticals, another Unigene partner, announced that they were able to achieve oral bioavailability levels with TXA-127 that were equal to or greater than that achieved by the current subcutaneous formulation. Based on these results, Tarix has entered into a definitive license agreement for the use of Peptelligence.
Unigene also had an extremely positive year with its internal programs. In October, Unigene reported positive clinical data in its Phase II study of oral calcitonin for the prevention of postmenopausal osteoporosis.
"Unigene's Peptelligence technology continues to demonstrate its utility for the oral delivery of a wide variety of molecules," said Nozer Mehta, PhD, CSO, Unigene. "We have recently demonstrated that for smaller, derivatized peptides, the bioavailability can be equivalent to or superior than that achieved with subcutaneous injection. We have also recently demonstrated that Peptelligence can dramatically increase the bioavailability of small molecule drugs with poor solubility or permeability. These advances, as well as our successful clinical studies, further strengthen our position as the industry-leading technology for oral delivery, offering our partner companies a solution to their delivery problems for NCEs, or for expanding the therapeutic indications or life cycle of drugs with a patient-friendly technology that will increase physician and patient compliance." For more information, visit www.unigene.com.
The 18th Annual Drug Delivery Partnerships conference will be held January 27-29, 2014, in Boca Raton, FL. For more information or to submit a nomination for the 2014 Drug Delivery Innovation Awards, please visit www.drugdeliverypartnerships.com or contact DDP's Program Director, Heather King, at HKing@iirusa.com.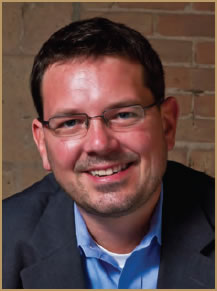 Marc Dresner is Senior Editor and Special Communication Projects Lead at the Institute for International Research. He is the former Executive Editor of Pharma Market Research Report, a confidential newsletter for marketing researchers in the pharmaceutical industry. He may be reached at mdresner@iirusa.com. Twitter handle: @mdrezz.