FORMULATION FORUM – Sterile & Non-Sterile Formulation Capabilities – A CDMO Perspective
INTRODUCTION
With continued rise in new innovative molecules with poor water solubility and low bioavailability, the industry's landscape in developing these molecules has been brought to a new height. Finding the right technologies for bringing in and developing these molecules is one aspect, whereas identifying the appropriate manufacturing processes capable of handling and packaging the sterile products is the other. The latter brings challenges and raises the phenomenal risks.1 To alleviate all these hurdles and to optimize the complexity, especially in sterile manufacturing of parenteral drugs, small molecules, large molecules, or gene therapies, the industry is looking for partnership with contract manufacturing organizations (CMOs) to avoid any unexpected delays, circumvent the cost, and expedite the manufacturing and commercialization of innovative and complex generic molecules without compromising safety of drug products.2
Ascendia, like any other CDMO, is expanding its footprints in sterile manufacturing to handle the innovative molecules and leverage its services to emerging and specialty and biopharma companies requiring cGMP materials for preclinical tox and clinical studies. Its expertise in cGMP manufacturing of oral liquids, capsules and tablets, and sterile injectable dosages for clinical and commercialization are at the par.3
As shown in Table 1, Ascendia maintains options for sterilization with lyophilization capability for liquid and powder fills under aseptic conditions of a pilot facility with more than 5,000 units per batch with 100 sq ft, while a medium-to-large facility with 1,500-sq-ft and 10,000-sq-ft capacities can fill 24,000 units and 150,000 units per batches, respectively. All these suites meet the ISO classification 5. On the other hand, the non-sterile facilities also meet ISO classifications 7 and 8 and are able to handle 100,000 units per batch and more than 100,000 units per batch within the processing area of 4,000 sq ft and 15,000 sq ft, respectively. Our state-of-the-art aseptic filler can handle different vial sizes for various drug products, yielding greater flexibility to our clients.
GENERAL SCOPE OF STERILIZATION
Terminal sterilization is accomplished by a number of procedures to ensure the safety and quality of drug products are maintained over extended shelf-life. Table 2A and Table 2B show the methods and challenges for sterilization of drug products and modalities for improving solubility of parenteral drug products, respectively.4
Parenteral product's sterility is an important attribute for product safety. Therefore, the FDA regulations on the current good manufacturing practice (cGMP) must be followed to avoid the delays and fines, and most importantly, maintaining the safety of drug products.5 For drug products intended for sterilization, a specific method is chosen considering the stability of drugs and other ingredients in the products. Table 2A gives the choices for selecting one method over others. Aseptic processing is eventually used for many of the sterile parenteral formulations to avoid contamination with humans or cross contamination with other products in the proximity.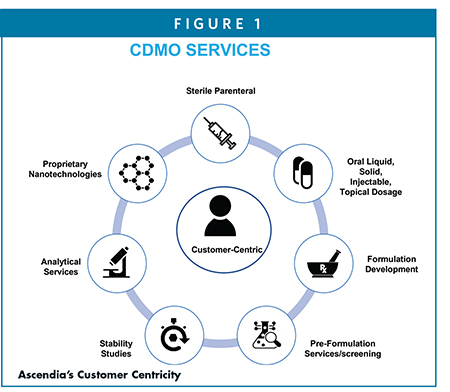 In addition to cGMP manufacturing sterile capabilities, Ascendia offers a range of R&D services to support the quality from early screening and pre-formulation to formulation design and manufacturing of clinical supplies. Figure 1 shows Ascendia's customer centricity by offering services to its clients in formulation and drug development of small and large molecules for different modalities requiring innovative approaches like NanoSol®, EmulSol®, LipidSol®, and AmorSol® platform technologies. Ascendia's expertise and capabilities in analytical testing and method validation under ICH guidelines enables clients to work with sterile injectable and non-sterile oral products for life saving aliments.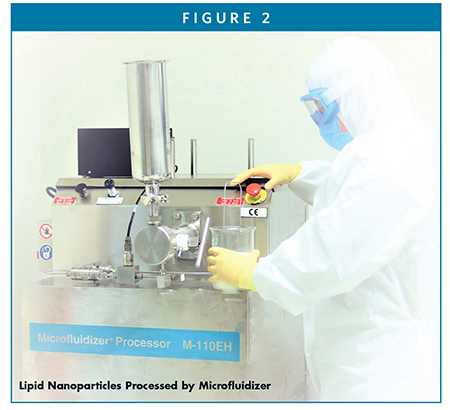 SUMMARY
As the pharma and biotech industry continues to innovate complex molecules, especially, large molecules, RNA/DNA, and biologics, the demand for CDMOs specializing in sterile manufacturing of parenteral formulations will grow with leaps and bounds. The FDA continues to push for cleaner and isolated rooms for sterile products to minimize human errors due to cross contamination during aseptic fill processing. These changes can often introduce additional risks to the sterile fill/finish process, resulting in production delays, additional costs, and safety concerns. Parenteral formulations, for instance, developed as lyophilized dry powders, liquid suspensions, long-acting injectables, nanoemulsions, microemulsions, liposomes, or LNPs may require special equipment and dedicated sterile facilities for characterization, manufacturing, and release testing of drug products. Notably for such formulations, quality of water for injections for IV administrations need to be checked routinely for pH variations and/or any undesired contaminants, including bioburdens and pyrogens/endotoxins to ensure the stability of drug products over extended shelf-life. The stability of these formulations is critical as the impurities formed over shelf-life either caused by hydrolysis or oxidative degradation, heavy metals, racemization, or isomerization could lead to risk for batch failure due to compromised potency of drugs. That means CDMOs like Ascendia Pharma with the capabilities in handling the sensitive molecules will stay ahead of the curves and will be ready to tackle these challenges requiring formulation and bioanalytical support.
REFERENCES
G. Raju, S. Ojha, S. K. Roy, A. Kori and A. Vinukonda, Formulation development studies for sterile dosages: A comprehensive review, J. Drug Delivery & Therapeutics, 2021, 11, 122-125.
D. Hussong, Sterile products: Advantages and challenges in formulation, manufacturing and regulatory aspects – A regulatory review perspective, AAPS PharmSciTech, 2010, 11, 1482-1483.
Ascendia Pharma: https://ascendiapharma.com/newsroom/2022/03/20/types-of-sterile-dosage-forms-and-how-to-choose.
M. G. Kang, Sterile preparation formulation, Chapter 4, 51-66.
S. Shatheesh, S. Abhimanyu, and R. Kamaraj, Regulatory challenges of sterile formulation development as per USFDA perspectives, Res. J. Pharm Tech., 2020, 13,1-13.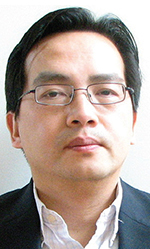 Jim Huang, PhD
Founder & CEO
Ascendia Pharmaceuticals
j.huang@ascendiapharma.com
www.ascendiapharma.com
Dr. Jim Huang is the Founder and CEO of Ascendia Pharmaceuticals, Inc. he earned his PhD in Pharmaceutics from the University of the Sciences in Philadelphia (formerly Philadelphia College of Pharmacy and Sciences) under Joseph B. Schwartz. He has more than 20 years of pharmaceutical experience in preclinical and clinical formulation development, manufacturing, and commercialization of oral and parenteral dosage forms. His research interests are centered on solubility/bioavailability improvement and controlled delivery of poorly water-soluble drugs through nano-based technologies.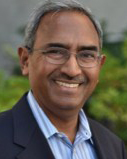 Shauket Ali, PhD
Sr. Director, Scientific Affairs & Technical Marketing
Ascendia Pharmaceuticals
shaukat.ali@ascendiapharma.com
www.ascendiapharma.com
Dr. Shaukat Ali joins Ascendia Pharmaceuticals Inc. as Senior Director of Scientific Affairs and Technical Marketing after having worked in the pharma industry for many years. His areas of expertise include lipid chemistry, liposomes, lipid nanoparticles, surfactant-based drug delivery systems, SEDDS/SMEDDS, oral and parenteral, topical and transdermal drug delivery, immediate- and controlled-release formulations. He earned his PhD in Organic Chemistry from the City University of New York and carried out his post-doctoral research in Physical Biochemistry at the University of Minnesota and Cornell University. He has published extensively in scientific journals and is inventor/co-inventor of several US and European patents.