EXECUTIVE INTERVIEW – Yourway: Supporting COVID-19 Studies & Vaccine Distribution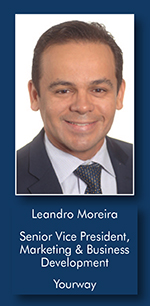 The global pharmaceutical cold chain logistics market is poised to grow by $9.48 billion from 2020-2024, driven by the increasing need for transporting temperature-sensitive drug products.1 This is a need exacerbated by the COVID-19 pandemic and the race to develop and ultimately distribute temperature-sensitive vaccines on a global scale.
Managing complex storage and distribution projects with very strict temperature management and handling requirements has been part of Yourway's core service offering since its founding in 1997. The company provides validated storage to accommodate temperature ranges from -185°C to ambient temperature. In addition to storage capabilities, the Yourway global transportation network facilitates transporting products that require strict temperature-controlled management worldwide, including transportation to and from remote locations.
Drug Development & Delivery magazine recently spoke with Leandro Moreira, Senior Vice President, Marketing and Business Development, Yourway, to find out what role the company will play in globally transporting COVID-19 vaccine(s), how Yourway is gearing up for this project, and the challenges of this extraordinary task.
Q: How would you describe Yourway's role in the life sciences industry? What need are you filling?
A: Yourway is a single-source packaging and supply chain partner that offers a full range of services, including primary and secondary clinical packaging, temperature-controlled logistics, and storage and distribution services for the global pharmaceutical and biotech industries. Clients enjoy the convenience of having one service provider and one project manager assigned to coordinate the planning and execution of services to assist them in properly solving the operational and regulatory complexities associated with each project. Clients appreciate the fact they can rely on Yourway's unique ability to provide integrated and comprehensive services such as:
Procurement of comparator drugs and ancillary supplies;
Primary and secondary packaging;
Translation services;
Label and booklet printing;
Qualified Person (QP) releases;
Importer of Record (IOR) and customs brokerage services;
Specialized temperature-controlled transportation and storage for all temperature ranges from -180°C to controlled 15°C to 25°C;
Temperature-controlled storage at one of our 21 global GMP depots strategically located in all continents; and
 Q: What is Yourway's business model? And what sets Yourway apart from its competitors?
A: Unlike other players in the life sciences logistics space, Yourway offers highly personalized services to drive efficiency through quality and compliance. We provide integrated services such as transportation, clinical packaging, and comparator sourcing. Other companies usually provide one service or the other. We have the bandwidth of a large firm, but remain attentive and responsive to our customers' individual needs. We offer true one-on-one customer service that ensures high-quality, responsive, tailored support from start to finish. As importantly, our people have decades of experience in pharmaceutical logistics and are the key to our rapid growth. They help clients optimize resources and ensure adoption of the most efficient clinical trial logistics strategies. Indeed, many virtual pharma companies turn to Yourway to manage their entire logistics programs.
Time is of the essence in drug development and commercialization. At Yourway, we always operate with the mentality that every project is urgent, whether it is a transportation project, a clinical packing project or any number of services we provide. This approach gives us the necessary agility to excel during normal conditions and during challenging times such as the current pandemic. As a result, Yourway has become a natural choice for clients in need of support for various studies currently in place, including trials focusing on the development of therapies to combat COVID-19.
Being first to the clinic and first to market is essential in the industry today. As such, the greatest benefit Yourway provides to our customers, which range from small virtual biotechs to mid-size and large pharma companies, is shortened turnaround times. We are structured to get materials out the door today – never tomorrow. Our mentality that everything is urgent is well aligned with the need to get vaccines distributed fast and efficiently as soon as they are approved.

 Q: What role will Yourway play in COVID-19 vaccine distribution?
 A: Yourway's temperature-controlled management services cover storage, pick-up through delivery, and include monitoring and gel pack or dry ice replenishment. Our capabilities, network, and experience are paramount to the efficient distribution of vaccines because they require strict temperature management and speedy deliveries. We have vast experience handling ambient and controlled-ambient, refrigerated (2°C to 8°C), and frozen (-20°C to -80°C) products using both passive and active temperature-controlled systems.
In addition to storage and distribution, our worldwide services also include documentation support and the provision of regulatory advice regarding country-specific requirements. Customs fees are managed proactively and paid by Yourway, regardless of the cost – shipments are never held up waiting for the client to pay fees. Overall, Yourway's proactive management approach helps our clients meet their targets.
Our team of temperature-controlled transportation specialists is highly experienced in supporting client needs for the storage and transportation of Phase 1, 2, 3, and 4 materials, production raw materials, and finished goods, including vaccines. Throughout the current global pandemic, Yourway has remained fully operational, providing reliable distribution of medicines and clinical trials materials, including COVID-19-related trials. Yourway's capabilities and experience will be extremely valuable when it is time to distribute the vaccines.

Q: How is Yourway preparing for this distribution?
 A: We have been expanding our temperature-controlled storage footprint by adding extra storage capacity for products requiring all temperature ranges. In anticipation of increased demand for storage of vaccines requiring -80°C, -30°C, -20°C, and 2°C to 8°C, we have been creating the necessary capacity to fulfill clients' needs. For our transportation services, our staff is properly trained to coordinate shipments of any size destined for anywhere in the world. We have the reputation of performing well under challenging circumstances, including strict timelines and highly complex requirements. That is one of the reasons why we have been chosen by several organizations to ensure their projects remain free of disruption during the pandemic and moving forward. We have been supporting several COVID-19 clinical studies and are well positioned to provide storage and distribution services once vaccines are approved.
 Q: What are the challenges of a global vaccine distribution and what have you put in place to overcome these obstacles?
 A: Several COVID-19 vaccines being developed will need to be kept at temperatures as low as -80°C from the moment they are bottled until they are administered to patients. Of the three vaccines that have advanced to Phase 3 trials, two need to be kept in a near-constant deep freeze. As an example, Pfizer projects its vaccine will need to be stored in temperatures as low as -80°C, while Moderna's vaccines will need to be kept at -20°C. AstraZeneca and Oxford University expect that their vaccines must be kept cool, but not frozen. These vaccines will need to be transported to patients in all corners of the world.
Q: How will Yourway work with governments and industry stakeholders for quick and efficient transport of COVID vaccines?
A: In addition to having our capabilities, processes, and network properly validated and already in place to fulfill requests for immediate storage and transportation of COVID-19 vaccines, understanding local regulatory requirements and region-specific challenges is key to successfully transport vaccines to various global locations. Overall, Yourway's proactive management approach helps our clients avoid delays of all kinds during the shipment of these critical vaccines. Our worldwide service also includes documentation support and the provision of regulatory advice regarding country-specific requirements. Customs fees are managed proactively and paid by Yourway – regardless of the cost – to ensure shipments are never held up waiting for the client to pay fees.
 Q: In addition to time- and temperature-sensitive distribution, what other precautions do you need to consider when transporting a vaccine?
 A: In addition to disciplined temperature-controlled management, cGMP- and cGDP-compliant handling are paramount to ensure overall product integrity. Supply chain security will also be a must. Vaccines will be in very high demand, thus a likely target for theft and diversion.
Access to airfreight capacity and reliable storage and transportation networks will play a critical role to support the distribution of vaccines around the world. Complex logistical solutions, understanding of regulatory requirements and how to properly comply with them, stakeholder engagement, and solid experience with temperature-controlled methods will be key to ensure that vaccines are quickly and efficiently transported globally, immediately after they have been approved.
Yourway's cGMP- and cGDP-compliant processes, access to airfreight capacity and transportation networks, disciplined protocols to efficiently manage projects requiring complex temperature-controlled storage and transportation, combined with existing procedures to enforce chain-of-custody and chain-of-identity will be critical to help protect overall product integrity and create barriers to help prevent cargo theft and counterfeiting.
 REFERENCE
Global Cold Chain Logistics Market for Pharmaceuticals Industry 2020-2024, Technavio Research, Jan. 24, 2020, https://www.businesswire.com/news/home/ 20200124005130/en/Global-Cold-Chain-Logistics-Market-for-Pharmaceuticals-Industry-2020-2024-Evolving-Opportunities-with-Agility-Public-Warehousing-Co-K.S.C.P-and-Deutsche-Post-AG-Technavio.
To view this issue and all back issues online, please visit www.drug-dev.com.