EXECUTIVE INTERVIEW – Vetter: Insights on Insourcing Versus Outsourcing in the World of Injectable Manufacturing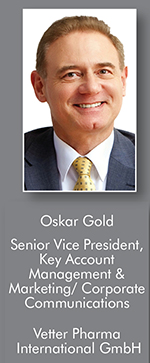 Aseptic manufacturing is a key stage in drug development and commercialization, requiring a careful approach and attention to detail. Once a pharma or biotech company completes the drug discovery phase, how does the drug get packaged into its drug delivery system, passing successfully through clinical manufacturing and into the market for commercial supply? Does the strategy differ for small-, medium-, and large-size companies? What are the factors that must be considered? Drug Development & Delivery recently interviewed Oskar Gold, Vetter's Senior Vice President Key Account Management and Marketing/Corporate Communications, to discuss these questions, and offer his insights as to why careful thought and consideration of different criteria must be applied.
Q: Can you please update our readers about your company and what service portfolio it offers?
A: Vetter is a globally operating solution provider for large and small pharma and biotech companies and is active in the field of injectables. As a contract development and manufacturing organization, commonly referred to as a CDMO, our portfolio spans services beginning in early development support, including clinical manufacturing, on through to commercial manufacturing and secondary packaging services. Headquartered in Ravensburg, Germany, we operate production facilities in Germany and the United States. We currently employ approximately 4,400 employees who are experts in their respective fields, which enables us to provide the high quality necessary to be a successful and trusted partner in this niche market.

In the field of aseptic manufacturing of prefilled drug delivery systems, we have more than 35 years of experience that includes support for dozens of market approvals for new injectable drugs of our customers. Because we have been dealing with complex compounds for quite some time, our innovations in both systems and processes were always decisive for our company's success and remain so today.
Q: Can you give us your insight into how a business model for aseptic manufacturing might be structured for a small company, like we see many of them in today's biotech corridor?
A: Overall, the industry has seen an increase in competition that has led to the need for high flexibility in the manufacturing process, regardless of the size of the company. While biologics, such as antibodies, peptide conjugates, and vaccines are very promising development fields, the ever-increasing R&D spending and price pressures to develop them have put a burden on the industry. This is particularly true for the cash-strapped small biotech companies. To be successful in aseptic manufacturing, companies need extensive experience in current Good Manufacturing Practice (cGMP) and require site approval from regulators. The lack of in-house specialized expertise and expensive equipment needed to perform drug development and manufacturing often makes it more feasible for smaller companies to contract out most, if not all, of the development and manufacturing work once the discovery phase and preclinical development of their active compounds has been completed successfully.

Q: How about medium-size pharma and biotech companies? Is the model for companies like these any different?
A: The answer to this question is not as simple. We find that many mid-size companies, unlike their smaller counterparts, do have the financial resources for realizing their drug development and manufacturing in-house, creating any needed expertise and acquiring necessary equipment. But often, they do prefer outsourcing as well. Throughout the past decade or more, we have seen a number of leaders in the pharma and biotech arena that have had great success with a small number of expensive compounds and therapies. Much of this success has been achieved by concentrating all of their resources on R&D and marketing while outsourcing the remaining process steps. This includes contract manufacturing for both clinical and commercial drug products. A major advantage of outsourcing anything that is not part of their core competency is that the sponsor company can be free to focus its energy on executing project and progress expectations of investors and shareholders. Resources can then be applied to the creation of a multi-candidate pipeline to help mitigate risk failure in the clinical phase. However, they must be ever-more vigilant since the use of multiple suppliers means that each contract service firm has to be formally audited to allow for the cGMP process and regulatory submission. However, maintaining in-house resources is impractical since these capabilities, quite often, cannot be utilized completely and, thus, are not cost efficient. Therefore, for the medium-size company, realizing outsourcing as a way to reduce and keep the number of strategic, not tactical, partners to a minimum can offer an encouraging roadmap to supporting its daily operations.

Q: That brings us to the question about large companies. What approach should they be taking?
A: It is probably in the best interests of large pharma and biotech companies not to have a single, fixed strategy. This seems contrary to what I recommend for smaller and medium-size companies and, actually, it is. Several years ago, we had seen a number of these large companies achieve major global manufacturing capabilities through activities like mergers and acquisitions in addition to organic growth. If you ask them what are the other reasons they have for insourcing, they often will respond that it enables them maintain 100% control over the process. However, striving for quality can also be achieved through a common quality understanding between sponsor and partner. This requires a partner that stays abreast of new and emerging regulations and is able to meet ever-increasing quality standards. Often cooperating with a CDMO provides a sponsor company access to the latest state-of-the-art manufacturing technology. For reasons of confidentiality, some of these companies prefer contracting independent partners with no own products on the market, so as to avoid any potential conflicts of interest. Another common model is using CDMOs to serve as a second production source, often to enable the supply of a drug product to specific areas of the world. There are a lot of industry leaders that make every effort to balance insourcing and outsourcing activity. Achieving this balance helps them secure supply, optimize performance and flexibility, as well as minimize risks.
Q: What then, in your opinion, are the key advantages for both insourcing and outsourcing?
A: If a company has all the necessary capacity available for realizing the drug manufacturing in-house, then this might be a logical approach. It allows them to remain completely independent from suppliers, keeping 100% control over their manufacturing and supply chain. Even the unlikely case of a potential leaking of intellectual property (IP) is kept to a minimum.
But, outsourcing does have a couple of advantages as well. This is often the case when the needed efforts to achieve global quality consistency across sites are equal to, or even more challenging as compared to contracting with an external CDMO partner.
Economic efficiency is another important benefit. Professional suppliers that are committed to a customer's business will always remain up-to-date in terms of regulations and technology. They will also have skilled employees and well-maintained sites and hardware. These elements of manufacturing are very expensive for a company to maintain on its own. For these reasons, having a supplier that has long-term expertise and state-of-the-art equipment to realize manufacturing in an economic manner is an attractive pathway for many pharma and biotech companies.
Q: Any final thoughts about the "right manufacturing strategy" for companies of any size to take?
A: Within the industry, different faceted forms of outsourcing are certainly the trend. According to Eric Langer's BioPlan Associates 15th Annual Report and Survey of Biopharmaceutical Manufacturing Capacity and Production 2018, companies are weighing their outsourcing versus insourcing options, with a longer-term perspective. While some companies are geared to keep capital costs low, including through outsourcing, others see strategic company value by developing and increasing their in-house manufacturing competency.
For us as a CDMO, one of the valuable survey information mentioned was that 67% of respondents indicate that fill/finish is currently their primary outsourced activity. At the end of the day, it is the pharma or biotech company that has to make a decision concerning insourcing versus outsourcing, based on the parameters outlined earlier. Depending on the availability of in-house capabilities, a strategy that combines both insourcing and outsourcing will often lead to the necessary flexibility and reliance on third-parties. This strategy also affects the relationship with a partner that is based on long-term planning and cooperation. Long-term strategic partnerships will continue to add experience and knowledge to both sponsor and partner – a crucial benefit when navigating in an increasingly competitive and challenging market environment, with only little room for failure, or for getting a second chance following wrong initial decisions.