EXECUTIVE INTERVIEW – Vetter: Helping Small Biotech Companies Execute a Successful Drug Development Process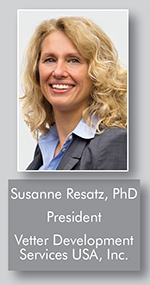 The highly competitive drug development environment is a risky one, requiring enormous amounts of time and money. In fact, it can take as long as 12 years for a drug to go from research to market with an investment easily reaching between $800 million and $1 billion. That is why smaller biotech companies with very limited budgets must focus their efforts on their core competencies of research and development and consider partnering with a Contract Development and Manufacturing Organization (CDMO) right from the start. A CDMO can be a valuable contributor to the drug development process, providing the necessary and critical development support needed for complex compounds, including fill and finish, drug delivery systems, packaging, and product lifecycle management. The CDMO will most likely offer a better opportunity for success of the drug, helping to elevate an entire drug package's value from development on through to market. Drug Development & Delivery recently interviewed Dr. Susanne Resatz, President of Vetter Development Services USA, Inc., to discuss the many benefits to small biotech companies in utilizing a full-service CDMO, and what advanced services the Chicago-based facility offers its growing customer base.
Q: For our readers who may not yet be familiar with your company, can you briefly discuss Vetter and what service portfolio it offers?
A: Vetter is an independent CDMO headquartered in Ravensburg, Germany, and specializes in the aseptic filling of syringes, cartridges, and vials. Our state-of-the-art facilities located in the US and Europe provide support for early stage drug products, with seamless transfer to Vetter Commercial Manufacturing for large-scale production. In addition to these locations, in November 2014, taking advantage of a rapidly growing Asian healthcare market and to better support our customers and develop new business, we announced the opening of our first Asian office in Singapore.
As a world-leading CDMO, we have extensive experience in working with biologics and other complex compounds, including monoclonal antibodies, peptides, interferons, and vaccines. And because we are a full-service provider, we can support our customers' products throughout their lifecycles, from preclinical development through global market supply. We are the originator of dual-chamber technology, which enables easier, safer lyophilized drug administration, and we are a leader in the use of Restricted Access Barrier System (RABS) technology in cleanrooms, which mitigates risk of product contamination throughout the manufacturing process. Finally, it is important to note that as a family owned independent company, we do not manufacture our own drugs but focus solely on our customers' product success.
Q: If you were a small biotech firm, what would you see as the most important benefit for utilizing the services of a CDMO rather than a variety of service providers?
A: Due to the very nature of their size, small biotech companies face numerous obstacles, including high costs, limited budgets, and ever-increasing regulatory oversight. Executing on a well-defined product development process from the start is key and affords the biotech company the best opportunity for creating the most advanced and complete drug candidate package possible. But because small biotech companies rarely have the resources to focus beyond their core competencies of research and development of promising drugs, partnering with a CDMO right from the start can have a significant impact by elevating the entire drug package's value from development on through to market.
By contracting with a full-service CDMO, the small biotech company can keep the number of service providers to a minimum, helping to reduce the complexity of the process, including various interfaces and daily handling efforts. Additional advantages include the retention of product and process knowledge, avoiding duplication of activities, and reducing overall timelines. Also, utilizing the services of a trusted CDMO early in the drug development process will most likely offer a better opportunity for success of the drug as they will act as both a guide and a consultant during the process. A CDMO can also provide necessary and critical development support needed for complex compounds, including fill and finish operations, drug delivery systems, packaging, and product lifecycle management. They can also be a valuable contributor to the drug development process; helping to achieve an attractive, high-value drug package by lending their good reputation to the package and therefore, to the biotech company itself. This support will only increase the likelihood of getting the attention of a large bio/pharmaceutical company that might currently be following an acquisition or in-licensing strategy. Finally, the CDMO can also act as an interface between a small biotech firm and its later bio/pharmaceutical counterpart, understanding the business situation of involved parties as well as their targets and challenges.
Q: In April 2011, Vetter revealed its Chicago facility was ready to accept client projects. Why did you decide to open a facility in Chicago? What are the services you offer here?
A: For a company like Vetter, where nearly half of its client base resides in North America, it makes sense to be located in the heartland of the United States. The Midwest and in particular, the vibrant city of Chicago, is a logical choice. Futhermore, Illinois is considered a "hot spot" in biotechnology and thus, of keen interest to Vetter.
Directly located among top-flight academic institutions, Chicago offers access to cutting-edge science and a highly skilled employee pool that is important to Vetter's success. The city also offers access to six schools of medicine, the largest concentration of physicians in the country, and major federal research labs. And when deciding on a location for situating the new facility, the Illinois Science + Technology Park in Skokie allowed Vetter flexibility to expand and easy access to the growing community of innovative pharmaceutical and biotech companies, the city's infrastructure, and the pharmaceutical and biotech hubs in the east and west of the country.
At the Skokie facility, Vetter offers top-notch flexibility and the possibility of filling various products quickly and safely. We can also react very quickly to the needs of each customer's drug substance and better respond to any changing requirements. Furthermore, the location allows the company to give all of its US customers – from the small start-up to the internationally leading drug manufacturer – uniformly high-quality and affordable services. As a leading CDMO, Vetter has created the basis for a one-stop-shop solution to assist its US customers from early drug development to long-term market supply. The close collaboration produces significant synergies in subsequent development steps, as well as more efficient transfer of substances and manufacturing processes to commercial production at its Ravensburg, Germany, facility.
Q: How has the Chicago site performed since then?
A: We are extremely pleased with our past year's performance at the Skokie facility, as well as our overall success to date. Since the full operational launch, the facility has successfully passed audits and qualifications by as many as 30 companies, including 9 of the top 20 leading (bio-)pharmaceutical companies. In addition to the US, we have contracted with a number of companies from around the globe, including Belgium, Israel, and Denmark, as well as Asian-headquartered companies, such as in South Korea.
The site has been actively releasing customer batches for clinical trials. In fact, due to our performance, many of our customers have already returned for development work for a second, third, or even fourth molecule. Furthermore, the outlook for future performance is very positive as demonstrated by a pipeline filled with high-quality customer projects for biologics. Drugs under development by our customers include treatments for blood cancer, muscular dystrophy, wound healing, and dwarfism.
Q: What is the latest news from your Chicago facility?
A: As previously stated, we announced the Chicago facility became fully operational in April 2011 and has been accepting new client projects ever since. That announcement, however, in no way signaled the end of our development work at the facility. In fact, it was only the beginning. Since that announcement, we opened a new cleanroom in December 2014, bringing the number of cleanrooms at the site to three. With the addition of the third cleanroom, filling of single-chamber syringes became available with a maximum filling speed of 3,600 units per hour, and batch sizes as large as 25,000 units. The line is constructed as a RABS, offering various filling pumps depending upon a product's unique characteristics, as well as fully automated tub processing. The other two existing cleanrooms, both operational since late 2011, provide fully automated vial filling for batches up to 10,000 liquid or lyophilized vials, as well as semi-automated filling for manufacturing prefilled syringes, cartridges, and vials in small batch sizes of a few hundred.
In 2015, we also announced initiatives that include an additional staff shift for daily clinical manufacturing operations, as well as the doubling of capacities for performing visual inspection and In-Process Control (IPC). The facility also expanded its on-site offerings by giving customers the option to obtain secondary packaging services for small batches of frozen drug products, such as vial labeling, cartoning, and carton labeling.
To date, four customer products in development have already been successfully transferred from Vetter's US clinical manufacturing facility to the company's European sites for manufacturing of late-stage clinical supply and for subsequent commercial production. The company plans for additional product transfers from the US to Europe in the near future.
Q: You indicated that so far you transferred four customer products? How do you support a seamless transfer of products in Phase II in Chicago to Phase III in Ravensburg?
A: The secret to a seamless transfer of products is offering manufacturing resources that begin from early drug development on through to market launch and commercial supply. As a CDMO, Vetter can offer its customers a "modular service" offering in addition to a seamless transfer approach for their drug product from Vetter's US early stage facility to one of its European development and commercial manufacturing facilities. To assist in the transfer and enable consistency, the sites on both continents use similar equipment and processes whenever possible, including product contact materials, such as excipients and primary packaging materials. This flexible approach results in less overall risk of unforeseen manufacturing issues, and creates a consistency between clinical and commercial drug product handling.
In addition, the core of the aseptic manufacturing process (i.e., the filling lines themselves) are designed in the same manner at Vetter's clinical and commercial sites. The Chicago facility, designed specifically for high-yield and flexible use, employs scaled-down versions of the company's commercial filling lines. This aligned facilities approach reduces time and means less development work will be necessary to realize the transfer and scale-up process of the individual customer drug product.
Furthermore, all Vetter sites in the US and Europe are part of the same company-wide Quality System, offering a consistent quality approach over a project lifetime and avoiding non-productive time to adapt to new systems. The interaction of Vetter teams from both the US and Europe allows customers to access global expertise as necessary, an attribute that is especially valuable for projects with a very high level of complexity.