EXECUTIVE INTERVIEW – Tarsus Pharmaceuticals: A Journey to Establishing a New Disease Category in Eyecare & Transforming Treatment for Patients With Serious Diseases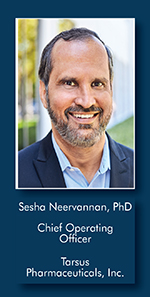 Tarsus Pharmaceuticals, Inc. is a Southern California-based biopharmaceutical company focused on the development and commercialization of therapeutic candidates to address large diseases with limited or no treatment options, starting with eye care. Tarsus is advancing its pipeline to address diseases with high unmet need across therapeutic categories including eye care, dermatology, and infectious disease prevention.
XDEMVY™ (lotilaner ophthalmic solution) 0.25% was approved by the FDA in July of 2023 for the treatment of Demodex blepharitis, a prevalent eyelid disease. XDEMVY has the potential to help millions of patients in need.
 Drug Development & Delivery recently interviewed Sesha Neervannan, PhD, Chief Operating Officer of Tarsus, an industry veteran with more than 25 years of drug development experience, to discuss the company's innovative approach to creating a new treatment category for eyelid disease and the company's strategy to advancing other treatments in their pipeline.
Q: Tell us about Tarsus and its approach to drug development.
A: When Tarsus was founded, the leadership team identified a significant unmet need in eyelid health with Demodex blepharitis, a common yet often overlooked eyelid disease that impacts approximately 25 million eye care patients in the United States. Demodex blepharitis is caused by an overgrowth of the Demodex mite – a microscopic parasite that is found on nearly all humans. Despite its high prevalence, before the approval of XDEMVY, there were no FDA-approved therapies to treat the disease. Existing management options like lid hygiene have been largely ineffective for most patients. Millions of patients have this disease, yet few in the industry were giving this common, often debilitating disease much attention. We saw a unique opportunity to tackle this disease and do it differently – by targeting the underlying biology and root cause of the disease. Instead of developing a therapy that would alleviate symptoms, we focused on a solution that targets the root cause of the disease – the Demodex mite infestation itself
We found a potential solution in lotilaner, a best-in-class, potent and selective anti-parasitic that was being utilized in veterinary medicine. We licensed lotilaner and developed a novel formulation of the molecule, suitable and safe for human use. Lotilaner had a favorable mite-killing profile, and we began our journey to test its effectiveness in potentially resolving Demodex blepharitis.
That discovery led to what is now XDEMVY (lotilaner ophthalmic solution) 0.25%, formerly known as TP-03, the first and only FDA-approved therapy for Demodex blepharitis.
Q: Demodex blepharitis is a common eyelid disease, yet many people have never heard of it. Could you tell us more about the disease?
A: Demodex blepharitis is caused by an overpopulation of Demodex mites, the most common ectoparasites found on humans. When present in small numbers, these mites go largely unnoticed. However, when a mite infestation occurs, it can lead to ocular irritation, inflammation, redness, itching and may impact a patient's daily activities. The symptoms of Demodex blepharitis often mirror those of ocular conditions like dry eye or allergies, so it is often undiagnosed. As a result, many patients may suffer with Demodex blepharitis for years.
Q: What is XDEMVY, how does it work, and why are you excited about its recent approval?
A: XDEMVY was approved by the FDA in July of this year for the treatment of Demodex blepharitis. The active ingredient in XDEMVY is lotilaner, which is designed to paralyze and eradicate Demodex mites by selectively inhibiting the mite's GABA-Cl channels.
The FDA approval is based on results from two randomized, multicenter, double-masked, vehicle-controlled studies (Saturn-1 and Saturn-2), designed to evaluate the safety and efficacy of XDEMVY in 833 patients, 415 of which received XDEMVY. Patients with Demodex blepharitis were randomized to either XDEMVY or vehicle at a 1:1 ratio and dosed twice daily in each eye over the course of 6 weeks. Efficacy was demonstrated by a significant improvement in eyelids (reduction of collarettes, the pathognomonic sign of the disease, to no more than 2 collarettes per upper lid) in each study by Day 43, with some patients seeing improvement as early as 2 weeks. Additionally, the endpoints of mite eradication (mite density of 0 mites per lash) and erythema cure (Grade 0) showed statistically significant improvement at Day 43 across both studies. In clinical trials, XDEMVY was generally safe and well tolerated. The most common ocular adverse reactions observed in the studies were instillation site stinging and burning which was reported in 10% of patients. Other ocular adverse reactions reported in less than 2% of patients were chalazion/hordeolum (stye) and punctate keratitis.
XDEMVY is the first and only FDA-approved treatment for Demodex blepharitis – this exciting milestone has the potential to help millions of patients with the disease and provides the opportunity for eye care providers to present a viable and effective solution to their patients.
Q: There's currently no established market for Demodex blepharitis. What is your approach to creating this new category in the eye care market, and why is it important?
A: We are extremely focused on elevating the importance of eyelid health and are thrilled to be the first to establish a market for Demodex blepharitis. The eyelids are the gateway to overall ocular health – they protect the eyes from external irritants, bacteria and keep the eyes lubricated.
Over the past year, we've been very focused on disease awareness and launched two impactful disease education campaigns for eye care providers and consumers. Demodex blepharitis is easy to diagnose through a regular eye exam when an eye care provider asks a patient to "look down" during the exam. When a patient looks down, it allows the provider to examine the upper eyelash margin for the presence of collarettes. Collarettes are waxy, crusty build up (composed of mite waste and eggs) and are a sure sign of the disease. The consumer disease awareness campaign provides tools and resources to encourage patients to visit and start a dialog with their eye care providers about Demodex blepharitis.
Q: What other disease areas is Tarsus focused on?
A: We have a rich and diverse pipeline, leveraging different formulations of lotilaner across other large disease areas for which there are unmet needs.
We are studying the potential safety and efficacy of TP-03 in Meibomian Gland Disease (MGD), another highly prevalent eyelid disease where Demodex mites may be implicated. MGD occurs when the meibomian glands do not secrete enough high-quality oil to effectively lubricate the surface of the eyes, resulting in dry eye, irritation, and fluctuating vision. We have a Phase 2a study underway for this disease.
We are also studying TP-05, a novel, investigative, oral therapeutic for the potential prevention of Lyme disease. Lyme disease is transmitted through Borrelia burgdorferi infection following the bite of a tick vector. Over 30 million Americans are at high or moderate risk of contracting Lyme disease and there are approximately 300,000 – 400,000 cases in the U.S. each year. TP-05 is designed to be an on-demand, long-acting prophylactic treatment that targets and eradicates ticks that transmit Lyme disease. TP-05 is currently being investigated in a Phase 2a trial. It is believed to be the only non-vaccine, drug-based, preventative therapeutic in development designed to kill ticks to potentially prevent Lyme disease transmission. There are currently no FDA-approved pharmacological prophylactic options for Lyme disease, which is the most common vector-borne disease in the United States, according to the CDC.
Finally, we are developing TP-04 for the treatment of papulopustular rosacea (PPR). Rosacea is a common inflammatory skin condition that affects more than 16 million people in the U.S. – PPR is estimated to occur in 18-28% of patients with rosacea, and can result in redness, swelling and/or pus-filled bumps. TP-04 is a topical, aqueous gel formulation of lotilaner designed to potentially treat PPR and eradicate Demodex mites, which have been reported as highly prevalent in the skin of patients with rosacea, including those with PPR, and may play a key role in triggering inflammatory responses associated with the disease. TP-04 is currently being studied in a Phase 2a clinical trial to evaluate safety, tolerability, and proof-of-activity.
Q: As Chief Operating Officer, what are your top priorities for the company over the next 2-3 years?
A: At Tarsus, our goal is to become a leading eye care company, helping to transform treatment for patients with serious diseases. As we work toward this goal, our top priorities are first to successfully commercialize XDEMVY and bring the first and only FDA-approved therapy for Demodex blepharitis to millions of patients and eye care providers. Second, we want to accelerate our pipeline and continue to develop potential therapies for Lyme disease prevention and rosacea. We are assessing all of our options to advance the development of these investigational therapies, including strategic partnerships. And finally, we want to continue to recruit and retain the best-in-class talent to maintain our award-winning culture that is focused on diversity, belonging, teamwork, and commitment to patients.