EXECUTIVE INTERVIEW – SK life science: Challenges of Developing Therapies for Neurological Diseases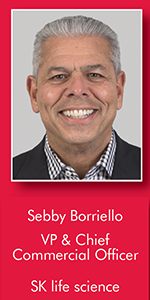 Established in 1993, SK Life Science, Inc., is a subsidiary of SK Biopharmaceuticals, Co., Ltd., focused on developing and commercializing treatments for disorders of the central nervous system (CNS). Both companies are a part of the global conglomerate SK Group, the second largest company in South Korea. SK Group generated more than $108 billion in revenue in 2016. In November 2017, SK life science announced the launch of its commercial corporate presence in the US, restating its commitment to making a difference in the lives of people suffering from CNS diseases. Currently, the company has a pipeline of eight products in development for the treatment of CNS disorders, including epilepsy, sleep disorder, and attention deficit hyperactivity disorder, and has already initiated 16 Investigational New Drug (IND) applications with the US FDA. Its lead product, cenobamate (YKP3089), is a Phase 3 investigational compound that is being studied as a potential treatment for patients with partial-onset seizures. Drug Development & Delivery recently interviewed Sebby Borriello, Vice President & Chief Commercial Officer, to discuss the challenges and trends surrounding development of therapies for neurological diseases.
Q: Can you please provide an overview of SK life science for our readers?
A: SK life science, which is based in South Korea, announced the launch of its commercial corporate presence and infrastructure in the US in November 2017. We are growing quickly, and have US headquarters in Fair Lawn, NJ.
With a pipeline of eight products in development for the treatment of CNS disorders, including epilepsy, sleep disorder, and attention deficit hyperactivity disorder, the company has already initiated 16 Investigational New Drug (IND) applications with the US FDA. Our lead product, cenobamate (YKP3089), is an investigational compound that is being studied as a potential treatment option for patients with partial-onset seizures.

We also have established a highly blood-brain, barrierpermeable, unique compound library and translational screening system that has been clinically proven in the field of CNS disorders throughout the past 20 years.
Through everything we do, we are working to redefine the future of CNS therapies with products that we believe will truly make a difference in the lives of patients.
Q: How does SK life science plan to make a meaningful impact on patients and fulfill unmet medical needs?
A: In the US, there remains significant unmet need for patients with CNS disorders, particularly epilepsy, with a minimum of 3.4 million people living with epilepsy in the US alone. Despite the addition of several new treatment options throughout the past 5 years, approximately one-third of the epilepsy patient population continues to have seizures. Even more troubling is the fact that this one-third figure has remained relatively constant throughout the past several decades. The SK life science team is firmly committed to making a difference in the lives of people suffering from epilepsy.
Furthermore, due to high regulatory standards, several large pharmaceutical companies have decreased investment in the CNS industry. However, SK life science recognizes the critical unmet need, and we are committed to working tirelessly in search of solutions for this patient population.
These patients' needs drive our steady commitment to this medical community and have inspired our development of the compounds in our pipeline, including early stage treatment candidates for epilepsy, attention deficit hyperactivity disorder, Parkinson's disease, and cognitive impairment associated with schizophrenia.
Q: How is SK life science evolving in the industry, and what's different about its drug development plans and pipeline approach?
A: We have a group of scientists, inventors, and explorers working to unlock the complex mysteries of the brain in the increasingly stagnant CNS space, with the goal of creating novel, small-molecule compounds from the ground up. We are uniquely positioned in the industry, as we are focused on developing novel treatments instead of reformulations of existing drugs.
SK life science has more than 20 years of experience partnering with pharmaceutical companies on licensing and development agreements. For example, we have a partnership with Jazz Pharmaceuticals for its late-stage project, solriamfetol, for the treatment of excessive sleepiness in adult patients with narcolepsy and obstructive sleep apnea. Although Jazz acquired the license to develop and commercialize the drug, SK Biopharmaceuticals retains the rights in 12 major Asian countries, including South Korea, Japan, and China, and we have plans to develop and commercialize it in the Asian market moving forward.
We're now at a pivotal point for the company as we prepare to commercialize meaningful products here in the US market.
Q: What are the biggest company milestones expected this year for SK life science?
A: Cenobamate is our biggest focus right now. In February, the U.S. FDA accepted our new drug application for cenobamate. The agency will make a decision on whether to approve cenobamate by November 21, 2019.
Q: Can you please describe the challenges biopharmaceuticals face in the neurological disease space?
A: When compared to other disease categories, the neurological disease space hasn't seen the same robust development – especially in the past few years. It's stagnant, and that's largely because, from our perspective, the brain remains one of the most difficult organs in the body to target with safe and effective medicines. The result is that more and more companies are moving into other areas of R&D, with oncology being perhaps the best example. We believe this leaves SK life science with both an opportunity and a responsibility to fill this substantial unmet need. Specifically, we've seen physician surveys that show they perceive effective therapies for treatment refractory epilepsy as the greatest unmet need in epilepsy. However, at the same time, we believe the FDA has provided clear guidance on how sponsors should approach clinical trials for epilepsy therapies. The agency has also given guidance that allows sponsors to expand treatments for monotherapy indications and to pediatric patients by extrapolating results from adult trials. This could eliminate the need for large and potentially complex trials, and speed access to treatment options.
Q: SK life science is new to the US. From your perspective, why is there an influx in companies with global headquarters or parent companies in Asia creating business units in the US?
A: Asian-based biopharmaceutical companies are increasingly seeking global growth opportunities, particularly in the US drug market. By establishing R&D and commercial operations in the US, SK Biopharmaceuticals has made the necessary steps to progress our CNS drug pipeline and act as a leader in this movement.
We see our global experience in SK's other businesses and further expansion as an asset during this time of rapid building of our clinical and commercial organization in the US.
Q: How does a company based in South Korea plan for the challenges of establishing a US-based organization, from areas like geographical distance to infrastructure and culture?
A: SK life science knows the importance of an integrated team, and we make it a priority. Leadership in the US and Korea collaborate every day to ensure employees are aligned on all projects.
We're using the global experience we already have to rapidly build our US clinical and commercial infrastructure. We have a team of more than 90 people with decades of experience researching and commercializing drugs in the states. We are rapidly expanding this workforce in 2019 with plans to hire dozens more colleagues as we move towards the approval and launch of the late-stage products in our pipeline.
By establishing a US footprint, we have strategically increased the company's flexibility in how we approach commercializing products and forming business partnerships. We have positioned SK life science with the infrastructure and expertise needed to launch potentially novel compounds like cenobamate with our own company resources, and also recognize that our US presence provides us broader partnership opportunities.
Q: Why commit to developing cenobamate (and other medicines) in the US, which has very complicated regulatory and commercial systems? Does this not present added challenges?
A: At SK life science, we believe our experience and development expertise gives us the unique opportunity to succeed and provide new options for patients, including our investigational compound, cenobamate, for the potential treatment of epilepsy.
Bringing safe and effective new medicines to patients is rightfully complex regardless of what country we operate in. The US has its own unique requirements for drug approvals, particularly in CNS, where relative to other areas, drug development is limited and regulatory standards are high.
We are focused on researching, developing, and commercializing therapies for CNS disorders, no matter the cost. The significant unmet need for patients is what keeps us going.