EXECUTIVE INTERVIEW – SHL Group: Expansion Driven by Our Partners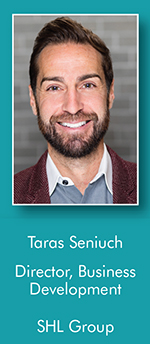 SHL Group's contract manufacturing services (CMO) is the latest edition to the vast and vertically integrated network of SHL, adding final assembly, labeling, and packaging services for SHL's designed devices. For SHL's partners, this translates into a full turnkey solution, from device design and development to clinical and commercial assembly, labeling, and packaging, which reduces timelines to clinic, market, and most importantly, to those patients in need. Drug Development & Delivery recently interviewed Taras Seniuch, Director of Business Development at SHL's contract manufacturing organization, SHL Pharma, to learn more about this unique service offering for their partners.
 Q: SHL Group has been a leader in the auto injector industry since the early 90s. Why did SHL Group decide to add contract manufacturing services and what determined the service offerings?
A: SHL's contract manufacturing services opened its doors in 2011 to address the evolving business needs of the pharma/biotech industry. As devices vary in shapes, sizes, and industrial designs, our partners require unique manufacturing capabilities. Therefore, SHL took the opportunity to add value to our partners by building an infrastructure that meets these unique requirements while ensuring maximum flexibility across the different device designs. This self-invested infrastructure also minimizes or even eliminates any capital expenses required by our partners.

Pharmaceutical and biotechnology companies have a difficult decision to make during the device development process: invest in an internal infrastructure to support the specialized manufacturing processes of device assembly or leverage existing expertise and outsource these activities. This is where SHL can make a difference. By offering design and development of the devices through to assembly, labeling, and packaging, SHL can now provide a comprehensive service offering for our partners. As industry continues to evolve, SHL will also continue to expand its offerings. One most recent example is the significant number of combination product stability studies added over the past 2 years. Our contract manufacturing facilities have also self-invested in an extensive number of stability chambers to meet the needs of our partners in managing these complex, regulatory mandated studies.

Q: How does SHL's vertical integration affect the timeline for your partners and ultimately the patients?
A: Vertical integration is the backbone of SHL's business model, which ranges from device design, tooling fabrication, molding, and now contract manufacturing. This vertical integration provides SHL with the opportunity to minimize or eliminate the need for our partners to further outsource activities during development through to commercialization of a finished product. SHL can offer parallel workstreams during development of the device by also identifying the appropriate equipment early in the design phase, utilizing our internal automation network when needed. These parallel activities inherently reduce timelines and accelerate the delivery of our partners' medicines to the clinic, and/or market for those patients in need.
Q: Can you tell me about the in-house expertise at SHL's CMO services and the flexibility you can offer to your partners?
A: SHL's CMO services employ highly skilled staff members with extensive pharmaceutical and biotech industry experience. For our partners, SHL is a device partner that understands the complex needs of drug product clinical and commercial preparation and timelines. Understanding the key differences between drug and device development requirements enables SHL to bridge the two workstreams to create a seamless transition into a combination product.
Our experienced team members have custom-built the manufacturing facilities for maximum flexibility to accommodate multiple high-quality operations and processes. This flexibility allows SHL to manage all programs from lower clinical volume to higher commercial volume. Also, for those companies that choose to build internal infrastructure, our services can offer these flexible operations for risk mitigation and redundancy to ensure business continuity for our partners.
Q: Your on-site Process Development group offers several services that partners have had to outsource in the past. Can you tell us about this team and their services?
A: Process Development was identified early on as a critical addition to the contract manufacturing operation. The Process Development team consists of four teams: Manufacturing Sciences, Analytical Sciences, Statistics, and Project Management.
Manufacturing Sciences is responsible for equipment commissioning and process design. This group collaborates with SHL engineering, design, and automation teams to design high-quality manufacturing processes and control strategies. Analytical Sciences is responsible for test method design, development, and validation. This group also provides services such as syringe characterization, feasibility testing, transportation studies, and stability studies, which eliminates the need for our partners to manage multiple suppliers. Our Statistics team then assures optimal control strategies are in place, maximizing output of our processes and minimizing waste. Lastly, Project Management leads the design and tech transfer activities, which establishes the full tech transfer plan and monitors the completion of milestones, thus guiding our partners throughout the process to ensure a seamless transition from development into commercialization.
Q: When do your partners need to determine their final assembly, labeling, and packaging strategy?
A: Typically, when a pharma/biotech company is developing an auto injector, a decision on the assembly, labeling and packaging equipment, and processes follows final device design verification and product validation. Unfortunately, this can then put these activities on the critical path for regulatory submission, which could increase the product time-to-market.
At SHL, we collaborate with our partners at the early design phase of the auto injector to understand the critical attributes of such a device and the impact that it may have on the existing assembly and secondary packaging infrastructure. In some cases, additional infrastructure is needed (i.e.,assembly equipment, change parts, etc.). Hence, SHL can work in parallel with our in-house automation team to develop solutions for such requirements. Initiating these activities at an early stage will ensure that equipment and/or processes are in place to accommodate a timely tech transfer from development into clinical or commercial readiness.
Q: Tech transfer is challenging for many companies when outsourcing with a CMO. Can you tell our readers about your tech transfer process and how your team manages these processes?
A: SHL's CMO services have a robust tech transfer process enabled and facilitated by a cross-functional team that includes Process Development, Quality, Regulatory, and Operations. It is critical to ensure effective and efficient knowledge transfer from the development team into process development and further into day-to-day operations. SHL's tech transfer process contains a robust set of procedures, including deliverables, milestones, risk analysis and evaluation, process characterization, and validation plans, to name a few. These documents outline all requirements for the design and technology transfer of a device design to the contract manufacturing site of SHL.
Q: Given SHL's extensive experience with combination products, do you provide regulatory support to your partners?
A: As mentioned, SHL has extensive experience in the pharma/biotech industry. While working in the industry, many of our leadership team members received extensive training in authoring or reviewing regulatory submissions across multiple global jurisdictions.
As a CMO, we have also seen many different regulatory submissions across our different partners and programs. SHL can leverage this wide-ranging experience to establish the most robust set of regulatory information relevant to SHL's business of device design and development, assembly, labeling, and packaging. Ultimately, the goal is to provide a robust set of information that will minimize or even eliminate questions from the regulatory agencies, whether it relates to the submission itself or an on-site audit or inspection at SHL.
To view this issue and all back issues online, please visit www.drug-dev.com.