EXECUTIVE INTERVIEW – Sever Pharma Solutions: Development & Manufacturing of High Potent Polymer-Based Dosage Forms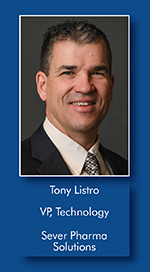 Sever Pharma Solutions (SPS), formerly Q-Pharma, is a CDMO headquartered in Malmö, Sweden, offering expertise in polymer-based, high potent drug product dosage forms, such as intravaginal rings (IVRs), and has been in business since 1975. In 2021, the former Q-Pharma rebranded itself as SPS and acquired Foster Delivery Science Inc. (FDS) in Putnam, CT, later that same year. FDS got in the business doing hot melt extrusion (HME) to enhance bioavailability of poorly soluble molecules and subsequently leveraged this technology to produce various drug delivery dosage forms, such as implants, IVRs, and films. SPS employs more than 350 staff members, and more than 35 are in its Putnam, CT, site. The Malmö site is focused on commercial manufacturing and development of novel dosage forms and IVRs, and solid oral dose products are also commercially manufactured at this site. The Putnam site focuses on the development of polymer-based dosage forms and manufacturing of early to late-phase clinical materials and commercial manufacturing. The company's expertise in Malmö and Putnam is based on polymer processing technologies, with a focus on extrusion in Putnam and both extrusion and injection molding in Malmö. SPS's Putnam site has downstream capabilities, such as milling, tablet compression, or capsule filling for oral dosage forms, and tight tolerance extrusion and cutting for implantable dosage forms. The implant capabilities include micro-diameter implants for ocular and intra-tumoral use. SPS offers end-to-end solutions to clients, committed to their client's success through the whole journey, including offering regulatory support.
Drug Development & Delivery recently interviewed Tony Listro, Vice President of Technology and Site Lead for SPS's North American site in Putnam, CT, to discuss the company's recent focus areas as well as current plans for expansion.

Q: Why do you emphasize your ability to handle HPAPIs in polymer-based dosage forms?
A: The potency of HPAPIs creates a challenge from a handling standpoint as these molecules are ranked in the highest occupational exposure bands (OEB) up to and including OEB6. SPS has policies, procedures, and capabilities in place, allowing us to handle high-potent drugs in small and large quantities to meet our client's needs in the challenging high-potent drug development and manufacturing field. While they may create a handling challenge, HPAPIs are very beneficial because their potency allows for a reduced payload in the final dosage form for the API to be effective. HPAPIs are important because their potency helps deliver treatment in a highly targeted manner with limited side effects. In addition to limiting side effects, combining HPAPIs with polymer-based implantable dosage forms helps to create dosages that enable patient compliance with steady plasma levels without systemic side effects.
Q: You mention the SPS Putnam Site (previously FDS) got its start offering hot melt extrusion (HME) services to enhance bioavailability of poorly soluble molecules. What are SPS' HME capabilities and processes?
A: SPS is a CDMO providing services from proof of concept through clinical and commercial manufacturing services in polymer-based drug delivery systems, literally milligrams to kilograms. HME is a technique employed to enhance the performance of drug molecules exhibiting poor water solubility or poor bioavailability. Laboratory techniques are used to screen the thermal stability and solubility performance of the API in polymer systems. Oral dosage forms, such as tablets and capsules, are developed and manufactured using HME technology. Formulations are tailored to meet clients' desired profile for drug release using pharmaceutical-grade polymers and other excipients. SPS uses state-of-the-art twin screw extrusion technology. Processes are custom designed and developed to enhance drug release. Scale up is performed from lab (milligrams to grams) to commercial-scale volumes (grams to kilograms). Tablets are formulated to deliver stable, effective dosage forms with optimal drug release. Products are characterized using in depth analytics.
Q: How does the acquisition of FDS fit SPS's growth strategy in the US?
A: SPS has been present in Europe for decades, the company needed to expand, and FDS was Sever's first US acquisition, marking the company's presence in North America. The Putnam site is a 32,000-sq-ft facility and has tripled in size post-acquisition. We invested $3.2 million during 2022, and the facility currently operates three GMP manufacturing suites and is continuing to expand. The site has added packaging capabilities, an extrusion suite, a blister suite, and an oral dosage form suite with tableting, tablet coating, and automated capsule filling capabilities. 2023 has driven a $6-million investment adding two fully functional HPAPI suites, one for development and one for GMP. SPS plans to add a 40,000-sq-ft commercial manufacturing facility within the next 2 years, with the ability to increase to 60,000 sq ft.
Our demand is driven by small molecules being poorly soluble, and HME is an environmentally friendly and economical strategy, keeping the manufacturing process continuous and very suitable for robust industrial-scale manufacturing of drug delivery systems. SPS wanted to expand its polymer processing technology platform to include HME as well as manufacturing implants into micro-implants for ocular and intra-tumoral use. At the Putnam site, we develop and manufacture dosage forms with these polymer processing technologies.
Q: What is Sever's approach to sustainability and innovation?
A: Interestingly, we have seen an uptick in interest in HME because it is a solvent-free process. There has always been an interest in HME for continuous manufacturing, especially because the process has a small footprint and defined unit operations in the process. Our HME technology is an important offering to help our clients meet their sustainability goals. Our knowledge of the process technology allays our clients' fears. HME is a highly controllable process, and we have the process design technology and understanding to help our clients meet their desired endpoints.
Internally, we have a corporate objective to be carbon neutral by 2040. An increased focus on sustainability is just part of being a good corporate citizen. Being a Swedish company, SPS is concerned about the environment and energy consumption. Automation is becoming a priority for us as we plan to leverage this technology to enable faster growth. Many products we manufacture require manual assembly. Automation technology to manufacture products faster and more accurately than manual processes is out there, and we are experiencing a big push to automate our manufacturing processes.
Q: How do you see the polymers market and the CDMO segment shaping up in 2023?
A: We are seeing growth in the polymers area. Polymers mainly used for contraceptive or hormone replacements are growing, such as local drug delivery in the ocular space or in oncology, particularly in the past 18 months. The widespread adoption of polymers for controlled drug release in several indications is driving solid growth in the coming years. We can extrude very tight-tolerance products, which is key in this space. An important topic of interest will be in high-potent drug development, and we are making big investments there. SPS is continually interested in expanding its capabilities to work with new polymer technologies and growing its expertise beyond conventional bio-durable and biodegradable polymers for long-acting implants and controlled release. New polymer technologies require new processing technologies, and that creates a challenge we always enjoy overcoming.
Q: What is going to be the main priority for SPS in 2024?
A: In 2024, we will have our new HPAPI suites fully functional with identical twin screw and single screw extrusion technologies in both our development and GMP suites. We plan to enable our growth with new project management software technology to help our clients gain more visibility to their programs as they progress from development to manufacturing. To continue our leadership position in the markets we serve, we plan on hiring new staff, and continuing to strive to be an extension of our clients' companies. We only succeed when our clients succeed. We have a technology roadmap that includes organic growth through continued investments in process technologies.