EXECUTIVE INTERVIEW – PCI Pharma Services: Broadening Our Biologics Footprint, Together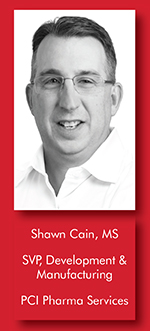 At the end of 2021, PCI Pharma Services acquired Lyophilization Services of New England, Inc. (LSNE), expanding PCI's breadth of services as a global CDMO, building on its expertise in specialty manufacturing and packaging at both clinical and commercial scale. Already perceived as a pioneer in the packaging of biologics, the addition of LSNE cements PCI's reputation as a leading global CDMO providing an integrated solution to clients across the entire drug product lifecycle from development to commercialization, meeting the demands of the ever-growing biologics market and bringing life-changing therapies to patients faster.
 Drug Development & Delivery recently spoke with Shawn Cain, SVP Development & Manufacturing at PCI Pharma Services, to discuss the recent acquisition, the opportunities this presents to Biopharma companies, and the current trends in the sterile fill-finish industry.
Q: How has the recent acquisition process of LSNE been?
A: Thus far, the acquisition has been relatively seamless. Company cultures, employees, and processes are integrating smoothly as our strategy has been to focus on our customers and the patients we serve through aligned objectives. Both companies are working together to demonstrate the breadth of the new offering as this is definitely a case of the sum of the parts proving to be of more value than the individual components. It is worth mentioning that we have just completed the first 100 days of our integration plan, and we have successfully achieved each one of our milestones.
Having worked within LSNE for nearly 10 years as Chief Operating Officer, I am excited about this next chapter and the opportunities it brings to better meet the full end-to-end outsourcing needs of both our existing and potential new clients. We have created a single source provider of drug development, manufacturing, and packaging solutions focused on quality, reducing supply chain complexity, speed to market, and ultimately commercial success for our clients.

Q: How has the acquisition been received by your current clients?
A: Overall, general feedback from our clients has been very positive, with both LSNE and PCI clients having welcomed this latest development. We had already been supporting a number of the same clients prior to the acquisition and so for these clients; it was a very welcome move as it is seen as reducing supply chain complexity and risk. For LSNE, the acquisition brings all the benefits of being part of a larger, global organization and the opportunity to not only develop and broaden our sterile and lyophilization capabilities, but provide the additional resources to help our clients get their valuable drug products to patients faster.
With increased capabilities truly spanning the drug product lifecycle and with an integrated supply chain able to provide bespoke clinical and commercial packaging solutions, our clients can now leverage the benefits associated with working with a single supplier. They can rely on us to navigate risk, reduce complexity, and reveal the route to market. Several of our clients have already taken advantage of the much broader services we are now able to provide because of the benefits this delivers.
Q: What do you consider some of the key factors driving market trends in parenteral manufacturing?
A: Generally, one of the key drivers for growth in the parenteral drug market is the many advances with respect to biologic drugs, from monoclonal antibodies through mRNA products to oligonucleotides. The focus of many biopharmaceutical companies, regardless of size, has been the treatment of chronic disease states such as oncology and rare diseases. The complexity and relative stability of these drug products has heightened the need for parenteral delivery systems.
At the moment, the greatest factor fueling the explosive rise in parenteral manufacturing is COVID-19 and the focus of the industry as it responded to the pandemic. When the pandemic first led to shutdowns, many biopharmaceutical companies struggled to find production space and had to expand their outsourcing network to meet the increased need for fill-finish manufacturing and cold chain capabilities. By taking a conservative approach in fighting the pandemic, we were able to support our clients remotely and did not shut down any of our facilities. This ensured we were there for our clients, providing the services needed to maintain product supply for their patients.
As a result, small and mid-size CDMOs began taking on projects larger CDMOs may have previously handled. This in turn forced some smaller organizations to implement new procedures and add new technology to increase cold chain capabilities for example. These CDMOs successfully emerged as key players in the pharmaceutical supply chain during the pandemic because they integrated new technologies and remained flexible in adjusting to the needs of their customers by maintaining constant communication with their clients, meaning they were able to meet their needs in what was a very dynamic market.
Additionally, distribution of vaccines and other therapeutics have highlighted the supply chain challenges of liquid formulations and the need of lyophilized products to support all geographic regions in need of these critical life-saving therapies. At PCI, we are experts in taking liquid formulations and developing robust lyophilized formulations with increased stability and less reliance on cold chain storage and distribution, which during the pandemic became critical. With our global distribution network, we ensure whatever the dosage format, our clients' valuable drug products reach the end-user in optimal condition whether that be a healthcare professional or patient.

Q: How are CDMOs and the industry adapting to the current manufacturing environment for parenterals?
A: CDMOs, including PCI, have had to adapt relatively quickly to meet the growing market requirements and ease the strain on the global supply chain. At PCI, for example, we have not only expanded our biologic packaging and cold chain storage and distribution capacities but through the acquisition of LSNE, we have broadened our capabilities, and now truly span the biologic lifecycle with an integrated global proposition meeting our clients' end-to-end outsourcing needs. Having packaging, labeling, and distribution centers of excellence geographically located to support our aseptic fill-finish sites, it allows us to quickly and safely process our clients' products and minimize any logistical challenges.
By offering greater flexibility and adding new capabilities, CDMOs must be united internally from top to bottom to account for every service. From the leadership team to engineering, project management, supply chain, and business development, all functional groups within an organization must be aligned to the company's vision with continuous and open lines of communication. At PCI, we learned that maintaining cohesion within the organization was crucial to our manufacturing processes – especially as we've continued to enhance our sterile fill-finish and lyophilization capabilities, which will prove beneficial for long-term success.
Q: How are vaccine development and production needs impacting the industry?
A: With the unprecedented surge in the development and production of COVID-19 vaccines and therapeutics, there has been significant impact on material availability across the pharmaceutical supply chain. All CDMOs operating in the sterile fill-finish space typically use the same processing components: tubing, connectors, vials, stoppers, vessels, and filters, and we are all facing similar challenges concerning lead times. Currently, lead times vary significantly, with the purchase and receipt of filters, for example, taking up to 12 months or more, which obviously affects the client's clinical study or launch plan.
To ensure a continuous supply for our clients and to meet patient needs, we have successfully navigated such potential supply chain challenges. Utilizing PCI Bridge, our integrated and predictive supply chain management platform, we have worked with our clients, adjusting forecasts, ordering additional supplies, and leveraging existing relationships and partnerships to source materials as needed to ensure project milestones are met.
Q: What are the major challenges for parenteral drug product development and manufacturing?
A: Both biopharmaceutical companies and their CDMO counterparts, such as PCI, are facing increasing complexity across all aspects of the parenteral drug development and manufacturing supply chain. The move toward more targeted, specialty drugs and more complex molecules in patient-centric delivery systems means additional challenges in terms of formulation and analytical development, manufacturing, and packaging.
With the increasing focus on personalized medicine and treating orphan designated disease states, it means more niche products and smaller batch sizes with the same pressure on delivering speed to market. Ensuring a flexible, integrated approach to scalable development and manufacturing is vital in delivering these specialized products to the market in the most cost- and time-efficient way.
Q: How is PCI uniquely qualified to address those challenges?
 A: With more than 25 years of experience in lyophilization and sterile fill-finish manufacturing and the specialized packaging of biologics, PCI has developed industry-leading technical expertise in the end-to-end processing of these often challenging and complex molecules. We truly support full product lifecycle management from formulation and lyophilization cycle development through clinical to commercial manufacturing, packaging, labeling, and distribution. With more than 90 new product launches every year, PCI is an extension of our customers' supply chain, trusted to deliver, each and every time.
Our experience with a wide variety of novel drug products paired with our flexible cleanroom space offers a solution to challenging complex formulation processes for emulsions, suspensions, liposomes, polymer nanoparticles, and Lipid Nanoparticles (LNPs). We pride ourselves on our flexibility, agility, and speed, allowing us to find creative solutions, driving development and connecting commercialization.
Our experienced and highly skilled team work closely with our clients to fully understand their complex formulations and project needs before developing unique programs, taking customized processes from the bench to GMP.
With personalized medicines, high-value bulk drug substances, and APIs, handling smaller batches while minimizing product loss is critically important. To address these challenges, PCI has invested in state-of-the-art robotic sterile fill-finish technology, delivering the highest standards of sterility by removing human intervention.
Meeting the demands of a dynamic marketplace, whether it be for sterile process development, scale up, technology transfer, or bespoke packaging of biologic drug products, PCI provides a collaborative, creative and tailored approach to deliver upon our mission of being the bridge between life-changing therapies and patients.
Q: What are the future plans of PCI for developing the sterile fill-finish service offering?
A: As part of our global strategy to increase our sterile fill-finish capabilities and to address the ongoing global capacity shortage, PCI is continuing to build upon its current capabilities to assist both existing and new clients in drug development and manufacturing. PCI has recently added an additional large-scale lyophilizer to our Madison, WI, facility, and we are expanding our presence in New England with a supplementary high-throughput commercial facility in Bedford, NH.
We have further invested in industry-leading robotic technology to complement our global sterile fill-finish capabilities. This investment comprises two robotic Cytiva Microcell Vial Filler units for clinical-scale manufacture, one located in San Diego, CA, and one in Melbourne, Australia. In addition, a larger-scale Cytiva SA25 Aseptic Filling Workstation is also located at our San Diego facility, allowing us to deliver a seamless, end-to-end, sterile fill-finish solution across multiple dosage forms and from small- to larger-scale production runs meeting the needs of our customers.
This advanced robotic technology expedites the filling process with state-of-the-art automation, and the gloveless isolator removes the need for human intervention to achieve the highest levels of sterility. In addition, the robotic accuracy avoids the closure activity failures typically experienced with more traditional filling techniques.
Through the acquisition of LSNE, the further investments planned to enhance our sterile fill-finish capacity and technologies, combined with our global packaging centers of excellence means PCI is a trusted and experienced partner able to deliver on our mission to deliver life-changing therapies to patients.