EXECUTIVE INTERVIEW – Pace Analytical® Life Sciences: Delivering Science Better; Advancing Novel Therapies Through the Clinic to Commercialization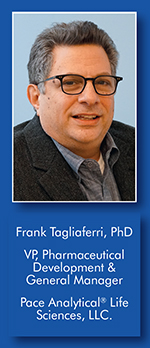 Our investment in state-of-the-art facilities and highly trained experts emphasizes our commitment to advancing therapies and delivering positive customer experiences across all phases of pharmaceutical and biopharmaceutical development. From early stage research and development, to clinical trials materials production and GMP manufacturing support, our 400+ scientists are dedicated to providing the best and most reliable pharmaceutical development services. Pace Analytical® Life Sciences (PLS) is well-equipped to handle almost any project regardless of scope or complexity. We recently interviewed Frank Tagliaferri, PhD, Vice President of Pharmaceutical Development at PLS to discuss his experiences with the company and its growth.
Q: I see you have worked in many places in industry, why in a CRO/CDMO now? What makes this compelling?
A: While the work itself is important, there are obvious scientific limitations and a narrowed therapeutic space in which to make meaningful contributions. This contrasts with a CRO/CDMO like PLS, where we contribute to the development of therapies for a wide range of therapeutic areas employing an almost limitless number of technologies. To accomplish such a breadth of work, we have created an organization with a diverse team of scientists with backgrounds and expertise in a variety of areas. This includes traditional small molecule development, biologics – such as proteins and monoclonal antibodies (MAbs) – and the accelerating gene therapy space, where we operate on the cutting edge to develop and support the commercialization of a number of oligonucleotide-containing products (mRNA, siRNA, DNA, etc). The tempo, the rigor, the challenge, and the interaction with a broad cast of experts from around the globe make the environment at PLS dynamic, inspiring, and in retrospect, a more satisfying experience.
Q: Tell us about the work you and your teams at PLS do and how the five sites position the company as a leader in the market.
A: Essentially, we at PLS provide contract development/ manufacturing and contract research (CDMO/CRO) services to help improve human health. We are supporting innovators in the Pharmaceutical /Biopharmaceutical /Biologics markets to support their early phase drug development and on through commercialization and late-phase manufacturing.
Our teams here in Woburn, MA, provide early phase, IND-enabling services to help innovative new candidate therapies progress through the pre-clinical and early clinical stages. We start with thorough characterization of novel molecules and proceed to pre-formulation and formulation development services, including lyophilization development, along with robust and stage-appropriate analytics. We do all of this in support of small molecules, biologics (proteins, peptides, antibodies, antibody drug conjugates), and gene therapies (such as mRNA- and siRNA-containing products and their varied array of delivery modalities such as LNPs, AAVs, VLPs, etc). Our most recent acquisitions of Emerson Resources in Philadelphia, PA, and Bio-Concept Laboratories in Salem, NH, have added tremendously to our experience, capabilities, and expertise in pre-formulation and formulation development. It also adds the capability to manufacture sterile, ophthalmic, and oral solid/liquid clinical trial materials. Specialized technologies like lyophilization and spray drying provide options to enhance performance and support clients from early pharmaceutical development through Phase 3a; providing tablets, capsules, solutions, suspensions, semi-solid, and other dosage forms. Bio-Concept has gained significant experience in ophthalmic formulation and manufacturing to support Phase 1, 2, and 3 clinical trials materials. Their specialization in fill-finish manufacturing of sterile aqueous products has added tremendously to our comprehensive service offerings at PLS.
Once the early stage development is completed, our two full-service, FDA-registered, cGMP-compliant laboratories (Minnesota and Puerto Rico) provide commercialization and late-phase support to ensure the purity, potency, safety, efficacy, and shelf-life of manufactured pharmaceutical, biopharmaceutical, and gene-therapy products. There we support Raw Materials Clearance Programs, Finished Product Release Testing Programs, ICH Stability Storage & Testing, Method Development & Validation, Extractable/Leachable/ Elemental Impurity studies, Reference Standard Programs, and provide Microbiology Testing Services.
Q: Over the years, there has been an increase in the use of CDMO/CROs, and PLS has grown significantly. In what ways have you seen the company change, and what are your thoughts on its future?
A: Of course, the market is dynamic and ever-changing, and we are always looking at all areas in order to evaluate where we can add the most value for our partners. Our most recent acquisitions have expanded our capabilities to include clinical trial materials. We saw a tremendous amount of innovation here, and the clinical trials market is more active than ever before with a wider range of candidate molecules. We are now able to offer a smooth transition from discovery, through tox, and into dosing studies that may present additional demand in the market for support of clinical trial materials.
We have also seen a lot of recent growth in the gene therapy space, where the technologies are not only constantly evolving, but the availability of skilled CROs in this space is more limited. Thus, while work here is expanding, we continue to see strong investments and new developments in small molecules, antibodies, and ADCs. We are watching the markets closely, and because of our ability to allow smooth transition, we are optimistic about opportunities that may be present for us in the near future.
 Q: There has been a lot of consolidation in the CRO/CDO/CDMO market in recent years. How does that affect your partner experience, and how does that separate PLS from the competition? What are the advantages of partnering with PLS?
A: PLS has a history of strong organic growth and some by acquisition. The number of returning clients with follow-on programs is a strong indicator we are delivering a positive client experience. Our success rate in meeting critical timelines with well-founded formulations that can advance accompanied by well-characterized analytics has become our reputation. We provide a collaborative environment in which our clients are heavily involved in the science, they retain the level of control they desire, and positive outcomes are reached in a timely manner and within a reasonable budget.
Our senior management teams have been stable and in place for a long time, and that has allowed us to deliver excellent service without interruption. We have successfully created an environment that attracts, retains, and challenges our world-class staff. Many have decades of industry experience, and we continue their development through extensive scientific cross-training in a place that they can make a difference in the outcomes of human health. Our continued investments in facilities, latest technologies, and ongoing developments have resulted in many long-term strategic partners as well as many new opportunities.
Q: In the market today, what is the best way to interact with a CRO/CDMO to truly maximize the potential in the partnership? What are the pitfalls? How does PLS adapt to problems they have not seen before?
A: Each partner relationship is unique, and we respect the needs of each client to manage their programs in a way that fits their company culture and team dynamic. We have a construct here that is flexible and adds value in ways that work for our clients. We can drive programs and provide support while remaining engaged and mindful of the program goals. That said, in my experience, the way to get the most from a CRO/CDMO is to be as open and engaged as you possibly can with the details, goals, and targets of your development program. Get to know the individuals on your CRO/CDMO team, understand their backgrounds and strengths, and share the true challenges ahead of you. In this way, the teams come together to share goals, collaborative energy, and scientific rigor in ways that produce positive outcomes. In this industry, most of us are scientists at heart. We understand the business needs and disciplines, but what gets teams clicking is the scientific challenge and the pursuit of successful outcomes. It is a bit of the old axioms that you get out what you invest, but I believe it's really true in this case.
Q: We all hope to emerge from our early phase tox studies with a molecule showing true potential. How does PLS help their partners with the next steps toward commercialization?
A: As we know, there are many reasons why progress may be thwarted at any of many points along the journey. Sometimes it is for good reasons inherent to the molecule, and there is not much we can do except to recognize it early and end it before too much time and energy is invested. Many times, the advantages that can be gained are in the favorable selection of strategies and direction. The efficient study designs that yield the most information quickly and economically, while sufficiently reducing risks, are those that are successful in reaching milestones and progressing further toward positive outcomes. Again, this is where the close personal involvement of our experienced technical program managers working closely with our client teams can be quick, nimble and efficient. I keep coming back to the teams and the scientific rigor, but it is what makes the difference.
Q: You've been in this industry for a while; where do you see our industries heading in the next 3 to 5 years? What do people need to know to stay relevant at this time of shifting demands?
A: Well, that's an interesting question as we are here today in a position that we might never have anticipated a year ago. Clearly, the demonstrated potential for our peers to rally and respond to a healthcare crisis in record time is revealing more than we knew about ourselves and our capacity to invest and produce in record times. These events will forever be a part of our future, and we will learn and adapt and develop new ways of looking at these problems.
Still the movement toward personalized and regenerative cellular therapies will continue and will likely accelerate. Our ability to collect and analyze large amounts of data continues to develop. These advances will change our understanding of human physiology and disease.
The decentralized innovation model in industry has been persistent, and specialization creates hubs of expertise that are able to bridge disciplines and make advances quickly. The competition in these environments can sometimes be intense, but it drives innovation in a very natural way.
On the commercial side, the continued consolidation creates several options for industry in large, full-service CRO/CDMO partners. Yet, the rate of smaller, newly formed firms working to commercialize technologies is strong. In these environments, the gaps between firms and their specialties and expertise can seem wide. In those situations, the centralized CRO/CDMO outsourcing model can and will continue to provide attractive solutions for industry.
PLS strives to be an extremely flexible organization that can provide partners with the services, scientific knowledge, and attention needed to get drugs to patients efficiently. One way in which we achieve this is by staying up to date, if not ahead, of the science and technologies that will become the basis of the next round of therapies. Much like the big pharma players, the challenge is for us to invest in the right areas with the appropriate scientists, instruments, and facilities required. Working with several early, even virtual, organizations is one way we can stay abreast of the field and hopefully anticipate the needs such that our entire organization from development to cGMP testing is ready to usher in the newest therapeutics.