EXECUTIVE INTERVIEW – Noxopharm: Introducing a Novel & Potentially Transformative Drug Candidate in the Treatment of Cancer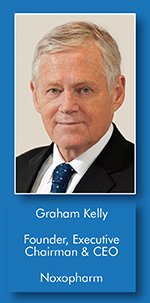 Prostate cancer is one of the top five most-diagnosed cancers worldwide. Currently 360,000 men globally are estimated to die from prostate cancer each year;1 100,000-plus of those are in Australia, the United States, and Europe.2,3 Treatments range from watchful surveillance to radical prostatectomy, aggressive radiation, and chemotherapy. Noxopharm, a publicly listed Australian clinical-stage drug development company, has identified an option that offers a novel approach to late-stage prostate cancer treatment. Drug Development & Delivery recently interviewed Graham Kelly, Founder, Executive Chairman, and CEO of Noxopharm, to discuss the company's innovative approach to cancer treatment.
Q: Can you provide our readers an overview of the company?
A: Noxopharm is a clinical-stage drug development company. The company's primary focus is on the development of clinical-stage drug candidate, Veyonda® (previously known as NOX-66).
Veyonda is a first-in-class, dual-acting cytotoxic and immuno-oncology drug candidate designed to enhance the effectiveness and safety of both chemotherapy and radiotherapy in solid cancers. The distinguishing feature of Veyonda is its aim of providing meaningful anti-cancer therapy (pain relief and survival prolongation) in a well-tolerated manner in late-stage disease, where palliative care for symptom relief is the current standard of care. Noxopharm is focusing initially on late-stage prostate cancer, in which patients have reached the end of their treatment journey and are eligible for palliative radiotherapy.


Q: How does Veyonda function?
A: Many cancers exploit our bodies' normal immune-dampening system by making very high levels of the bioactive sphingolipid metabolite, sphingosine-1-phosphate (S1P), effectively blocking the ability of the body to mount inflammatory and immune responses against cancer cell growth. S1P is produced in the plasma membrane of all cells and is a critical regulator that interacts with a variety of receptors within the cell and on the cell surface. Each of those receptors controls a different mechanism, such as cell growth or cell migration. In cancer cells, this "master switch" is over-expressed. Because S1P signaling inhibits cell death, this mechanism helps keep cancer cells growing.
For this reason, S1P is an obvious target for anti-cancer drugs. However, until now, researchers have been unable to inhibit it selectively in cancer cells. When healthy cells are also affected, these drugs are too toxic to be of use. Veyonda is the first and only drug that inhibits S1P only in cancer cells.
Q: Can you provide more information about your drug development status to date?
A: Direct & Abscopal Response to Radiotherapy (DARRT) is a combination of low-dose, external-beam radiotherapy and Veyonda intended to reset the body's immune system to attack and eliminate cancer cells, effectively immunizing the body against cancer. The success is the result of a combination of two actions:
First: Expose a small number (one or two) individual tumors to low-dose radiation. Low-dose is critical because the goal is to damage the tumor, not to destroy all cells including good cells such as those responsible for inflammation and immune responses — these cells need to be preserved. The key to DARRT is setting up an inflammatory response that serves as a trigger to an immune response.

Second: Irradiate the tumor in the presence of Veyonda to boost the modest, local immune response and turn it into a much stronger response, serving as a form of vaccination that will extend body-wide. Transforming a local immune response into a strong, all-of-body immune response is known as an abscopal response.
We took this drug through Phase 1 and are preparing for IND for Phase 2/Phase 3 DARRT clinical trials. The way we were using it was to restore sensitivity to chemotherapy. One of the things that S1P does is to promote DNA repair. In a normal cell, S1P repairs typical damage that's happening all the time. That's a normal survival mechanism. But in a cancer cell, this repair activity is increased to an enormous degree. So in a patient being treated with DNA-damaging chemotherapy and radiation, cancer cells can repair very quickly, whereas normal cells may take a day or two. That's one of the reasons why tumors become resistant or have an inherent sensitivity to a lot of drugs — they're just able to repair themselves extremely efficiently.
We can remove that ability by depriving the tumor cell of S1P. By depriving it of its ability to repair DNA and then subjecting it to chemotherapy or radiotherapy, the cancer cell is unable to repair itself and dies.
Q: What's unique in the mechanism of action?
A: What distinguishes Veyonda as a cancer-fighting drug is its ability to work with, not against, the body's defenses against cancer. Chemotherapy and radiotherapy are destructive treatments that, while certainly inflicting damage on cancer cells, unfortunately also damage the defense mechanisms that the body relies on to fight the cancer.
Because the second outcome of S1P over-expression is lowered immune competence in tumors, Veyonda acts to overturn that effect, enhancing the ability of the body's immune system to fight the cancer throughout the body. This is achieved by initiating an inflammatory response that serves as a trigger to the immune response. When the drug is introduced in the next step, it boosts the pro-inflammatory effect of the radiation in the tumors while restoring local immune function, promoting an all-of-body immune response that leads to an anti-cancer effect in all tumors; the aforementioned abscopal response.
Therefore, instead of the body's immune defense being switched off by chemotherapy and radiotherapy, Veyonda ensures that it is switched on and primed to kill any cancer cells that survive the chemotherapy and radiotherapy.
Q: What is next for Veyonda?
A: Phase 1 clinical trial results of the DARRT study achieved durable anti-cancer response in a high proportion of late-stage prostate cancer patients. These were patients who had no other standard treatment options left, and 66% of them responded to the treatment at 6 months with stable disease or better. In addition, 62% had a major reduction in pain levels.
The DARRT treatment protocol has the potential to become standard of care for late-stage prostate cancer. Preparation for Phase 2/Phase 3 clinical trials is underway with our medical advisory board. We plan for a double-blind, control-arm, multinational adaptive study design that we hope to be the final step to obtaining marketing approval.
DARRT-2/DARRT-3 will use six repeated cycles of treatment with Veyonda (there was a single treatment cycle in Phase I). This extended treatment could provide an additional anti-cancer effect, and with it, the potential for an increase in the survival endpoint.
Because of the results we've found against prostate cancer, we are anticipating the application of Veyonda will be very successful against a greater range of cancers, creating tremendous opportunity for patients who are battling this disease.
References
Rawla P (2019) World J Oncol 10, 63-89
Cancer Australia
American Cancer Society