EXECUTIVE INTERVIEW – Novadip Biosciences: Developing a New Class of Regenerative Tissue Products to Accelerate Healing of Critical Size Bone Defects, Trauma & Spinal Problems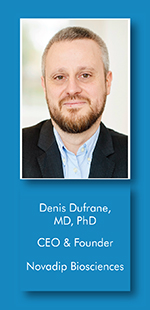 Novadip Biosciences is a clinical-stage biopharmaceutical company leveraging its proprietary 3M3 tissue regeneration technology platform to generate multiple product candidates to address tissue reconstruction. Using its unique 3M3 platform to drive multiple product classes, Novadip's mission is to provide innovative solutions for patients who have limited to no treatment options. Drug Development & Delivery recently interviewed Denis Dufrane, MD, PhD, Chief Executive Officer, and Founder of Novadip Biosciences, to discuss the company's innovative approach to tissue regeneration technology.
Q: What problem is Novadip looking to solve with its unique 3M3 tissue regeneration technology platform?
A: Novadip is committed to changing lives by providing innovative regenerative medicine solutions for patients with limited or no effective treatment options. Our team is focused on accelerated healing and single curative treatments for large bone defects, bone non-union, and spine fusion.
We are also using this platform to manufacture highly specific and reproducible cell-free microRNAs/exosomes that can regenerate hard and soft tissue following surgical resection and which also has shown intriguing evidence of anti-cancer activity. The program has the potential to address a variety of solid tumors, such as osteosarcoma, melanoma, and glioblastoma as well as metastatic disease.

Q: What is Novadip's 3M3 platform technology?
A: The 3M3 technology platform consists of a 3-dimensional, scaffold-free, extracellular matrix (ECM) utilizing differentiated adipose-derived stem cells (ASCs), to generate highly specific growth factors and miRNAs to restore the physiology of natural healing.
The technology is based on adipose-derived stem cells, which are easily harvested from the patient's or donor's fatty tissue and, when differentiated, have superior osteogenic properties compared to bone marrow-derived stem cells. The platform generates a continuous cycle in which active particles are combined with the differentiated ASCs to produce an extra cellular matrix containing a cocktail of bioactive ASCs, highly specific miRNA, growth factors, and proteins, all of which work together to promote accelerated stable tissue regeneration.
Our 3M3 platform drives multiple classes of product candidates, including autologous cell-based therapies for critical size tissue reconstruction, allogeneic ASC-derived therapeutics for use in prevalent bone grafting procedures and solid tumors, and miRNA/exosome and matrisome-based therapeutics for treatment of solid tumors.
Q: What drug candidates are in the Novadip pipeline that will be delivered with these platforms?
A: Novadip's lead asset, NVD-003, is an autologous therapy derived from adipose stem cells that has the potential to provide a single treatment cure to save limbs and restore mobility in patients with congenital pseudoarthrosis of the tibia (CPT), a rare pediatric bone condition characterized by fractures of the shin that fail to heal properly. Occurring in 1 of 150,000 births, CPT patients are at high risk of tibial fracture and face a lifetime of pain, limited mobility and potential amputation. Current treatments involve intensive surgery to try to join the bone and patient may still face amputation despite enduring years of conventional treatment.
While there are a number of commercially available and investigational products intended to treat smaller bone defects, NVD 003 is the only product in development to treat large bone defects. It has a rare disease designation from the FDA and, if approved in the US, Novadip becomes eligible to receive a priority review voucher from the FDA worth up to $10 million. This provides an accelerated development and regulatory pathway and confers market exclusivity in the estimated €500 million ($509 million) CPT market. The company has initiated a Phase 1b/2a clinical trial to study NVD-003 in a total of CPT patients between 2 and 8 years of age in the US and EU.
The company is also developing an allogeneic "off-the-shelf" therapeutic, NVD-X3, to provide accelerated, durable bone union in common orthopedic conditions, such as spinal fusion and non-healing fractures. Using adipose-derived stem cells developed in an acellular matrix, NVD-X3 has the potential to effectively regenerate bone and soft tissue without inducing immunogenicity or GvHD.
As an allogeneic therapy, NVD-X3 has a favorable cost profile that can allow broad distribution and expanded access for patients undergoing spinal fusion or suffering from recalcitrant non-healing fractures. This is a very large market opportunity in the $7-billion bone substitution market. Preclinical studies demonstrate that NVD-X3 offers superior bioactivity without the undesirable bone formation/resorption and inflammation observed with currently marketed bone engraftment products. Novadip plans to initiate a Phase 1/2 clinical trial in Europe in early 2023 for NVD-X3 in spine fusion and bone non-union procedures, which account for 60%-70% of the bone graft market.
We are applying our 3M3 technology platform to generate large quantities of purified and highly specific miRNAs/exosomes for the treatment of solid tumors. We have identified several miRNAs involved in the modulation of bone remodeling, inhibition of cellular proliferation, and tumor development. Potential indications include systemic tissue diseases, such as osteoporosis and osteoarthritis, as well as certain solid tumors.
We have identified a lead candidate, NVD-M2, that we plan to advance into human clinical trials for the treatment of solid tumors, such as osteosarcoma, glioblastoma, and metastatic disease, in 2024.
Q: How will this novel drug delivery technology impact patients?
A: Patients with critical size bone defects and bone non-union from trauma often face years of invasive surgery, permanent loss of mobility, and even amputation. The FDA defines a bone non-union as a fracture that is at least 9 months old and has not shown any signs of healing for 3 consecutive months despite surgical intervention.
We are working to develop a new class of regenerative tissue products that mimic the natural physiological process of bone formation to accelerate healing of large bone defects, bone non-union, and spinal fusion in a single treatment. Our therapies have the potential to give these patients a chance at living a normal life.
For example, in a Phase 1/2 pilot study, our autologous product NVD-003 was applied in nine patients with bone non-union of the lower limb from trauma, who had previously undergone several surgical procedures; in one case, a patient had undergone 14 previous procedures. Two-year clinical and radiological follow up confirmed NVD-003 achieved stable and irreversible bone healing in patients with recalcitrant bone non-union in the lower limb following failure of conventional surgical and bone engraftment treatments. Rapid bone formation was confirmed at 3 months post-implantation in all patients. The median and mean time to clinical healing were 6 months and 9 months post-implantation, respectively.
Q: What do you see as the biggest opportunity for Novadip to change the treatment paradigm for patients?
A: The results we have seen from treating more than 50 patients in clinical trials or in compassionate use suggest that 3M3-derived therapeutics could eventually replace current first-line treatments for critical size bone defects and common orthopedic procedures such as bone non-union and spinal fusion.
Overall NVD-X3 has potential clinical utility in more than 90% of the 1.6 million bone grafting procedures performed each year. By comparison, Medtronics' Infuse® product covers 43% of this market (30% of these procedures use Infuse off label).
Q: Looking ahead, what is your ultimate goal for Novadip?
A: Our goal is to help patients achieve accelerated healing so they can return to a normal, active life as quickly as possible. Many of our target patient populations, whether little children with CPT or people who have suffered from severe trauma, face a lifetime of disability, pain, repetitive surgeries, and even amputation. We have developed a technology platform that will yield multiple therapeutic products that can help advance the standard of care in orthopedic medicine and oncology – in many cases by providing a single treatment cure for patients who have no other treatment options.