EXECUTIVE INTERVIEW – Lifecore Biomedical: Emerging From Under the Radar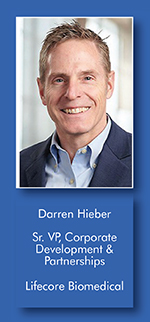 After more than 2 decades in pharma with a focus on the CDMO space for the prior 15 years, Darren Hieber was contacted about a new position at Lifecore Biomedical. While Lifecore had not been on his radar, he was intrigued to learn more. He soon discovered that, with expertise in highly viscous injectables and a strong foundation in ophthalmics, Lifecore had developed a formidable reputation in a niche area of the parenteral market.
Now, he is leading the charge to find opportunities for Lifecore to apply the company's expertise to a broader range of programs. Drug Development & Delivery recently interviewed him about progress after his first year as Sr. Vice President of Corporate Development and Partnerships.
Q: You have bit more than a year under your belt at Lifecore. What motivated you to join their team?
A: Years ago, I joined a mid-sized CDMO that was later acquired by a much larger organization. Over time, I missed the smaller culture in which I had felt more connected to customers and their projects. Joining Lifecore felt like a return to the earlier days of my career, and I knew I would be able to lean on my broader experience to make an impact.
It also offered me an opportunity to build a commercial team aimed at growth. CDMO growth translates to more customers served, increased availability of therapeutic options, and greater impact on patients. It is personally gratifying to be part of growing a business that contributes to the well-being of others.
Q: Beyond the level of involvement with customers, what attracted you to Lifecore?
A: I was impressed by the depth of in-house competency and experience. Lifecore's legacy since the 1980s was in manufacturing hyaluronic acid (HA), which is extremely viscous. Driven by customer need, the company undertook aseptic formulation and aseptic filling of injectable drug and medical device products using HA – in excess of 100,000 cP. Over decades, the company evolved into an end-to-end CDMO with proven process development knowledge spanning from early phase and clinical trials to aseptic fill/finish of vials and syringes.
What stuck with me was the unique capability to undertake complex formulations. When you can handle molecules with the toughest characteristics, it demonstrates the differentiation in capabilities that allow Lifecore to be a valued development partner for a broad spectrum of new therapies. And Lifecore was already proving that through successful process development projects in different therapeutic categories.
Q: So, it sounds like there has been a great deal of expansion in capabilities over time. Why do you believe Lifecore remained under your radar as a contract manufacturer?
 A: The first reason is customer longevity and focus. I mentioned that we have been working alongside a base of customers in ophthalmics for decades, developing solutions to fulfill their emerging requirements. As you can imagine, the global regulations for treatments that will be used during eye surgery are extremely stringent, so the robustness of our processes had to be proven. For a considerable number of years, we were dedicated to servicing this core base of customers and getting deeper with their novel therapies. Lifecore had been growing organically via word of mouth and reputation, and while that is positive, it only takes you so far.
I believe another reason Lifecore is not as well-known as other CDMOs is related to our culture. The people at Lifecore, including the leaders, are hard-working and unassuming. They have a strong desire to solve challenging problems for clients utilizing expertise within the building; they have not been as concerned about promoting themselves outside the walls of Lifecore. A recent prospect visited our campus and commented that Lifecore operates with a "quiet confidence."
Q: It sounds like Lifecore developed a lot working with their first partners. What were the important takeaways?
A: Our business was built on deep partnerships. We had a major stake in the success of our partners' products because we were investing in the facilities and capacity to develop and manufacture those products. More than 40 years later, our leaders remain approachable and involved with our partners so we can continue to evolve with them. With substantial capex and infrastructure lead times, it is essential to understand our partners' next steps and plan with the capacity to serve them.
One of the other main benefits was the strength of our cGMP operations. Our Quality Management System, compliance group, and our facilities had to grow to serve the needs of partners. Because it was needed by our partners, our QMS covers API and excipient, medical devices, biologics, and drug and combination products. As their patient base expanded globally, we sought additional international certifications. As demand for analytical testing increased, we expanded our on-site services to the point at which we now handle almost everything in-house. This has enabled the expansion and diversification of our current capabilities and put us in position to manufacture the more than 25 commercial products we make today.
Q: Let's shift gears a bit. With a title calling out corporate development and partnerships, it appears Lifecore brought you on board to increase awareness and opportunities. How are you doing that?
A: Lifecore has a great story to tell, and I have been collaborating with our team to get out there and share it. We are capturing what it means to work with Lifecore and articulating that to others. Our message to potential partners is YOU Define the Starting Line, which means we will meet them where they are in any stage of their project. We work with everyone from virtual pharma to long-established companies, offering the flexibility to be as hands-on as they want or need. We also provide services from early clinical through to ongoing commercial supply.
Q: What do you believe is next for Lifecore?
A: Building on our foundation, Lifecore has the potential to translate expertise across a broader spectrum of pharma and biotech companies. With an increased need for parenteral products along with growing demand for outsourced manufacturing, the momentum is already building. With additional isolator-based filling lines becoming operational in the coming year, Lifecore will be offering increased capacity to serve existing and new partners.
Another factor helping us meet demand is our location in Minnesota, which has available space for physical expansion as well as a strong, experienced labor force. Also known as Medical Alley, Minnesota is the number one healthtech cluster in the world. According to the Medical Alley Association, which Lifecore Biomedical supports, the concentration of bioengineers and biomedical engineers within a 60-minute commute of Minneapolis is four times more concentrated than the national average.