EXECUTIVE INTERVIEW – Kytosan USA, Inc.: Blazing a Trail in Chitosan Manufacturing in the United States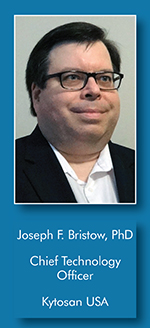 Kytosan USA, Inc., a subsidiary of AgraTech International Holding, Inc., is planning to construct a manufacturing facility in the Beaumont, TX, area to produce the biomaterial chitosan. Included in its plans is a medical-grade production facility intended to address the rising demand for chitosan in medical and pharmaceutical applications in the United States. Kytosan USA is currently engaged in a private securities offering to raise a minimum of $9 million up to a maximum of $14 million to fund the construction and operation of their facility. Drug Development & Delivery recently interviewed Dr. Joseph F. Bristow, Chief Technology Officer for Kytosan USA, to discuss chitosan and its impact on the pharmaceutical industry, as well as Kytosan USA's production plans.
Q: What is chitosan and how is it used in the medical and pharmaceutical industry?
 A: Chitosan is a polysaccharide derived from chitin, a naturally occurring linear polymer of N-acetylglucosamine found in the exoskeletons of crustaceans and insects as well as the cell wall of fungi. Chitin is a linear polymer made up of N-acetylglucosamine monomers and is considered the second most abundant natural polymer, with cellulose being the most abundant. Chitosan is produced by extracting chitin from the source material and removing the acetyl group from the N-acetylglucosamine monomer to create d-glucosamine monomers. Typically, the deacetylation process does not convert every N-acetylglucosamine monomer, so chitosan is a linear random copolymer of N-acetylglucosamine and d-glucosamine. The degree of deacetylation characterizes the extent to which the chitin monomers have been deacetylated.
Chitosan is a cationic polymer due to the amine groups along the polymer chain. It is soluble in acidic solutions (pKa = 6.3) with 1% (v/v) acetic acid being the most common solvent. Chitosan is biodegradable, biocompatible with humans (non-allergenic and non-toxic), and has antimicrobial properties. Through chemical or enzymatic modification of the amine groups or the hydroxyl groups along the polymer chain, chitosan's properties can be tailored to suit the needs of applications that unmodified chitosan would otherwise not satisfy.

Medical applications of chitosan include wound healing, burn treatment, resorbable sutures, and membranes. Chitosan has been used in tissue regeneration and as a component in a hydrogel tissue adhesive. Other applications take advantage of chitosan's polycationic nature as well as its antimicrobial properties.
In the pharmaceutical industry, chitosan is used in drug delivery systems, such as slow-release capsules, and as a carrier agent, particularly for cancer treatments. A significant amount of research is being done with chitosan and chitosan nanoparticles to achieve greater control in delivering drugs to target sites.
Q: What are Kytosan USA's plans for producing chitosan?
 A: Kytosan USA plans to construct a chitosan manufacturing facility in the Beaumont, TX, area to produce industrial-grade chitosan from chitin imported from overseas. Using imported chitin will allow us to reduce the initial capital expense and minimize operating costs. Kytosan USA will target lower-value, higher-volume markets, such as water treatment, agriculture, and cosmetics/personal care products, to establish a solid financial base from which to grow the company.
Imported chitin may run into problems with international shipping, such as delays or disruptions that could interfere with our production schedule. Therefore, it is important to have another chitin source. Because there is potentially more than 100 million pounds of crustacean shell waste produced along the Gulf Coast from seafood processors, Kytosan USA has prepared a plan and compiled data for the collection and processing of that waste into chitosan. The ability to have both sources of chitin available will ensure stable production.

Kytosan USA will also be developing a medical-grade chitosan production facility to address the growing use of chitosan in medical and pharmaceutical applications. Because of the FDA rules and regulations governing medical and pharmaceutical materials, we believe producing medical-grade chitosan directly from crustacean shell waste is the best way to ensure compliance. There are two shrimp processors in the Beaumont-Port Arthur area, so a local source of shell waste is available. We anticipate it will take approximately 2 years to design and construct the medical-grade chitosan facility.
Q: Why is now a good time to begin?
A: The chitosan market, both globally and in the US, has been growing throughout the past several years. Marketing reports suggest the chitosan market in North America is projected to grow by as much as 24% over the next 5 years with a global Total Addressable Market of USD 28.93 billion by 2027. Yet less than 1% of the North American chitosan market is produced domestically. There is a clear opportunity for domestically producing chitosan for the US market, especially with the plethora of chitin-containing raw materials available.
The medical and pharmaceutical markets for chitosan are also projected to grow significantly, particularly with chitosan featured in numerous medical and pharmaceutical research projects. Market reports suggest the medical market for chitosan should grow by about 8% over the next 5 years. Kytosan USA could become a driver for the US medical market by providing a domestic source for medical-grade chitosan, and through collaboration with researchers developing new chitosan-based medical and pharmaceutical applications.
Q: Can you discuss the offering and what you expect to achieve with the funding?
A: Kytosan USA is engaged in a private securities offering to raise a minimum of $9 million up to a maximum of $14 million to fund our chitosan manufacturing project. These securities are being offered under an exemption provided by SEC Regulation D Rule 506(c). Only accredited investors who meet the SEC Regulation D 501 "accredited investor" accreditation standards and who provide suitable verification of accredited status may invest in this offering. Our investment portal (https://invest.kytosanusa.com) has more information about the offering.
Once the minimum amount is obtained, Kytosan USA will begin construction of the industrial-grade chitosan manufacturing facility. If the maximum amount is obtained, we will begin development of the medical-grade facility shortly after construction of the industrial-grade facility has begun. If we are not able to raise the maximum amount, Kytosan USA will reinvest profits from the industrial-grade facility toward the development of the medical-grade facility.