EXECUTIVE INTERVIEW – JRF Global: Innovating Drug Discovery & Development Solutions for Your Leads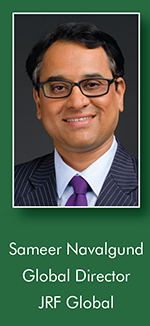 Typically, drug discovery is a large segment for the CRO industry. If the CRO industry is categorized by the therapeutic area, then oncology, diabetes, tuberculosis, cardiovascular diseases, infectious diseases, central nervous system-related disorders, and respiratory diseases take up a larger pie of the industry services. However, innovative technologies, including the organ-on-chip, are increasingly attracting a lot of attention and efforts, and the CRO industry can contribute significantly to these newer trends. Sameer Navalgund, Global Director at JRF Global, shares his perspective with Drug Development & Delivery about the on-going trends, current status, andsome of the upcoming biggest challenges in the contract services industry.
Q: Can you describe the current status of the contract services industry? What trends are you seeing?
 A: For the past few years, the CRO Industry has undergone a lot of activity related to mergers and acquisitions. Historically, the CRO market was fragmented, but these increased merger and acquisition activities have led to some consolidation. I expect to see similar trends for some time. Earlier, some of the declining growth in the pharma/biopharma industry market had affected the CRO industry. Due to shrinking growth rates, some pharma/biopharma companies needed to lower their drug development costs. Therefore, many of them looked at various cost-saving options, including out-sourcing. This trend is expected to increase in the near-term. Typically, drug discovery is a large segment for the CRO industry. If we categorize the CRO industry by the therapeutic area, then oncology, diabetes, tuberculosis, cardiovascular diseases, infectious diseases, central nervous system-related disorders, and respiratory diseases take up a larger pie of the industry services. In my opinion, these trends will continue in this direction for some time to come. Newer technologies, including the organ-on-chip, will also continue to attract a lot of attention and efforts, and the CRO industry can contribute significantly here as well.

 Q: What do you believe are some of the biggest challenges in the contract services industry?
 A: For some time now, the HR departments in the majority of industries have to operate in a VUCA world, where VUCA stands for Volatility, Uncertainty, Complexity, and Ambiguity. In my opinion, the science equivalent of it is UVCB (Unknown or Variable composition, Complex reaction products, and Biological materials). Understanding the nature and properties of such compounds that are presented by the customers to the CROs is one of the biggest challenges. In some cases, "it feels like they expect a lab to help them resolve the issue while they don't know the problem," as a CRO colleague would put it mildly. I believe this will continue to be a challenge, and a deeper understanding between the customer and the CRO would help resolve this to a larger extent. Rather than working as a customer and vendor, we will have to work as partners. In terms of the business challenge, to keep the staff motivated with challenging work, we believe using a grow-sustain model at the appropriate time, continuing innovating, and ensuring timelines are met with quality will be the biggest challenges facing the contract services industry.
 Q: Can you provide our readers some history of the company and an overview of your business today?
 A: JRF metamorphosed in the 1980s from erstwhile Phospho laboratory with the vision to serve the nation by providing quality services in the field of Research & Development. It received its very first accreditation in 1987 from the then NCTCF (today's DST – Department of Science and Technology, Government of India). Initially, the focus areas were toxicology and agrochemicals. Over a period of 4 decades, it has evolved in a global organization with operations on four continents and customer-focused business interests throughout the world. Today, JRF Global serves a diverse spectrum of customers from pharma/biopharma to specialty chemicals and agrochemicals with expertise in toxicology, chemistry, and biology-based services.

Q: What does JRF Global offer when it comes to contract research services, especially in Drug Discovery and Development?
 A: JRF, as a leading CRO, offers a variety of services to the pharma/biopharma industry. As a part of our Drug Discovery and Development Services programs at JRF Global, we offer early ADME, efficacy models, impurity profiling, exploratory toxicology, PK/TK, and metabolism and metabolite characterization. JRF Global's IND-enabling safety evaluation expertise also encompasses a wide range of services starting from impurity profiling; genotoxicity; safety pharmacology (for invivo CNS, CVS, & respiratory and for in vitro hERG assay); a special mention is for the dog telemetry and whole body plethysmography and modified Irwin test for rodents and non-rodent repeat dose toxicology by multiple administration routes like oral, dermal, parenteral, ocular, and inhalation; reproduction toxicology; and carcinogenicity during the preclinical stage of drug development.
 Q: Are there particular services that distinguish JRF Global? Why do pharma/biopharma companies choose to work with JRF Global?
 A: In my opinion, all the services at JRF Global are distinguishing factors for all of our customers. When it comes to pharma/biopharma companies, I can broadly classify JRF Global's distinguishing factors in the following areas:
Scientific human resource, know-how, experience, and training: Our teams, led by PhD scientists provide guidance to support pharma companies' submissions. JRF Global's scientific teams have hundreds of "man" years of experience in conducting chemical characterization as well as preclinical studies, specifically focused on proving data for the safety and efficacy of the compounds to assure the regulatory bodies, to receive the permissions for first-in-man trials. We strive to ensure these teams remain updated about the recent developments by actively participating in various conferences, seminars, and training programs. Many of our valuable customers have successfully submitted their INDs to the FDA, EMA, and other regulatory bodies throughout the world.
Laboratory infrastructure: We believe in having updated and state-of-the-industry laboratory infrastructure. Technology and automation are the keys to work for the future. This keeps us ahead in terms of various developments in the scientific fields. We strive and keep ourselves abreast with modern technology, equipment, and their use. We are proud to have one of the best animal houses as well as excellent breeding facility for select species. We are also working very rapidly for SEND compliance.
Quality: JRF Global's Quality Assurance Unit ensures that all the efforts of the organization are in compliance with the required regulations. This team actively follows any change in the guidelines and standards, and then makes the required change at JRF Global using our change control and management processes to implement them. However, this does not mean that it's the QAU that is responsible for the quality, it is the responsibility of all "JRFians" collectively, and we work hard to make it a part of our "muscle memory', if I may say so.
Timelines: These are the most critical for IND submissions and hence, JRF Global has adopted innovative system for accelerated IND evaluation and submission summary reports, as well as audited draft reports in order to enable customers to plan their submissions in advance. JRF Global's custom-built software and data-bases help in tracking and ensuring that customers receive all inputs in-time. The project management and business development teams are the Customers' Ambassadors at JRF Global, and they ensure these customers' needs are met and addressed.
Innovation: At JRF Global, we have dedicated teams to research and develop new assays, tests, methods of analysis, and molecule synthesis, and continually review new scientific developments in the pharma/biopharma space. Upon successful completion, these teams implement and teach other colleagues these newer and modern services that help our pharma/biopharma customers. I call this JRF Global's Innovation center. These teams are the (new) pathfinder for us.
I can add an example here. With an increasing demand for respiratory therapeutics, it has become an imperative subject to assess the safety of the test item or device before they are used for therapeutic indications. JRF Global's Inhalation Toxicology Facility is designed to provide contemporary capabilities for conducting exposure of experimental animals under the Good Laboratory Practices (GLPs), providing contemporary capabilities for conducting exposure of experimental rodents under GLP. Each protocol for such studies is approved by the Institutional Animal Ethics Committee (IAEC). The nose-only equipment allows for higher density of rodents exposed in parallel. Over the years, JRF Global has acquired enormous experience of handling different types of chemicals. More than a thousand inhalation exposure studies have been completed in compliance with GLP and submitted to several regulators throughout the world, and our studies are well-received by global regulators.
Q: What is JRF Global's business strategy?
A: JRF Global operates in multiple geographies with a diverse customer base. Therefore, there is no single strategy; it depends on the geography and customer we service. However, to answer the question in a comprehensive manner, I would say the key areas of strategy are innovation, growth, and sustenance.
I strongly believe in innovation to maintain JRF Global's competitive advantage. Our research and development teams strive to innovate new methods, ways, and tests for a variety of matrices and active ingredients by multiple chemical and in-vitro biological experimentation. This helps JRF Global create new services to cater to diverse customer needs. These additional services bring in growth in terms of services offered, sectors of industry served, and newer technology investments. The last bit is the growth path we take by driving various strategic initiatives to their logical conclusions. As an organization, I also look at strategic acquisitions that will augment the capacities and capabilities of JRF Global. JRF Global strives to serve with timeliness and quality that gains us the confidence of our customers, and they work with us for longer term duration. Sustenance of the organization for serving our customers over a period of time is essential as they may get regulatory or other queries, and JRF Global would be supporting them to answer those queries. Therefore, sustenance is an important piece of the strategy for us.
Q: What is the typical JRF Global customer?
A: Our customers come from varied backgrounds and businesses. Some of them are brilliant studio companies with lots of ideas, innovators, generic companies, domestic, and large multi-national conglomerates. So the range is very wide and so are the associated challenges with respect to their expectations. We treat each and every customer for their individuality and uniqueness. We work with them and provide tailor-made solutions. One common aspect in this diversity is their expectations for their studies to be done on time and with higher quality. This keeps us on our toes in terms of project deliveries and quality of output. We do justice to meet their needs.
To view this issue and all back issues online, please visit www.drug-dev.com.