EXECUTIVE INTERVIEW – Immunic Therapeutics: Developing Next-Generation Oral Drugs in Chronic Inflammatory, Autoimmune & Infectious Diseases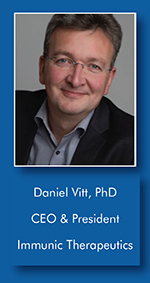 Immunic Therapeutics is a global, clinical-stage biopharmaceutical company developing a pipeline of selective, small molecule therapies aimed at treating chronic inflammatory and autoimmune diseases, including relapsing-remitting multiple sclerosis, ulcerative colitis, Crohn's disease, and psoriasis. It is also testing its lead compound against COVID-19. Founded in 2016, the company rapidly created a risk-balanced pipeline of potentially best-in-class, orally available molecules comprising two compounds with attractive safety profiles and known targets, and one potentially disruptive technology, all focused on indications with high unmet need and significant market value.
 Drug Development & Delivery recently interviewed Daniel Vitt, PhD, Immunic's Chief Executive Officer and President, to discuss the Company's pipeline and progress. Dr. Vitt was previously at 4SC, where he was a founder and also served as Chief Scientific and Chief Development Officer.
Q: What can you tell us about Immunic's progress over the past year?
A: Immunic began 2019 as a small, private company based in Germany with our lead program being in one clinical Phase 2 trial and two preclinical assets. Within the year, we had transformed into a Nasdaq-listed, public pharmaceutical company via a reverse takeover and had advanced our lead program into three clinical Phase 2 trials and one of our earlier programs into clinical Phase 1 development. We also established our corporate headquarters in New York, creating a truly transatlantic organization with a European subsidiary. It was a very productive and exciting year for us. An ever quicker and stronger transformation occurred with the COVID-19 pandemic when we recognized that our lead program, IMU-838, should clearly be tested as a potential treatment for SARSCoV-2 infections, given its already known broad-spectrum antiviral activity.

We also expanded the leadership team and board. Several of us have worked together for many years as executive leaders at 4SC, which I co-founded in 1997. We already have a great and trustful working relationship and, last year, we rounded out the team with complementary experience and expertise that brings in fresh new thinking and even more dynamics.
Q: You've developed an advanced pipeline rather quickly. What can you tell us about it?
A: Immunic was founded when we bought two programs from 4SC, where three of Immunic's founders were part of the team that developed them. The discovery, preclinical development, and a bit of the early clinical work had been done, so we were able to get started very quickly. In fact, we dosed our first patient during the first week the company was open. Today, we have three assets in our pipeline:
– IMU-838 is an orally available small molecule investigational drug (vidofludimus calcium) that inhibits dihydroorotate dehydrogenase (DHODH) for which we recently announced excellent Phase 2 results for the treatment of relapsing-remitting multiple sclerosis (RRMS) and that is currently in Phase 2 testing to treat inflammatory bowel disease (IBD) with potential for other chronic inflammatory and autoimmune diseases. We recently initiated a Phase 2 trial in moderate COVID-19 disease based on IMU-838's previously known antiviral activity and positive in vitro data against SARS-CoV-2. IMU-838 is also being studied in an investigator-sponsored Phase 2 trial by the Mayo Clinic as a potential treatment for the rare disorder, primary sclerosing cholangitis (PSC).
– IMU-935 is a highly potent oral IL-17 inhibitor and selective inverse agonist of the transcription factor RORƴt (retinoic acid receptor-related orphan nuclear receptor gamma) with additional activity on DHODH. Based on preclinical data, Immunic believes that it has potential as a best-in-class therapy for various inflammatory and autoimmune diseases. IMU-935 is currently in Phase 1 testing with plans to extend these studies in 2020 to assess safety and mechanism-related biomarkers in patients with psoriasis.

– IMU-856 is an orally available small molecule modulator that targets a transcriptional regulator of intestinal barrier function that we licensed from Daiichi Sankyo. Immunic believes it is highly innovative and potentially disruptive, representing a new treatment approach with a mechanism of action that targets the restoration of the intestinal barrier function in patients suffering from diseases like IBD or IBS-D and other intestinal barrier function-associated diseases. The Company expects that because IMU-856 avoids suppression of immune function, IMU-856 should maintain immune surveillance for patients. IMU-856 currently is in Phase 1 development.
Q: Can you discuss the challenges in developing new therapies for autoimmune disease?
A: I believe autoimmune disorders are very underserved, particularly when you consider the unmet need relative to the amount of research taking place. Especially in autoimmune diseases, I believe it's vitally important to truly hear what patients and their care providers have to say about what meaningful progress would look like to them.
In considering patient need, we took a very deep look at the benefits and shortfalls of existing treatments, and then thought about how we might substantially change the treatment paradigm. For MS patients for example, it might be something that prevents physical disability. By assimilating their perspective, everything takes on another color. It's what gets us up every morning with a sense of urgency to get to work and excited to make a difference.
Second, we found that one of the most important factors to keeping on track is to properly anticipate clinical trial recruitment potential. Of course, that's easier said than done.
For example, in one of our indications, we are competing for the same patients that other companies are also trying to recruit. In an ironic development, we had strong activity signals at a dose lower than anticipated, so we find ourselves enrolling patients for an additional cohort that we thought would end, so in a competitive environment, that impacts our timelines – but this is a good problem to have. A different trial enrollment was completed twice as fast as we expected based in large part on a smart trial plan, which made it attractive to patients and treating physicians.
So, it's important to carefully review the competitive trial landscape to predict speed of enrollment, but there will also always be some factors that are beyond your control.
Q: Do you see advantages of small molecules for autoimmune diseases?
A: The truth is that patients need both small molecules and biologics because they offer different benefits. Injectables have some obvious disadvantages to a simple daily pill, as well as a more complex supply chain and higher costs. That said, antibodies can have a benefit when it comes to specificity.
We have a lot of PK/PD data on IMU-838 as a result of the extensive work done prior to Immunic, and among the encouraging aspects we see are an excellent 30-hour half-life, a quick wash-out period, very good safety at the doses tested and no kinase inhibition, all of which lead us to believe there is potential for IMU-838 to be the first really safe and well-tolerated and easy-to-use treatment option for early RRMS. This may also allow for combination therapy with biologics. In addition, we recently obtained very strong Phase 2 data of IMU-838 in RRMS, underlining our belief that IMU-838 could provide RRMS patients with a distinctive combination of robust efficacy combined with favorable safety and tolerability.
Q: What is your business model as you approach late-stage development?
A: We believe deeply in our assets and are committed to seeing them come to market. Therefore, we listed on Nasdaq in order to raise enough capital to see us through the next major value inflection points and to advance the assets by ourselves, if we so choose.
That said, if the right partner with the right deal comes along, we're open to it. In the future, we might make some decisions in this regard that create options for us, such as an ability to expand potential indications or advance another asset by making a deal.
Ultimately, we're very much open to deals with partners that we trust, that have the same commitment to the space and to the belief in high quality that we hold, and that offer a deal that makes sense for our mission and for our shareholders.
Q: What do you see as the advantages of maintaining a dual presence in both Germany and the US?
A: We've structured the company such that we've retained the strong research team's local ties to academia and industry in Germany, as well as connections to European regulatory agencies. At the same time, we have quick access to financial markets in New York and regulatory agencies in the US, all of which will be central to our long-term success.
Q: You recently exercised your option from Daiichi Sankyo on IMU-856. Why are you particularly excited about this compound?
A: IMU-856 reflects an entirely new approach for the treatment of gastrointestinal diseases, such as IBD or IBS-D, which is to restore intestinal barrier function by regulating genes linked with intestinal cell interactions and adhesion. It looks like it could have the ability to do so without impairing general immune function, which would be a kind of revolutionary new treatment for patients in this space. If successful, this approach potentially opens up whole new avenues for treating diseases of the digestive track.
Moreover, I'm also enthusiastic about this partnership. We developed a strong relationship with the team at Daiichi Sankyo over a period of time that actually predates this program. This long-term relationship has instilled a lot of confidence on both sides. As a result, we have complete belief in the quality of the data, and therefore in the program that we've taken over. We exercised our option to the exclusive global license in January of this year and while it's a bit of a risk, it underscores our enthusiasm and confidence.
Q: What are the near-term milestones on tap for Immunic in 2020?
A: 2020 is a very big year for us. I'll start with our lead asset, IMU-838. As mentioned, we initiated a Phase 2 trial in moderate COVID-19 disease. We already knew that the compound possessed broad antiviral potential, so we quickly assessed it in vitro against SARS-CoV-2 and determined that it showed enough activity to proceed quickly into clinical testing. Fortunately, IMU-838 has an attractive pharmacokinetic, safety, and tolerability profile and, to date, has already been tested in about 650 individuals, which should enable us to shorten the development timeline. In light of the global health crisis caused by COVID-19, we view this strategic expansion of our therapeutic focus as urgent and necessary.
Additionally, we announced strongly positive Phase 2 data in RRMS in August, reporting achievement of both primary and key secondary endpoints with high statistical significance. As such, we are prepared to start our Phase 3 program, which we're already actively planning now.
We expect to see data from our partners at Mayo Clinic in PSC in the first half of next year as well. Because there are currently no treatments approved for this condition, this program has the potential to advance quickly towards approval.
With regard to IMU-856, we initiated a Phase 1 trial in August 2020. As I mentioned, there is a lot of excitement around this molecule, both internally and externally in the gastrointestinal community, so we are looking forward to seeing this program advance.
Finally, we also reported initial Phase 1 safety and PK data from IMU-935 in healthy volunteers and initiated the expansion of the Phase 1 studies. In addition, we are currently in the process of identifying suitable orphan indications with high unmet medical need for further development of IMU-935.
While 2019 was an incredibly productive year for Immunic, 2020 is proving to be equally so. We've set a lot of goals for ourselves and I'm pleased that, to-date, we have established a record of executing on our plans and delivering what we've set out to.