EXECUTIVE INTERVIEW – ICON: Transforming Clinical Trials in a Rapidly Shifting Landscape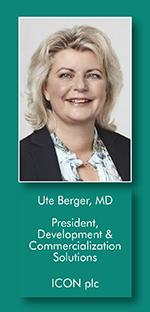 ICON plc is a world-leading healthcare intelligence and clinical research organization. From molecule to medicine, the company advances clinical research providing outsourced services to pharmaceutical, biotechnology, medical device, and government and public health organizations. Its goals are to develop new innovations, drive emerging therapies forward, and improve patient lives. Drug Development & Delivery recently interviewed Ute Berger, MD, President, Development & Commercialization Solutions at ICON plc, to discuss how with the acquisition of PRA in 2021, it has enhanced its value proposition and how it is transforming clinical trials in a rapidly shifting landscape.
Q: What are the services provided by ICON's Development & Commercialization Solutions team?
A: ICON's Development & Commercialization service area (division) covers the spectrum from first-in-human to commercialization, including early clinical services, central and bioanalytical laboratory services, medical imaging, commercialization and health economic outcomes (including the real-world evidence team, the MAPI Research Trust, and translations), medical device and diagnostics, commercial and regulatory consulting services, and the design and end-to-end operational delivery of decentralized clinical trials. The strategic focus of this service area is on shifting the paradigm in clinical research and transforming clinical trials to deliver treatments to patients faster

Q: What do you believe are the biggest challenges in the CRO industry at the moment?
A: The industry continues to focus on patient access and retention and how to make it easier for patients and sites to participate in a clinical trial in order to bring drugs to market faster.
Underrepresentation of diverse populations is still a challenge in clinical research to understand the safety and efficacy of novel therapies across population subgroups. The US Food and Drug Omnibus Reform Act of 2022 (FDORA) bill is the latest iteration of regulator policy to propose improvement in diversity, equity, and inclusion (DE&I) in clinical trials. It was part of the Consolidated Appropriations Act, 2023 (H.R. 2617) signed by President Biden on December 29, 2022. ICON has an established robust strategy to embed diversity in our culture and operational models. This includes strong engagement with key stakeholders: patient communities, advocacy groups, physicians, and our employees. We are already seeing the decentralized clinical trials we deliver are supporting study teams to drive and deliver diversity in clinical trials.
Like many industries, the CRO industry is also operating in a tight labor market. Building a team of diverse, talented, and ambitious STEM professionals who can help ensure the future success of the life sciences industry is critical. We believe there is a significant opportunity for collaboration between industry and academia. To address this, ICON invests in partnerships with numerous universities (in Ireland and beyond) on leadership development and mentorship programs, for example, in addition to STEM scholarship programs.

There are macroeconomic dynamics all businesses are dealing with across the globe and associated with this, and biopharma customers are carefully assessing potential implications for their portfolios. However, we believe this is also an opportunity for the industry to provide customized strategic solutions, for example, in digital health technology.
Q: What do you believe are the most interesting developments in the industry or those that you expect to happen in the next couple of years?
A: The Covid-19 pandemic has had a significant impact on our industry. We were forced to be innovative and collaborative, and how we operated clinical trials changed significantly. There was a major shift from a traditional trial model to more agile and remote trials that were ultimately more efficient and more patient centric. This has created great opportunity to transform clinical development. There was the possibility that clients would revert to the traditional type of trial; however, we are seeing ongoing interest to embrace change and innovation for improvement.
Decentralized and hybrid clinical trials are showing real economic value through the benefits of increased patient recruitment, retention, and diversity of patient populations by breaking down the barriers of patient burden and geographical reach. These approaches are also demonstrating enhanced quality of data by capturing data more directly from the patient.
Associated with this, we have seen a steady increase of interest of the inclusion of digital health technologies in clinical trials, another aspect of decentralized clinical trials that can reduce patient burden by remote, real-time monitoring. Overall, these methods deliver a more positive experience for the patient that aligns with the desire to put patients more firmly at the center of drug development.
Tokenization is well established in the commercial setting as a way of accessing multiple data sources for insights; however, tokenization in clinical trials has not yet been widely adopted. We expect this to change as both large pharma companies and smaller biotechs are exploring, piloting, and evaluating the use of clinical trial tokenization. Linking patient-level data from diverse sources without compromising patient privacy enables companies to incorporate real-world data (RWD) into clinical trial analysis and gain a comprehensive picture of the patient journey across the healthcare system and into the follow-up stage.
Q: How do you see ICON supporting clients in these areas?
A: ICON is well positioned as the CRO and healthcare intelligence partner of choice to our customers on bringing drugs and devices to market quickly and safely. Our customers face an increasingly complex environment, and being able to work with a partner that provides end-to-end solutions, reduces cost and time.
ICON works in a truly collaborative way, developing solutions and building our innovative capabilities to meet client challenges. We offer the most comprehensive suite of integrated clinical development services in the industry and work with our clients to deliver the flexible solutions based on the characteristics of the study, portfolio, or organizational strategies.
An early engagement consultative approach enables us to support clients in the selection of service components, eg, the study design and model (traditional, hybrid, or fully decentralized), to address the scientific question of the trial. The services selected are informed by patient centricity to increase patient recruitment and our insight into site burden to increase site engagement – all delivered within a strong operational and regulatory framework.
Q: Are there specific therapeutic areas that interest ICON, and how is the company positioned in these areas?
A: ICON has experience and expertise across a wide range of therapeutic areas and aligns its strategy to the demand of our clients and industry developments.
Oncology is of continuous interest across the industry, and ICON conducts clinical studies in both solid and haematological tumors, including breast, lung, gastric, HCC, prostate, multiple myeloma, acute and chronic leukemias, and lymphomas. An increasingly important part in cancer treatment are cell and gene therapies (CGTs) – a cutting-edge scientific approach to treat diseases by modifying cells or genes. The product and patient journey are completely different from traditional trials and requires a deep understanding of the regulatory pathway, patient recruitment, logistics, and manufacturing, and ICON is well positioned to provide strategic consultancy as well as operational support for these trials.
ICON leverages it scientific expertise to look for innovative approaches that will drive progress for our clients, and indeed the industry overall.