EXECUTIVE INTERVIEW – FSD Pharma Inc.: Is Ultra Micro-PEA the Best Untold Story in Pharma?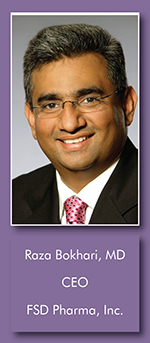 In 2019, the National Institutes of Health (NIH) and the Food and Drug Administration (FDA) both formally expressed their commitment to advancing research on the potential benefits of cannabis for therapeutic uses. NIH's research portfolio on cannabinoids has provided early basic and preclinical work on CBD as an epilepsy therapy; in June 2018, FDA fast-tracked approved Epidiolex, a cannabidiol oral solution for treatment of seizures associated with Lennox-Bastaut syndrome or Dravet syndrome. The FDA claims it continues to support companies' drug development programs for drugs derived from cannabis or containing cannabinoids.
One such company is FSD Pharma Inc., a Canadian-domiciled specialty pharma that came on the scene in May 2018 by raising $53 million Canadian on the CSE. At that time, its focus was to build a hydroponic facility to grow medicinal-grade cannabis and supply it to prescription users in Canada and the rest of the world, except for the US. In 2020, FSD became one of 12 Canadian-domiciled companies to trade on NASDAQ, and is now focused on advancing research and development of synthetic compounds, including cannabinoid compounds that target the endocannabinoid system of the human body, which helps regulate key physiological and pathological processes. Endocannabinoids are natural, lipid-based signaling molecules that act through the cannabinoid receptor 1 (CB1) and 2 (CB2). Research has shown that the endocannabinoid system serves important protective functions in the body. For example, it stops pain signals before they reach the spinal cord and it boosts the body's ability to adapt to stressful situations.

In that quest, FSD acquired Prismic Pharmaceuticals, a US-based specialty pharma developing non-addictive prescription drugs for the treatment of pain and inflammation, at the end of 2019 for $17.5 million. The outcome of that acquisition is the launch of FSD Pharma Biosciences Division, led by Edward Brennan, MD. The group has a Phase 1 first-in-human safety and tolerability trial for its lead candidate, FSD-201 ultra-micronized palmitoylethanolamide (micro-PEA), currently underway in Alfred Hospital, Australia. FSD-201is a potent anti-inflammatory agent that has widespread application to treat certain diseases of the central nervous system and autoimmune disorders of the skin, GI tract, and the musculoskeletal system.
Drug Development & Delivery recently interviewed FSD Pharma's CEO Raza Bokhari, MD, about how acquiring Prismic will benefit FSD, what makes the ultra-micronized platform unique, and how ultra-micro-PEA could be the answer to ending the opioid epidemic.

Q: Why did FSD acquire Prismic Pharmaceuticals and what doors does that open for you?
A: We now have the worldwide license, except in Italy and Spain, of ultra-micronized-PEA, which is a naturally occurring fatty acid. Prismic secured its license from its parent company, Epitech, a European privately held company. Epitech had developed the ultra-micronized version of PEA into 6 to 10 microns and then developed a 600-mg tablet. That tablet has been prescribed for more than a decade as a medical-grade supplement for inflammation in Italy. Prismic's initial interest was to expand into a nutraceutical, but FDA guidelines changed and Prismic was left with no option but to develop ultra-micronized-PEA as a prescription drug. Prismic ran out of capital and engaged with us in early 2019. We acquired these rights from Prismic with the acquisition. We are confident the outcome will be positive and similar in the response of all the hundreds of thousands of patients to whom Epitech has been selling to as a prescription medical supplement.
Q: What is the ultra-micro-PEA development platform? What makes it unique?
A: Micronization allows PEA to be orally bioavailable, but as we advance forward, there is a possibility it could take another form. The micronization technique was invented by Epitech and is protected by patents until 2034. As a potent analgesic and anti-inflammatory agent, ultra-micro-PEA is expected to be effective in many inflammatory diseases, such as chronic pain, arthritis, endometriosis, and various auto-immune disorders. In addition, there is some published data to suggest that ultra-micro-PEA may also have the potential to be an opioid-sparing agent
Q: How does ultra-micro-PEA work in the body?
A: PEA directly and indirectly targets several receptors involved in inflammation and pain. One such receptor, PPAR-α, belongs to the peroxisome proliferator-activated receptor family of transcription factors regulating the expression of genes involved in cellular differentiation, development, metabolism, and inflammation. PPAR-α is found in the intestine, heart, liver, kidney, muscle, and fat tissue.
Another target, the GPR55 receptor, is homologous with CB1 and CB2, the principal cannabinoid receptors, and is also activated by Δ9-tetrahydrocannabinol, the principal psychoactive ingredient in cannabis, and possibly by at least two endocannabinoids. PEA also interacts indirectly with CB1 and CB2. CB1 receptors are found in the brain and throughout the body while CB2 receptors exist mainly in the gastrointestinal and immune systems.
The endocannabinoid system, including CB1 and CB2, is a key regulator of pain sensation and pain processing pathways. Endocannabinoids active at CB1 down-regulate neurotransmission, while CB2 agents regulate CNS immune cell activity. The combined activity at CB1 and CB2 receptors affects normal nociceptive processing and resolution of acute pain.
Q: Where do you see ultra-micro-PEA having the biggest benefit?
A: We are looking at the therapeutic effects of ultra-micro-PEA on its own. Pain is an outcome of inflammation. By reducing inflammation, it reduces pain. Instead of prescribing opioids, for some conditions, in which non-steroidal anti-inflammatory treatments are not enough, and there is nothing in-between, this micronized formulation of PEA could be the go-to drug before opioids are prescribed. There could be a reduction in the global increasing number of opioid addicts. It could also possibly slow down the disease progression through a reduction in cytokines. Additionally, as ultra-micro-PEA is a potent anti-inflammatory agent, it could likely become a safer and more effective NSAID for early-stage osteoarthritis, in lieu of non-steroidals.
Q: What is the market potential for the ultra-micro-PEA platform?
A: By Q4 2020 or early-Q1 2021, we will be in a position to be in front of the FDA with an IND to start looking at the value and impact of an ultra-micronized version of PEA in some disease conditions, particularly early-stage osteoarthritis. We expect that to garner the interest of Big Pharma and get them talking to us.
Q: Do you envision licensing ultra-micro-PEA?
A: Drug development is a team sport. As a specialty R&D pharma, our expertise is to conduct Phase 1 and Phase 2 trials. Phase 3 and commercialization is the job of the big boys. We are a public company, so we have to respond to market realities in real time. As Chairman of the Board of FSD Pharma, I have the pulse of our board, and current thinking is that it's best to pass on the baton to bigger players who are more adequately capitalized to conduct the other studies. Our comfort level is to initially invest up to $50 million on this compound. At that point, we will have sufficient data to tee it up and possibly pass it on to bigger players.
Q: Once you pass the baton on ultra-micro-PEA, what's next for FSD?
A: We are actively looking to expand our pipeline by looking at other compelling compounds that target the endocannabinoid system. One investment banker at the JP Morgan Healthcare Conference told us that ultra-micro-PEA is the best untold story in the pharma industry. There are companies out there struggling to raise capital, and we could have an opportunity to acquire them. FSD has signed a letter of intent with Solarvest to develop and test pharma-grade cannabinoids out of algae. The pharma-grade process could reduce the production time for targeted cannabinoid molecule(s) by up to 95%. Solarvest has completed a feasibility study for the expression of CBD and THC as a way to produce cannabinoids in sterile GMP facilities. Our belief is that the cannabinoid molecule potential is truly unmarked.
Q: What advice can you offer to other CEOs in niche and nascent markets?
A: You need strategic and financial partners. Be flexible enough to embrace them at the right time to create sustainable shareholder value. And, if you have to fail, fail fast in early-stage assets, and move onto the next compound. Companies tend to get caught when they receive data points that weren't as expected. So, reposition yourself and move on quickly. This is a thousand-mile journey. We have taken the first few steps, but they are definitive steps. We don't carry long-term debt on our books, and our balance sheet has capacity to raise capital. We believe we are well-positioned to move forward, but we are always learning from our own and others' mistakes.
To view this issue and all back issues online, please visit www.drug-dev.com.