EXECUTIVE INTERVIEW – Fortress Biotech, Inc.: Looking for the Muffin Tops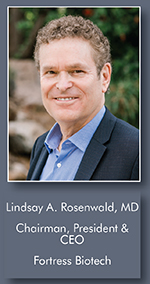 Fortress Biotech, Inc. doesn't create new molecules or develop new medicines. Fortress Biotech looks for programs – drug development candidates – that already have very good human data, acquires those assets, finances the rest of their development, and builds companies around them to get them on the market.
The biopharmaceutical company, which ranked number 10 in Deloitte's 2019 Technology Fast 500TM, has five marketed prescription pharmaceutical products and over 25 programs in development, at its majority-owned and majority-controlled partners and at partners it founded and in which it holds significant minority ownership positions. Such product candidates span six large-market therapeutic areas, including oncology, rare diseases, and gene therapy. Fortress Biotech's net revenue for year-end 2019 totaled $36.6 million.
Lindsay A. Rosenwald, MD, is Chairman, President, and CEO of Fortress Biotech. He earned a degree in finance and economics from Penn State University, graduated medical school at Temple University, and then found himself on Wall Street just as biotech was emerging as an industry. He decided he wanted to be in the business of acquiring clinical-stage programs and building companies around those assets. Several years before taking control of what became Fortress Biotech, he retired and became a passive investor. Then in 2014, Dr. Rosenwald realized he missed searching out those programs and assumed leadership of Fortress Biotech and has been building the business ever since.

Dr. Rosenwald recently spoke with Drug Development & Delivery magazine about how his medical and financial knowledge come together to find successful drug candidates, the Fortress Biotech partnership model, and the inefficiencies he sees in the biotech industry.
Q: Please describe Fortress Biotech's business model and why that model is unique.
A: It's extremely unique. Most biotech companies are built around either a platform technology or just focus on products. Biotechs are mostly financed by venture capitalists with a 7- to 10-year time horizon. So, when they make an investment in a company, they are already trying to figure out how to get out of it profitably. We are not a platform company. We don't look for platform technologies. We have 11 partner companies – one does happen to be a platform tech company – and the others are single- or multi-product oriented. We mostly focus on clinical-stage medicine. As an MD myself, with mostly MDs and scientists working for me, we understand human biology and pharmacology. We often find drugs that big companies, as well as small, were developing and failed, so the companies gave up on the drugs, yet there was data available to show the drug's viability. We go to that drug company, buy the drug for a few million dollars or less, and plan a quick clinical trial if it's the right indication. If it works, it might be worth hundreds of millions of dollars. We like compounds that already have human data or for which it will be inexpensive to obtain human data. Consider going to a bakery to buy a muffin. Some people just eat the muffin tops. Now bakeries sell muffin tops. We're looking just for the muffin tops, the easy stuff. If it's already in the clinic and already looks like it works, it has been meaningfully de-risked. When we find the asset, we either put it into an existing partner company we control and have a continuing economic interest in, or, if it doesn't fit one of our companies, we'll create a new partner company. These partner companies are a big part of our future. They provide long-term economic gain in exchange for our ability to help run those companies. So, it's a very scalable business. I don't believe anyone else does it this way.
Q: Can you describe the relationship with your partner companies?
A: Wall Street can only focus on one or two lead programs at a single company. So, by setting up separate partner companies for each asset, we get better long-term value. It's very expensive to develop drugs, so setting up partner companies gets capital dedicated for specific product development. We get equity in these partner companies and we get royalties. As the partner companies grow in value, our equity holdings grow. Once they launch their products, we get royalties on those products. It incentivizes us to find really great product opportunities, show them to the partner companies, and, if they want them, we give it to them. Three of our partners are public. The goal is to find more of these assets, create more partner companies, and just keep growing the business that way. It's like building multi-family housing, collecting rent, building more multi-family houses, and renting them. Eventually, you have unbelievable cash flow. Same with us. But instead of multi-family housing, it's multiple partner companies.
Q: Your partner company, Checkpoint Therapeutics, appears to be pursuing a "fast follower" strategy. What does that entail?
A: Fast follower means that we aren't inventing anything new. We went after a big market, but we were not the first ones in the market. There is a technology called checkpoint antibodies. Checkpoints are receptors (PD1 and PDL1). If you can block these receptors, then you can unblind the immune system to the cancer cell. Antibodies bind to the checkpoint and once they bind to the site, the body's immune system sees the cancer cell and kills it. It's becoming the biggest market in cancer therapeutics. It is competitive, and in five years this could be a $65 billion a year market.
This situation is different than our usual business model, which looks for drugs already in clinical trials. In this case, we met with a scientist that created an anti-PDL1 antibody and we set up Checkpoint Therapeutics around the antibody. We own 20% of the company and get a 4.5% royalty and an equity dividend every year of 2.5% of the outstanding shares. So, it's a very important holding to us. We are just finishing enrollment in our pivotal clinical trial of cosibelimab and hope to have the drug on the market by 2023. If we just get 1% of the $65 billion market, that's $650 million in sales. That would make that company worth potentially billions of dollars.
Q: Can you identify a partner situation where Fortress Biotech took little risk but reaped significant benefit?
A: In the case of our partner company Mustang Bio, we aren't followers, we are pioneers. We have a drug for bubble boy disease. One of my team members identified a very sophisticated gene therapy at St. Jude Children's Research Hospital in Memphis. When a baby is born with the disease, doctors take a sample of the bone marrow and send it to the lab, which then modifies the marrow by injecting a healthy gene to replace the broken gene and puts it back into the baby. In April 2019, Mustang announced the gene therapy for bubble boy disease had restored full immune systems in eight babies suffering from the condition. St. Jude was the pioneer because we didn't take the risk to invent the drug and do the early development. But we did enable St. Jude to move much more quickly towards the market. It is still a substantial investment.
Q: With COVID-19 affecting every aspect of life, can you explain the possibilities that your partner Oncogenuity Inc.'s oligonucleotide platform has for treating coronaviruses?
A: This was the exception to the rule, as we don't usually do platform technology. But, we are risk takers. Several years ago, one of my business development people found this technology at Columbia University as a way to theoretically suppress bad DNA. Sometimes bad genes are inherited. Or a gene spontaneously mutates. That's what cancer is. The mutated gene causes a mutated protein that causes a cell to become malignant and metastatic. The potential Holy Grail in medicine would be to stop the expression of a mutated gene or an inherited bad gene. This is a hot area in life sciences, and there are many ways to approach this. It's called antisense, where you block messenger RNA and prevent the manufacture of bad protein from the bad gene, which in turn prevents the cell from doing bad things. Columbia researchers said they could block the expression at the DNA level. We took an option on it because if it worked in one disease, it could work in many. We don't like to take bets like that on single products because the odds are often against you from an early-stage perspective. In this case, however, we felt if it worked, the payout would be huge because of the potential for other areas beyond cancer such as neurological disorders and even coronaviruses. The company is studying replacement sequences, which could help combat COVID-19 and provide proof-of-concept as a treatment for coronaviruses. These ongoing experiments would validate the technology as a possible treatment for COVID-19, as well as potentially expedite the discovery of treatments for future coronavirus outbreaks. Last year, Columbia presented compelling data so we decided to set up Oncogenuity around the platform. We won't be ready for clinical trials for another 18-24 months, but we are generating data.
Q: With 11 partner companies, which drug candidates are you most excited about and where are they in development?
A: In addition to the work at Mustang Bio, I am excited about a drug called CUTX-101, which is a small molecule for a genetic disorder called Menkes disease, a rare X-linked recessive pediatric disease caused by gene mutations of copper transporter ATP7A. Note that this is not a gene therapy. CUTX-101 is a subcutaneous injectable formulation of Copper Histidinate developed by a professor at Nationwide Children's Hospital. When my team found the drug at National Institutes of Health (NIH), it was in a Phase 3 clinical trial. We licensed the rights from the NIH, and the data look really good. In fact, we recently announced positive topline clinical efficacy results, which demonstrated statistically significant improvement in overall survival for Menkes disease subjects who received early treatment with CUTX-101 when compared to an untreated historical control cohort. It could be a real life-saving drug for the kids affected by Menkes disease. Cyprium Therapeutics, our partner company, is developing CUTX-101.
Q: How did you navigate the sale of Cougar Biotechnology to Johnson & Johnson as the country was coming out of an economic recession?
A: Life science is immune to the vagaries of the economy, so a recession doesn't really impact biotech much. It's a data-driven business. So, in the case of Cougar, there was a small English biotech developing a drug called abiraterone acetate for prostate cancer that showed it could prolong the life of men with metastatic prostate cancer. This was a great compound with really great human data. But there were no patents. The bulk of our competition tends to have bureaucratic tendencies, so if there isn't a patent, or there isn't a long period of exclusivity on the market, they won't look at it. But I know if you can find a drug that has been almost completely de-risked, and it might sell hundreds of millions or more a year, it is a great opportunity. Even if you only get five years of exclusivity and it's an unmet medical need, the product launch can go quickly and there is enormous value. So, we bought the compound for $500,000, got new patents issued, and, after a Phase 2 trial, the data were very compelling. J&J made us an offer we couldn't refuse. The drug is now marketed as Zytiga under J&J's auspices; we sold it for $1 billion, and it became a $4 billion a year drug. When we sold Cougar, it woke up the stock market to the undervalued nature of biotech.
Q: What are the major upcoming milestones for Fortress Biotech and its partner companies?
A: We expect to begin a rolling submission to file an NDA by the end of this year for CUTX-101 for Menkes disease. We plan to launch four Phase 3 pivotal trials soon for some of our other drugs. And we plan to complete enrollment in our pivotal clinical trial for cosibelimab, the Checkpoint Therapeutics antibody. No company our size could ever have so many milestones so fast without our business model. It would take too much capital and too many people. Our business model lets us take on all these programs because we can keep expanding as long as the assets are really good.
Q: Where do you see Fortress Biotech in the next 5-10 years and where do you see the company making the most impact?
A: Ten years from now, the hope for Fortress Biotech is that we further the development of drugs that save lives, improve lives, and make a great return for our employees, our shareholders, and our partner companies. Our goal is to get lots of great drugs to the market in order to treat disease and alleviate suffering.
This is a noisy market with hundreds of billions spent on R&D annually and lots of things that fall through the cracks without being developed. You can find great drug candidates and pay a small fraction of what their intrinsic value is – if you know how to look for them. This business is about finding strong candidates or creating them, depending on your tolerance for risk, patience, and amount of capital. Fortress Biotech is always looking for talented and driven business development people to find these opportunities under rocks and around the world.
To view this issue and all back issues online, please visit www.drug-dev.com.