EXECUTIVE INTERVIEW – Foamix Pharmaceuticals: Delivering Pharmaceuticals to the Skin Through a Foam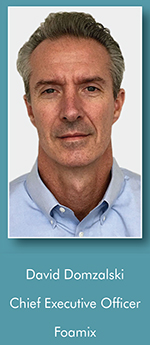 In the field of dermatology, topical skin medications present significant advantages over oral routes of administration. These significant advantages include direct delivery of the effective targeted therapy to the skin, easy application, and reduced risk of systemic side effects. One of the main challenges of developing topicals is ensuring that the active pharmaceutical is stable in its topical delivery vehicle. Foamix is working to address this challenge through its proprietary technology platform, which has led to the development of several unique topical foam formulations for the treatment of dermatological and other conditions. Drug Development & Delivery recently interviewed David Domzalski, Chief Executive Officer of Foamix, to discuss its innovative approach to drug delivery using foam to treat dermatological conditions, like acne and rosacea.
Q: Can you give us an overview about the company and tell us how Foamix was started?
A: Foamix is a specialty pharmaceutical company focused on the development and commercialization of innovative topical treatments for dermatological conditions. We currently have two minocycline foam product candidates, FMX101 and FMX103. FMX101 is being developed for the treatment of moderate-to-severe acne. We recently completed our third Phase 3 trial study for FMX101 (FX2017-22). We have also recently completed our clinical studies for our second minocycline product, FMX103, for the treatment of moderate-to-severe papulopustular rosacea.

Foamix was co-founded back in 2003 by Dr. Dov Tamarkin and Meir Eini to address unmet needs in the dermatology field. Our founders recognized that there was limited innovation in the field and wanted to create a company dedicated to providing solutions to patients with dermatological conditions.
The company initially adopted a partnership model – one based on working with larger and established pharmaceutical companies to develop products to help advance their product portfolios. Naturally, over the course of time, we began to develop and focus on our own research efforts. These efforts lead us to conduct two Phase 2 studies with a minocycline foam product, one in acne and one in skin infections. This was the genesis of our transition from being a partner-focused company to a fully integrated pharmaceutical company. We have established that we have the capabilities to develop our own proprietary products and successfully conduct our own clinical trials. This brings us to our next step of growth, which is to become a commercial stage pharmaceutical company. We submitted our first NDA last year for FMX101, and we intend to file our second NDA for FMX103 toward the middle part of this year. We hope to have our product candidates approved in the U.S. and subsequently launch to the physician community beginning at the turn of the new year.

Q: How was Foamix's proprietary foam technology developed?
A: Our initial foam technology was developed by our cofounders and R&D staff more than 15 years ago. Regarding our foam platform specific to FMX101 and FMX103, it took the company several years and the testing of hundreds of different foam formulations to develop the product candidates that we have today. To date, our formulation science team has developed several other different types of foams available for use. Each foam is unique and was developed based on the active pharmaceutical ingredient that would be incorporated into the final drug product. In other words, we do not have a universal foam, rather our foams are developed based on how to best preserve the chemical structure of the specific active pharmaceutical.
Our foams differ from other foam products on the market. Many available foams may break down or melt as soon as they come into contact with the skin due to body temperature. What Foamix has done is develop foams that are physically stable when they come into contact with the skin. We like to compare our foams to the consistency of shaving cream. However, unlike shaving cream that turns into a lather once applied to the skin, our foams are designed to be quickly absorbed into the skin.
Q: How does Foamix's delivery vehicle differ from other topical medications for acne?
A: Many of the topical acne medications on the market come in the form of a gel or cream and primarily contain ingredients, such as a retinoid or benzoyl peroxide. If approved, FMX101 has the potential to be the first topical minocycline foam for the treatment of acne. In addition, we believe our foam vehicle is easy to spread, readily absorbed, gentle, and does not leave a heavy residue on the skin.
Q: Oral minocycline has been around for decades. Why is it now being made into a topical formulation for the treatment of acne?
A: Minocycline is a widely used and effective oral antibiotic for the treatment of acne, but its side effects can limit its use. As an oral systemic therapy, it is associated with adverse side effects, such as headaches, dizziness, vertigo, fatigue, nausea, and photosensitivity. Dermatologists typically prescribe oral antibiotics when topical medications are not sufficient to treat the patient's acne. However, there has been a push by the American Academy of Dermatology to limit the use of oral antibiotics for the treatment of acne. Though oral antibiotics are effective, many people are concerned about their side effects especially if repeatedly used over time.
For years, researchers have been trying to develop minocycline into a topical form but have been largely unsuccessful. Minocycline is a fairly unstable molecule that will degrade quite rapidly if exposed to many of the components typically used in topical formulations, which may be why it has remained available only as an oral administration. Until now, researchers have struggled to develop a chemically and physically stable topical minocycline product, since standard delivery vehicles could not support the active drug. Our foam does not contain the components found in other topical formulations that historically have led to degradation. We identified the unmet need and developed an innovative foam compatible with minocycline.
Q: Can you tell us more about your drug development status to date and what we can expect from Foamix in the near future?
A: Foamix is using its proprietary foam technology to develop a full pipeline of drugs that are delivered locally and thus have the potential to be safer, better-tolerated, and effective treatment options for dermatologic diseases. FMX101, a 4% minocycline topical foam, is our lead product candidate. Acne is the most common skin condition in the US, affecting ~50 million people of all ages and ethnicities, a significant unmet need. We submitted our NDA for FMX101 at the end of last year, and the FDA has established a PDUFA action date for this October.
Our second lead product candidate is FMX103, a 1.5% minocycline topical foam for the treatment of moderate-to-severe papulopustular rosacea. Rosacea is a chronic skin disorder that is characterized by facial redness and inflammatory lesions, afflicting more than 16 million people in the US. We recently completed our two pivotal Phase 3 studies for FMX103, as well as a long-term safety study. Our plan is to file an NDA for FMX103 around mid-year. Finally, we are preparing to initiate a Phase 2 study in acne for our first topical combination product. We refer to this product as FCD105, and it is a combination of the retinoid adapalene and the antibiotic minocycline in a foam formulation. Adapalene is one of the most widely used retinoids in the treatment of comendonal acne. By combining both minocycline and adapalene, we believe this product could further address unmet needs of patients who suffer from acne.
Q: How do you see Foamix's proprietary foam technology adding value to a potential partner, licensor or acquirer?
A: We have evolved from being a company that focused primarily on developing products for other major pharmaceutical manufacturers to a fully integrated company. We strategically shifted our primary focus to developing our own products that we can eventually market and distribute ourselves in the US. However, we still value strategic partnerships and would certainly be open to those with the right partners. Our collaboration with Bayer Health Care is a good example. Together with Bayer, we developed Finacea® foam for the treatment of mild-to-moderate rosacea. The composition of this foam product is very different from FMX101 and FMX103, and was developed to deliver a different active molecule, azaleic acid, to the skin via one of our proprietary foam platforms. The approval of Finacea foam was an important milestone for Foamix, as it was the first prescription product developed using our technology to be FDA approved for sale in the US. In September 2018, LEO Pharma A/S acquired the worldwide rights to Finacea foam from Bayer.
With FMX101, we took a historically unstable active molecule, minocycline, and developed an innovative topical formulation that we progressed through the clinic and have now submitted for marketing approval. We are excited about potential partnership opportunities that our foam platforms may have to offer.
To view this issue and all back issues online, please visit www.drug-dev.com.