EXECUTIVE INTERVIEW – Emergent CDMO: Making the Impossible, Possible for Biopharma Innovators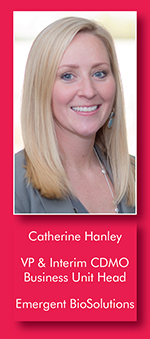 The path from biotherapeutic or vaccine concept to market is a demanding one that requires a combination of resources, experience, capacity, and commitment. Engaging with the right contract development and manufacturing organization (CDMO) partner at the right time can get you from where you are to where you want to be. Having an experienced and knowledgeable team by your side can make all the difference, especially when navigating the complexities of drug development and manufacturing.
Emergent BioSolutions' mission is to protect and enhance life through innovation. Throughout the past few decades, Emergent has developed, manufactured, and delivered therapeutics and vaccines throughout the world to tackle the most serious health threats. Emergent's CDMO business draws on this experience to have supported the development and manufacture of over 40 commercial and more than 200 clinical programs for their clients. As a dedicated and supportive CDMO solutions partner, clients can leverage Emergent CDMO's diverse technology platforms, customizable solutions, and experience to support the clinical and commercial successes of their molecules.
Drug Development & Delivery recently interviewed Catherine Hanley, Vice President & Interim CDMO Business Unit Head at Emergent BioSolutions, to discuss the company's plans for current and future CDMO operations and client partnership opportunities.
Q: Emergent CDMO is an embedded business unit within Emergent and has been growing steadily over the past few years. What was the motivation behind leveraging Emergent's development and manufacturing capabilities externally?
A: We recognized a unique opportunity to partner with some of the biggest innovators in biopharma to support bringing their molecules to market. We have a long history of developing and bringing therapeutics and vaccines to market, so it was a natural fit to grow into a service provider, sharing this experience and applying our expertise throughout the drug development lifecycle from development services to drug substance and drug product manufacturing.
Our knowledge and technical expertise in working with numerous diverse and complex molecules allows us an opportunity to provide individualized and integrated offerings and tailored approaches for a variety of products. Our unique value lies in the flexibility of our capacities, capabilities, and scalable offerings for a broad range of technology platforms. Clients work with us to meet their product goals and aggressive timelines from early phase to commercialization.
Q: What differentiates Emergent CDMO from its competitors?
A: Emergent has a strong foundation of technical expertise working on complex science. We have a strong track record for developing, manufacturing, and delivering our own innovative vaccines and biotherapeutic products to combat public health threats and infectious diseases, which relies on dynamic solutions like speed, flexibility, and innovation. We understand first-hand what it takes to bring a drug from development through to commercialization, and there's no substitute for that experience.
Our CDMO business leverages the talent, capabilities, and expertise from across the organization to support the development and manufacturing needs of our biopharmaceutical customers. Across the company, in addition to a tremendous team of manufacturing science and technology experts, our technical and compliance professionals have extensive experience, and stand ready to support our customers though the challenges of scaling-up and manufacturing their clinical and commercial programs.
We are not simply an embedded CDMO, but instead we are an integrated CDMO, built on Emergent's existing foundation. We have the knowledge to help our clients anticipate what's coming next, the infrastructure and processes to help adapt, and the expertise to provide the kind of insights that can help avert unnecessary and costly delays. This positions us to be able to focus directly on our clients and their successes, and to be ready for changing needs.

Q: How are you applying those strengths as a development and manufacturing partner?
A: Our development and manufacturing facilities in North America and Europe are strategically located in close proximity to our pharmaceutical and biotechnology customers. Each site provides its own unique set of strengths and experience, allowing us to meet our clients' diverse drug program needs.
Our Center of Excellence for Development Services is located in Gaithersburg, MD. The Development Services team specializes in formulation, process, and analytical method development, including Biosafety Level 2 (BSL2) capabilities for both drug substance and drug product development and scale-up needs.
With locations in the US, Canada, and Switzerland, our five drug substance facilities specialize in our differing technology platforms, providing innovative, flexible, and customizable biotherapeutics and vaccine manufacturing, including single use and disposable technologies.
Our three North American drug product manufacturing facilities provide the manufacturing capacity, equipment flexibility, including lyophilization, isolation technologies and terminal sterilization, visual inspection capabilities, and packaging and labeling services to provide aseptic fill/finish services for our clients' drug product from clinical programs through to commercialization.
Q: How are Emergent's current technologies and platforms influencing your business strategy?
A: Our development and manufacturing teams have extensive experience and expertise to support our client's needs for a wide range of platforms and technologies, including mammalian, microbial, viral, and plasma protein-based biotherapeutics and vaccines. Recently, we began providing process and viral vector development services for gene therapies.
We offer a complete range of process development capabilities from early testing quantities to developing robust, scalable, and transferable processes for cGMP drug substance and drug product manufacturing. Our analytical team customizes phase-appropriate testing to the required needs of our clients' molecules, providing comprehensive understanding and characterization during each milestone of development and commercialization.
Additionally, our drug substance facilities house the capacity and capabilities in cGMP upstream and downstream manufacturing, including the use of single-use bioreactors (SUBs) and fermenters and a state-of-the-art BSL3 manufacturing suite, allowing us to meet our client's needs as they evolve, from clinical development to commercialization.
We offer a comprehensive range of drug product formulation and aseptic filling in vials and pre-filled syringes in various configurations to address both viral and non-viral manufacturing needs from early-stage clinical products to late-stage commercial products. We also offer cGMP lyophilization in conjunction with our fill/finish capabilities.
We pride ourselves on being a truly integrated CDMO, and by providing customizable service offerings, capabilities, capacity, along with our experience and expertise, we are able to offer molecule-to-market biologics development and manufacturing services, with a specific focus on our clients and their successes.
Q: Is there anything that Emergent CDMO is doing to streamline tech transfer activities for clients' products or processes?
A: Earlier this year, we introduced our rapid start and scale manufacturing program, which helps our clients reach their next milestone quickly, without sacrificing quality or reliability. In 90 days, we can go from project inception to manufacturing by providing seamless tech transfer and an experienced and dedicated project management team.
With this program, projects are successfully onboarded and a client's first GMP fill can be completed in 90 days, supporting even the most rigorous timelines. Our experienced teams from analytical and tech transfer to project management, manufacturing, supply chain, and procurement work in tandem to expedite manufacturing timelines by finding solutions to challenges and reducing manufacturing variables. Recently, for a client using our 90-day rapid start and scale, we were able to complete a tech transfer in record time – putting their project ahead of schedule.
Q: Looking ahead, what growth opportunities is Emergent CDMO pursuing for 2022 and beyond?
A: In 2020, Emergent announced a $75-million investment into its Canton, MA, drug substance facility to increase the campus footprint and expand its manufacturing capabilities into viral vector-based gene therapy. This investment will include a state-of-the-art, multi-suite with manufacturing capacity up to 1000 L in scale. The expansion bolsters our integrated CDMO service offering for development and manufacturing of viral vector-based gene therapies.
In addition, we've also been significantly enhancing our drug product aseptic fill/finish capacity and capabilities at several sites. This year, our Camden facility (drug product manufacturing site in Baltimore, MD) began manufacturing operations with a new state-of-the-art Groninger® FlexPro 50. The FlexPro 50 utilizes isolator-based technology for aseptic processing of pre-sterilized syringes, cartridges, and vials and can support liquid or lyophilized products.
Our viral drug product facility in Rockville, MD, is currently undergoing a 58,000-sq-ft expansion that will include a state-of-the-art high-speed fill/finish line with fully integrated isolator technology and an automated inspection, labeling and packaging line, enhancing our capabilities in large scale fill/finish manufacturing of viral biotherapeutics and vaccines.
Finally, our development and manufacturing site in Winnipeg, Manitoba, Canada, houses a state-of-the-art Vanrx® SA25 Aseptic Filling Workcell, providing clients with a high level of sterility assurance through an automated handling, filling, and closing process, designed to minimize line losses. u
To view this issue and all back issues online, please visit www.drug-dev.com.