EXECUTIVE INTERVIEW – Emergent CDMO: A Molecule-to-Market Partner for Complex Biologics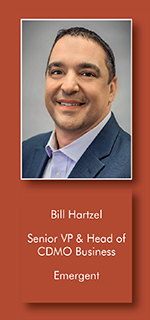 For nearly 25 years, Emergent has developed, manufactured, and delivered their own innovative vaccines and biotherapeutic products to combat public health threats and infectious diseases, thereby building a strong foundation of technical expertise in working with complex molecules and delivering them to the market.
Drawing on this fundamental experience, its contract development and manufacturing organization (CDMO) business has supported the development and manufacturing of over 40 commercial and more than 100 clinical biologic programs for their biopharma partners.
 Drug Development & Delivery recently interviewed Bill Hartzel, who joined the company in March 2022 as Senior Vice President and Head of CDMO Business, to discuss the company's plans for current and future CDMO operations and client partnership opportunities.
Q: What is biopharma looking for in a CDMO, and how does Emergent CDMO play a role?
A: Biopharma's product pipelines for novel and next-generation biologics-based therapeutics and vaccines are continuing to grow as we see more drugs being developed for rare and orphan indications. Many of these new molecules are coming from smaller, "virtual" organizations, and as a result, biopharma companies continue to seek new opportunities to leverage the industry's expertise, engaging outsourcing partners to support their process and formulation development activities to enhance and accelerate their drug substance and drug product manufacturing.
To meet the development and manufacturing needs for these novel biologic platforms, biopharma innovators are looking for the right fit for their products – the relevant expertise, integrated capabilities, and flexible capacity in place to support the development, technology transfer, scale up, and manufacturing of these novel molecules. This is where Emergent CDMO stands out as a strategic partner for the development and manufacturing of complex biologics. Emergent CDMO provides valuable insight and perspective, based on our proven expertise from developing and commercializing our own novel products.

Foundationally, the CDMO and biopharma partnership is based on trust, communication, and delivery. These are three intertwined pillars at the heart of a strong CDMO partnership and what biopharma customers are seeking. With any development or manufacturing program, challenges can arise, and unexpected outcomes may occur. And while these events may not be ideal for either party, a true partnership is forged by overcoming these hurdles together. High levels of transparency and communication not only help build a strong understanding of the specific program needs, but also help overcome any obstacles that may occur during development and manufacturing.
Strong collaborations are constructed through transparent communication, program expectation alignment, and importantly, consistent delivery on programs' expectations. Partnering with an experienced CDMO that understands the challenges and demands of bringing a product to market, as well as having deep technical and regulatory expertise with a range of technologies, processes, and products can offer advantageous guidance and solutions to accelerate the therapy to the market.
As a dedicated and supportive CDMO partner, clients can leverage Emergent CDMO's flexible capacity, integrated solutions, and experience to support the clinical and commercial successes of their molecules.

Q: What trends are you seeing in the industry?
A: What we are seeing, and what I'm excited about, are the changes in efficiency and productivity during development and manufacturing operations. The growth of novel therapeutics and vaccines are driving technological advancements and flexibility in bioprocessing, such as productivity enhancements through automation, isolator technologies, and the continued adoption of single-use systems.
In addition to bioprocessing enhancements, we are also seeing new drug formulations to improve therapeutic efficiency and drug delivery, such as lipid nanoparticles (LNPs), which are requiring advanced expertise and solutions for the development, formulation, and manufacturing of these complex molecules.
In fact, to address these novel therapeutic manufacturing needs, we proactively invested over $150 million in capability expansions across multiple sites to provide additional drug product manufacturing automation and capacity. We have also invested in automated capabilities for biologics development. These investments have allowed us to meet the changing needs of our clients and provide much needed capacity for current and future market demands.

Q: Can you provide some additional detail on the recent expansions and investments?
A: These investments are in our core areas of the CDMO business. In development services, we have added several new high-throughput instruments affording robust development and optimization for drug substance and drug product process development and scale-up. A strong focus for us has been on maximizing automated systems for bioreactor optimization, as well as resin and membrane screening, which can accelerate the overall development timeline for our clients. Our investments in pilot- scale lyophilizers, nanoparticle formulation, and process development equipment have allowed us to meet the growing industry-wide demand for lyophilized and nanoparticle products, such as LNP formulations for mRNA products.
On the drug product side, we have significantly enhanced our aseptic fill/finish capacity and capabilities. Our three new isolator-based, flexible fill lines provide enhanced sterility assurance with minimal operator interventions and ready-to-use (RTU) pre-sterilized vials and syringes or an integrated vial washer and dryer. The lines have distinct capabilities: the FlexPro 50 line features an integrated, auto loading/unloading lyophilizer, the Integra line provides biosafety level 2 (BSL 2) containment for viral products, and the VanRx line houses a fully contained, robotic system to support the production of small-batch size next-generation therapies. In addition to these fill lines, we have added two automated visual inspection systems, a semi-automated visual inspection line, as well as a high-speed fully automated packaging line that includes labeling, cartoning, and serialization.
In drug substance, we continue to enhance our facilities and processes by leveraging single-use bioreactors (SUBs) and technologies during both process development and cGMP manufacturing activities, allowing for simplified scale-up and tech transfer while adding flexibility to meet our clients' needs as they evolve from development to commercialization.
Q: What makes Emergent CDMO different from other CDMOs?
A: Emergent CDMO is unique in this space given we are an integrated CDMO that's built on Emergent's existing foundation of development, manufacturing, and regulatory excellence. Being an integrated CDMO, we know what we need in a manufacturing network, how to build expertise and capabilities, and subsequently offer that to the market. Our experienced teams have the knowledge to help anticipate what's coming next, proactively communicate, and adapt to any changing needs. In addition, we have the experience needed to provide process and infrastructure insights that can help avert unnecessary and costly delays. This distinctly positions us to be able to focus directly on our clients and their successes.
Our CDMO business leverages the talent, capabilities, and expertise from across the organization to support the development and manufacturing needs of our biopharma clients' complex biologics. In addition to a tremendous team of manufacturing science and technology experts, our quality, regulatory, and compliance professionals have the experience required to support our customers though the hurdles of development, scale-up, and change management of the manufacturing process of their clinical and commercial programs.
Another unique position is Emergent's history and long-standing business in delivering protections against public health threats. This experience is particularly beneficial for biopharma clients whose products are supported by governments and NGOs to meet a critical medical need or address public health threats. And with a growing demand for drugs that focus on public health threats and the recognized need for pandemic preparedness, having that background in working with governments throughout the world is not a typical proficiency found at a traditional CDMO and is an area we can provide valuable expertise.
The unique expertise, knowledge, and systems designed to handle the rigorous requirements of working with different governments and other agencies coupled with our technical knowledge in working with complex biologic molecules allow us an opportunity to provide integrated offerings and tailored approaches for a variety of viral and non-viral products to support our clients' diverse needs. We understand first-hand what it takes to bring a drug from development through to commercialization, and there's no substitute for that experience.
Q: How is Emergent CDMO positioning itself as a strategic partner?
A: As we move past the urgent pandemic response required for COVID-19 vaccines and therapeutic production, we are able to take a step back and evaluate how we can become an even stronger strategic CDMO partner for our current and future biopharma clients. This includes monitoring the market trends and changes in the regulatory landscape and evaluating our internal capabilities and processes to support the growing needs in the market.
In this new era, we will continue to leverage our proven expertise in viral and non-viral platforms to focus on simplifying the supply chain for our partners and streamlining the integration of our end-to-end CDMO solutions for molecule-to-market biologics. Our end goal as a strategic CDMO partner is to accelerate our biopharma clients' complex molecules to market through our demonstrated expertise and integrated capabilities: from process development to commercial production.
To enhance these capabilities, we will be focusing on harmonizing our processes and systems across our CDMO manufacturing network, allowing us to provide consistent quality processes and business operations to our clients. This approach, with integration across drug substance and drug product, serves to benefit our clients as their product moves through the molecule-to-market pathway: from development services to drug substance to drug product manufacturing.
Our ultimate goal as a CDMO partner is to provide trusted, quality-focused operations that seamlessly deliver on the aligned expectations, allowing our clients to fully focus on the patients they serve. Thus, fulfilling both companies' missions: to bring life-saving, life-extending therapies to patients around the world.