EXECUTIVE INTERVIEW – Credence MedSystems: Implementing a Flexible Manufacturing Line to Deliver Innovation in Drug Delivery to the Pharmaceutical Industry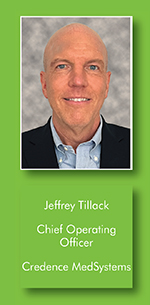 The demands on injectable drug delivery systems are increasing. Baseline requirements continue to include successful delivery of the dose, ease-of-use, and safety, but as the complexity of molecules increases and focus areas of pharmaceutical manufacturers expand, these needs are being complemented by factors related to sustainability, cost of ownership, and platform flexibility. Credence MedSystems has developed a platform of drug delivery systems that addresses an array of unmet needs and is now implementing a manufacturing capability with the flexibility to produce numerous configurations of its flagship products. Drug Development & Delivery recently interviewed Jeffrey Tillack, Chief Operating Officer at Credence MedSystems, to discuss the challenges being addressed by Credence's innovative technology and the role Credence's new Flex Line will play in the company's scaling strategy.
Q: Can you share a bit about Credence and the path the company is on?
 A: Thanks for asking. Credence is a privately funded company that was started in 2013, so we are coming up on our tenth year. The company is located in the heart of Silicon Valley and is dedicated to bringing that innovative spirit to the pharmaceutical industry. We started with a blank sheet of paper and the fundamental idea of incorporating our technology with existing primary package components to create value-added delivery systems that solve challenges in injectable drug delivery. We call this Innovation Without Change because we enable pharma to implement our innovative solutions while leveraging existing supply chain preferences and established processes.
Last year, we announced we had secured almost $40 million in funding, which included strategic investments into Credence by Novartis Pharma and Molex Ventures. That funding and those collaborations have enabled us to accelerate the trajectory of the company as we are now implementing the next phase of our manufacturing scaling plan, which we call the Flex Clinical Line.

Q: You talk about solving challenges in injectable drug delivery. What challenges and unsolved problems is Credence addressing with your technology?
A: Credence's flagship products include the Credence Companion Safety Syringe System and the Credence Dual Chamber Syringe System. These products address challenges across the range of constituents from the user to the pharmaceutical manufacturer.
For the user, who may be an HCP or a self-injector, it's about making administration of the dose easier and safer. For example, the Companion Syringe System turns an existing syringe barrel into a delivery system with end-of-dose cues and integrated, passive needle safety. Numerous user studies have demonstrated preference for Companion over alternative approaches, driven in part by the automatic needle retraction at the end of the injection and the accompanying audible and tactile click. That click communicates that the dose is complete, the needle is protected, and the syringe is prevented from reuse.
The Dual Chamber Syringe System enables complex drug products, which require separation of drug and/or diluent components during storage, to be administered in a fashion that matches as closely as possible that of a standard prefilled syringe. The Dual Chamber platform can be used for reconstitution or for sequential injection of two liquids. In the case of reconstitution, the user simply pushes on the plunger rod to transfer the diluent from the rear chamber so that it can mix with the lyo cake, powder, or liquid in the front chamber. Then, once the solution is mixed, the user can inject. For the sequential delivery of two different liquids, the user simply pushes on the plunger rod. Two liquids that were stored separately are injected one after the other with a continuous push. In either configuration, the completion of the injection activates the same safety mechanism seen in the Companion system.

Shifting focus to the pharmaceutical manufacturer, these systems enable pharma to provide their end-users with an improved, easy, and safe way to deliver their critical medicines, thus driving differentiation for their products in a crowded market. Beyond this, they address other significant challenges and corporate objectives. By integrating the Companion safety mechanism and the Dual Chamber mixing mechanism into the syringe barrel, operational efficiency is enhanced. Secondary manufacturing processes are eliminated, along with the associated scrap and additional capital expenditures that result from those additional processes. Pharma's sustainability efforts are supported by the reduced environmental footprint of these systems. For example, when compared to an alternative add-on safety device, Companion reduces the plastic consumed by 62%, reduces the weight of added components by 58%, and reduces the footprint by 67%. These operational and sustainability advantages lead to total cost of ownership advantages.
In addition, Dual Chamber replaces the traditional kits composed of multiple vials, syringes, needles, adapters, and other ancillary components, which require multiple complex use steps. The benefits of the Dual Chamber include increased ease and speed of preparation and administration, reduced risk of contamination and dosing error, reduced wasted drug from vial overfill requirements, and less dependance on healthcare professionals for administration, storage, and disposal. All of these advantages also contribute to a better, safer user experience and a reduction in total costs per dose administered.
For both pharma manufacturers and the syringe manufacturers, these systems provide broad platform flexibility to address the needs of different applications and user populations. A wide array of needle gauge/length and syringe barrel options are possible. For instance, Credence is working on Dual Chamber applications in syringe barrels ranging from 1 mL long to 20 mL, in both glass and polymer barrels, either with a preattached retracting needle or with a needleless luer lock front end. Companion applications exist in the common 1 mL long and 2.25 mL sizes as well as in new formats such as a 3 mL pre-attached needle configuration. Credence technology allows our pharma customers and syringe barrel manufacturers to get more out of the already existing portfolio of offerings.
Q: What are Credence's plans for scaling the manufacturing of these delivery systems, and where is Credence in that process?
A: Over the past years as these systems have been in development, Credence has supplied our Pharma customers from our pilot manufacturing capability in California. This has enabled us to support development activities such as technical evaluations, pilot stability studies, human factors evaluations, etc. We are in the midst of implementing the next step in scaling, which is the Flex Clinical Line to significantly increase our capacity off of a validated GMP line. At the time of this interview, that line is going through FAT (factory acceptance test) at the equipment manufacturer, and it will then be shipped to its final destination. Soon after, Credence will initiate the commercial production line, which will produce at a capacity of about 50 million units per year, allowing us to meet the large demand at market competitive price points.
Q: The Flex Clinical Line is a big step for Credence. Can you tell us about its capabilities and how it will allow you to meet your customers' needs?
A: It is a big and important step in the company's trajectory. As I mentioned, the investment round and great strategic collaborators have enabled us to take this step. The line was built by Mikron in their Denver facility on their Minicells platform. It will be run by our contract manufacturing partner Phillips-Medisize in their Letterkenny, Ireland, facility. Phillips-Medisize is a Molex company and long-term collaborator with Credence. The line will be up and running in Q4 of this year. It will run both our Companion and Dual Chamber product lines with an annual capacity of approximately 500,000 units per year, depending on product mix.
As the name implies, this has been designed to be highly flexible to produce a broad array of the configurations enabled by our technology. In fact, the line will produce over 100 variations of Companion and Dual Chamber, with a range of needle gauges, needle lengths, and barrel sizes. The line will be in a clean room and, once the appropriate validations are complete, will be able to supply for-human-use product. With this flexibility and capability, the Flex Clinical Line is the perfect fit for what Credence and our customers need today; we will be able to supply meaningful volumes across a wide array of products to support our customers in development stages from technical evaluation and human factors…to stability and validation…to supply for clinical use in Phase 2 and Phase 3 programs.
Q: Why did Credence decide to partner with a Contract Manufacturer rather than build your own capability in house?
A: This is an important question. Certainly, we could have done the latter; our team has experience building greenfield manufacturing. But partnering with a CMO really made more sense for Credence and our business model. Fundamentally, the expertise exists to manufacture our products, and therefore, building from the ground up did not make financial sense. But just as important, we are doing everything we can to facilitate Pharma's implementation of our technology. This applies to our design philosophy of integrating with industry standard syringe barrels and components, and it applies to our manufacturing philosophy. By working with an established global partner like Phillips-Medisize, Credence is able to mitigate risk in the supply chain for our Pharma customers. It gets back to the concept of Innovation Without Change. Delivering innovative technology that addresses unmet challenges in drug delivery, and doing so in an implementable way that leverages existing products and processes, is what sets Credence MedSystems apart.