EXECUTIVE INTERVIEW – Catalent: Developing & Delivering Billions of Doses of Drugs Every Year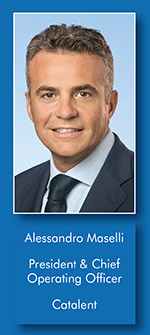 With a history going back more than 85 years, Catalent has grown from its roots in Robert Pauli Scherer's invention of the "rotary die" process for softgel encapsulation to become a leading development and manufacturing provider. Its business has now evolved to enable its partners in pharmaceutical, biotech, and consumer health to optimize product development, launch, and commercial supply of nearly 7,000 products to patients around the world. Each year, the company produces more than 70 billion doses of medicines and consumer health products for more than 1,000 customers. Drug Development & Delivery recently interviewed Alessandro Maselli, President and Chief Operating Officer of Catalent, about its approach to drug development partnerships as he prepares to become the company's new President and Chief Executive Officer on July 1, 2022.
Q: What are the biggest changes in terms of the industry as a whole that you have witnessed as a company throughout the past decade?
A: There are three changes I consider most significant. The biggest we've seen is the nature of our customers and their expectations of Catalent as a partner, so we've continuously evolved and adapted to meet their needs – while anticipating the future demands of the market. Whereas 10 years ago, late-stage drug development was mostly the preserve of big, multinational pharmaceutical companies that would acquire clinical programs from smaller biotech companies once proof of concept had been established, it is now far more common for smaller and virtual innovators to use development and manufacturing partners to retain project ownership for much longer, occasionally through to commercialization.
The nature of drug projects has changed too. The pipeline is large and healthy, but it is rare for any treatment to have the potential of a "blockbuster" in the way we have historically understood, and the molecules in development are more frequently challenging, diverse, and targeted. Oral dose remains the gold standard, but small molecule development is now often focused on complex drugs, many of which have poor solubility and bioavailability, so delivering them orally requires specialized experience. Biologic drugs are now well-established, but there are efficiencies still to be gained in their development and production, and the emergence of new modalities – such as mRNA drugs and cell and gene therapies – require more specialized analytical and development expertise and capabilities, and often bespoke and less efficient manufacturing solutions.

Finally, given that smaller companies have limited internal resources, and often little or no manufacturing assets, the role of a contract development and manufacturing organization (CDMO) has changed from a purely transactional partner into being a strategic development partner – offering expertise and guidance throughout the development stages toward commercialization. As a result, we work closely with our partners to understand their goals and provide frequent input and guidance on the precise development path and the manufacturing technology needed to deliver the drug to the patient. This requires mutual trust, so deep relationships with proven partners and an understanding of customers' individual needs has become more important than ever.
Q: How has Catalent evolved to meet these changing requirements?
A: We've grown significantly over the past decade, in both the number of people we employ and the areas in which we work. We have invested billions of dollars in both organic and inorganic assets, and are continually enhancing our physical sites, and the expertise that we can offer to customers, to ensure we provide broad and deep support for a vast array of drug development projects.
The importance of our people's expertise cannot be overstated. We're extremely proud of the high-caliber talent we're able to attract and, just as important, the learning and growth opportunities we provide our people. It's no exaggeration to say that without our highly skilled, dedicated workforce, all the technology in the world still wouldn't be enough to meet our customers' needs.
Our global workforce now exceeds 19,000, including 2,500 scientists and technicians on four continents, and we launch some 150 new products every year with our customers. It is vitally important for us to share the knowledge and experience we gain as we work on these programs, so we've invested in creating tools and specialized networks, in order that our experts can learn and collaborate – regardless of where they are located. This collaboration takes many forms, from in-house learning to sharing solutions for specific circumstances, and we've been able to adopt proven techniques and practices to bring rigor to the development and manufacture of new modalities.

We've also focused on investing in the novel technologies, capabilities, and capacity necessary to maintain Catalent's leadership position. To meet the growing demand for advanced therapeutic modalities, we've broadened our scientific expertise to include biologics, antibody-drug conjugates, cell and gene therapies, and mRNA-based therapies. We actually entered the mRNA market before the explosion in interest created by some COVID-19 vaccines so we were well-positioned to serve customers working in this area. That's because we continually evaluate emerging technologies, with a view to not only how they will assist in early development, but also how the dose form could be scaled to commercial volumes. This means that, when the demand presents itself, we are able to immediately take the next steps and transform a concept into a viable prospect, which reduces the risk of unnecessary cost or waste when pursuing with difficult-to-scale or novel dose forms.
Q: From a business perspective, how did COVID affect Catalent's strategy, and how will these changes direct its business plans in the future?
A: The pandemic came at a time when Catalent was in the process of expanding capacity at several sites, which allowed us to meet an immediate demand to support more than 100 COVID-19-related vaccine and therapeutic programs. We were able to accelerate some of these expansions and make further investments, making us a strategic partner for many customers that could play a critical role in battling the pandemic.
At same time, the high utilization of these assets because of the high volumes needed for vaccines and therapies allowed us to reinvest in additional capabilities and growth opportunities beyond pandemic-related volumes.
We made investment decisions with a rigorous but nimble approach, identifying areas that could be in high demand after the pandemic, such as pre-filled syringes and for fill and finish, commercial-scale cell therapy and flexible biomanufacturing suites for viral vectors, as well as mammalian cell manufacture.
It's my belief that the main legacy of the pandemic for our industry will be CDMOs are viewed not only as essential parts of the healthcare ecosystem – which we of course are – but more as true strategic partners now, enabling companies to achieve more than previously thought possible.
Q: What is the potential of cell and gene therapies, as we seem to have accelerated very fast in this area?
A: Cell and gene therapies offer patients the prospect of longer-lasting and potentially permanent treatments for diseases that may otherwise lead to a lifetime of debilitation or early mortality. We've witnessed huge growth in research and development in this area, fueled by recent regulatory approvals and Fast Track designations.
Catalent has followed a bifurcated approach to meet customers' needs in this area. First, for gene therapy, we waited until the technology had matured and there was greater validation of the use and development of this therapeutic modality before entering the market at scale. We acquired Paragon Bioservices and its proven adeno-associated virus (AAV) technology in 2019, which allowed us to forgo any delay in building infrastructure, and gave us access to established partner programs at various developmental and clinical stages. I'm proud to note that the facility near Baltimore we acquired then was the first CDMO location approved by the FDA for production of a commercial gene therapy.
For cell-based therapies, we entered slightly earlier in the maturation cycle, as the pipeline was already well established and the infrastructure needs were not as demanding. We acquired MaSTherCell in Gosselies, Belgium, in 2020, and have subsequently built a cell therapy campus there through the acquisition of other nearby facilities and the development of complementary services. We recently acquired a commercial-ready facility in Princeton, New Jersey, from Erytech Pharma, through which we added multiple cGMP manufacturing suites as well as laboratories for analytical, quality control, and microbiology testing.
Additionally, we saw a significant opportunity to enter and rapidly scale our capabilities in plasmid DNA manufacturing, both at clinical and commercial scale, through additional acquisitions at our Gosselies campus and organic investment at one of our Maryland facilities.
Q: How can technologies such as those mentioned in Pharma/Bioprocess 4.0 accelerate drug development?
A: Whether we call it industry, pharma, or bioprocess 4.0, "digital integration" has been referred to as the fourth industrial revolution – bringing together business processes with digital automation. Innovation can be challenging in our highly regulated environment, but, as the pandemic further emphasized, fast decision making and adaptability are critical to driving process improvement and eliminating waste. Catalent can use its size and scale to advantage, integrating not only at site level, but also across its network, and ultimately with its supply chains and customers, so they all have common data from which to make decisions. The challenge to the industry is in moving from custom integration toward a standardized approach. Our aim, and that of many of our customers and peers, is to run our business using real-time data and remove delays associated with paper-based systems. In the near future, we will add analytical tools to extrapolate data trends and artificial intelligence to optimize processes. One example of this would be using tools in biomanufacturing that continually monitor bioreactor conditions and can make automatic adjustments to optimize production yields.
Q: What do you see as the biggest disconnect /challenge in the industry at the moment, and how can a company such as Catalent look to bridge it?
A: As mentioned earlier, the role of CDMOs has changed from being contractors that customers used to "plug the gaps" in development for specific technical needs, or provide surge capacity, to partners that are a critical and strategic component in customers' plans.
New therapeutic modalities bring the great promise of treating and curing patients but, at same time, create new challenges for the industry in supplying them efficiently. Patient populations tend to be smaller, as do drug product volumes. New modalities also tend to rely on capital-intense technologies and assets and comparatively inefficient manufacturing processes. These dynamics pose significant challenges for innovators, which need to deploy capital for manufacturing assets efficiently. This is why working with the right CDMO partner has become so critical, one that can achieve the economies of scale necessary to make these treatments accessible and available to more patients, reliably and at speed.
Our ambition in the biologics and small molecules space is to be a crucial partner to maximize the chances of success, and support innovators throughout the clinical development and commercialization journey. We achieve this through the development and application of enabling technologies, such as our GPEx® Lightning technology, which significantly accelerates the development of stable cell lines and generates the highest titers of biologics, such as monoclonal antibodies. In addition, we are expanding our world-class assets across our global manufacturing network to offer our partners the capacity and capabilities to support products throughout their life cycles.
We seek to support partners of all sizes while offering all major drug development platforms. With our expertise and team of thousands of scientists around the world, we can work across and solve a full spectrum of development and delivery challenges, whether for a large pharma customer looking to build deep partnership structures to support multiple programs at various stages throughout the development and commercial route, or for a virtual company, with no physical assets and one drug candidate, looking for a partner that can add expertise and assist in development decisions and be flexible in a fast-moving process.
Although these paths can be different, we know that the end goal of all our customers is to provide patients with the very best drug treatment possible, and together, this is a goal we strive toward each day.