EXECUTIVE INTERVIEW – Cambrex: Providing Big Value in the Small Molecule Outsourcing Market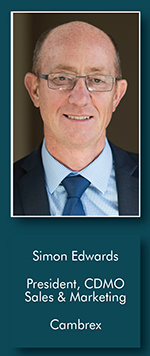 In today's market, most headlines tend to be focused on large molecules and can at times even hint that small molecules are dead. Although it may be true that much has changed since the first early chemical blockbusters, the popularity of small molecule drugs endures even to this day. As the global population continues to show little signs of slowing down, now more than ever we live in a medicine-focused society, and small molecules are at the cornerstone of it all. Existing in today's small molecule market requires flexibility and foresight as the trends shift and demand for outsourcing grows. Big Pharma is increasingly reducing its large investments into captive manufacturing facilities that age rapidly and are hard to maintain, whilst new small or virtual pharma companies lack the resources to dedicate to building or managing their own internal capabilities.
Cambrex, a contract manufacturing and development organization (CDMO) headquartered in the US with locations across North America and Europe, is committed to meeting these needs. The company provides pharmaceutical products, expertise, and technologies that accelerate small molecule therapeutics and has been in the business for nearly 40 years. Through recent strategic growth initiatives and the acquisitions of Halo Pharma and Avista Pharma Solutions, Cambrex now offers services and expertise from preclinical development, through to clinical Phase 1, Phase 2, and Phase 3 and into commercial-scale manufacturing for drug products.

Throughout the past 5 years, the executive team has been focused on making Cambrex THE small molecule provider of choice, and features locations in Europe (including Estonia, Sweden, UK, Germany, and Italy), Canada, and the US. Headquartered in NJ, with NC, IA, MA, and CO locations, the company employs more than 2,000 people and had 2018 net revenue of $532 million.
Drug Development & Delivery recently interviewed Simon Edwards, President, CDMO Sales & Marketing at Cambrex, to discuss the biggest trends in the small molecule outsourcing market.

Q: What has the past year looked like for Cambrex?
A: The past year has been active. Our team has focused in on a strategic transformation and expansion of capabilities across the full small molecule lifecycle to better serve customers. In 2018, we acquired Halo Pharma to expand formulation development and drug product GMP manufacturing, and in January 2019, we acquired Avista Pharma Solutions for early stage development and analytical services to support our existing drug substance and drug product expertise. These two acquisitions have allowed us to broaden and diversify our service offering in what is our continued mission to become THE leading small molecule company.
Not only did these investments significantly increase the customer base and funnel of projects, we are now able to partner with customers at any point or breadth across the whole lifecycle of small molecule drugs, from preclinical development through to commercial launch.
Q: What was the driver for the acquisitions, and how is integration going?
A: These investments were critical additions to our well-established active pharmaceutical ingredient (API) expertise to evolve with the industry and stay in step with customers who continue to seek more from their CDMO partner. The integration of Halo and Avista into Cambrex has allowed us to structure the business into three key offerings for our customers:
The drug substance offering incorporates the majority of the legacy Cambrex API business, including the development and manufacturing of innovator APIs; the scale-up and technical transfer of projects and analytical development; and specialist capabilities, such as handling of controlled and highly potent substances, continuous flow chemistry, biocatalysis, and solid state science.

The drug product offering features expertise in formulation and development of conventional dosage forms, including oral solids, liquids, creams, sterile and non-sterile ointments; as well as specialist capabilities, including developing and manufacturing highly complex and difficult-to-produce formulations, products for pediatric indications, and controlled substances.
Finally, with extensive analytical capabilities, such as solid-state chemistry, microbiology testing, cleanroom services, and material characterization added to our portfolio, we can support drug substance and drug product projects, or provide these as stand-alone services.
Following the integration of the two businesses into our global network, customer response has been extremely positive. We are now a truly world-class CDMO and will continue building on our platform of services and technologies.
Q: How has outsourcing (from a CDMO perspective) changed in the past 5 years?
A: As Big Pharma moves away from its reliance on a handful of blockbuster drugs to more specialized products serving smaller patient groups, they are faced with the prospect of trying to keep their large manufacturing facilities occupied or looking to divest or mothball old plants. We have seen these larger players outsourcing more of their projects in order to harness new manufacturing technologies that they currently do not have, as well as the small or virtual Pharma companies who lack any commercial manufacturing capability.
Q: What would you say to anyone suggesting that small molecules' days are numbered?
A: I believe these things just take time. I remember companies first heralding the arrival of monoclonal antibodies back in the 1980s. It has taken more than 30 years to get them to a point where they can be reliably manufactured and widely available to patients and even then some will argue they are only reserved for specialist care in the most serious diseases. I believe the same applies for other biological treatments, such as cell and gene therapies. There is no doubt they are emerging as life-saving medicines for previously untreatable diseases, but at the same time, there will always be a need for small molecules.
The market data clearly shows us that the small molecule pharmaceutical market is still big (pun intended) and continues to grow at the fastest rate seen in more than a decade. This is further fueled by a robust VC and PE funding environment for early stage companies and clinical programs leading to an increasing pipeline of new drugs.
From a commercial perspective, the FDA approved 42 small molecules in 2018, which is a 20-year high, and we continue to see more molecules moving between the clinical phases than ever before.
Q: What do you believe the future of small molecule outsourcing looks like? How can a provider remain competitive?
A: The size of the customer and their product portfolio will greatly impact what outsourcing looks like for them. We see that the smaller biotech and virtual pharma companies have little or no API development or commercial capabilities and will routinely outsource. For mid-size and big pharmaceutical companies, outsourcing small molecule API manufacture bridges internal gaps in capacity or capability, particularly when hazardous chemistry or specific technologies are required like with high-energy, high-potency, or controlled substance manufacturing. Based on industry and analyst projections, small molecule outsourcing is set to increase as more therapeutics are developed in smaller pharma companies at the same time as big pharma is increasing its spend in outsourced services.
To stay competitive, CDMOs need to offer flexibility in range of production (from kilograms to hundreds of metric tons) and have core technologies to accommodate the wide variety of customer projects.
From lab-scale to clinical-scale to commercial manufacturing, CDMOs must be able to adapt to the dynamic demands of the marketplace. Those willing to invest in technologies, such as continuous flow and high potency manufacturing facilities with a focus on quality, reliability, and flexibility, will see the greatest trajectory.
Q: How is Cambrex preparing for this future?
A: As a CDMO, success lies in the ability to serve the customer base and evolve with the industry. We must continually adapt and enhance our approach and resources to offer the most appropriate outsourcing solutions in terms of capacity, expertise, and technologies. This has been the principle behind Cambrex's investment strategy throughout the past 5 years. This approach enables our company to handle a wider variety of projects and chemistries while having the ability to be flexible in response to customer demands.
To view this issue and all back issues online, please visit www.drug-dev.com.