EXECUTIVE INTERVIEW – BIOVECTRA: mRNA & the Future of Pharma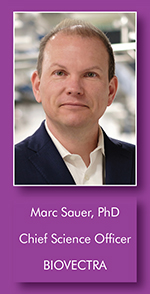 When Dr. Marc Sauer joined BIOVECTRA as a research scientist in 2006, the company of 60 was focused on small molecules and microbial fermentation. Today, at just shy of 600 employees, BIOVECTRA is a global CDMO positioned to serve pharmaceutical companies in the post-pandemic era of mRNA vaccines, therapeutics, and personalized medicine. Backed by a supportive culture, a strong team, and a location that allows for close partnerships with clients across the world, the future looks bright for BIOVECTRA and its new Chief Science Officer, Dr. Sauer.
 Drug Development & Delivery recently spoke with Dr. Sauer about his new position, growth at BIOVECTRA, and how he believes mRNA technologies can best be leveraged to improve the lives of patients.
Q: You were recently named the first Chief Science Officer at BIOVECTRA. What was behind that move, and what are your goals in this new role?
 A: The creation of this new role reflects the company's mission to not just advance our science program but to truly provide a seamless experience for our clients and partners by combining our scientific competencies under a single umbrella. BIOVECTRA has been serving pharma for more than 50 years, having started in small molecules and diagnostic reagents. Today, as a global CDMO, we offer cutting-edge technologies and end-to-end experiences to our clients for small and large molecules, complex chemistry, biologics, and soon, plasmid DNA and mRNA therapeutics. As we onboard these new capabilities, BIOVECTRA wants to ensure we can continue to offer the experience and responsiveness that our customers expect from us.

My initial focus as CSO is to create an integrated, one-stop shop for tech transfer, process development, and scale-up by bringing all science activities together into one office. This includes chemistry, biologics, analytical and formulation process science with manufacturing science and technologies. Our clients will be able to work with my team from quotation, to clinical development, to commercial manufacturing for their projects, ensuring complete knowledge transfer along the way.
My tenure at BIOVECTRA has prepared me well for this. I'm a chemist by training, completing my PhD in Physical Chemistry at the University of Basel in Switzerland. I have more than 20 years of pharma experience in both Europe and North America and have been with BIOVECTRA for more than 16 years. I started as a research scientist and quickly moved into leadership positions in analytical development and quality before spending 6 years as Head of Quality Control. Eight years ago, I was named VP of R&D/General Manager, and now Chief Science Officer.
Q: BIOVECTRA has made several major investments lately. Can you tell us what's been happening and why?
A: We're building and expanding quite significantly at the moment. In 2014, we acquired a new facility in Nova Scotia that has become a dedicated headquarters for biologics with large-scale commercial bioreactor capacity ranging from 3,000-17,000 liters. We've partnered with ABEC, who designed, manufactured, and are currently installing a 100-1,000-liter single-use microbial fermentation suite at the site. This will give our customers greater flexibility, faster turnaround, and higher capacity utilization.
Our new biomanufacturing and mRNA vaccine expansion in Charlottetown broke ground in April of this year. This is a $79.6 million expansion that will enable us to produce up to 160 million doses of mRNA vaccines per year and prepare and package 70 million fill-finish doses per year for commercial distribution.
In addition, we just recently signed the lease for a 32,000-sq-ft facility in Halifax, which will become our process development and testing Center of Excellence for biologics, plasmid DNA, and mRNA, including cell line development.
There's a lot happening, and it's very exciting to see BIOVECTRA expand and build upon what we've been offering for the past 50 years. Our new capabilities and scale will add more value to our client relationships, allowing us to become an even better partner.
Q: You were remarkably well-positioned for working with mRNA just as the COVID-19 pandemic shined a light on its capabilities. How were you focused on mRNA prior to COVID?
A: As a company, our focus was always on growing our capabilities in an adjacent matter, looking at how to build upon what we already do and know. In our early days, we focused on providing diagnostic reagents and enzymes before moving into regulatory starting materials and active pharmaceutical ingredients. In the early 2000s, we added microbial fermentation to our offering, as well as highly potent APIs and pegylation reagents. As time went on, we began focusing on biologics and complex small molecules.

We've certainly evolved and expanded our scientific capabilities throughout the years, and the unfortunate pandemic offered us an opportunity to pursue plasmid DNA and mRNA.
Even though this is a new direction for us as a company, it's not completely foreign territory to us. Moving into pDNA makes a lot of sense for us, given the history we have in microbial fermentation. We're building upon the capacity we already have and developing the capabilities we've built throughout the past 5 decades in this space. Rather than a big leap into the unknown, we're simply shifting into adjacent fields that make sense for us as a company.
Q: Now that mRNA is more mainstream, how are you able to help pharmaceutical clients leverage this technology?
A: This direction into plasmid DNA and mRNA has absolutely been fueled by the pandemic. Even though mRNA has been around for 10-15 years, it never quite made it into the mainstream. But since COVID, mRNA has piqued the interest of a lot of companies and people in this field.
Now that we're developing pDNA and mRNA capabilities through our Charlottetown expansion, we have several avenues available to continue supporting our clients, and the patients they serve, as the industry evolves. We are positioned to support programs from the clinical stages to commercial manufacturing for mRNA/pDNA vaccines and therapeutics for large patient populations or personalized medicine applications. I truly believe mRNA vaccines are going to be a transformative change within pharma. It's going to completely shift how we envision pharmaceutical manufacturing and combating diseases in the future. It has the potential and power to change the therapeutic landscape of personalized medicine, which will be revolutionary in the medical and pharmaceutical space.
This expansion will also introduce fill-finish to the organization. We've been manufacturing APIs for a long time, but with this expansion and our new capability to produce finished products, we're now entering the manufacturing of drug products — at significant scale.
Q: Supply chain is on everyone's mind; how are you able to help secure your customers' supply chain, and how are you securing yours?
A: It's certainly true everyone has been impacted by supply chain issues these past couple of years. In our industry in particular, the need to produce RNA therapies urgently and at a global scale combined with the overall impact the pandemic had on manufacturing and shipping goods worldwide has put a significant strain on raw materials and consumable items.
As a company, our biggest advantage when it comes to supply chain challenges is our depth of experience. We've been in this business for 50 years and have a wide network of relationships inside the industry.
During the pandemic, we made the strategic decision to partner with ABEC to manufacture our 100-1,000-liter single-use bioreactor technology. As a result of this partnership, BIOVECTRA will be the first CDMO in North America to have the 1,000-L scale of single-use bioreactor technology available.
Our ability to predict and plan for what's around the corner has been a significant advantage. We have a dedicated procurement team working on securing everything we need to carry out each of our initiatives, building inventory for critical projects ahead of time and taking full advantage of dual sourcing opportunities.
Although overall our industry struggled with delays, the strength and breadth of our relationships came to our aid, and we certainly haven't lost any business because of supply chain challenges – we've grown.
Q: BIOVECTRA's message is "We Care." Why is that important to BIOVECTRA and, importantly, to your customers?
A: Throughout my time at BIOVECTRA, we've experienced changes in ownership, engaged in multiple new competencies with our client offerings, and grown our team ten-fold. Right now, we have something in the range of 100 active clients, coast-to-coast across North America, Europe, and Asia. We're truly a global company, but the one thing I always appreciate about BIOVECTRA is how much our people care.
We incorporated this sentiment officially into our corporate identity because we truly are people who care. We care for the products we make, the work we do, and for our colleagues. What stands out in our employee interviews is how much people appreciate the BIOVECTRA community, and that's something we've managed to maintain, despite our tremendous growth. Our employees still support each other, and that is reflected in the quality of the services we provide to our clients and their patients.
Recently, we were named one of Canada's Top 100 Employers because we put action behind this idea of caring for our employees. We are continuously shaping our positive workplace culture, investing in employee development, ensuring we offer employees competitive benefits packages, and donating to causes employees care about.
But what really differentiates us in the marketplace is the way this sentiment extends to our client relationships. We don't position ourselves as just a supplier to our clients – we're a partner. We're focused on seeing them all the way through from early clinical development, through the clinical scales, into commercial manufacturing. We really believe in our partnerships, and we know working closely with our clients over the long term is much more rewarding than simply servicing them as a supplier.
Q: How is your Atlantic Canada location beneficial to customers?
A: It may appear an unusual location for a CDMO. Prince Edward Island (PEI) is the smallest province in Canada; Charlottetown is a smaller city. And our facility in Windsor, Nova Scotia is also not what you'd consider a traditional pharma hotspot. In fact, BIOVECTRA was initially started in the 1970s by a local Dean of Science on PEI to offer job opportunities to local chemistry graduates.
But as it turns out, our location has become one of our biggest advantages. We're closely connected to several major biomanufacturing hotspots like Boston, for example. We're only a 4-hour time difference from the UK, 5 hours from Europe, and 4 hours from the Pacific Coast. This means we're fairly centrally located in terms of where we operate as a company, which is mainly in North America and Europe.
As a Canadian company, we've also developed a public/private partnership with the Canadian government and are part of the national response to improve domestic biomanufacturing capacity. This past November, we announced with both the federal and provincial governments a $79.6-million investment to expand into mRNA vaccine production and to construct a new biomanufacturing facility. Through this partnership, not only are we expanding our offering to clients, but BIOVECTRA is also part of a national solution to ensure the country is better prepared for future pandemics and health emergencies.