EXECUTIVE INTERVIEW – Ascendia Pharmaceuticals: Innovative Solutions to Challenging Problems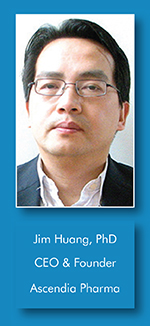 Ascendia Pharmaceuticals is a specialty Contract Development and Manufacturing Organization (CDMO), dedicated to the invention and development of pharmaceutical drug products though its proprietary enabling formulation technology platforms: LipidSol®, NanoSol®, EmulSol®, and AmorSol®. The company provides formulation, analytical, and manufacturing services to pharma and biotech companies, working collaboratively to provide innovative solutions to challenging drug delivery problems and to create advanced medicines across all modalities.
Drug Development & Delivery recently interviewed Jim Huang, PhD, CEO and Founder of Ascendia Pharmaceuticals, to discuss how his company expanded its people, capabilities, and facilities to meet and exceed customer expectations from early to late-state development and how this investment allows Ascendia to continue be an expert in sophisticated formulations, as well as cGMP sterile and non-sterile clinical trial and commercial manufacturing.


Q: Can you tell us what makes Ascendia unique and different from other CDMOs?
A: Unlike many other CDMOs that offer capacity, Ascendia is a CDMO that truly provides "solutions" through its proprietary nanotechnology platforms, state-of-art R&D, and cGMP sterile and nonsterile manufacturing capabilities. Our enabling formulation technologies often make possible for many new drug delivery projects, which seems impossible for other CDMOs and drug developers.
Ascendia's expertise involves finding the most effective method of drug delivery for challenging therapeutic modalities, such as poor water-soluble and low bioavailable small molecule entities, peptides, biologics, and RNAs. Ascendia was started with the goals to use its enabling platform technologies to address solubilization and bioavailability challenges and to expedite the development of drugs faster to clinic and market. With our internal know-how and expertise in analytical and formulation technologies supported by the PhD scientists and state-of-the-art facilities and equipment, Ascendia is poised to take the challenges of insoluble molecules and biologics delivery from R&D to cGMP manufacturing within 6-9 months.
Our comprehensive range of capabilities enables clients to optimize their drug product formulation prior to initiating expensive clinical development. We provide practical, seamless, customized formulation solutions that enable rapid advancement of modalities from discovery to clinical testing. We provide trial formulations suitable for initial animal studies and toxicology studies using our nano-emulsion, amorphous solid dispersions, lipid nanoparticles, controlled-release or long-acting injectables, and nano-particle engineering approaches. We conduct pre-formulation testing, formulation approach comparisons, dosage form design, and formulation optimization. By working with Ascendia, our clients can quickly determine the feasibility of multiple technical approaches in parallel, thus improving the probability of formulation success and reducing the time required to make critical early stage formulation decisions.
Q: Can you review Ascendia's platform technologies and why are they so important?
A: Ascendia's technology platforms include NanoSol (nanoparticle engineering), EmulSol (nanoemulsion), AmorSol (amorphous nanoparticles) and LipidSol (lipid nanoparticles). These formulation technologies are designed to customarily apply to all therapeutic modalities with different types of properties, thus offering our customers "one-stop-shop" drug delivery service that increases the chance of success and reduces time to proof of concept (PoC) for their drug candidates.
Ascendia's platform technologies are developed around important issues associated with the delivery of therapeutic modalities inside animal and human bodies: drug solubility, permeability, stability, and ultimately drug bioavailability and PK/PD profiles. From the delivery perspective for small molecule entities, as more and more new molecules come out of discovery that are practically insoluble and very poorly bioavailable, our enabling solubilization technologies often make possible many difficult new drug delivery projects. Using our technologies, bioavailability of molecules can be improved significantly, opening the bottleneck for further animal tox studies for INDs, early phase human clinical development, and eventually PoC for new drug candidates.
Whereas from the drug delivery perspective of large molecules, such as peptides, biologics, and RNAs, many of them have problems associated with instability, short systemic half-life, and poor membrane permeation into the target cells. Our technologies are capable of encapsulating those therapeutic candidates into nanoparticles or matrices that potentially enhance stability, enable longer duration of drug release, and increase drug permeation into the target cells.
Q: Can you expand on the newly developed LipidSol® technology platform?
A: LipidSol is Ascendia's newly developed platform technology in the area of lipid nanoparticles (LNPs) based on the lipid assemblies of varied structures and compositions. Those aggregates exist in lipid nanoparticles akin to the approved COVID LNP vaccine by Pfizer/BioNTech/Moderna, liposomes, stealth liposomes, solid lipid nanoparticles, nanostructured lipid carriers, immunogenic liposomes, and cubosomes, among others. Our LipidSol technology is primarily aimed at addressing the delivery issues of biologics, RNA, peptides, and small molecules by enhancing their efficacy and safe administration through injectable (IV, IM, SubQ) and inhalation for the treatment of life-threatening ailments and life cycle management. For the best design and encapsulation efficacy of modalities, the LNP lipid structures, size, charge, and morphology play a key role in protecting and carrying the payload to target sites via systemic circulation. The longer the circulation means that the lipid nanoparticles are stable and are prevented from being captured by Kupffer's cells in blood streams, and therefore, provide a better mechanism for controlled delivery of modalities through an extended period. In addition, to better deliver the payload into the target cell, cationic lipids sourced from commercially available GRAS material or from a proprietary lipid library are accessible to Ascendia for use in LNP formulations.
Ascendia has its state-of-art research, scale up, and cGMP sterile manufacturing capabilities for lipid nanoparticles that other CDMOs do not offer. In conjunction to our lipid analytical method development, aseptic processing and fill & finish, and ISO 5/7 clean room facilities, we have equipment ready to use for different LNP processes, namely solvent injection, film rehydration, nano-assembly, microfluidization, tangential flow filtration (TFF), and lyophilization, from small lab scale to large production scale. Our main equipment for LNPs includes a microfluidic chip mixer, NanoAssemblr, high shear microfluidizer, high pressure homogenizer, extruder, and rotavapor, among others, which offers clients a top down and bottom up approach to formulation techniques.

Q: How relevant are LNPs to liposomes?
A: Liposomes are truly a first generation of lipid nanoparticles. Designed with phospholipids and similar class of lipids, traditional liposomes form bilayer structures with interior lipophilic and hydrophilic interstitial spaces. Because of its unique structure, liposome can entrap drug modalities that are amphiphilic in nature, not only the hydrophobic drugs if they are solvated in the bilayers, but also the hydrophilic drugs if they are entrapped inside the aqueous interstitial space. Immunogenic and stealth liposomes are another class of liposomes derived from modified headgroups with the goal to target specific diseased tissues or to circulate longer without being taken up by reticular epithelial systems (RES). Liposomes designed as Lipoplexes with special complexing abilities with polynucleotides with ionizable lipids may provide another route for administration of vaccines, RNA, and biologics.
Q: Can LipidSol® be used for peptides, biologics, and RNA delivery?
A: LipidSol technology encompasses lipid nanoparticles to address a variety of therapeutic modalities, including biologics, RNA, peptides, and small molecules that can't be delivered to the diseased tissues by traditional formulation approaches. LipidSol enables encapsulation of drugs in the LNPs by utilization of fatty acids and polar headgroup entities that are commercially available and listed in FDA inactive ingredient database (FDA IID) or that is accessible to a novel lipid library. In addition to traditional liposomes, other LNPs, such as immunogenic and stealth liposomes, solid nanoparticles (SLNs), nanostructured lipid carriers (NLCs), and cubosomes, will play an important role as more challenging modalities are discovered. Ascendia's footprint in LNP technology through LipidSol will continue to address the challenges in formulations requiring controlled delivery of small molecules, peptides, biologics, plasmids DNA, and RNAs.
Q: Can LipidSol® be applied to poorly soluble molecules?
A: LipidSol can be designed with unique attributes capable of encapsulating poorly soluble molecules. Given the flexibilities in their design with interior fatty acid composition and headgroup exterior, LipidSol is an excellent vehicle to carry the payload of insoluble molecules and deliver them to affected sites by avoiding the toxicity and improving the bioavailability of drugs. Prepared by solvent evaporation, solvent injection, or film re-hydration methods, poorly water-soluble drugs could be complexed with lipid as amorphous form, entrapped in the biolayer, or precipitated as a nanoform inside the interior phase of the LNP. The particle size of LipidSol can be controlled to unimodal distribution by repetitive extrusion or high pressure/shear process and sterile filtration through 0.22-micron filters. If required, LipidSol can be lyophilized for improving shelf-life as a ready-to-use formulation by reconstitution in diluents like 0.9% saline, D5W, or buffers prior to injection.
Q: Can LipidSol® be used in dosage forms other than injectables?
A: LNPs, especially those with liposomal characteristics, are ideally suited for injectables (IV, IM, and SubQ) because of their delicate structures and well-defined unimodal particle size distribution. Whereas LNPs in general, particularly solid lipid micro/nanoparticles, and nanostructured lipid particles designed with different a class of lipids, can be used in oral, inhalation, nasal, ocular, and topical formulations depending on the composition of lipids, and their compatibility for the designated route of administration. It has been reported in literature that lipids could promote drug absorption due to their affinity to topical mucosal layers or due to enhanced lymphatic absorption or tight junction opening in the GI tract. Selection of excipients for LipidSol from the FDA's IID database may provide a guideline for their suitability in the intended route of administration.
Q: What is the future trend of LNPs as drug delivery systems?
A: Fueled by new and innovative therapeutic modalities and needs for CDMOs with the right expertise in formulation development and aseptic manufacturing, we foresee that in the area of biologics, RNA, vaccine peptides, and ADCs will continue to dominate the LNP applications with leaps and bounds, and we at Ascendia are ready to take this opportunity to grow further. As more oncology, immunology, anti-inflammatory, and viral diseases continue to lead the forefront of innovative medicines, more pharma and biotech companies will look for outsourcing either due to lack of expertise within, or lack of manufacturing capabilities at the premises. Ascendia is well positioned to take the lead working with those in need for our services in LNP drug development and manufacturing.