EXECUTIVE INTERVIEW – Aptar Pharma: Quality Will Inject Real Growth Into the Injectables Market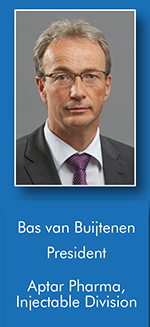 Aptar Pharma provides drug delivery systems, components, and services across a wide range of therapy areas, including Nasal, Pulmonary, Eye Care, Dermal, and Injectable. Overall, 6 billion systems are produced annually across 12 manufacturing sites and are accessed by 1.6 billion patients; $50 billion worth of pharmaceutical products depend on its systems. The injectable division is recognized as a global leader and a trusted partner, working with 9 of the top 10 pharmaceutical companies that utilize injectable systems. Overall, the company serves 700+ customers in more than 70 countries. Throughout the past 50 years, its injectable specialists have led the way in developing innovative elastomer closure solutions for injectable drug delivery systems. This commitment to continuous improvement, coupled with its expertise and track record of customer collaboration, enables Aptar Pharma to take on the challenges others fear, so that it remains at the forefront of injectable development. Drug Development & Delivery recently spoke with Bas van Buijtenen, President of the Aptar Pharma Injectable Division, who reviews the past 12 months and assesses what will drive the market in the future.
Q: What do you see as the market drivers for injectables right now?
A: The focus for the past 12 months and the months ahead can be summarized in just one word: Quality. Quality in R&D, quality in customer insight, and quality in product solutions. We recognize that both our Pharma and Biotech customers are facing many complex challenges, from increased regulatory requirements to their own internal developments of extremely sensitive drug formulations. To support these needs, we have challenged ourselves to deliver the highest standard of cleanliness in elastomer components. We acknowledge there is an obligation to ensure that the stopper protects the drug throughout its life, and that continues to be the foundation of our business. We are excited to be able to provide a robust solution to our customers' growing requirements for high-quality medicines.
Here at Aptar Pharma, we are proud of our heritage in pioneering innovative elastomer solutions. Indeed, we were the first company to provide a DMF for the Ready-To-Sterilize (RTS) process. There, we set the quality standard that the market universally adopted. We were also the first company to provide Ready-To-Use (RTU) stoppers to the market – a quality standard that is now seen as the norm.
We know that our past glories do not necessarily mean future success. Our future will be in quality, pushing the boundaries, and taking on complex challenges. The development of our Premium portfolio of injectable components is just one example of this commitment.
Due to over 50 years of R&D investment, we already offer the market elastomer formulations, which feature best-in-class extractable and leachable profiles. Our Premium family offering takes that commitment on improving quality to even greater levels of reassurance for our customers.
Q: Can you tell our readers more about the Premium offer?
A: There are three components to our Premium offer:
– PremiumFill®: A guaranteed specification to our highest quality of production, resulting in lower embedded particles, improved particulate cleanliness, and an overall reduction in defects.
– PremiumCoat™: Sets the standard for film-coated stoppers with an unrivalled reduction in particulates. The 1.3 PCI (Particulate Count Index) achieved today is market-leading compared to the historic standard of 2.9.
– PremiumVision™: A guaranteed quality commitment using an in-line, automated vision inspection system designed to further validate against critical defects for PremiumFill®.
PremiumCoat provides the highest standard level of guaranteed specification for film-coated stoppers in the market today. PremiumCoat are coated stoppers featuring a Fluorinated (ETFE) film that is applied during the manufacturing process. This approach delivers a homogenized coating, which is the established best practice method to create the most robust and effective barrier between the drug and the stopper.
Currently, PremiumCoat is offered on 13-mm and 20-mm stoppers, which cover the majority of global market demand. We can provide RTS and RTU options. Our RTU option features leading-edge gamma irradiation sterilization, which provides demonstrable benefits over the traditional method of steam sterilization.
Q: That sounds like quite some investment – does that mean you are just investing in PremiumCoat?
A: Not at all. Although, we do plan to extend the range of sizes available with PremiumCoat very soon. We have invested heavily in both of our manufacturing plants in France, with the Brecey facility featuring what we believe to be the most modern pharmaceutical-grade mixing facility in the world.
Perhaps more notably for our US customers, we have recently announced the expansion of our Congers facility in New York. This investment reinforces our commitment to the US market, which we see as our Number one regional growth opportunity.
The Congers manufacturing facility is state-of-the-art. The injectable area is dedicated to the exclusive provision of elastomeric stoppers for the US market and features semi-automated processes and 100% vision inspection, designed to identify and prevent the release of components with critical defects. To reach the highest specification, PremiumVision can easily be added to any product out of the Congers facility, which again is a guaranteed quality commitment using the in-line, automated vision inspection system to further validate against critical defects for PremiumFill components.
Q: Do you see automation as a critical component for future success?
A: Absolutely! We are able to drive higher quality standards through automation, and as I have already mentioned, quality will be the main driver for our future success. We have already automated many aspects of our manufacturing process, including the charging and discharging of molds, trimming of components, and of course PremiumVision.
At every stage of the process, we are looking to reduce human contact and therefore mitigate against risks of errors or entrance of particulates into the facility. This isn't to say humans aren't important. Quite the opposite, it is simply about using automation to improve the quality and cleanliness of the end product. Our people are at our core, we count on them to improve the quality of our thinking, our designs, and our customer interactions. That's why 10% of our employees are engaged in R&D.
Q: How else can you improve quality?

A: We have invested heavily in our PremiumFill offering, which provides a guaranteed specification to our highest quality of production, resulting in lower embedded particles, improved particulate cleanliness, and an overall reduction in defects. We can accomplish this specification by placing more of the manufacturing process into a cleanroom environment.
Conventionally, manufacturing is segmented into several different production units, each with their own requirements in terms of contamination control. Receipt, weighing, and mixing of the masterbatch rubber is conducted in an ambient air environment; molding and trimming processes are delivered in a protected area; with finishing and packaging completed in a controlled area, that being ISO 6.
To achieve the PremiumFill specification today, the manufacturing differs from the conventional process in two critical ways. First, the manufacturing is in-line, which reduces the risk of contamination during transport around the plant. Second, the more important differentiator, is that the molding, trimming, and finishing/packaging process are all conducted within cleanroom conditions. Molding, trimming, and washing are conducted in an ISO 7 environment, and finishing/packing is conducted in an ISO 6 environment.
Another key offer in the provision of quality is our RTU product, which is sterilized with gamma irradiation to provide customers with better quality, real flexibility, and convenience. First, the RTU offering reduces the number of human product interactions. Second, our customers' manufacturing productivity is improved, as the stoppers may be used immediately upon receipt and be directly introduced into RABS or isolators. Our RTU offer also allows the product to be introduced to the manufacturing line at the point of use. Lastly, there are significant economic advantages with reduced capital investment for sterilization equipment, negated maintenance costs, and reduced stock levels.
In addition, gamma sterilization is proven to be a more effective means of pre-sterilizing stoppers than steam sterilization. Steam sterilization works well when run in line in a drug manufacturing site. When the stoppers are supplied RTU, presterilized, gamma radiation has the advantage of sterilizing the vial stoppers while they remain in their packaging; limiting contamination risks during transfer, eradicating moisture, improving productivity, and controlling exposure. Our special RTU packaging allows customers to verify the integrity of the packaging and therefore of the sterility of the product – something that is impossible with stoppers pre-sterilized with steam.
Q: So, quality is important, but surely price is a factor. Aren't you worried about low-cost competition?
A: Historically, Aptar Pharma has focused on complex challenges that require intelligent solutions. In fact, 90% of our business is in high-value products in which the integrity and quality of the elastomeric components are fundamental to the performance of the drug. We believe true experts love a challenge. Our experience, expertise, and ongoing commitment to quality enable us to take on the injectable challenges others may fear.
Q: What do you foresee in the next year for Aptar Pharma?
A: To some extent, more of the same. We will be enhancing the PremiumCoat offering with more available sizes and introducing pre-filled syringe components to the family. We are investing further in capacity and the deployment of vision systems in all three of our manufacturing facilities. The injectables market as a sector has a strong pipeline for growth. We will be at the forefront of that growth agenda by delivering on quality, agility, and accepting injectable challenges others may not.