EXECUTIVE INTERVIEW – AMO Pharma: Identifying & Developing Cancer Pathway Therapeutic Candidates for Use in New Neurological Indications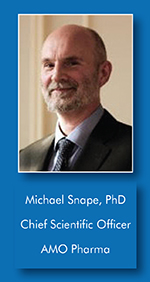 For much of the past century, clinical research targeting the neuropathology and neurochemistry of childhood-onset disorders associated with developmental delays has been very limited. The few clinical research programs that have advanced in disorders, such as Rett syndrome, congenital myotonic dystrophy, and Phelan-McDermid syndrome, have focused mainly on symptom management as a supplement to other forms of patient support, including special education and speech and physical therapy.
The research team at AMO Pharma includes globally recognized leaders of research in central nervous system (CNS) disorders associated with developmental delays. In the early 2000s, AMO Pharma began a collaboration with researchers at Case Western University to investigate how the RAS-ERK signaling pathway (a target for many cancer drugs) could also potentially be applied to treatment of fragile X syndrome (the most common inherited cause of intellectual disability and the leading genetic cause of autism) and Phelan-McDermid syndrome, an ultra-rare disorder characterized by cognitive deficits, autism and severe, often intractable epilepsy. Their research showed aberrant activation of the RAS-ERK pathway in brain tissue samples of people with autism and fragile X syndrome. This increase in RAS-ERK activity was also seen in neurons and in glial cells that support neuronal function. Not long after AMO Pharma was founded in 2015, the company identified and acquired a promising investigational anti-cancer therapy, now known as AMO-01, which was engineered to inhibit activation of the RAS protein and ERK pathway. Early stage clinical data showed that this drug could inhibit RAS-ERK activity in cancer patients at doses that were shown to be safe and generally well tolerated. More importantly, data showed that the drug could penetrate the brain. Based on this mechanism of action and their new insights about the role of the RAS-ERK pathway, the team recognized the potential applications of this investigational therapeutic in the treatment of both fragile X and Phelan-McDermid syndromes.
Drug Development & Delivery recently interviewed Michael Snape, PhD, AMO Pharma's Chief Scientific Officer, about the company's research focus and efforts to understand and target the mechanism of action of CNS disorders associated with developmental delay with the potential to target neurogenetic disorders at their root cause.
Q: Can you describe AMO Pharma's drug development strategy and how you are able to identify therapies that can be oriented toward indications in the developmental disorders field?
A: First, we work to understand the mechanism of action of the developmental disorders we target as well as the areas of unmet need and the experience of living with these conditions. We then work with research foundations and academics who are experts in the disorders to understand whether molecular targets for new therapeutic approaches have been validated by these groups. During this process, we will seek to identify druggable targets that relate to the underlying biology of the disorders. We do this because we are seeking novel therapeutic approaches that have the potential to provide benefit across the core clinical characteristics of the disorder in question. We are less interested in purely symptomatic approaches.
With an identified target, we then use our industry contacts to acquire or license a potential novel medicine. We usually seek an investigational medicine that has been advanced through a certain stage of clinical development for another indication. We do this to de-risk our programs by virtue of being able to work with novel therapeutics with an understood human safety profile. We also seek to ensure that these medicines will be able to cross into the CNS given that brain function is at the heart of the characteristic clinical presentation of many developmental disorders we are targeting. Before progressing into clinical development, we conduct preclinical assessments to confirm whether the investigational medicines we are interested in can reverse the underlying biology of our target indications.
These insights play a central role in planning clinical research protocols that will deliver clear assessments of safety and efficacy. We then apply a range of innovative clinical trial assessment tools and methodologies to identify therapies that seem well-suited to address our target indications. In many cases, these therapies have been previously studied in preclinical or clinical-stage research, and thus have established safety profiles and data supporting assessments of their mechanisms of action. Our team's extensive global experience positions us to identify therapies that target the specific pathways associated with onset and progression of disease and that present the strongest opportunities for improving clinical outcomes and receiving regulatory approval.
Q: Why did the team choose to focus on developing treatments for neurogenetic disorders?
A: Our passion for drug development in this area is strengthened and inspired by many personal connections to the rare and genetic disease communities held by members of our senior team. As the father of a son with autism, I developed a strong interest in researching genetically determined and mainstream idiopathic forms of autism, which has been the focus of my career for about 25 years. During this time, I have had the privilege of working with pioneer researchers in this field. I have been involved with work to evolve research approaches that may be the key to better treat and manage developmental disorders.
The AMO team has a shared knowledge of several key points that have inspired us to move forward in researching potential treatments for developmental disorders. First, we understand that there are many neglected developmental disorders and that these patient populations suffer from an unrecognized medical need. Following an unbiased review of available data on these disorders, we also recognized that these data challenge many pre-conceived negative notions about the potential for treatment response in patients and showed that our general understanding of the biology of developmental disorders is actually very advanced. Lastly, our team recognized that measurement approaches and tools we had previously used in clinical research of pediatric neurology products that ultimately achieved FDA approval were readily applicable to research in many developmental disorders. This meant our team had the right experience and methodologies to advance clinical development in developmental disorders with a high degree of confidence.
Q: How was a connection made between the RAS-ERK pathway and developmental disorders?
A: I became aware of the potential role of cancer pathways like the RAS-ERK pathway in brain disease while collaborating with the late Professor Mark Smith, a neuropathologist at Case Western University. Mark had previously researched the role of cancer pathways in Alzheimer's disease. We began researching the neuropathology and neurochemistry of genetically determined forms of autism and the role of the RAS-ERK pathway using brain tissue samples from patients with autism and fragile X syndrome. The results of this research were very clear — the pathway was aberrantly activated in the brain tissue of patients with autism and fragile X syndrome, including in the glial cells that support neuronal function. We now know that abnormal behavior of glial cells is commonly reported in patients with certain developmental disorders.
These findings were an extension of research highlighting the role of the RAS-ERK pathway in the progression of cancer. Mutations of the proteins involved in RAS-ERK signalling cause a loss of control of cell division and tissue growth. Neurons in the brain generally do not divide — their equivalent of cell division is the production of new synapses. As a learning event occurs, new synapses and synaptic connections are formed. Each new synaptic connection can be thought of as representing the coding of a piece of information. Control of synapse production is thus critical to brain function and the clinical presentation of individuals with developmental disorders.
A key finding here is that consensus neurobiology points to RAS-ERK pathway signaling as being a key controller of synapse production and thus the process by which the brain codes information. In a sense, the RAS-ERK pathway controls the production of new synapses in the non-dividing tissues of neurons in parallel to controlling growth of tissues outside the brain. Therefore, dysregulation of the RAS-ERK pathway would disrupt control of tissue formation in the body and synaptic plasticity in the brain. It is therefore not surprising that this pathway could be disrupted in neurodevelopmental disorders like autism and fragile X syndrome in which the brain has a reduced capacity to make new connections and code information.
Q: What are the potential implications of AMO Pharma's studies in other disorders?
A: We hope our work identifies and confirms new approaches in clinical research in the CNS space that can transform the sector and lead to improved quality of research and more targeted therapies designed to reduce disease burden or slow disease progression. While we will continue to focus our efforts on ultra-rare neurological disorders, including congenital myotonic dystrophy and Rett syndrome, we see potential applications of our approach in treating other developmental disorders that collectively affect many more patients around the world. We say this because as we continue to conduct our research, we are learning the biological pathways we are interested in affect synapse production and brain function in more neurogenetic developmental disorders than we initially anticipated.
Q: What is next for AMO Pharma?
A: We are planning now for presentation of the results from our Phase 2 study of AMO-01 in Phelan-McDermid patients, which will present insights on efficacy and safety, including duration of benefit.
We also recently initiated our pivotal Phase 2/3 study for our AMO-02 program in children and adolescents with congenital myotonic dystrophy type 1 (CDM1) after a $35-million capital raise and coordination with the FDA on the trial design, including special parameters during the COVID-19 pandemic. If these trial results are positive, these data should support a submission to bring AMO-02 to market for the treatment of CDM1. We anticipate a pivotal data readout in 2022.
Our AMO-04 clinical program also shows significant promise. We acquired AMO-04 in 2017, and research thus far indicates it could provide clinical benefit to patients with Rett syndrome, which is a debilitating rare disease that can lead to problems with cognitive, sensory, emotional, motor, and automatic function. AMO-04 received orphan drug designation from the FDA in 2018, and we are currently conducting a Phase 1 study. We look forward to updating on this program soon.
Q: What advice can you offer to other companies that may be pursuing a similar business model?
A: One of the biggest takeaways from our journey and business strategy has been the need to be flexible and consider innovative new approaches in clinical research for CNS disorders. With the RAS-ERK pathway for example, we had to invest time and resources in understanding the mechanism of action and then develop an approach in clinical research that could deliver the results we need for regulatory review. Our experience has also shown that when trying to identify promising investigational therapies for potential licensing or acquisition opportunities, companies should do their due diligence to fully understand the disease mechanism of action and impact on patient health and quality of life in addition to assessing the safety and efficacy data for each asset.
To view this issue and all back issues online, please visit www.drug-dev.com.