EXECUTIVE INTERVIEW – AmerisourceBergen: Partnering With Orphan Product Manufacturers to Drive Commercialization Success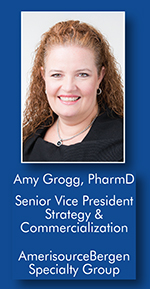 Since the Orphan Drug Act (ODA) was passed in 1983, the FDA has approved more than 500 orphan drugs for the treatment of rare diseases, yet only 5% of rare diseases have therapies on the market. Incentives from the ODA, including clinical research grants, tax credits and waivers, and reductions and refunds associated with the Prescription Drug User Fee Act, have opened the doors for manufacturers, large and small, to pursue developing and marketing molecules for rare diseases. But, bringing an orphan drug to market has its own unique set of challenges and considerations that must be overcome. This is especially true for smaller manufacturers without the extensive commercial infrastructures that larger pharmaceutical companies often have. Drug Development & Delivery asked Amy Grogg, Senior Vice President of Strategy and Commercialization at AmerisourceBergen Specialty Group, for her perspective on the barriers orphan drug manufacturers face and the solutions available to them through strategic partnerships with distributors.
Q: Can you describe some of the work that AmerisourceBergen has done to help manufacturers launch and commercialize rare and orphan disease products
A: AmerisourceBergen has provided commercialization services for more than 100 rare disease products – or nearly 20% of all orphan products on the market. We're the manufacturer's partner through the entire development, launch, and commercialization process. By focusing on the patient journey and guiding manufacturers toward decisions that benefit the patient first, we've created a model for aligned success. That means supporting the design of clinical trials and their execution in markets around the world. It means demonstrating the product's value story to payers, so all appropriate patients can benefit from accessing these life-changing products. It means providing the patient support and specialty pharmacy services that remove barriers to access and affordability and provide the high-touch approach that helps patients remain on therapy. And perhaps what is often overlooked, is guiding a manufacturer through the complex decisions inherent in designing a channel strategy that will help their product have the greatest impact for its patients.
This last piece is one of the most important roles a distributor plays in the success of rare and orphan disease products. Manufacturers need their products to fit as seamlessly as possible into a provider and patient's everyday pattern. AmerisourceBergen works directly with our manufacturer partners to help them gain a full picture of how their products might be used in the real world.
For example, will the product be accessible to physicians when they need to treat a patient in the hospital? Or, does the hospital have to break its standard workflow and order the product from a specialty pharmacy? In an era when all healthcare stakeholders are striving to maximize efficiency, any exception to the standard workflow creates an administrative burden that ultimately reduces the time available for patient care. Decisions that affect this workflow can make a difference in product availability. More importantly, it can make the difference of whether patients can receive vital medications as swiftly as possible.
Effective commercialization is a multi-dimensional puzzle. Manufacturers have to know what works well based on their products' attributes and their patient populations. They have to be aware of the potential impact of market trends from changes in policy, reimbursement, or the competitive environment. They have to consider how best to reach their target audiences — whether that's health systems, specialty pharmacies, or community physicians. That's what AmerisourceBergen does alongside the manufacturer's launch team, figuring out that puzzle and designing strategies that lead to the best experience for patients and providers.
Q: What challenges do small and mid-sized orphan drug manufacturers face?
A: A record 566 therapies were reported in development for rare diseases in 2016. While the market opportunity is substantial for pharmaceutical companies, developing and commercializing orphan drugs is not without its challenges: high cost, special storage requirements, complex side effect profiles and high-touch patient support requirements.
The explosive growth of therapies for rare diseases has also increased payer scrutiny. As market baskets become increasingly competitive, payers are looking more critically at the cost of therapies with indications for rare diseases. The high budget impact of orphan drugs contributes to restrictive utilization management via formularies and/or preferred pharmacy network design. While these behaviors may limit plan costs, they also shape the patient experience and manufacturers must consider how patient support services, such as hub models, can streamline that experience for patients and caregivers alike.
For example, the rise in competition has led to more aggressive step therapy practices. This is most prominently seen when an approved biomarker-related test is available for even part of the labeled indication. Through this practice, payers require patients to first undergo comparable, less-costly drug regimens, approving the use of the prescribed orphan drug only after other therapies have failed.
Access barriers are especially high for small to mid-sized orphan drug manufacturers that don't have the resources or existing relationships to reach a wide variety of customers. Also, the gap in guidance combined with pressures to manage budgets has many payers increasing prior authorization (PA) requirements. These barriers emphasize the need for manufacturers to communicate the product's clinical and economic value with a focus on the impact on the total cost of care.
With the volume of clinical development in the orphan space growing exponentially, pharmaceutical companies must design their commercialization strategies around the patients and providers who will use their products to ensure they create the best outcomes.
Q: What solutions are available to small and mid-sized orphan drug manufacturers to support commercialization and patient access?
A: Engaging with a qualified strategic partner as soon as 2 years pre-launch can help manufacturers know which hurdles to anticipate and give them the competencies to succeed. Small and midsized orphan drug manufacturers, in particular, should consider the support of an integrated partner in driving access to the products. For example, Xcenda, a strategic consulting firm and part of AmerisourceBergen, can offer guidance on health economics and outcomes evidence that will support the value of the product with both payers and providers.
ICS, another part of AmerisourceBergen, has worked with dozens of small and mid- sized manufacturers to create tailored offerings that address infrastructure, distribution, business process, and patient-engagement hurdles. A unique service model that combines third-party logistics, specialty pharmacy, and patient support solutions under a single point of contact has been especially valuable to manufacturers in the rare and orphan community. And given the specialty transport and handling requirements, we've seen a number of manufacturers work with World Courier, AmerisourceBergen's global logistics arm, as their products move from the clinical trial stage all the way through commercial logistics. Ultimately, AmerisourceBergen creates a suite of solutions that work synergistically to the benefit of customers, patients and manufacturers.
Q: For manufacturers with products in clinical trials, what should they be considering as they look to the next phase of commercialization?
A: AmerisourceBergen's philosophy is that it is always key to begin with the patient. Every patient has a unique journey, but a rare disease patient's experience can be particularly long and fraught with uncertainty. Reports have shown a patient suffering from a rare disease typically visits up to eight physicians and receives two to three misdiagnoses before an accurate one is ultimately reached.
From a very early stage, manufacturers should connect with existing advocacy groups for rare disease patients. They can help smooth a treatment's path from research to approval, as well as advocate in matters of regulatory or payer restrictions. These groups also provide a means for manufacturers to develop deeper understandings of patients' needs and can help in the actual development of the product – providing information on which routes of administration and dosing schedules will be most effective and adhered to.
Similarly, investing in patient support programs can improve product access and reduce time to therapy, while optimizing outcomes. These programs support the uninsured and underinsured by providing financial assistance that combats the high cost of orphan therapies. Patient case managers also play a vital role not only as essential resources for patients but also as mediators for health outcomes data that manufactures can use to demonstrate real-world effectiveness and the value of their orphan products.
In some cases, the orphan drug is the only disease-modifying treatment available for patients with a specific rare condition. For some ultra-orphan diseases, a manufacturer may be required to spearhead advocacy efforts. A non-branded website before the launch of an orphan product can become a community hub for patients, housing educational materials and potentially serving as a patient registry that helps to facilitate direct communications post-launch. It also can be a platform for manufacturers to track adherence, progress and outcomes, which in turn could substantiate payer coverage and reimbursement strategies down the road.
As early engagement is important with patients, it is also paramount to engage with physicians. Manufacturers, staffed with teams of researchers and scientists, often develop the deepest understandings of the rare diseases – and the symptoms – that they seek to treat. Compiling and disseminating educational materials can ensure accurate diagnosis and ultimately help patient access. This might be in the form of formal protocols or algorithms for diagnosis, treatment guidelines or the creation of a diagnostic test.
Q: Is there anything you'd like to stress to manufacturers about commercializing orphan products?
A: Keep the patient first and foremost on your mind and in your plans. Always challenge yourself on how you can make the therapies more accessible to those that need them. That's what we've been privileged to do with our manufacturer partners, and it's allowed us to build a broad set of expertise from clinical trial logistics to patient support services, and everything in between. Collaboration is essential. Commercializing orphan drugs comes with a lot of challenges, but with so many rare diseases still needing treatments, not only is there opportunity in the orphan space, but also the possibility of truly impacting patient lives for the better.
To view this issue and all back issues online, please visit www.drug-dev.com.