EXECUTIVE INTERVIEW – Alcami: Unlocking the Potential of Transformative Medicine for 40 Years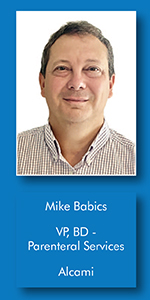 Alcami is a contract development and manufacturing organization (CDMO) headquartered in North Carolina with more than 40 years of experience advancing pharmaceuticals through every stage of the development lifecycle. Alcami serves pharmaceutical and biotech companies of all sizes providing customizable and innovative solutions for analytical development, clinical to commercial sterile injectables and oral solid manufacturing, packaging, microbiology, cGMP biostorage, environmental monitoring, and pharmaceutical support services.
Recently, Alcami has been focusing on expanding its sterile manufacturing offerings from a single fill-finish line, which was already manufacturing more than 25 commercial sterile liquid and lyophilized products, to six fill-finish lines, with the addition of five new isolator lines for filling vials, syringes, cartridges, and lyophilized products.
 Drug Development & Delivery recently interviewed Mike Babics, Vice President, Parenteral Services at Alcami, to discuss the company's recent expansions in formulation and analytical development, manufacturing, release testing, and biostorage of clinical and commercial drug products for both solid dosage and parenteral products.
Q: Can you provide some background on Alcami for our readers who may not be familiar?
A: Alcami has been providing drug product development, manufacturing, and analytical expertise for more than 43 years. During this time, we have worked with an ever-increasing range of clients and products to provide comprehensive development and analytical capabilities. We are focused on being the CDMO of choice for drug product development, supply, testing and storage for tablets, capsules, and injectable products.

Q: Alcami works with other companies to bring their medicines from concept to reality. How do those relationships work?
A: Alcami approaches each relationship as a unique partnership. Many of our clients provide presentations to our staff each year, and that is always an incredibly impactful event to be a part of. Our scientists, engineers, and technical staff take enormous pride in knowing their contributions help bring medicines to patients around the world.
Q: What do you believe is the most important factor for success in drug development?
A: Reducing risk in a program is absolutely key. CMC program leaders are looking for CDMO partners that offer experienced formulation and analytical development teams, who can provide processes and methods optimized to be smoothly scaled into non-GMP batches for toxicology material and GMP manufacturing batches for clinical and commercial launch.
Q: How have drug development and manufacturing processes changed throughout the years for Alcami?
A: Alcami was founded in 1979 with a focus on analytical testing of pharmaceuticals, but at the request of our customers, moved into providing clinical development and manufacturing services for tablets and capsules in the 1980s. We continued expanding in the 1990s by adding large molecule analytical testing and commercial manufacturing and expanded into the development and manufacturing of liquid and lyophilized injectable products in 2001. We have recently expanded from the single fill finish line established in 2001 to six parenteral fill finish lines, which now also include pre-filled syringe filling and three new lines for lyophilization.

Q: What are some of the biggest challenges in developing drug products today?
A: Since 2020, a significant percentage of the industry's global resources, including facilities, consumables, raw materials, and operational staff, have been channeled into the pandemic response or impacted by supply chain and clinical staffing challenges. These issues have led to delays for thousands of clinical programs, particularly sterile, injectable medicines.
Q: How is Alcami uniquely qualified and able to address those challenges?
A: Since January 2020, in response to the reduced capacity Alcami's executive leadership was seeing in the injectable drug manufacturing space, Alcami has purchased and installed five new fill finish lines and three state-of-the-art lyophilizers. These investments, combined with recently completed expansions at all three of Alcami's analytical campuses, will enable our clients to meet current and future regulatory requirements, and ensure Alcami can make a significant contribution in fulfilling the growing demand for clinical and commercial injectable products needed for patients around the world.
Q: Are there any notable drug product developments Alcami has been involved in you can discuss?
A: Alcami recently entered into a multi-year agreement with a Civica Rx, a non-profit pharmaceutical company created by consortium of hospital groups and health system partners representing one-third of all US hospital beds. Alcami is incredibly excited to be partnering with Civica toward its goal of helping preventing future drug shortages. Alcami's network of laboratories across the US will support Civica's programs with method establishment, validation, release, and stability for excipients, drug substances, and drug products, in addition to formulation development support.
Q: What do you see are the trends for drug product development and manufacturing in the future
A: The final version of EU Annex 1 Manufacture of Sterile Medicinal Products was published on August 25, 2022. The deadline for commencement for the majority of the changes is August 25, 2023. For section 8.123 on freeze-drying and product transfer, the deadline for commencement becomes mandatory on August 25, 2024. In anticipation and based on the draft 2019 Annex, Alcami invested in isolator technology for each new sterile fill finish line and lyophilizers with automated loading and unloading technology.
Q: What do you believe is the next big step in the industry's evolution?
A: An increasing number of clinical trials and R&D investment has been focused on analytical development and testing of biopharma products and that market is anticipated to reach $12.4 billion by 2028.1
Bioanalytical testing is experiencing the fastest growth, and Alcami's testing services are designed to support both drug substance and drug product development, validation, and routine analysis. Typical programs include therapeutic proteins, peptides, and therapeutic nucleic acids (DNAs & RNAs). Needed capabilities consist of cell-based assays with associated cell culture workflows, ELISA, electrophoresis, amino acid analysis, HPLC/UPLC with various detection modes, such as UV/PDA, CAD, ELSD, RI, FLD, and MS.
Alcami has invested heavily in expanded capabilities to serve this market, including analytical ultracentrifugation, variable pathlength UV for A260/A280 determinations, and new Tandem Quadrupole and QTOF instruments as part of recently completed expansions in North Carolina.
Reference
Global Pharmaceutical Analytical Testing Outsourcing Market Analysis Report 2021-2028, ResearchAndMarkets.com, Oct. 12, 2021, https://www.businesswire.com/news/home/ 20211012006008/en/Global-Pharmaceutical-Analytical-Testing-Outsourcing-Market-Analysis-Report-2021-2028.