EXECUTIVE INTERVIEW – Ajinomoto Bio-Pharma Services: Giving You the Power to Make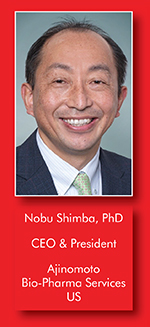 With more than 40 years of CDMO experience, Ajinomoto Bio-Pharma Services has a long history of partnering with clients for their unique drug programs requiring prompt attention, strong regulatory support, and focused quality. Ajinomoto Bio-Pharma Services is dedicated to providing high-quality drug process development and manufacturing services to biotechnology and pharmaceutical companies worldwide.
Drug Development & Delivery recently interviewed Dr. Nobu Shimba, CEO and President of Ajinomoto Bio-Pharma Services US, to discuss the company's recent areas of focus as well as current plans for expansions.
Q: Aji Bio-Pharma is a global company. Can you describe Aji Bio-Pharma's business and how those global functions work together?
A: Aji Bio-Pharma is a fully integrated contract development and manufacturing organization with sites in US, Japan, Belgium, and India. We work in tandem to leverage our global infrastructure to provide innovative solutions and reliable service to biotechnology and pharmaceutical companies worldwide. Our services span comprehensive development, cGMP manufacturing, and aseptic fill finish services for small and large molecule APIs and intermediates. We also offer a broad range of innovative platforms and capabilities for preclinical and pilot programs to commercial quantities, such as oligonucleotide synthesis, high potency APIs (HPAPI), biocatalysis, continuous flow manufacturing, and sterile drug product fill and finish.

Q: What differentiates Aji Bio-Pharma from other CDMOs?
A: Aji Bio-Pharma is unique in the CDMO space because we are the right size for most customers – not too big and not too small. With small CDMOs, you are taking on risk from a business stability standpoint. They do not have a strong history or resources that a larger manufacturer would have. With large CDMOs, they are often more focused on Big Pharma business, caring more about large projects. The Big Pharma clients may receive priority, leaving your product neglected and delaying your timeline.
With Aji Bio-Pharma's size, we can provide flexibility for all product phases. We have the size to provide the resources, along with a strong proven track record, to make your therapeutic vision a reality – from preclinical studies through commercial supply. For early phase projects, we have the capabilities to fill small batch sizes and the manufacturing slots available for quick turnaround time. To support late- phase/commercial projects, we have higher speed lines to accommodate larger batch sizes, scale-up, PPQ, and commercial experience.
We also pride ourselves on being one of the few CDMOs with complex formulation expertise and a strong formulation team with extensive knowledge to help guide clients when manufacturing lipid nanoparticles (LNPs).
Q: Has Aji Bio-Pharma had any recent expansions?
A: We are making additions across all of our sites. In San Diego, we have expanded our aseptic filling capacity with a new high-speed multi-purpose filling line. The new fill line offers a range of configurations, including prefilled syringes, cartridges, and vials, and utilizes ready-to-use components that provides component flexibility as well as scheduling flexibility for our clients. Additionally, we have invested in automated and semi-automated inspection services to help speed up batch release and get our clients' products to market sooner.
Globally, we are expanding our small molecule API development and manufacturing facilities, including HPAPIs, in Belgium and India. In Japan, our recent expansions have focused on increased capacity for purification of oligonucleotide manufacturing.

Q: What is Aji Bio-Pharma's commitment to quality?
A: Quality is our strength. Aji Bio-Pharma's quality management system focuses on continuous improvement. We always strive to provide services that are meeting or exceeding the satisfaction of our customers. We accomplish this through routine reviewing and trending of operational metrics and in developing actions to drive the optimization of processes. We are proactive in our communication with regulatory and industry organizations with regard to industry improvements and establishing policies. Aji Bio-Pharma makes no compromises respecting compliance and safety, health and environment (SHE), faithfully complying with applicable laws and regulations, and always delivering products and services of uniform quality.
We take a collaborative audit approach with our customers and encourage feedback and suggestions. We pride ourselves on providing adaptive solutions, responsive service, and trusted partnerships so we can deliver the highest quality products and services.
Q: What are the current challenges in the industry, and how do you believe those will shape the upcoming market trends?
A: The biggest challenge the industry faces is supply chain availability, which was highlighted by the pandemic. Currently, there is a renewed interest in understanding the health of our supply chains and real-time understanding of how suppliers are performing and scenario planning, which has helped elevate procurement and risk mitigation activities. Supplier relationships and collaboration are critical to the long-term success of a business as they are a key element of resiliency planning. At Aji Bio-Pharma, we work closely with clients to de-risk the supply chain up front by identifying second sources, utilizing preferred and standard ISO components, agreeing safety stock levels, future proofing contracts, and collaborating on forecasting.
Another factor impacting the pharmaceutical industry is the high cost of APIs, especially for biologics products. The higher cost emphasizes the importance of strong quality systems, cautious analytical method transfer, and reduced line loss during manufacturing activities. We work closely with our customers to reduce product loss from sampling, analytical activities, and manufacturing line loss. Our manufacturing equipment is specifically designed for high-value API to minimize product loss and ensure every drop of product is filled into the final container. Lastly, in recent years, the pharmaceutical industry has significantly increased its focus on sustainability. The industry is known to have a significant impact on environmental factors, such as greenhouse gases, water and energy consumption, and pollution. Each company has a responsibility to ensure it is doing everything it can to continue making high-quality products while reducing environmental impacts. Finding a CDMO partner committed to working toward net zero will be crucial for companies trying to stay ahead of emissions requirements.

Q: Can you please expand more on your sustainability efforts?
A: Sustainability is a key consideration in everything we do. Minimizing the environmental impact of our operations and business practices is at the core of this goal. As a baseline for any activity, we ensure that regulatory compliance, integrity, and ethical conduct are the foundations in every place we operate. Aji Bio-Pharma has established an innovative, effective approach to emissions mitigation that incorporates pioneering technologies, cross-functional teams, and ambitious internal emissions goals to help customers reach carbon neutrality.
One of Aji Bio-Pharma's most promising tools to achieve net zero targets is our Aji Bio-Pharma Eco Passport, which is spearheaded by our Belgium facility. This tool, used as the basis for identifying continuous process improvements, can also model scenarios during the Request for Proposal (RFP) phase, accurately reporting the positive climate impact of alternative scenarios. By calculating carbon footprint down to the process step level, the Eco Passport helps companies achieve greater insight into the incremental improvements, serving as a steppingstone to carbon neutrality. Calculations comparing the use of virgin solvent versus regenerated solvent, for example, can help companies understand the cost and benefits of enacting a single change to a manufacturing paradigm.