DRUG-ELUTING SYSTEMS – Introducing Drugs to Silicone & Controlling Elution Rates
INTRODUCTION
Implantable drug delivery systems have the potential to ad­dress some of the biggest challenges patients face today. Through continued development of these technologies, many patients liv­ing with chronic conditions can realize significant improvement in their overall quality of life. Therapy developers who embrace drug elution technologies are uniquely equipped to solve patient compliance and drug side effect challenges, while also having the greatest capacity to provide extended-release dosages to the market.
In addition, introducing Active Pharmaceutical Ingredients (APIs) can improve the efficacy of medical devices. Through sim­ilar manufacturing methods, application of APIs can combat in­flammation and/or fight microbial risks around a procedure site.
To maximize the potential impact of these technologies, man­ufacturing processes must continue to evolve as the desired num­ber of drug compounds used in these forms rises. Most existing drug compounds exhibit various sensitivities that cause them to break down when using established manufacturing methods. Be­cause of this, it is critical for therapeutics manufacturers to un­derstand the methods in use today and continue improving processes.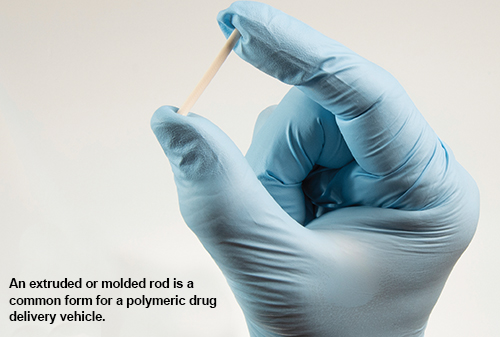 MARKET OUTLOOK
Pharmaceuticals
Because of all the aforementioned advantages, the growth forecast for the global implantable drug delivery device market is 10% annually in the coming years with an expectation to rise to nearly $30 billion by 2025.1 Contraceptive, ophthalmic, car­diovascular, diabetes, oncology, and autoimmune disease appli­cations are all likely to focus on development of these therapeutic forms.

Medical Devices
Meanwhile, the drug/device combination product market is projected to grow at nearly 9% each year, starting with an esti­mate of the 2021 market of $118.1 billion. By 2026, this figure looks to rise beyond $180 billion, driven by the demand for trans­dermal patches, drug-eluting stents, wound care products, and antimicrobial catheter applications.2
EARLY USES OF THE TECHNOLOGY
Given the potential of the pharmaceutical and medical de­vice markets, there are significant opportunities for the advance­ment of drug-eluting therapy and its applications. Some of the earliest products, defined as single-entity combination products, focused on the application of anti-inflammatories and anti-mi­crobials in medical devices. The application of these drug com­pounds allows for the increased efficacy of stents and balloons used to treat coronary heart disease. These early systems are ex­amples of a medical device acting as the Primary Mode of Action (PMOA) for therapy.
Alternatively, products such as implantable contraceptive products and intrauterine systems are examples of the same drug-eluting technologies in which the drug is the PMOA.
ADVANTAGES OF DRUG-ELUTING SYSTEMS
Applying anti-inflammatories and anti-microbials continues to be a viable method for improving the efficacy of medical devices or providing additional ther­apy to supplement the effect a device has on a patient. The greatest potential impact drug-eluting technologies can have is on drug delivery. Formulation of implantable systems make it possible for patients to re­ceive a one-time dosage of a therapy, while minimizing the day-to-day demand to monitor their condition.

In scenarios in which patient compli­ance is paramount, drugs delivered via implantable systems give patients options to move from once-daily oral dosage forms to a single implantable dosage that provides several months or years of ther­apy. In addition, these systems can provide targeted delivery within the body to avoid systemic administration of the drug, which commonly drives the need for higher dosages. Finally, localized delivery and lower dosages may allow for significant reduction in patient side effects from tak­ing a specific therapeutic.
APPLICATIONS TODAY & IN THE FUTURE
Many of the previously men­tioned therapeutics will continue to evolve as technology improves. Beyond en­hanced medical devices and contraceptive products, there are other applications in which these therapeutic systems are grow­ing. Ocular systems are a major focus area for drug-eluting systems because of the inefficiencies and patient non-compli­ance concerning eye drops. Additionally, oncology has seen advancements in drug-elution due to the advantages targeted de­livery presents for chemotherapy drugs. Finally, HIV/AIDS, diabetes, anti-psy­chotics, addiction deterrence drugs, and some animal health applications are pur­suing extended-release solutions that may progress to implantable systems.
EXCIPIENT MATERIALS & MANUFACTURING PROCESSES
There are many specific materials used in drug-eluting systems, and these can be classified as either biodurable or bioresorbable polymers. Depending on variables, such as the intended drug-re­lease window, the melting point of the therapeutic, and compatibility of the drug with different excipient material, the ideal polymeric excipient can vary for each ther­apeutic.

Another factor to consider are the ad­vantages to a specific design for the sys­tem. Some formulations carry no specific physical design requirements and can be optimized for high volumes while cutting out costs. However, other systems may benefit from a specific geometry to deliver the drug effectively. Lastly, there may be situations in which the release of the drug from the system needs to be modified to achieve the desired rate of elution for ther­apeutic effect. Because of these complexi­ties, it's beneficial for therapeutic manufacturers to have a component part­ner with a diverse set of manufacturing skills and processes including:
Extrusion – Most common for high-vol­ume drug delivery
Molding – The best process for cus­tomized geometries
Sheeting – Suitable when additional surface area provides advantages, and a burst release effect is ideal
FORMULATION METHODS
Beyond how to get the excipient poly­mer into its final form, drug-eluting appli­cation experts must consider when to introduce the drug into the system during manufacturing. Drug compounds with low melting points may break if exposed to certain temperatures during the manufac­turing process. In addition, the chemistry of other drug compounds may inhibit the curing process. These considerations, along with desired changes to the rate of elution may influence the development of the manufacturing process.

Mix & Manufacture – The most commonly used process in which both the drug com­pound and excipient materials are mixed prior to manufacturing.
Immerse & Impregnate – The introduction of the drug to the system after completion of the manufacturing process. This allows for successful introduction of the drug while avoiding the heat-intensive steps in­volved in most manufacturing processes.
Membrane Application – Used in situa­tions where a solid drug core can be en­closed behind an effective membrane. This can effectively control the release profile and proves effective if the originally de­signed system is exhibiting a faster release rate than desired.

SUMMARY
Implantable drug delivery systems are an emerging drug delivery form and will continue to build momentum in the future through the advantages they provide to patients across numerous applications. An experienced manufacturing partner can help therapy developers quickly identify solutions and develop manufacturing and formulation methods for use in many ap­plications.
REFERENCES
Global $29.84 Billion Implantable Drug Delivery Devices Markets, 2015-2020, 2020-2025F, Research and Markets, August 2021, https://www.globenewswire.com/en/news-release/2021/08/12/2279463/28124/en/Global-29-84-Billion-Im­plantable-Drug-Delivery-Devices-Markets-2015-2020-2020-2025F.html.
Drug Device Combination Products Market Report, 2030, Grand View Research, 2018, https://www.grandviewresearch.com/industry-analy­sis/drug-device-combinationmarket#:~:text= The_global_drug_device_combination,8.8%25_from_2022_to_2030.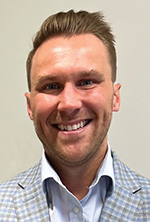 Zach Fletcher is Trelleborg Healthcare & Medical's Business Development Manager for Polymeric Drug Delivery. Having spent nearly a decade in manufactured medical devices, he now focuses on implantable drug delivery systems, combining his knowledge of the market with his team's expertise in multiple formulation techniques to combine drug and polymers. A graduate of the University of Wisconsin – Eau Claire, he is excited to see how long-acting drug delivery platforms impact on patient lives in the future.