DRUG DEVELOPMENT – Simplifying the Drug Development Journey
INTRODUCTION
Collectively, the top 20 pharmaceutical and biopharmaceu­tical companies spend approximately $60 billion on drug devel­opment annually.1 Saving time in the drug development process creates opportunity to save expenses with the added benefit of delivering critically needed drugs to patients in a timely manner.
Timeliness, however, is not the only consideration. In con­junction with delivering efficacious new drugs, high quality, com­pliance, and patient safety are mandatory.
Because there are so many aspects to be considered, the ability to focus on simplifying the process as much as possible is important. Understanding the various resources available through industry, regulatory engagement, and suppliers is foun­dational to achieving this goal.

REGULATORY DRIVERS
Over the last 10 years or so, many concepts have been in­troduced in an effort to facilitate improved concurrent quality and speed. The 21st Century Cures Act (Cures Act), signed into law on December 13, 2016, is designed to help accelerate medical product development and bring new innovations and advances to patients who need them faster and more efficiently.2
The latest iteration of the Prescription Drug User Fee Act (PDUFA), together with the 21st Century Cures Act, should accel­erate the process, while mandating the US FDA to facilitate novel clinical trial designs. This flexibility is an  example of allowing a trial design to be tailored and less complicated.
Andrew Powaleny of the US trade group Pharmaceutical Re­search and Manufacturers of America (PhRMA) is supportive of these kinds of measures as key to "keeping pace with the latest scientific advances in drug development." He says "Novel clinical trial approaches and drug development tools, such as adaptive trial designs, biomarkers, statistical and modeling approaches, as well as the use of real-world evidence have the potential to enhance the efficiency of the drug development and regulatory review processes."3
One of the priorities that the regulators want to focus on is more consideration of patients and their specific needs. The FDA is also encouraging drug and combination product owners to ac­tively incorporate key stakeholders, such as patient advocates, re­searchers, drug developers, and healthcare providers, into the process to hear the patient's voice. This concept is called patient-focused drug development (PFDD).
Patient-focused drug development is a systematic approach to help ensure that patient experiences, perspectives, needs, and priorities are captured and meaningfully incorporated into drug development and evaluation.4 The ultimate goal of drug development is not just to develop, but to commercialize and success­fully reach patients.
One of the challenges in trying to achieve all of this in an ef­ficient manner is the need to align endpoints around multiple global regulatory agencies, given that time-consuming and ex­pensive trials are designed to fit multiple regulatory packages. This issue is helped somewhat by cooperation between agencies, often under the auspices of the International Council for Harmon­isation of Technical Requirements for Pharmaceuticals for Human Use (ICH).
The ICH helps to set the agenda for Good Manufacturing Practice (GMP), as well as the design, conduct, safety, and report­ing of clinical trials. ICH also encourages best practices through the use of the con­cepts explained in documents, including the following:
ICH Q8 (R2): Pharmaceutical Develop­ment
ICH Q9: Quality Risk Management
ICH Q10: Pharmaceutical Quality Sys­tem
These guidances form the basis for the approach to quality by design (QbD) for drug/biopharmaceutical products. Building a design space in development is foundational to the ability to institute inno­vation and other changes in the pharmaceutical manufacturing process. Figure 1 provides a high-level perspective of the quality system needed to support a more innovative manufacturing approach.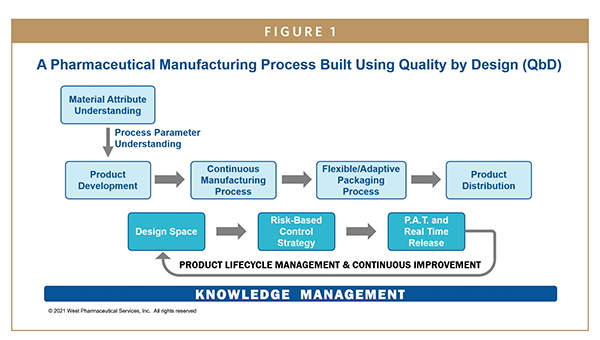 The QbD approach does not change regional regulatory requirements but can provide opportunities for more flexible ap­proaches to meet them. Ultimately, this forms the basis to allow more effective change management that supports inno­vation within the process.
Integrating all these aspects together, therefore, allows the achievement of effi­ciency with improved quality, compliance, etc. Following this QbD process builds im­proved product and process understand­ing that allows more effective management of change.
The level of understanding directly re­lates to the amount of flexibility associated with change management. Figure 2, taken from the ICH Q12 guidance, visualizes this concept.5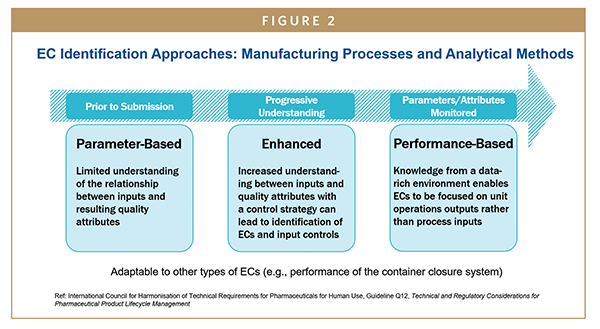 ICH Q12 – which provides guidance on lifecycle management – incorporates tools and concepts that allow one to lever­age the earlier ICH guidances in order to be more effective in driving continuous im­provement and innovation concepts. In addition to the ICH Q12 guideline, an im­plementation guidance will be introduced by the FDA in the near future to clarify how to implement the guidance within the FDA system. It will translate ICH post-approval categorization terminology to FDA supple­ment categorization and will provide guid­ance around established conditions (EC) relating to reporting categories, changes, and drug master files (DMF).
A thorough understanding of these regulations and guidances and their ap­plication forms the foundation to achieve the efficiencies the industry is looking for while assuring patient safety.
TECHNICAL CHALLENGES
In addition to the regulatory chal­lenges, the complexity of new modalities introduces new technical challenges. One of the most significant trends in the market is the growth of biologic-based treatments. Newer approaches have led to the increasing need to deliver higher than tra­ditional volumes of biopharmaceutical-based products, such as monoclonal antibodies. A characteristic of these types of products is typically a higher viscosity because they are larger in physical size (< 100 atoms vs 25,000 atoms) compared to a typical chemically derived drug product. This leads to higher milligram per milliliter (mg/mL) concentrations. As these concen­trations increase, the viscosity will increase.
Monoclonal antibody biotherapeutics are often administered by subcutaneous (SC) injection. Due to dose requirements and formulation limitations, SC injections > 1 mL are often required. Figure 3 pro­vides data on the current fill volume ranges of marketed drug products.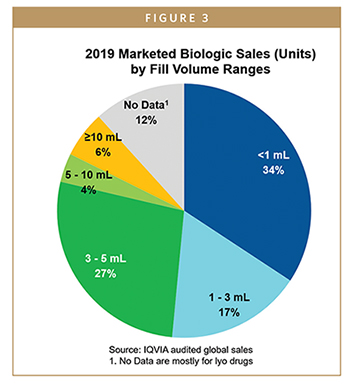 Depending upon the volume that may need to be delivered to a patient, newer on-body delivery systems are now being utilized. These systems can deliver greater volumes over an extended time period. This provides much more flexibility vs a traditional prefilled syringe/autoinjector combination. Figure 4 provides an exam­ple of the West SmartDose® on-body injec­tor.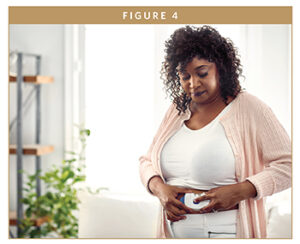 New technology concepts must be de­veloped to address the technical chal­lenges faced when increasing dosage volume. One of these concepts is the use of a device to assist with the delivery of the drug to the patient. Bringing together this combination of drug and device, or bio­logic and device, leads to new challenges from both a technical and regulatory standpoint as these products are now con­sidered drug-device combination prod­ucts.
A combination product (CP) is defined by the FDA as two or more different prod­ucts: a drug and a device; a biologic and a device; a drug and a biologic; or a drug, biologic and device. These products are composed of combinations that are phys­ically, chemically, or otherwise mixed and produced as a single product; two or more products contained in a single package; or separate products that are cross-labeled to be used together.6 Alignment of the unique drug/biologic and device regula­tory pathways is essential for efficient de­velopment and effective commercialization of drug-device CPs.
Essentially, GMPs for drugs and bio­logics advocate the QbD framework, while devices follow design controls (DC) under the Quality System Regulation (QSR).7-9 Design controls are a set of interrelated procedures to be incorporated into the de­sign and development process. The QSR has been harmonized with the interna­tional quality management system stan­dard, International Organization for Stan­dardization (ISO) 13485 for medical de­vices and recognizes ISO 14971 for risk management.10,11
It is important to design a product to meet its claims and be developed based on principles of QbD and DC.8 The quality target product profile (QTPP) and design inputs must be clearly defined to establish meaningful specifications to meet claims based on clinical performance.12 This will include a host of interconnected factors, such as clinical setting of intended use, therapeutic moiety release and factors af­fecting pharmacokinetic characteristics, route of administration, dosage form, con­tainer closure/delivery system, and drug product quality criteria appropriate for the market.13 Building quality into a drug-de­vice CP encompasses understanding over­all risks that are commensurate with patient needs starting at early develop­ment phases.14
One of the practical aspects of apply­ing the regulations and performing actual combination product development is a "make or buy" decision when it comes to the delivery device. A new internally devel­oped device program – including device and clinical development, subassembly and final assembly, and testing – could take 5 years to develop and cost more than $50 million.15 The alternative to a company developing its own delivery de­vice is to leverage an already developed platform system from a third-party sup­plier. Doing this can often help to simplify the process of getting through regulatory approval and commercialization.
This kind of strategy not only ad­dresses technical challenges but can also aid in expediting the development time­line. The ability to collaborate with a sup­plier that has experience with the development and commercialization of a device that has become a constituent part of a commercialized combination product is very beneficial. Considerations when evaluating device suppliers not only relate to the device itself but around other devel­opment services that can be utilized to complete the combination product, such as human factors, analytical testing, and regulatory support. These services are needed to facilitate appropriate develop­ment, commercialization, and lifecycle management.
Risk assessments that are inclusive of stakeholder engagement will facilitate alignment of the chemistry manufacturing controls (CMC) stage-gate process in order to enable timely development and lifecycle management. All phases in­volved in the process development should not proceed in isolation. The drug formu­lation, with the primary container closure system, may require multiple iterations to achieve the optimum balance of drug sta­bility, manufacturability, and patient ac­ceptance.14
With the growing number of biologic drugs in the pipeline, patient preference studies have shown that the use of subcu­taneous delivery alternatives is significantly preferred over standard IV administration. In a study of 488 patients, 89% were shown to prefer a subcutaneous system.16 Use of these systems addresses simplifying the administration aspects of delivering the drug to the patient.
All of the aforementioned various as­pects are enablers for accelerating and simplifying development timelines. Histor­ically, the pharmaceutical industry was very averse to change and innovation. Much of this was driven by the expectation that there was regulatory risk whenever there was change. This perspective is evolving. Several years ago, to address these concerns, the Center for Drug Eval­uation and Research's (CDER) Office of Pharmaceutical Quality (OPQ) created the Emerging Technology Program. The pur­pose of this team is to encourage innova­tion in pharmaceutical product design and manufacturing.17 This program enables in­dustry representatives to meet with the FDA Emerging Technology Team (ETT) to dis­cuss, identify, and resolve potential techni­cal and regulatory issues regarding the development and implementation of a novel technology prior to filing a regula­tory submission. Examples of the technolo­gies evaluated by the ETT involved novel product technologies, manufacturing processes, or control strategies – such as new analytical technologies or process controls.
In 2017, the FDA published a guid­ance entitled Advancement of Emerging Technology Applications for Pharmaceuti­cal Innovation and Modernization, which provides high level guidance to reinforce the concept of engaging early with the regulatory agency with new ideas and in­novations.18 This is a very visible way of making it easy for the industry to engage with the FDA directly to proactively deliver on new concepts.
SUMMARY
Simplifying the drug development process can only be achieved by integrat­ing innovation from both a regulatory and technical perspective. Understanding the opportunity that incorporating regulatory best practice opens is important across an organization. Using collaborators, such as knowledgeable suppliers and others to leverage their experience and capabilities, can also uncomplicate the challenges within the process. Suppliers have broad experience and typically have touchpoints across the industry – so they are aware of trends that arise and problems that can occur. Experienced and focused collabo­rators can provide guidance, support serv­ices, manpower, and intellect to make it easier to achieve all the goals needed in delivering a drug to a patient. The perfect collaboration allows organizations to work together seamlessly and allows open en­gagement to mitigate risks. The overarch­ing goal of the pharmaceutical company along with its supplier/collaborators is to efficiently develop a product that meets all quality and regulatory requirements and ultimately meets the patient needs.
SmartDose® is a registered trademark of West Pharma. Services IL, Ltd., a sub­sidiary of West Pharmaceutical Services, Inc.
REFERENCES
McKinsey & Company. The pursuit of excel­lence in new-drug development. November 2019. https://www.mckinsey.com/indus­tries/pharmaceuticals-and-medical-prod­ucts/our-insights/the-pursuit-of-excellence-in-new-drug-development.
U.S. Food & Drug Administration. 21st Cen­tury Cures Act, 2016. https://www.fda.gov/regulatory-informa­tion/selected-amendments-fdc-act/21st-century-cures-act.
The pharmaletter. How can we speed up drug development? May 2018. https://www.thepharmaletter.com/article/can-the-drug-development-timeline-be-short­ened.
U.S. Food & Drug Administration. CDER pa­tient-focused drug development, 2020. https://www.fda.gov/drugs/development-approval-process-drugs/cder-patient-fo­cused-drug-development.
International Council for Harmonisation of Technical Requirements for Pharmaceuticals for Human Use. Guideline Q12, Technical and Regulatory Considerations for Pharma­ceutical Product Lifecycle Management, 2019. https://database.ich.org/sites/de­fault/files/Q12_Guideline_Step4_2019_1119.pdf.
U.S. Food & Drug Administration. Regula­tion of combination products, 2019. https://www.accessdata. fda.gov/scripts/cdrh/cfdocs/cfcfr/CFRSearch.cfm?CFRPart=4&showFR=1.
Code of Federal Regulations. Quality system regulation, 2019. https://www.accessdata.fda.gov/scripts/cdrh/cfdocs/cfcfr/CFRSearch.cfm?CFRPart=820&showFR=1.
U.S. Food & Drug Administration. Design control guidance for medical device manu­facturers, 1997. https://www.fda.gov/regulatory-information/search-fda-guidance-documents/design-control-guidance-med­ical-device-manufacturers.
U.S. Food & Drug Administration. Combina­tion products guidance documents, 2020. https://www.fda.gov/regulatory-informa­tion/search-fda-guidance-documents/com­bination-products-guidance-documents.
International Organization for Standardi­zation. ISO 13485:2016 medical devices – quality management systems – require­ments for regulatory purposes, 2016. https://www.iso.org/standard/59752.html.
International Organization for Standardi­zation. ISO 14971:2007 medical devices – application of risk management to medical devices, 2017. https://www.iso.org/stan­dard/38193.html.
U.S. Food and Drug Administration. Guid­ance for industry and review staff: target product profile – a strategic development process tool, 2007. https://www.fda.gov/media/72566/down­load.
Yu LX, Amidon G, Khan MA, et al. Under­standing pharmaceutical quality by design. AAPSJ. 2014; 16(4):771-783. https://doi.org/10.1208/s12248-014-9598-3.
DeGrazio F, Paskiet D. Injectable combina­tion product development: facilitating risk-based assessments for efficiency and patient centric outcomes. J Pharm Sci. 2020 Jul;109(7):2101-2115. doi: 10.1016/j.xphs.2020.03.020. Epub 2020 Apr 6. PMID: 32272133.
Hand A. Competitive drugs demand inno­vative delivery devices. Healthcare Packag­ing. October 2019. https://www.healthcarepackaging.com/markets/medical-device-packaginig/article/21094792/competitive-drugs-demand-innovative-delivery-device.
Pivot X, Gligorov J, Müller V, Curigliano G, Knoop A, Verma S, Jenkins V, Scotto N, Osborne S, Fallowfield L; PrefHer Study Group. Patients' preferences for subcuta­neous trastuzumab versus conventional in­travenous infusion for the adjuvant treatment of HER2-positive early breast cancer: final analysis of 488 patients in the international, randomized, two-cohort PrefHer study. Ann Oncol. 2014 Oct;25(10):1979-1987. doi: 10.1093/an­nonc/mdu364. Epub 2014 Jul 28. PMID: 25070545.
U.S. Food and Drug Administration. Emerging Technology Program, 2019. https://www.fda.gov/about-fda/center-drug-evaluation-and-research-cder/emerging-technology-program.
U.S. Food and Drug Administration. Guid­ance for industry: advancement of emerg­ing technology applications for pharmaceutical innovation and modern­ization, 2017. https://www.fda.gov/files/drugs/pub­lished/Advancement-of-Emerging-Technol­ogy-Applications-for-Pharmaceutical-Innovation-and-Modernization-Guidance-for-In­dustry.pdf.
To view this issue and all back issues online, please visit www.drug-dev.com.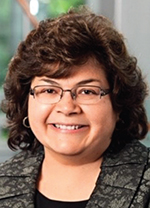 Fran DeGrazio has 35+ years of experience in the pharmaceutical packaging and delivery industry, with extensive expertise in injectable drug products, including vial container closure systems and prefillable systems for combination products. She has held numerous technical roles at West, including R&D, Quality & Regulatory, Technical Customer Support, Analytical Laboratories, and Scientific Affairs. In her current role as Chief Scientific Officer, she is responsible to leverage scientific and regulatory understanding across the enterprise. She received the Philadelphia Business Journal 2018 Healthcare Innovators of the Greater Philadelphia Region Award and the Healthcare Business Woman's Association Luminary Award for West in 2017.