EXECUTIVE INTERVIEW – Syner-G BioPharma: A Track Record of CMC Excellence

"It's our belief that Syner-G offers the most comprehensive and the best CMC services to our clients," says Prabu Nambiar, PhD, Founder and CEO of Syner-G BioPharma Group. Syner-G provides expert CMC consulting services to small molecule, biologics, cell and gene therapy, and drug-device combination product innovators through a unique approach to Chemistry, Manufacturing, and Controls. The company's CMC 360™ is a holistic approach that emphasizes three key elements: Technical Development, Regulatory Services, and Quality/GxP Compliance. Each of these verticals is supported by an experienced leader, but they also collaborate to ensure that drug development progresses expeditiously and seamlessly in conformance and compliance with regulatory requirements.
Dr. Nambiar founded Syner-G Pharma CMC Consulting in 2007 to meet the growing need for expert CMC consulting in the outsourced drug development paradigm. Syner-G refocused on evolving as a boutique CMC consulting firm in 2012 when Binesh Prabhakar, MS, MBA, Senior Vice President, Quality Assurance and Compliance, joined the company as the cofounder. Since then, they built the founder-owned-and-operated company with clear definitions of the services – led by an experienced leadership team – and continued growth to meet increasing demand. In 2020, Syner-G received an equity investment from Riverside Partners and subsequently, the company rebranded in 2021 as Syner-G BioPharma Group to reflect an expanded growth strategy toward becoming a broader spectrum pharmaceutical development consulting firm across multiple areas. And 2022 began with the acquisition of Impact Pharmaceutical Services to expand Syner-G's capabilities in the areas of regulatory and medical writing.
Drug Development & Delivery recently spoke with the two founders, as well as Drew Barlow, MPH, Senior Vice President, Head of Regulatory Affairs; Ray Forslund, PhD, MBA, Senior Vice President, Head of CMC Development & Project Management; and Frank Sorce, MBA, Senior Director, Business Development, about the company's evolution, its approach to CMC, and the future of the organization.
Q: As the company has evolved, how do you now define Syner-G's business model, and how does this model suit your clients?
Dr. Nambiar: Our technical, regulatory, and quality teams (verticals) are led by practice heads who are charged with managing their talent on a daily basis to ensure the highest levels of support, commitment, and advice for our valued clients. This model ensures that each vertical continues to stay abreast of the ever-changing regulatory environment and feeds off each other to best serve our clients and solve sophisticated drug development and regulatory challenges.
The scope of our client projects is defined by the characteristics of their compound and the nature of support they may require. For example, we may be approached by someone developing a biologic compound, and they self-identify as deficient in their quality management systems. This client will be best served by the biologics group within our technical vertical, with a prominent assist from our quality vertical. Truly understanding the therapeutic modality, phase of development, dosage form, and the clients' needs is essential to designing the most cost-efficient and phase-appropriate approach.
Q: Describe the company's approach to CMC and what makes it unique in the contract space?
Dr. Forslund: With pharma/biotech's increased focus on rare diseases and the need for expedited development of life-saving drugs, CMC tends to become a bottleneck for commercial readiness. Syner-G's experience in strategizing risk- and science-based approaches for CMC development, using a Quality by Design paradigm, has helped multiple clients to successfully seek approval via a breakthrough development pathway. Syner-G's strategic approach to CMC stands on our guiding principles: patient safety, science-based, risk-based, and phase-appropriate with regulatory compliance. We consistently follow these guiding principles across our three verticals (Technical, Regulatory, and Quality) for each and every client engagement we undertake. Based on the hundreds of regulatory submissions we have participated in, and clients we've served over the years, we know these are the principles regulators want to see and they produce the results our clients are seeking. We also feel we have an unparalleled dedication to CMC, while becoming embedded in our client's culture.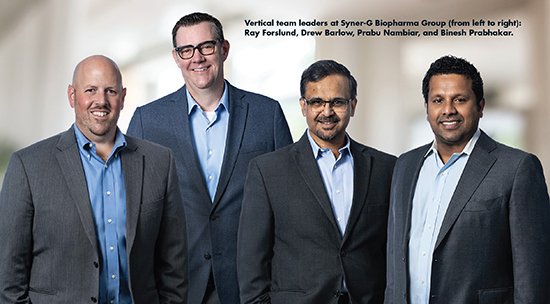 In addition to the three key verticals, Syner-G appreciates the importance of Project Management in successful and timely execution as well as achievement of milestones. Our team believes that in an outsourced model, it is not "outsource and forget," but "you get what you manage." To fill this need, Syner-G has added Technical/CMC Project Management solutions as part of our service offering. So, if you are working with a CDMO, a Syner-G-assigned project manager will oversee day-to-day activities for an optimal outcome. You outsource it and we manage it.
What makes us unique is the way we work. From our client's perspective, it's like flipping a switch. Just bring Syner-G on board and watch us make CMC happen. We know what needs to be accomplished, how to do it, and how to communicate it to the regulators both in the US and globally. The three functions are structured at Syner-G similar to those in a pharma company, so services can be introduced in a plug-and-play model by clients interested in any one of the areas or a combination of them.
Finally, our firm is comprised of experienced and dedicated professionals – with a passion for science and aspirations to bring lifesaving drugs to patients – led by an exceptionally strong leadership team. These folks work collectively to bring great value to the organization and our clients. All these elements have created a curious, entrepreneurial, and efficient corporate culture that is eager to learn and serve.
Q: What is the benefit of dividing the company into these verticals? How do they collaborate to benefit the client?
 Mr. Barlow: The three verticals, what we call CMC-360™, are the key moving parts of CMC drug development. We've learned over time that each client has specific and unique needs; sometimes this is localized to a regulatory need and other times it's related to a technical drug development need. To best ensure the organization can meet these needs efficiently, Syner-G feels it is important to have laser-focused, cross functional teams of experienced professionals learning and feeding off each other to take a rigorous approach to problem solving within their field of expertise and be led as a group. When it's necessary to discuss a client's situation, each of our consultants are empowered to engage a colleague in another vertical or the practice head to work towards the best solution possible for their client. Our vertical configuration and intra-vertical communication ensure we align with our mission of helping our clients bring lifesaving therapies to patients around the world.
With various therapeutic modalities, the CMC requirements vary depending on factors such as complexity of the active ingredient, formulation, indication, patient population, and stage of development. With patient safety and regulatory compliance as guiding principles and primary objectives, Syner-G helps design and implement science- and risked-based, phase-appropriate CMC solutions to expeditiously advance a drug during development and/or sustain the commercial supply chain post-approval. Our CMC business units operate in an integrated fashion to ensure the solutions we provide fully conform to the scientific standards and regulatory requirements from a global perspective.
Q: What does the name rebrand say about the future direction of the company?
Dr. Forslund: About five years ago, Syner-G introduced the biologics CMC group to the marketplace. Since then, it's been growing in size and in the number of clients we support annually. With this important addition to the organization from a service offering standpoint, it only made sense to add "Bio" to our moniker. And because we had been supporting pharma since our inception, the "biopharma" part of our name truly described the type of clients we have and can support. We look to continue to grow this portion of our service platform and consistently add talent where needed. In addition, with increasing requests from our clients for medical writing, clinical regulatory, regulatory submission, and other scientific consulting services, such as toxicology and DMPK, Syner-G intends to expand our service platforms to serve our clients on a broader and deeper scope. This would give the client a "one-stop-shop" model for maximum scientific consulting for drug development. With this growth plan in mind, we named the new organization Syner-G BioPharma Group. Towards this end, Syner-G has recently announced the acquisition of Impact Pharmaceutical Services located in the heart of the southeast, Research Triangle Park, NC.
Q: Regarding that acquisition, what advantage does this bring to Syner-G and the clients of both organizations? How do the two companies complement one another?
Dr. Nambiar: The acquisition of Impact Pharmaceutical Services is truly complementary in every sense. Their capabilities in the areas of medical writing, clinical regulatory affairs and strategy, regulatory publishing/submission, and project and program management have no real overlap with the capabilities offered historically by Syner-G. Bringing these capabilities under Syner-G's roof allows us to fully support all components (Modules 3, 4, and 5) of the common technical document (CTD) when it comes to regulatory submissions for clients, and brings in a highly educated and experienced group of professionals to the Syner-G family. Just as important are our cultures, which could not be more aligned. Like us, Impact is curious, entrepreneurial, eager to learn, and efficient in what they do. And, like us, they are founder owned and built. The integration is going smoothly, and we very much look forward to building the enterprise on a wider and sturdy foundation, while holistically helping our clients move forward with regulatory submissions and drug development throughout the life cycle.
Q: How has the equity investment from Riverside contributed to Syner-G's evolution?
Mr. Prabhakar: As stated earlier, forming and introducing the biologics group was a major milestone for Syner-G and has proven to be a very wise and profitable endeavor, which we strive to expand over time. When Syner-G decided to bring on a financial partner, we sought an investment firm with significant pharmaceutical and biotech service expertise, deep experience in working with founder-owned companies, and a strong cultural fit with our organization. The partnership with Riverside will ensure that we continue to deliver on our vision of providing the highest quality science and risk-based CMC technical, regulatory, and compliance consulting service and strategic advice to our clients. They have also assisted Syner-G in creating a brand that best communicates what we do and are capable of doing, and further rounding out the executive management team with formal human resource, finance, and business development functions. Riverside also has broad experience in helping pharma service providers with a strong healthcare advisory board who lend broad perspectives, network, and strategy to Syner-G. All of these elements will allow Syner-G to scale and sustain our business over time.
Q: With 80-plus clients and 80-plus more expected as a result of the Impact acquisition, and at least a couple hundred successful regulatory filings under your belt, what is next for Syner-G? Where do you see the company in the next three to five years?
Dr. Nambiar: As Syner-G finalizes its integration with Impact and bolsters its service capabilities into medical writing, regulatory publishing, and submissions, as well as overall better support of the drug development process, we'll continue to look for ways to better meet the needs of the pharma and biotech industries. Obviously, we'll have to continue to attract and retain the tremendous talent we have, but we'll also have to grow our company as we add clients via our expanding capabilities platform. Syner-G has strong employee retention that is driven by a culture of teamwork and professional collaboration. They are all exposed to a full opportunity to learn, grow, and advance their careers while making an impact in the development and production of lifesaving and life-changing drugs. Given the continued growth of the outsourced and virtual drug development model, the demand for Syner-G's services is continuously growing. To meet this demand, we will continue to grow the team organically, but we wouldn't rule out future acquisitions and partnerships while maintaining our culture and continue to live by our operating philosophies. We strongly believe the future is bright for Syner-G and look forward to the challenges and opportunities this ever-evolving industry has to offer.
Mr. Sorce: We are not limited by the therapeutic modality, dosage form, geography, or the size and scale of the work. Our expertise will serve us well across all these landscapes while continuing to bring folks on board to grow the organization. This will result in tangible and sizeable benefits for Syner-G.