DRUG DEVELOPMENT EXECUTIVE – Quotient Sciences: Breaking Down the Silos Between Drug Substance & Drug Product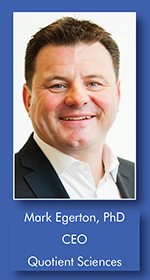 Pharma R&D is in its heyday, with funding at record levels. Additionally, the number of molecules in the industry pipeline seems to be increasing by about 10% per year on average.
As more companies get involved in drug development, the majority are small, virtual organizations that rely on outsourcing models. But outsource providers face technical challenges in finding molecules that work. Most development project teams are trying to "get to know/no quickly." The goal is to spend the minimum amount of money to have the greatest confidence that the molecule will be a success.
Moving from the edge of discovery research, or candidate selection, and into clinical proof of concept is where most attrition occurs in drug development. This is where Quotient Sciences has created a niche for itself over the past 15 years. Quotient has developed a novel platform called Translational Pharmaceutics®, which integrates drug product and clinical testing activities, breaking down the silos between Chemistry, Manufacturing and Controls (CMC) and clinical research to accelerate molecules through development. This helps biotech/pharma companies shorten timelines by at least 12 months, reducing spend, and reaching key milestones as quickly and efficiently as possible.
Quotient Sciences, a drug development and manufacturing accelerator, recently acquired Arcinova, a UK-based multiservice contract development and manufacturing organization. The acquisition expands Quotient's service portfolio and will enable the integration of drug substance, drug product, and clinical testing capabilities all under one umbrella.
Drug Development & Delivery recently spoke with Mark Egerton, PhD, CEO of Quotient Sciences, about how integrating these capabilities cuts through functional silos, simplifies drug development, and affirms Quotient's belief that molecules need to become cures, fast.

Q: Why was Arcinova attractive to Quotient?
A: The Arcinova acquisition gives us a new set of services and allows us to engage with a customer at the point of candidate selection. Now, we can support a molecule all the way from molecule selection to proof of concept and onwards to commercial product manufacture. The services that Arcinova offers are complementary to what Quotient provides to its customers. Arcinova manufactures drug substance – the active pharmaceutical ingredient – which Quotient doesn't and was eager to add to its service portfolio. When a customer comes out of discovery research and identifies the candidate they want to develop, the first thing they have to do is make larger volumes of drug substance to support the preclinical toxicology studies and initial clinical trials. That's what Arcinova does. To date, Quotient has specialized in understanding which formulation compositions to develop to maximize the delivery of an active drug substance at the right place, right time, and right concentration. We take those drug product compositions and manufacture them all the way to commercial manufacturing. So, with this acquisition, we are combining the active ingredient with the formulation capability. Our strategic goal is to integrate drug substance manufacturing into our Translational Pharmaceutics platform. We think the timeline acceleration that we can offer for a customer will increase from 12 months to 18 months.
Q: How will this acquisition break down the industry silos you see happening in pharma?
A: There is a lot of "siloing" in the industry. Many outsourcing companies have been formed along functional disciplines. It is quite rare to find companies that manufacture both drug product and drug substance, and in larger companies where both are offered, it's rare to have the functions integrated; very often they will be run as different business units. If you ask the marketplace whether drug substance has been successfully integrated into drug product, I think you will get a very mixed response.

Q: How will Quotient position itself to go up against other drug substance and drug product providers?
A: By being scientific-rich, engaging with the customer at point-of-candidate selection, and providing an integrated scientific perspective on how a molecule can be developed. For example, our drug substance scientists will be thinking ahead and asking questions such as: How will this drug substance be formulated? What is the intended clinical dosage form? How can we make the regulatory/CMC pathway as straightforward as possible? By operating in fully integrated teams, we will simplify hand-off points and knowledge transfer for the customer. We have seen initial signs of success from Arcinova's existing drug substance projects, of which 25% of molecules have already transitioned into simple drug products. When you combine Arcinova with Quotient's extensive drug product capabilities, we believe more customers will be compelled to integrate the activities and break down the traditional industry silos. Some of the big CDMOs in the industry market themselves on the basis that they have both drug substance and drug product capabilities, but they aren't actually integrated. We will drive true integration of these activities into a seamless program.
Q: How challenging was it to manage an acquisition during a pandemic? What lessons did you learn that you could apply to future acquisitions that may occur post-COVID?
A: Last March and April, like every business in the world, we were working extremely hard and adapting quickly to keep the business running smoothly. But, in May, we decided that we wanted to come out of this pandemic stronger than we went in, so we made a couple of key conscious decisions. The first was a complete review and overhaul of our modus operandi – with a much greater emphasis on flexible and adaptive working practices across all our facilities. This has led to an increase in productivity. The second decision was to continue to pursue the Arcinova acquisition and maintain our growth plan. The bulk of the due diligence and business planning was done from September to January and, despite the remote working, the process went well. Fortunately, I had built a relationship with the Arcinova founder in the summer of 2019 and, in hindsight, I think that gave me the confidence to undertake the acquisition as I had a good feeling for the Arcinova culture and values. Building trust in any business relationship is vital and, as a service business, everything we do is dependent upon people. You've got to trust the people you will be working with and you can't beat face-to-face contact to go through that process. We did have a large video call upon signing the acquisition agreement, where everyone raised champagne in a virtual toast. And in the week following the deal's completion, I spent two days at the Arcinova site where a real celebration took place, face to face, in the same room – socially distanced of course.
Q: In what other areas would Quotient be interested in possibly acquiring companies to expand its service offerings and geographic locations?
A: The Arcinova deal opens up greater opportunities for us. Prior to Arcinova, Quotient had operating facilities in the UK and US so we offer mirrored services on both sides of the Atlantic. Arcinova is entirely UK-based so we are discussing if we should replicate the Arcinova offering in the US either by building organically or seeking an existing business to partner with us. Our core business focuses on small molecule early development as well as work on smaller scales of drug substance and drug product across all delivery routes, including oral solid, oral solution, inhaled, and injectables. As we move into larger scale manufacturing and commercial manufacturing, our capabilities are focused on solid oral dose forms (tablets and capsules). There is a strong desire to broaden our late-stage scale and capability set in other dosage forms like sterile injectables. That would be an interesting place for us to go.
Q: Describe your business plan and how acquisitions fit into that plan.
A: Quotient is anchored on a strong organic growth opportunity with the potential to double the size of the business in the next five years. This business plan is based on building our market share using our existing service portfolio. That being said, we will always look at acquisitions as a way of accelerating our growth plan and/or diversifying our service offering. We will remain highly selective about which acquisitions to make and they must be consistent with our manifesto: enhancing our ability to accelerate drug development timelines for our customers.
Q: How is private equity partner Permira guiding Quotient's growth plans?
A: We teamed up with Permira in the summer of 2019, and they are our fifth, and largest, private equity partner to date. I've been with Quotient for 16 years and we partnered with different private equity partners as we've transitioned through our growth plan. Permira was aligned and excited with our business plan and the vision that we are striving to achieve. They are focused on growth and supporting us to speed up that growth wherever possible. They are really helpful in terms of thinking through how to accelerate investments for organic growth and will provide us with support for getting the right acquisitions across the line, as demonstrated by the Arcinova deal.
Our chairman was introduced to us by Permira and he has extensive industry experience in pharmaceutical services. One of the first things we committed to when we teamed up with Permira was to build a new 85,000-sq. ft. facility in the Philadelphia area. This is in addition to our nearby 45,000-sq. ft. facility. We believe these two new facilities for drug product development and manufacturing – housing exploratory work through to commercial manufacturing – will accommodate our approximately 250 employees on site and will be a real showcase to potential customers.
Arcinova is the fifth acquisition that Quotient has made and the first since forming our partnership with Permira. Each of the other four acquisitions were underpinned with a specific strategic intent:
Replication of our Translational Pharmaceutics platform in the US, and expanding our manufacturing capability from development through to commercial (SeaView and QS Pharma acquisitions in February 2017);
Expanding our CDMO capability and capacity in the UK (Pii site acquisition in November 2017); and
Accessing specialist formulation development skills for pediatric medicines (Co-Formulate acquisition in 2017).
We hope there will be further acquisitions, but we will continue to be highly selective and targeted to businesses that support our strategy.